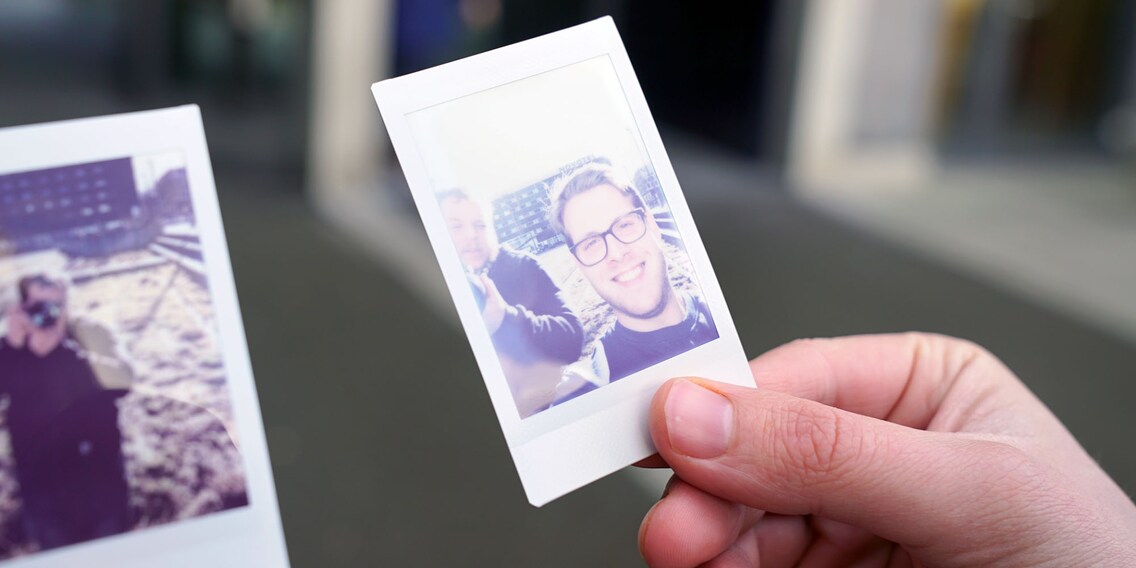 Instax Mini 9: A celebration of the anti photo

Looking for the perfect shot, I sometimes forget to enjoy the moment – I hate it when that happens. Luckily, there's the Instax Mini 9. The photos it takes are so bad they're good. Keep reading for my sincere puff piece on this dinky camera.
Instax Mini 9
Props to you, you clumsy bit of plastic! You're truly amazing. Not because of your impressive focal lengths, depth of field effects and crazy amounts of settings. Nope. Props to you because you're rubbish at all the above. Honestly, the more I think about it, the more I must conclude:
You're the total anti camera.
I'm not trying to big you up as a camera. After all, you're not really good at anything. However, I do want to big up the principle of anti photography. You rule at that.
I love the fact that the photos you take of my cat stretching it's belly are totally useless for Instagram. Overexposed selfies and blurred objects are the norm. You're actually totally useless.
So why the puff piece?
Because you remind me of why photography was invented in the first place: To capture moments for all eternity. Here are five reasons why I fell in love with you:
1. Rubbish photo quality
Frankly, your photo quality is rubbish. But not the "Hey, this poor excuse of a photo is totally useless" kind of rubbish. After all, the colour reproduction is realistic and everything else is pale. It's the "Thanks to the typical Polaroid look, all my photos look like I took them 30 years ago" kind of rubbish. And no Snapchat filter required!
High-resolution is not your forte and your flash function only exposes things in the forefront – everything else is left in the dark. Quite literally. More often than not, parts of the photos you take are totally overexposed. And there's nothing I can do about it. You won't let me. Once again, it dawns on me: You celebrate the anti photo like no other camera.
And that's what makes you so great.
Point, shoot, done. I feel liberated. There's no worrying about ISO values, focal lengths and all that jazz. I'm in the moment and not getting distracted by the temptation of perfection. This feels real. There's no sugar-coated Instagram filter. Just memories as they are.
2. Just ten shots
«Ten shots might not be enough», I once thought. But then I realised that I'm blessed with the rare ability to think twice about snapping that pizza al forno.
This realisation has improved my life by at least seven per cent. Gone are the days when I would snap everything faster than you can say social media. Thank you for reminding me of the of true meaning of «less is more».
These days I take a photo, enjoy it and that's it. After all, even the most glorious of sunsets is only truly glorious when I'm taking it in with my eyes rather than through a lens.
3. What excitement with every photo
You really do drama well. Although my rushed life is already full of excitement, you never fail to add another layer. Every snap is a little surprise when your camera lacks a digital display. Watching a white Polaroid slowly take shape and contours is…
...such a joy.
Every anti photo taken has us huddled round it – friends, partners and me, the photographer. With big grins and high expectations, we watch the image mercilessly develop into an unflattering depiction of reality. Some of the pics we just want to burn on the spot.
But instead, we keep these anti photos because they show life as it is: brutal, hilarious and unpredictable. People close to me (quite literally, as the image is a mere 62 × 46 mm) never fail to to make me laugh out loud. And that's the great thing about anti photos: Nobody is spared and laughs are guaranteed – emotions that add value to moments that are precious already.
4. Annoyingly, you only get one copy of every photo
Instax, you're confronting me with something I've been missing in photography for a while now: Uniqueness. Not because you take particularly beautiful or nasty pictures. They're unique because there's only one physical copy of them. Shoot and send to four WhatsApp groups with 17 members each? Negative.
But that's a good thing. I promise.
After all, snaps lose their appeal when infinitely replicable. In other words, no digital version of your anti photo exists – no copy sitting on the Cloud and free to look at from all corners of the earth. Each pic is printed without a backup: A unique copy that increases the photo's emotional value. If it's destroyed, there's no way of retrieving it. Like in the olden days.
5. Editing? Impossible!
Don't get me wrong. It's not as if I fiddle with the tonal value or experiment with the gradation curve every time I take a picture. I also seldomly adjust the colour temperature or add an artificial Bokeh effect. I don't need those fancy things.
Except sometimes. Admittedly, more often than not. Ok, ok, almost always.
What a relief to be liberated from the compulsion to further pimp every already perfectly composed photo. Not like there's much to improve anyway. You are resistant to Photoshop and the anti photos you produce are refreshingly honest. You have no idea just how many praiseworthy photos I've taken, which I would normally have beefed up with a filter – at the expense of authenticity, of course.
Instax Mini 9, we were made for each other
I know, I know. It can be hard to accept compliments. But you earned them, Instax. Thanks to you, I am truly enjoying anti photography.
Pros and ambitious amateurs will probably want to kill me by now. Even though I swear I never intended to take the fun out of or even badmouth the sophisticated art of photography. Photography as an art form is important. Very important, in fact. And sometimes it's more about the journey than the photo itself, as our Senior Editor Dominik Bärlocher proves:
What I'm trying to advocate here is to rid yourself of needs that are preventing you from enjoying the moment for all that photographing. Emancipate yourself from the idea that only a perfect photo can capture a perfect moment, even though it is precisely imperfection that makes moments unforgettable in the first place.
And you, dear Instax, with all your restrictions a camera could possibly have, have freed me from these shackles.
Three cheers for the camera that celebrates anti photography.
Here's to you.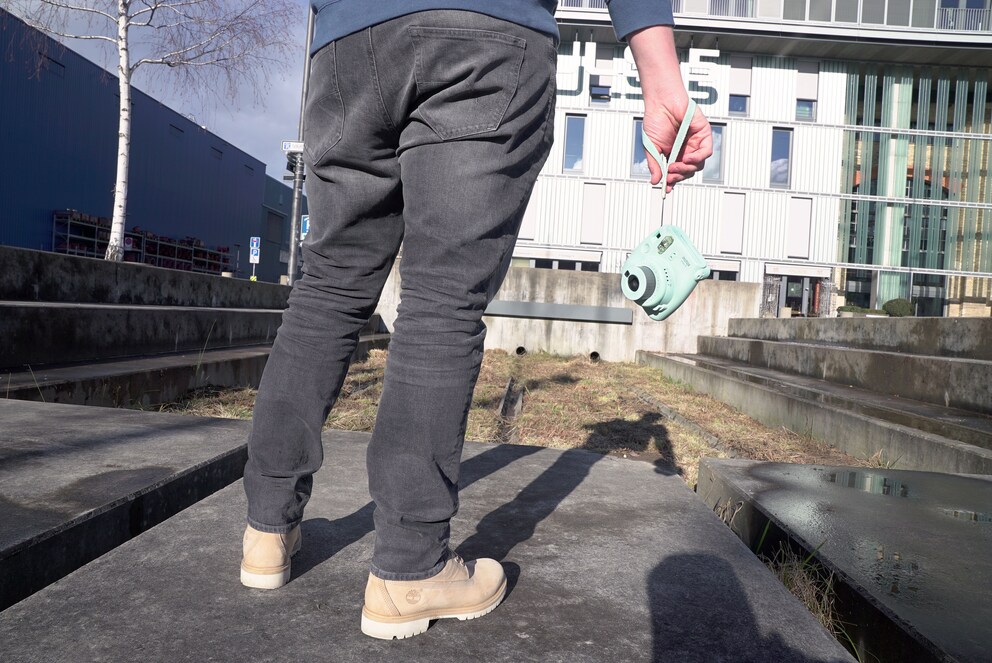 ---



I'm an outdoorsy guy and enjoy sports that push me to the limit – now that's what I call comfort zone! But I'm also about curling up in an armchair with books about ugly intrigue and sinister kingkillers. Being an avid cinema-goer, I've been known to rave about film scores for hours on end. I've always wanted to say: «I am Groot.» 
---
---
These articles might also interest you
Skeleton Loader

Skeleton Loader

Skeleton Loader

Skeleton Loader

Skeleton Loader

Skeleton Loader