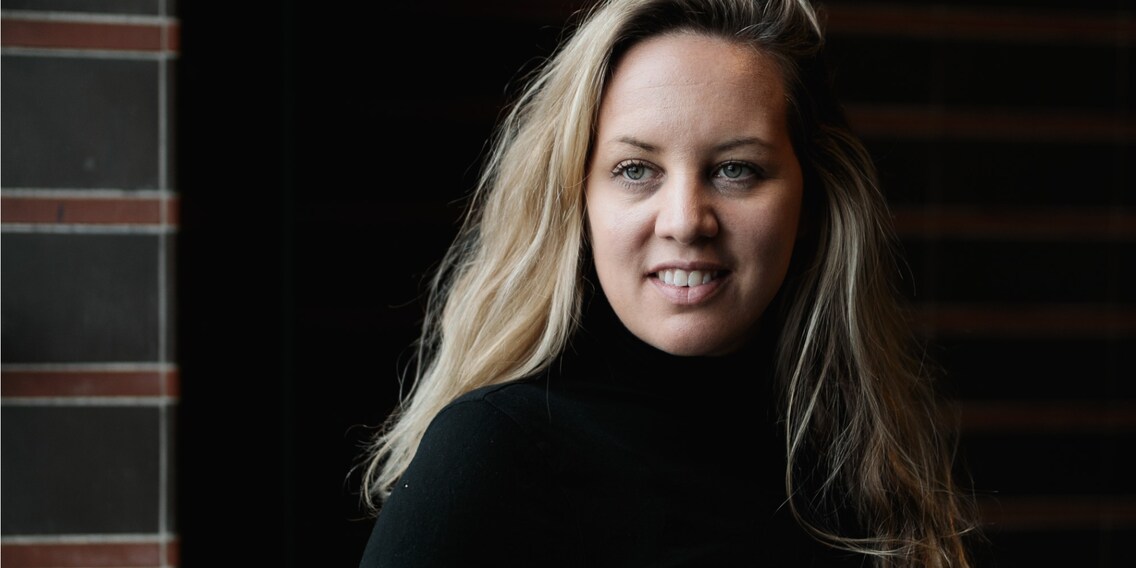 Image: Florian Voggeneder 2019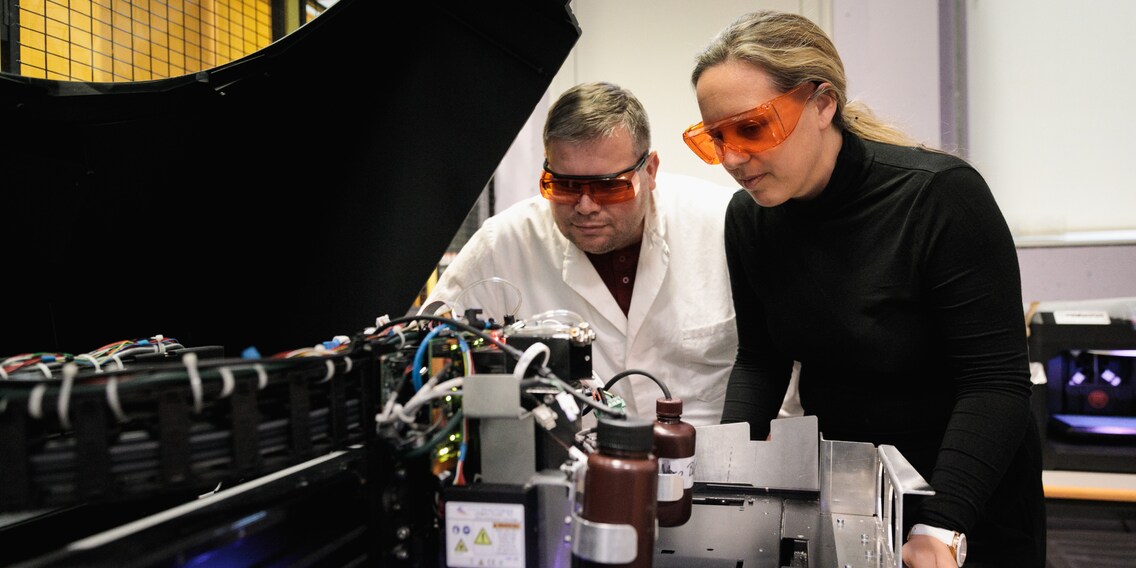 Image: Florian Voggeneder 2019
«I want to make 3D printed fashion wearable»

Austrian designer Julia Koerner specialises in 3D printing. In an interview with Galaxus, she speaks about the status quo and the future of fashion from a 3D printer.
Julia Koerner is an expert in digital design methods. The designer, who lives in Los Angeles and Salzburg, has spent the last 15 years specialising in 3D printing. Her designs include elaborate Hollywood costumes as well as haute couture creations for fashion houses such as Chanel and Iris van Herpen. Will we be printing off everyday clothes at the touch of a button in the future? Galaxus asked Julia.
What's been happening in 3D printing and fashion in recent years?
Designer Julia Koerner: In 2013, together with Iris van Herpen and Materialise, I printed the first flexible 3D-printed dress for the Paris haute couture shows. The materials for 3D printing have come a long way in recent years. Today, you can apply multicoloured prints straight onto fabric. This new technology is taking 3D printing into another dimension in terms of wearability, functionality and colour aesthetics. As the fabric touches the skin, the 3D print gives it a three-dimensional look. You can see these visual effects that add life to the fabric in this video.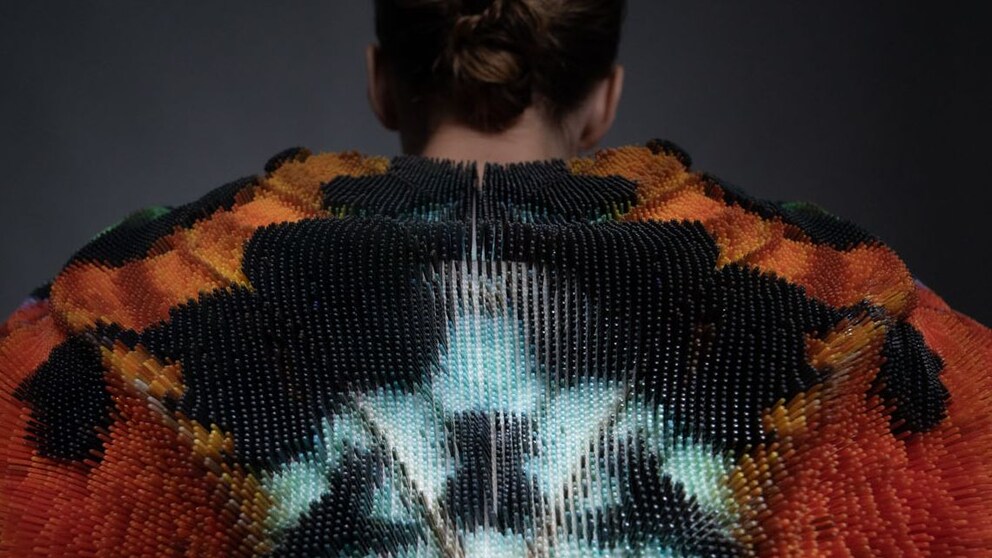 What process do you use for your creations?
I create my designs on the computer and use various software to digitally develop them in 3D. I take a person's measurements with a 3D body scanner.
For my 3D prints, I mainly work with three technologies: Fused Deposition Modelling with biodegradable polylactide (PLA), the Polyjet process (where thousands of polymer droplets are solidified by a flash of light) and Selective Laser Sinthering. With the latter technology, the material is particularly elastic. Designed with delicate net structures, it's reminiscent of fabric.
Could you give us an example?
For the «Setae» jacket, my team and I succeeded for the first time in printing directly onto fabric – denim in this case – using the 3D printing system «Stratasys J750TM». Prior to that, it had only been possible to either completely print items of clothing or assemble them after printing. For my collection «Arid», which is part of the Re-Fream Research Project funded by the European Union, I developed a special connection system. It lets me assemble 3D printed fabric elements without needing a needle and thread. The snap fasteners that are printed directly onto the fabric open up completely new possibilities for me in the design process of garments. Instead of getting a simple dress, people will be able to buy fabric that can be connected to make a dress or a jacket.
What's the process behind making an item of clothing with a 3D printer?
For my work, I often draw inspiration from nature. I use my smartphone to 3D scan the structures of sponges or algae. Afterwards, I try to make the look tangible on the computer. To finally develop the clothes in 3D, I use either digitised fashion dolls or a body scan. Digitally designing a garment is a time-consuming process because the design isn't automatically generated by the computer but, instead, is assembled piece by piece by me using a mouse.
After that, I either print the digital data on my printers or send it to 3D printing companies. Depending on the technology, printing can take anything from a few hours to several days. It also depends on the print, if the print is in one piece or several that then need to be sewn together.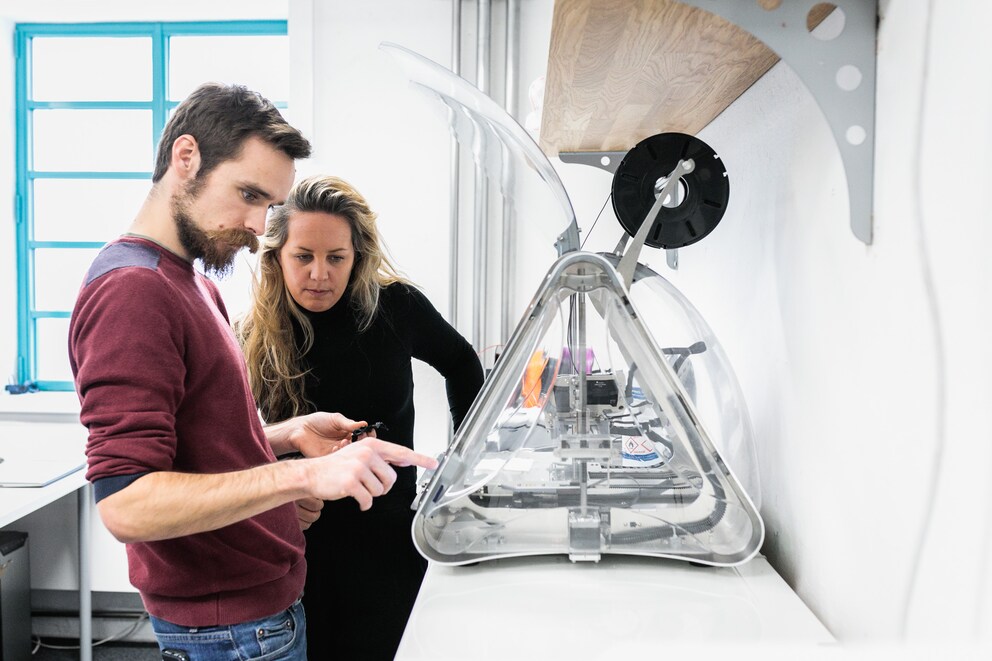 Your sculptural costumes still seem a little stiff. Will we ever be able to print off wearable everyday clothes with a 3D printer?
Today, you can print directly onto fabric. This makes 3D clothing much more comfortable to wear. When it comes to everyday fashion, it's not so much the wearability that's the problem, but the complex production process and the costs that go with it. By reducing the amount of 3D printing of a garment and combining it with textiles such as denim or leather, I reduce costs.
What's the future of fashion from a 3D printer?
3D technology allows me to adapt my designs to a body. As a result, dress sizes, such as 36, 36 or 40 lose their importance. I start designing and adjust the parameters of my digital file afterwards, so that the design later fits my customer. Another advantage of digital designs are that you can send them around the world and they can be printed on site. This eliminates shipping costs and makes production more sustainable.
Personally, I think the future lies in the possibility of printing on 100 per cent organic hemp or using sustainable materials including biodegradable PLA or organic resin. Furthermore, in the additive printing process, I only use as much material as is necessary for the design. This reduces excess material. Made to order is also an interesting aspect. In other words, I only print out a design once it's been ordered by a customer. This opens up many opportunities to develop new and sustainable production methods in the fashion industry.
---



When I'm not exploring the depths of the sea as an open water diver, I enjoy plunging into the world of fashion. On the streets of Paris, Milan and New York is where I keep my eyes peeled for the latest trends. And I'll show you how to take them from the catwalk to your everyday life. 
---
---
---
These articles might also interest you
Skeleton Loader

Skeleton Loader

Skeleton Loader

Skeleton Loader

Skeleton Loader

Skeleton Loader