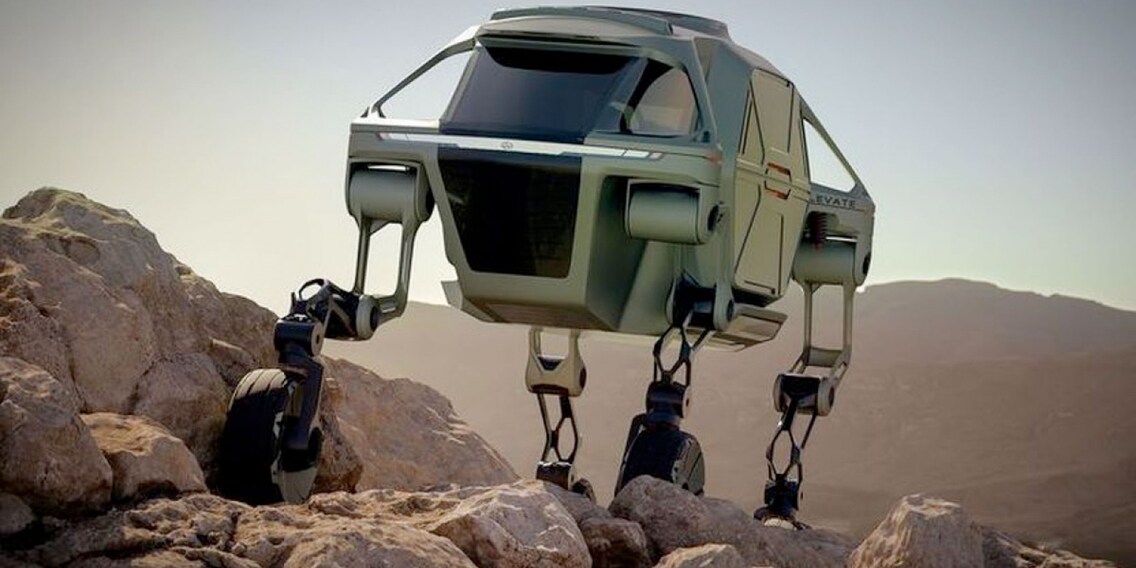 This article was translated automatically.
Hyundai builds running car
Hyundai is opening a new research center. Among other things, employees there will be working on a car that can not only drive, but also walk.
---
This is an article from our content partner "Golem". Here you can find the original article by editor Werner Pluta.
---
Walking instead of driving: South Korean carmaker Hyundai wants to build a car with legs. It is supposed to be able to move forward even on the roughest terrain.
Ultimate Mobility Vehicle (UMV) is what Hyundai calls the vehicle class that the company unveiled a few years ago. It includes the Elevate concept, unveiled in 2019, and its successor, Transforming Intelligent Ground Excursion Robot (Tiger).
The UMVs are intended to be multi-purpose vehicles that can handle any terrain - on Earth as well as on other celestial bodies. So far, they have only existed as concepts. But now Hyundai has announced it will build Elevate.
Elevate walks and drives
Elevate has four wheels like a normal car, so it can drive in a conventional way. However, the wheels are suspended from robotic legs that allow a total of six degrees of freedom. They can lift the vehicle so that it can drive over obstacles. To do this, the motors are installed in the wheel hubs so that each wheel is driven individually. Elevate can also walk and even climb with its legs.
The vehicle is intended for use in rough terrain. The company sees applications in rescue forces, for example, which can use it to penetrate a disaster area, or the military. It could also be used in space travel, for example to explore a planet. The vehicle has a modular design so that different cabs can be mounted on the chassis.
The announcement was prompted by the announcement that Hyundai's New Horizons Studio (NHS) is building a new research and development center. It is to be built at the Bozeman site in the US state of Montana. The New Horizons Studio, based in Fremont, California, is the Hyundai division , which develops UMVs.
Before embarking on a two-seat Elevate, NHS will first build a transformable intelligent robot. This, Hyundai says, will also be able to navigate rough terrain while carrying different types of payloads. Hyundai did not say when the car and robot will be ready.
---



We not only write about IT, technology and science, we are also enthusiastic about them. We like to touch technology, try it out, play with it and explain it with journalistic ambition. Expert knowledge in our subject areas helps us to classify what we see and to maintain a critical distance. With curiosity, we investigate facts, check them out and always look beyond the edge of the monitor. We see ourselves as advocates for our readers, and dialog with them is important to us. 
---
---
These articles might also interest you
Skeleton Loader

Skeleton Loader

Skeleton Loader

Skeleton Loader

Skeleton Loader

Skeleton Loader