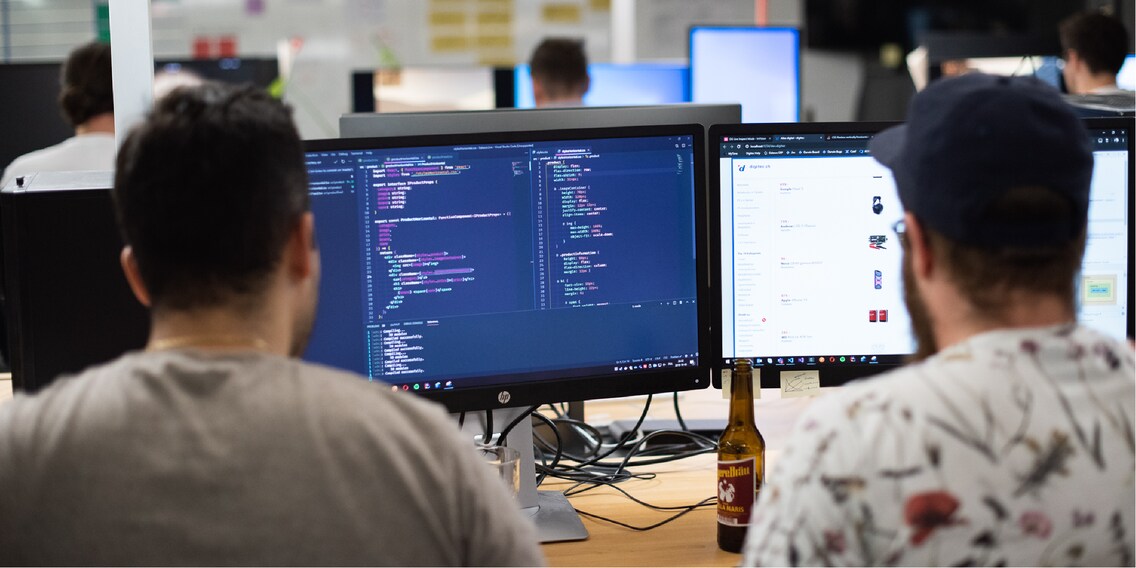 Hackfest 2022: share your ideas!

For the fourth time, product and business development employees at Digitec Galaxus are coming together for a three-day intense coding session. Share your ideas and they might be one of this year's challenges.
Non-stop coding fun! From 5 to 7 July, hundreds of Digitec Galaxus employees will be busy writing code in the Zurich offices. This year's Hackfest sets no limits to creativity.
Over the course of three days, more than twenty teams will try to solve various challenges. These could be new features for our online shops or software we work with. The motto? Learning, testing, having fun.
It's the fourth time the event is taking place. Unlike the last two editions, this year's Hackfest isn't held remotely, but at our offices in Zurich. Much to the delight of the organising committee (OC).
Have any ideas for us?
Ideas for the challenges come from many sides – including our Community. At least that's what our Head of Product & UX, Tobias Quelle, and the OC are hoping for: «It would be great if one or two teams could work on a challenge that a Community member shared in the comment section.»
So, listen up, readers! What challenges would you like our hackers to tackle? Is there anything about our online shops you'd like to change or that you're missing? Share your ideas in the comment section – they might just make their way to Hackfest and maybe even our online shops.
Want to stay up to date, learn how this year's Hackfest went and if an idea from the Community made it into the challenges? Check out the «Behind the scenes» section in our magazine. Watch this space for follow-up stories on the great coding adventure.
Update from 30 June 2022: thanks for the ideas!
More than two weeks have gone by since this article was initially published. During this period, we've received a lot of valuable input – many thanks for that! The Hackfest OC has been constantly reading and summarising the ideas and throwing them into the Hackfest challenge pool. We can't wait to find out which of the challenges our programming «pirates» will tackle next week.
As mentioned above, we'll be reporting on the highlights and results after Hackfest. In the meantime, you might be interested in this interview with Tobias Quelle and Veronica Damigella. The two OC members chat about why the event is so close to their hearts, despite all the hard work involved in organising it.
---



«I want it all! The terrifying lows, the dizzying highs, the creamy middles!» – these words spoken by an iconic American TV celebrity could have been mine. It's a take on life I also apply to my job. What does this mean in concrete terms? That every story has its charm; no matter how small, large, exciting or trivial. The more eclectic the mix, the better. 
---
---
These articles might also interest you
Skeleton Loader

Skeleton Loader

Skeleton Loader

Skeleton Loader

Skeleton Loader

Skeleton Loader