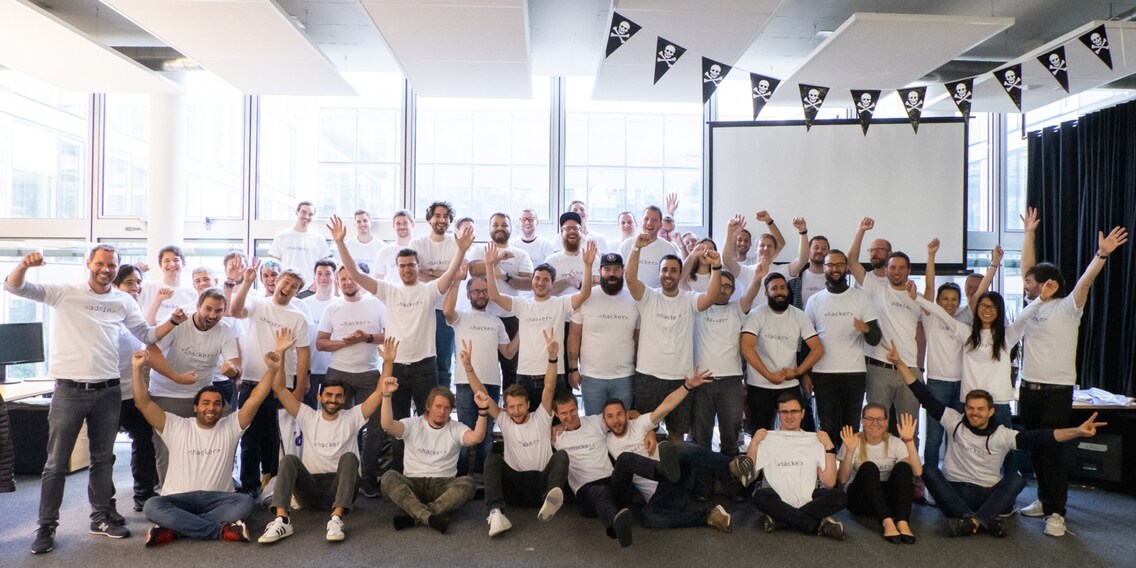 Hackathon 2022: a cunning challenge for coding cracks
After two years of remote work, we're finally back in our offices in 2022: from July 5 to 7, a hackathon will take place at Digitec Galaxus. Ideas from both the community and our IT cracks will be pushed full throttle in 72 hours. Pizza time, camping coolness and after-party included.
Hello Veronica, hello Tobias. This year's hackathon is just around the corner. Tobias, you started the «Hackfest» at Digitec Galaxus, Veronica you're in the Hackathon committee since this year. Can you briefly explain what this «festival» is about and why we need something like it?
Tobias Quelle: The hackathon is a 3-day coding event. In this way, we create an additional framework for our Product Development employees to work on fresh ideas in newly formed teams for three days. The name is a hybrid of «Marathon» and «Hack». Keeping in mind the exploration new ideas, there will be plenty of «hacking» – a three-day coding frenzy more like a marathon than a sprint. Adrenaline guaranteed. Naturally, fun won't be neglected either.
Who's involved in all this?
Veronica Damigella: In the meantime, all software sectors as well as business development at our locations are participating in the hackathon. This year initially features over 100 participants from Switzerland, Serbia and Germany. I'm mega excited for the event to be in person again this year.
You've already mentioned having fun at the event. Is it in the foreground or is the outcome purely serious?
Tobias: I'd say that the focus is on testing ideas together. We're primarily concerned with a high learning curve in an incredibly inspiring atmosphere. The participants are fully committed: At our 2019 Hackfest, this led to some «Hackathletes» staying overnight at the office. This brought another challenge: how do you manage to catch a few winks without being woken up by the supersensitive motion sensor lights?
Veronica: I've heard the sleepover story too. Maybe we can pitch a few tents in the office this year (laughs). I wasn't involved in 2019 yet, my premiere hackfest happened last year. My task concerned a prototype for a rental platform in the «Sharing is caring» team. I was particularly fascinated by how quickly an idea can be sketched and implemented into a finished product if you work on it with a great deal of focus. The whole team provided great ideas and valuable input. Once again, I realised how helpful it can be when people with different skills and backgrounds come together and exchange ideas. Even though last year's hackfest was remote, we built up a real sense of community in my team away from the daily work routine – a bit like going on a school trip in the past.
And what topics are you working on during this year's class trip? Can you give us a little taste?
Tobias: Ideas can be contributed by anyone, such as developers, product owners, analysts, UX designers and business developers until shortly before launch. When collecting ideas this year, we also asked the community and are eager to hear their input. Various exciting ideas have already been received: from dark mode to optimised scanning solutions in logistics to new chat options for the community. Shortly before the start of our hackathon, the teams then decided which topics they'd work on.
Veronica: As part of the committee, I'm especially looking forward to looking in on many different teams. How's the mood? How do they organise themselves? And, of course, the pitches at the very end, when individual teams present their results. Last year we had three minutes to do it, which made me quite nervous. But I really like the pitches, you get a good overview of what was implemented during those three days.
And when and where will the community find out what you came up with during the three-day hackfest?
Veronica: We'll keep the community updated on social media during the hackfest and provide impressions on our websites after the coding marathon. So if you don't follow digitec and Galaxus on social media yet, you should definitely do so now.
For the past two years, Hackfest has been held remotely; in 2022, our cracks will meet in the office. What makes IRL hacking more enticing?
Tobias: The intoxicating atmosphere on site during the three days is incomparable. I'm very much looking forward to cool teams with participants from a wide variety of backgrounds. Adding to the good vibes will also be some cool merch, food and drinks onsite – pizza and beer should never be missing at a hackfest (laughs) – and a fat pitch event with special prizes and a company-wide after-party.
Veronica: In addition to the pitches, the after-party is sure to be a highlight.
---
Studies claim that we have a shorter attention span than goldfish. Ouch! My job is to get your attention as often and for as long as possible. How? With content you enjoy. Outside of the office, you'll find me on the tennis court, curled up with a book, Netflixing or travelling. 
---
These articles might also interest you
Skeleton Loader

Skeleton Loader

Skeleton Loader

Skeleton Loader

Skeleton Loader

Skeleton Loader