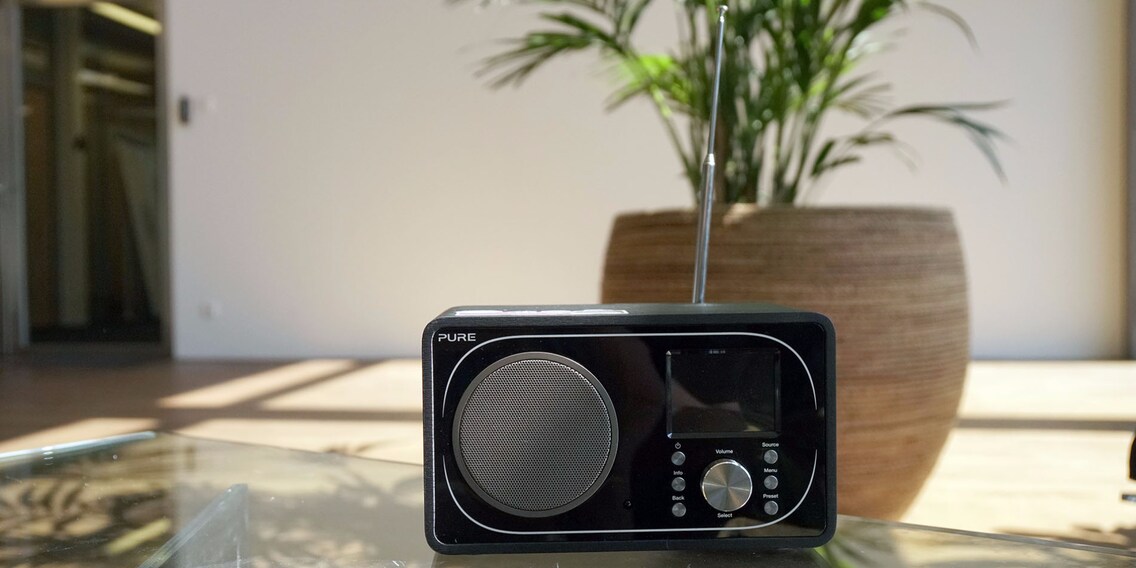 «Get it to play music!»

This article might seem as if its sole purpose is to amuse our readers, but it all started off as a serious mission. I was told to find out if the Pure DAB+ radio «Evoke F3» is foolproof and intuitive to use. So, I put it to the test.
At first, I thought he was joking when our editor Dominik Bärlocher approached me with his glorious idea. He handed me a radio and said: «Get it to play music!». Me, 25 years of age and as technically gifted as a slice of toast. Trust me, I wasn't amused. But I decided to bite the bullet, it wouldn't be me to chicken out of such a mammoth task. Besides, if the granny on the SBB poster knows how to use the new app, there's no way I'll fail to bring a radio to life.
A real-life event sparked the idea behind this experiment: Switzerland is changing to DAB+, so our new radios need to be easy to get going. Dominik's thinking was quite simple: Find the least competent tech person in the office, hand over the Evoke Pure F3 and let the disaster unfold. I'm Natalie and this is my story.
Getting started
I just about got my act together when it came to opening the box. To be fair, I didn't have the right tools. For some reason, it's not easy to get your hands on a pair of scissors in our office. My work mate came rushing to my aid and gave me his pocketknife. I'd taken the first hurdle and was just about to reward myself with a well-deserved break when Dominik decided to get out his phone and capture my desperate attempts for all eternity. How bold. So here's a disclaimer: I was put under pressure and I guarantee you, there would have been far less clumsiness hadn't I been subject to critical public scrutiny. So much to finding excuses. I'm showing you a few impressions from Dominik's video as GIFs.
Lesson #1: Batteries go in the battery compartment
Here it all was, right in front of me: the radio, a tiny remote control (which I think would have looked prettier in pink), a power adapter and a battery. After careful inspection, I decided there was a 99% chance the battery belonged in the remote control. «How did she know?», you might think. It's called exclusion principle: a) the radio had a power adapter and b) the radio had no battery compartment. This conclusion was acknowledge by Dominik with a nod (admit it, Dominik: a proud nod).
The next situation I found myself in was this one: a small, round battery (according to Dominik, it's called a CR2025), a remote control with quite a strange battery compartment and myself, surrounded by question marks. It took me a few attempts (I didn't want to damage anything), but I got there. Turns out all it took was putting the battery in with the plus side first. Is that applause I'm hearing?
Lesson #2: You don't need a stylish antenna if you have a DAB+ radio
I plugged the radio in and was just about to extend the antenna when I was told it wasn't needed. That's DAB+ for you. However, hipsters can still do so, extending an antenna just looks so cool. Now that they're history, they're sure to be fashionable again. Besides, who wants to be mainstream?
Lesson #3: It's only an option if there's more than one option
Selecting a language and connecting to the internet was next. But first, I had to choose a WiFi region. Note to self: If you're only presented with one option, that's quite surely the one to go for. Over-thinking is a bad idea, the clue is "mainly Europe". When I was asked to enter the WiFi password, I started to feel the coolness factor: You select letters and numbers by turning the volume control to the left and right and it makes you feel as if you're cracking a safe.
Lesson #4: You can do it if you really want #FollowYourDreams
To select the DAB mode, all I needed to do was push the Source button on the radio and turn the control until it reached «DAB Radio». The radio looked for stations all on its own and chose one at random. Music? Check! Mission accomplished – and it only took me 13 minutes.
To be fair, it was a rollercoaster ride. But it's the outcome that counts and that's rather impressive indeed: quality music and an image (my image!) that's gone down the drain. I'd like to thank you for following my story, even though you probably regret it now. Let's be honest, YOU know how to get a radio going and this article taught you nothing at all.
This might also interest you (in German)
Skeleton Loader

Skeleton Loader
---



As a massive Disney fan, I see the world through rose-tinted glasses. I worship series from the 90s and consider mermaids a religion. When I'm not dancing in glitter rain, I'm either hanging out at pyjama parties or sitting at my make-up table. P.S. I love you, bacon, garlic and onions. 
---
---
---
These articles might also interest you
Skeleton Loader

Skeleton Loader

Skeleton Loader

Skeleton Loader

Skeleton Loader

Skeleton Loader