Gen Z and Millennials want carbon-neutral shopping, boomers not so much
One in three people in Switzerland would welcome the possibility to make up for the carbon footprint their purchase made right in the shop. High-earners and young people are particularly open towards this idea.
Although not top of mind amid the corona pandemic, shopping remains bad for the environment. The mining of raw materials, industrial production of goods and shipping around the globe releases tons of CO2 and other pollutants into our atmosphere. We've asked Swiss consumers if they'd be willing to make a contribution to offset the CO2 footprint caused by their online purchases. In a representative survey we asked the market research institute GfK to conduct, a total of 501 people in German-speaking and French-speaking Switzerland shared their opinion.
The result of the survey? Every third person in Switzerland would welcome the chance to make up for the carbon footprint caused by their online purchases. Another third of the population is undecided or not in favour of this idea (see chart below).
A closer look at the answers reveals two divisions: firstly, the famous «Röstigraben»: people in German-speaking Switzerland form the majority of those in favour of a carbon compensation option. In French-speaking Switzerland, on the other hand, only a fifth of respondents said they'd «somewhat» or «strongly» agree to wanting this option. In addition, men showed stronger opinions than women, as more men find compensation both important or pointless. The second division is between the generations: young people under 30 years of age and those with an average household income between 7,000 and 12,000 Swiss francs per month formed the majority of those who'd like to make up for their carbon footprint.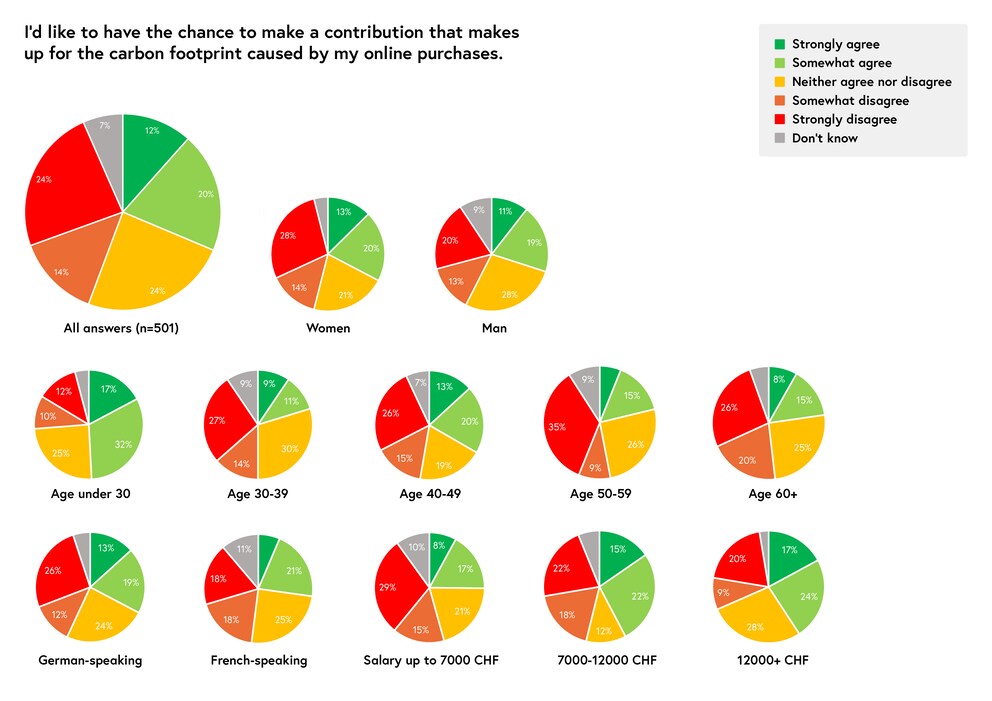 Young people and women more generous
We also asked the participants of the survey how much they'd be willing to contribute to compensate the footprint caused by their online purchases. This revealed that over half of all people in Switzerland would be willing to donate part of the value of their shop to environmental projects – even if 15 out of 100 respondents said they'd give less than 1% of the purchase price. About a quarter of all participants said they'd only choose the compensation option if it didn't involve any direct costs.
In addition, women proved to be much more willing to donate than men. The same applies to young people: among those under 30, more than two thirds would make a contribution towards environmental compensation. Seven percent would be prepared to pay between 10 and 20 percent of the value of their goods, while one percent would contribute even more than that. The group aged 50 to 59 seems to be the least generous: more than a third of those questioned would not be willing to spend anything to make up for their CO2 footprint. By contrast, high-earners proved to be a generous group: those with a total household income of more than 12,000 Swiss francs per month would give more than one percent of the value of their goods as environmental compensation.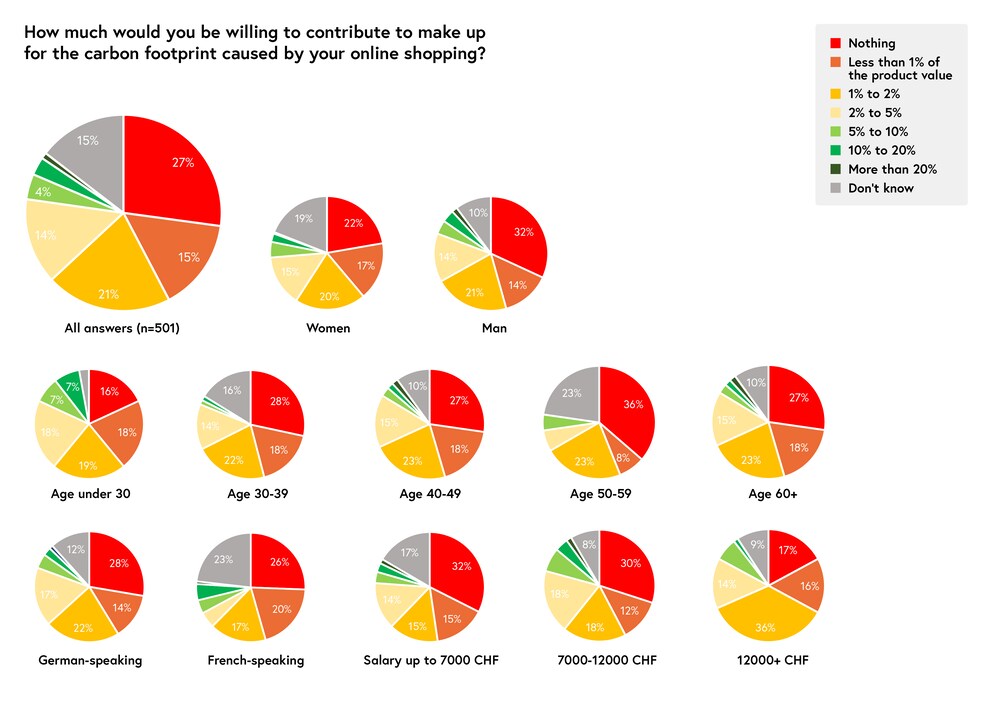 Digitec Galaxus to create transparency at the end of May
Digitec Galaxus has recognised the signs of the times. We're planning to introduce a voluntary environmental compensation option in our two online shops at the end of May. We'll also be creating transparency by indicatating how high the CO2 emission of every item in our product range is. These new shop features will soon reveal, how much or customers are really willing to contribute to make up for the carbon footprint caused by online shopping.
Contact for media representatives
Digitec Galaxus AG
Corporate Communications
Pfingstweidstrasse 60, CH-8005 Zurich
Phone: +41 44 575 96 96
E-mail: media@digitecgalaxus.ch
Images for free use
Solar panels on the roof of the Digitec Galaxus warehouse in Wohlen (AG)
Chart 1
Chart 2
---



At Digitec and Galaxus, I'm in charge of communication with journalists and bloggers. Good stories are my passion – I am always up to date.
---
---
These articles might also interest you
Skeleton Loader

Skeleton Loader

Skeleton Loader

Skeleton Loader

Skeleton Loader

Skeleton Loader