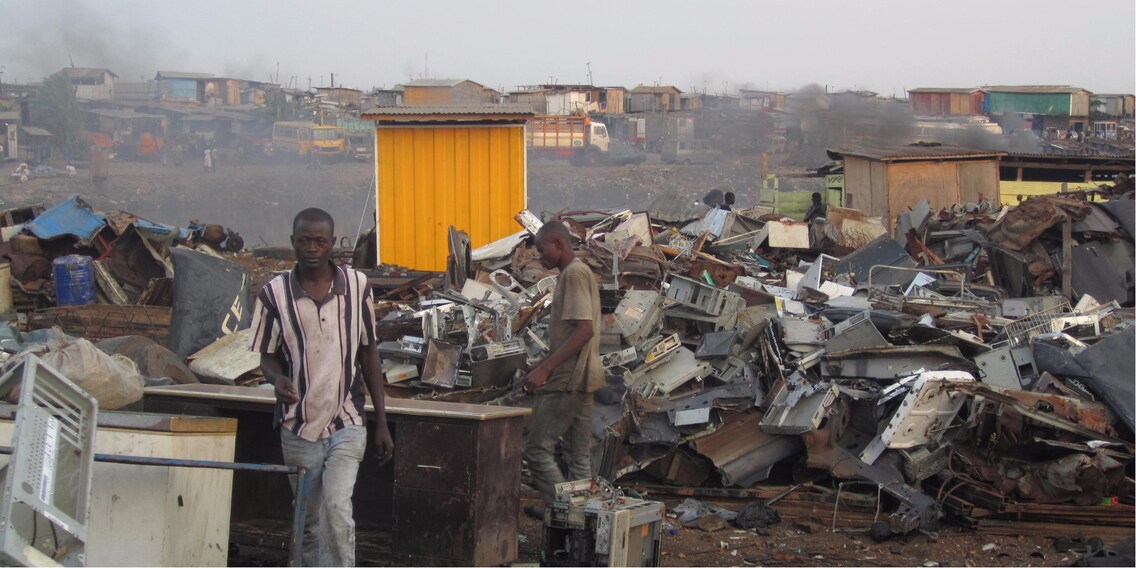 E-waste: Where does our electronic waste end up?

Last year, 43.8 million tons of e-waste was produced worldwide. Switzerland alone generates over 26 kilos of electronic waste per capita every year. But where do all our old devices go when we're done using them or have replaced them with a newer version?
What is e-waste?
Electronic waste mainly describes household appliances, IT stuff and telecommunication devices. Small mixed goods, such as lamps or toys, fall under the same category but only account for a small part. Electronic waste does not equal rubbish. Many devices that are chucked out are still fully functional but were replaced with a new or superior model.

Where does all the e-waste go?
In Europe, only 29.5% of e-waste is recycled. This is done by various recycling companies that separate the electronic waste in usable and non-usable parts. The metal and plastic parts are then shipped to refineries where they are reprocessed. To put things into perspective: One million recycled smartphones equal 16 tons of copper, 350 kilos of silver, 34 kilos of gold and 15 kilos of palladium.
All the more alarming that people in Europe chuck 6% of old electronic devices in their regular household rubbish. This roughly corresponds to 700.000 tons of waste per year. In 2014, around 300 tons of gold could have been recycled if it the e-waste had been professionally disposed of. That's a tenth of the entire amount that is mined every year.
The remaining 64.5% of electronic waste is exported. The recipient countries re-use our old fridges, TVs and smartphones and sell them on second-hand markets. Take Ghana, for example. 65% of all European e-waste that is shipped here, is in perfect condition. 20% of it is reparable and is resold in shops. Only 15% of the electronic waste is beyond repair and ends up in landfills.
Street repairs; source: awastefulworld
Waste disposal in a developing country
After the devices have been repaired, re-sold and re-used and are no longer reparable, they end up in landfills. As most developing countries do not have recycling machines, the products are taken apart by hand.
The fastest and easiest way to get to the metal inside the cables is by burning them. This process releases a lot of toxic chemicals that enter humans' respiratory systems through the air or seep into the groundwater. For this reason, the organisation GreenCross voted the Agbogbloshie landfill in Ghana the world's most toxic place in 2013. In second place: Chernobyl.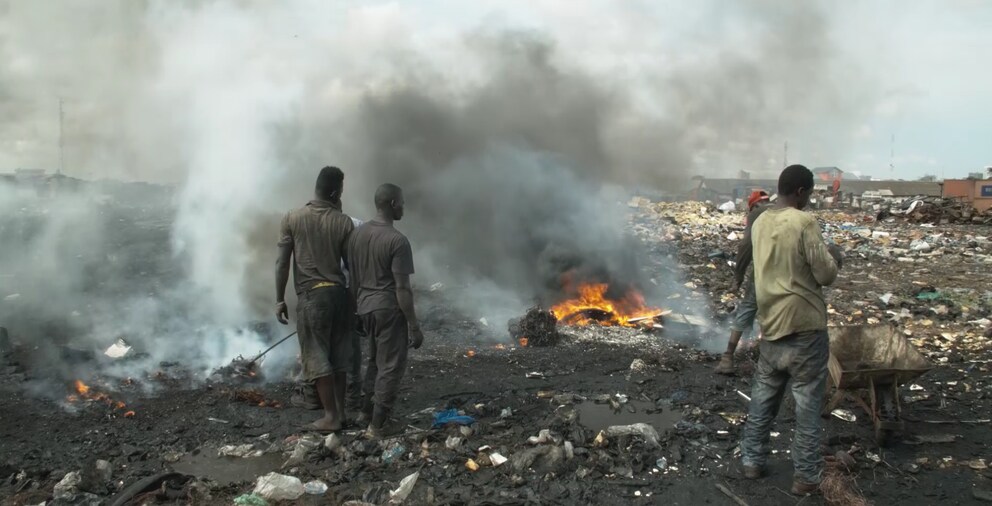 Agbogbloshie landfill; source: awastefulworld
Conclusion
The source of this article was the webumentary «awastefulworld». It focuses on the topic of e-waste and how people in Ghana earn a living from it. The videos are well worth watching as they give an uncensored view on the current situation.The web-based documentary describes the e-waste problem as follows: > "Undoubtedly, the export of second-hand electronic devices plays a significant role in the situation we're facing in Agbogbloshie. However, this is in no way the sole cause of the problem but rather a worthwhile extension of the life of electronic devices we no longer regard as up-to-date. For many people in Ghana, this is a stable source of income. Should this second-hand market be abolished, many families would no longer have an income."
For this reason, it's worth returning used devices to an electronics dealer. Any device you buy in Switzerland already includes an advance recycling fee that covers a professional disposal. In other words, there are no additional costs if you return your e-waste to a recycling yard. Furthermore, electronic waste can be returned free of charge to all electronics shops in Switzerland.
SENS eRecycling is a non-profit organization that campaigns for the professional disposal of electronics. If you want to learn more about eRecycling, you should check out their website.
---



Riding my motorbike makes me feel free, fishing brings out my inner hunter, using my camera gets me creative. I make my money messing around with toys all day.
---
These articles might also interest you
Skeleton Loader

Skeleton Loader

Skeleton Loader

Skeleton Loader

Skeleton Loader

Skeleton Loader