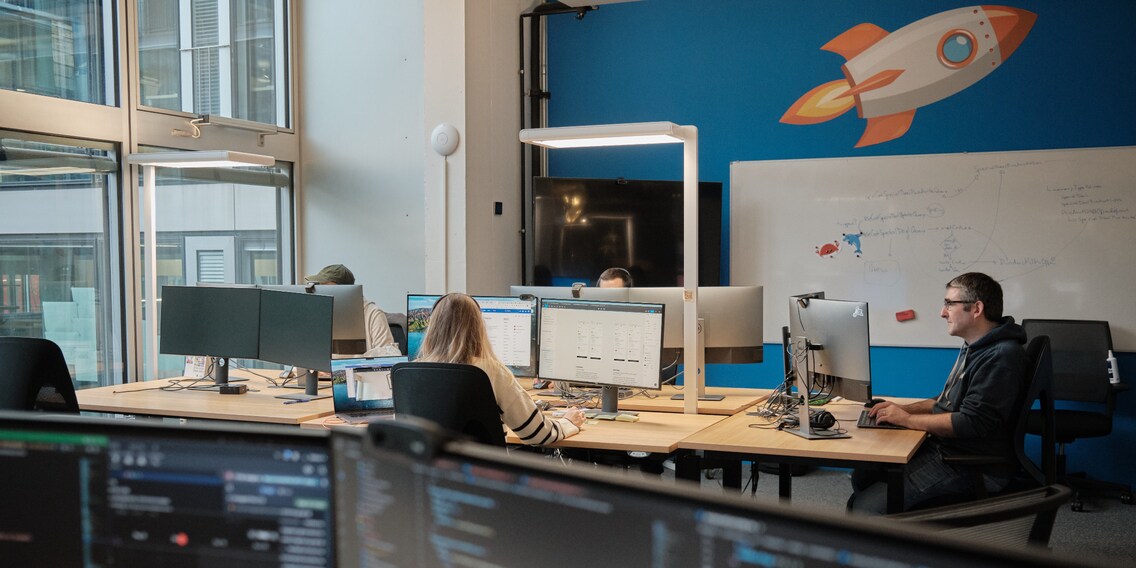 Comments, product ratings, discussions: we're putting together a team dedicated to our Community

What would we at Digitec Galaxus be without you, our Community? A pretty average shop. But that's not what we want to be. That's why we're putting together our very own team of experts, who'll be working on upping your Community experience.
Have you ever reviewed a product in our shop? Or «hearted» a magazine article penned by one of our editors? Maybe you've even left a comment. If you have, that makes you part of the Digitec Galaxus Community. And one of over 470,000 people who don't just shop with us, but use our platform as a way to gain and share information. Thank you for contributing!
But we all know talk is cheap. So we've come up with something more substantial to express our gratitude. We want to extend our Community for you and provide you with new and exciting possibilities. We're thrilled to announce that a new team of software engineers, product owners and UX designers will be starting to work on this in January. The team will be focusing exclusively on both improving existing Community features and introducing new ones.
They'll be doing so by using the data we have on our Community. Here are some examples:
4,000 product ratings on average made by our Community members every day – from simple star ratings to small test reports.
300 times a day, reviews are rated as helpful or not helpful by fellow users.
76,000 questions were asked about products in the last twelve months; most of them in the sectors IT and DIY + Garden.
97,000 answers were given to these questions. So chances are pretty high that the Community will help you out if there's something you want to know.
Sonja Kolley will be taking on the important role as the team's Product Owner starting 2023. Her vision is clear:
«We want the most helpful Community an online shop can have.»
Sonja adds that while the Community is already extremely active in Switzerland, our shops are also available in other European countries where there's still potential.
And she already has a few ideas about how this potential could be tapped into. For example, ways for experts within the Community to share their knowledge faster. If you ask a question today, it's very likely there's already an answer out there. However, the goal is to further expand feedback.
And then there's the gamification in the shop. If you make a purchase, comment on an editorial article, ask or answer a question or rate a product on Digitec Galaxus, you earn points. There are also several levels and awards. «Digitec Galaxus was a pioneer in this area,» says Sonja, «and now we're thinking about how we can make the programme more exciting and useful for customers.» She's not giving away any details just yet, though. After all, Sonja doesn't officially start until January 2023.
Help, the team needs a name!
Perhaps you've enjoyed our glimpse into the near future and are already looking forward to what it will bring to the Community. However, our team is still missing a name. And given the fact that the team couldn't exist without the Community, the ball's in your court.
At Digitec Galaxus, all teams have names. Each of them carefully chosen after extensive discussions lasting until the wee hours of the morning. Many of them involving historical fact checking and extensive online research. Take team «Raven», for example. They're in charge of customer communication via e-mail, push notification and SMS, and named after the message-bringing bird from «Game of Thrones». Or team «Nightingale», named after Florence Nightingale, who was a nurse in the Crimean War (1853 to 1856) and a pioneer in illustrating statistical correlations. Unsurprisingly, team Nightingale is in charge of data analyses. Makes sense, right?
So you probably see how we're wired when it comes to name giving. And this is where you come in. What should we call our Community team? Thanks for sharing your ideas in the comments. Feel free to add a brief explanation for more context. We're looking forward to your input, which could even be rewarded. Those of you who come up with the best suggestions will get the chance to take a look behind the scenes where we work. If your idea is selected as the name for our new team, you'll also receive a unique Community award that we're only giving out once: the badge for inventing a team name. On top of that, you'll receive a shopping voucher worth CHF 200.
P.S.: You're not very creative when it comes to thinking up team names but are looking for an exciting job? We're currently looking for a Software Architect to join our Community team. For more information about the position and other vacancies in Product Development, click here. And for a complete listing, see all vacancies at Digitec Galaxus.
---



Journalist since 1997. Stopovers in Franconia (or the Franken region), Lake Constance, Obwalden, Nidwalden and Zurich. Father since 2014. Expert in editorial organisation and motivation. Focus on sustainability, home office tools, beautiful things for the home, creative toys and sports equipment. 
---
---
These articles might also interest you
Skeleton Loader

Skeleton Loader

Skeleton Loader

Skeleton Loader

Skeleton Loader

Skeleton Loader