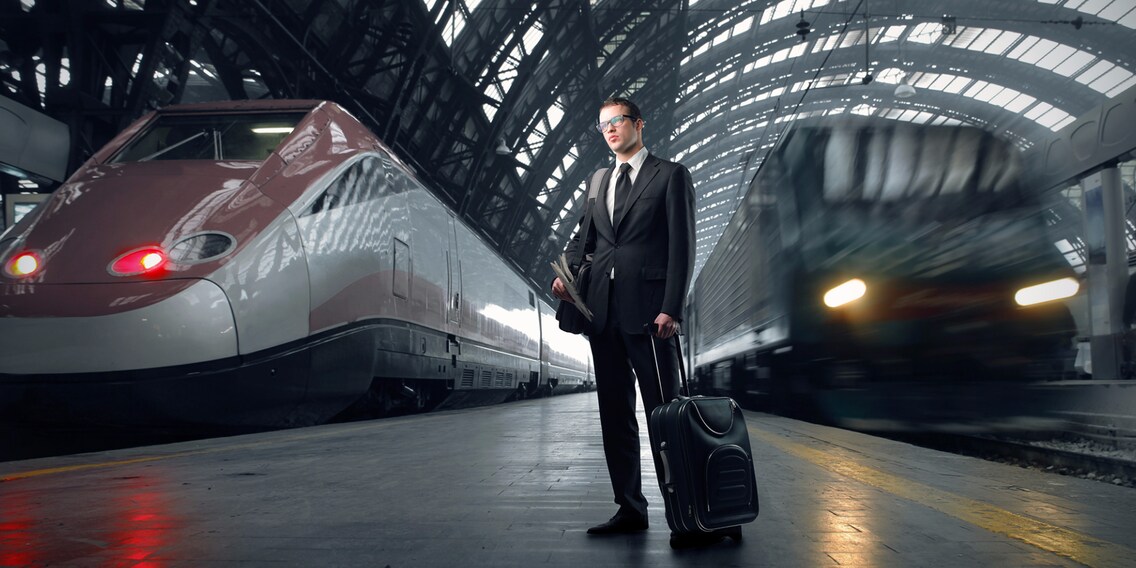 Best commuter gadgets

If you're one of the people who covers a considerable distance to get to work, you know how train rides can drag. Some days just feel like the commute from the office to your home is endless. Enough of that! I've put together the best gadgets to prevent mind-numbing boredom.
In Switzerland, thousands of employees use public transport to get to work each day. Some of them take the train from Berne to Zurich – the same route I take every day. All of us share the same goal: Getting to work and back. However, when it comes to habits, we're far from the same. Commuters are generally equipped with their own personal gadget to make the most of the time or to combat boredom. Looking back on over 1000 trips from Zurich to Berne and back, I've been given good insight into commuters' favourite gadgets. I would like to share my knowledge and hope to positively influence your life as a commuter.
Ensuring communication
Smartphone: The Swiss army knife for commuters
A smartphone is arguably the most important gadget for commuters. It's the Swiss army knife of devices and a bear necessity for those daily trips. It includes friendship maintenance features such as Whatsapp as well as features that allow you to read and send e-mails and to browse the Internet for travel destinations.
Powerbank: No socket? No problem!
Your smartphone's just run out of juice, the compartment you're in seems to be socket-free and the train's so packed that there's not a chance in hell you'll find another seat. This all-too-familiar scene is a thing of a past if you're equipped with a powerbank. It charges phones in no time so you'll be ready to phone, chat or surf in no time.
Working productively
Ultraportable notebooks: The mobile employee's workplace
If working on the go's your daily business, you'll appreciate an ultraportable notebook. Thanks to a compact 13" design and lightweight construction, it fits almost any bag and won't give you a sore shoulder. Especially when you're carrying a notebook on a daily basis, you'll be grateful for every gram saved. These devices also impress with a very long battery life and high computing power.
Privacy filters: No to nosey neighbours
Apart from an occasionally interrupted internet connection, working on the move is generally fairly unproblematic. However, what to do if you're dealing with sensitive data and your neighbour's eyes are getting a bit too goggly for comfort? How about a privacy filter? They quite literally keep nosey neighbours in the dark as they black out side views of your computer. The only thing your neighbour will be wondering about now is why you're staring at a black screen.
Spare charger: The precautionary measure against unwanted interruptions
After what feels like 500 times that I left my charger at home, I've learnt my lesson. Although the battery would usually last the entire journey, it would die as soon as I got to the office and accessing the documents I'd been working on was no longer possible. The next step would entail finding somebody who had the same notebook and hadn't left their charger at home. So here's my advice: Buy a second charger right at the start and keep it in your commuter bag.
Over-ear headphones: Enjoy the silence
At peak times, trains can be absolutely packed with noise levels to match. So if all you feel like doing is to unwind or finish off some work in peace, I would highly recommend Bose QuietComfort 25 headphones. Their over-ear design is great at blocking out noise. Press that noise cancelling button and you'll be whisked away to a peaceful place. Enjoy your favourite tunes in crystal-clear quality without having to crank the volume up. What's more, the noise cancelling feature also works without music – providing you with your personal quiet compartment.
Notebook bag: The perfect piece of luggage for your daily commute
Your notebook, spare charger and headphones need quite a bit of space. So it's well worth getting a bag, backpack or case to suit your needs. A dedicated work bag is the way to go to avoid unpacking your stuff every night. And it will reduce the risk of forgetting stuff in the morning. The main advantage of a notebook bag is without a doubt that it protects your notebook. Furthermore, these bags usually also feature cushioned compartments for tablets, chargers, documents and even your travel mug. A notebook bag will have you covered in almost any case.
Great entertainment
Tablet: Your mobile multimedia centre
If you've had enough of working and just want to sit back and be entertained, a tablet is for you. Use it to space out to your favourite tunes, test the latest tablet games or watch your fav series. Didn't have time to grab a copy of 20 Minuten or Blick am Abend? Not to worry. These babies are 4G-enabled so you can download your newspaper choice with your data subscription or via smartphone hotspot. Combined with the above-mentioned headphones – which are suitable for iOS and Android – there's nothing in the way of perfect multimedia experience.
eReader: Your pocket library
Commuters who prefer to switch off by reading a book should get an eReader. Equipped with E-Ink Technology, they provide an eye-friendly reading experience and only use very little power. In other words, battery life is very long and you can leave the charger at home. Furthermore, online book stores offer an incredible selection of books.
---



New information technologies are developing at an incredible speed. I find this field fascinating. I really enjoy getting to know and reporting on these technologies for our customers. If for once I am not busy with the latest notebooks or other gadgets, I ride my bike up mountains, snowboard down again or go on adventurous trips to faraway countries. 
---