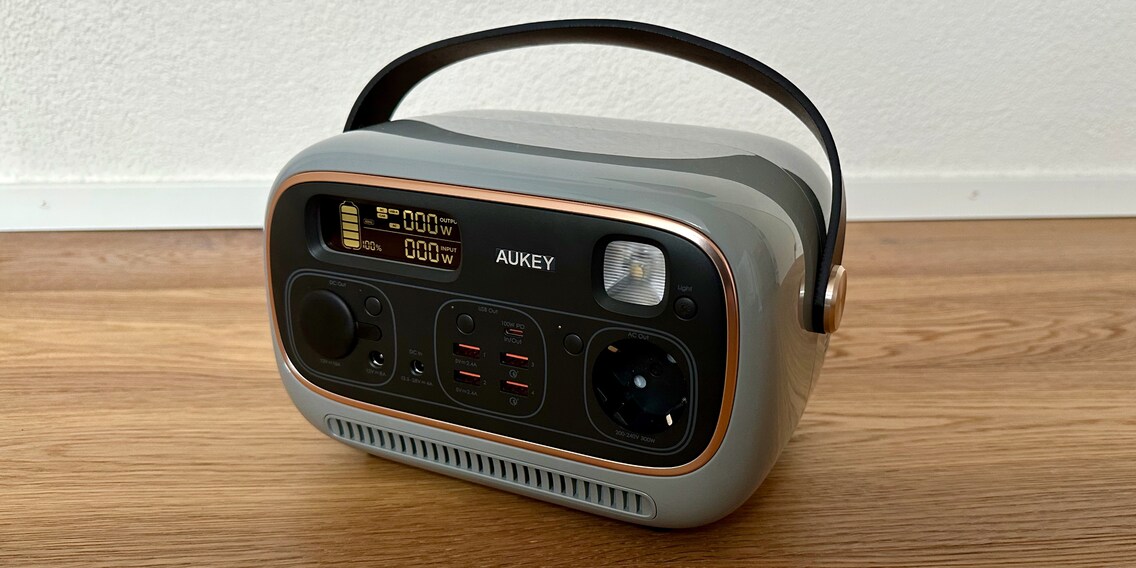 This article was translated automatically.
Aukey Powerstudio 300 in test: I still have a suitcase full of power ...
I tested the Powerstudio 300 from Aukey. It looks smart and supplies enough power for a smartphone and laptop, but it's not a lifesaver in the event of a blackout.
The likelihood of an electricity shortage occurring in the next few months - nice government word, by the way - is real. Accordingly, customers are stocking up at Galaxus, as Stephan from our PR team recently informed. According to the report, power stations, mobile electricity storage units that have a capacity of up to six kilowatt hours (kWh), are also in vogue. These storage monsters are correspondingly expensive - and heavy. More affordable are power storage units with capacities of less than one kWh. I tested a typical representative of this type: the Powerstudio 300 by Aukey.
For just over 400 francs, I get a portable storage unit with just under 300 watt-hours (Wh) of capacity, which is generously rounded up to a third of a kilowatt-hour. You have no idea how much electricity that is? No need to feel bad. Very few people know how much electricity they use in the household every day or which appliance is an electricity guzzler and which is not. For the Powerstudio 300 test, I asked myself these questions too and found some answers. . But first, a quick look at some of the specifications of Aukey's power bank:
297 Wh capacity, the equivalent of 82,500 mAh .- Lithion ion technology
3.7 kilogram weight
2 x USB-A output 5V
2 x USB-A output 5-12V
1 x USB-C input/output 5-20V (100 Watt, Power Delivery 3.0)
1 x AC-Output 200-240V (300 Watt, Schuko plug)
1 x DC output 12V
1 x DC input 13.5-28V
In addition, there's an integrated torch with 100 lumens of luminosity and a power supply unit with cable for charging the Powerstudio, as well as a connection cable for the cigarette lighter in the car, so that the Powerstudio can be charged there if required.
Power storage in the shape of a retro radio
The Powerstudio stands out positively from other power stations, which often look like toolboxes. At Aukey, a smart designer has worked to wrap the technical character of the device in the dress of a post-war era radio. The slots were placed where you would find speakers on a radio, and the slots for cooling could just as easily have been taken from the radio design. The leather carrying strap completes the retro look. Only the display showing the input and output power as well as the battery status reveals that it is the year 2022.
Ports, ports, ports
The Powerstudio 300 is a true connection artist. You can charge it in four different ways:
By DC charger from your home power socket .- By cigarette lighter cable in the car .- by USB charger
per mobile solar panel
A maximum of 60 watts flows into the Powerstudio via the DC charger supplied. Charging takes just under five hours. If you charge via a solar panel, the charging power depends on the position of the sun and the power of the panel. However, the Powerstudio will not accept more than 100 watts. With my own USB charger, I should be able to send up to 100 watts to the device, according to the instructions. With the charger of my Macbook, which I plug into the USB-C port, I get 78 watts. Still. Why doesn't Aukey come up with a more powerful "charging cable" itself?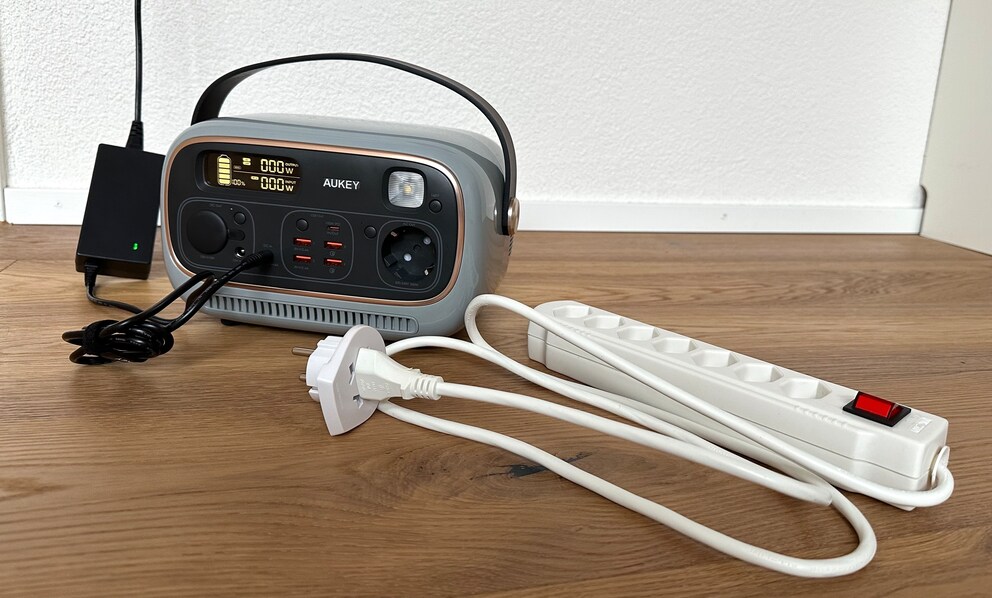 Where power goes in, power must also come out. Conversely, I can also use the USB-C port for charging to charge my Macbook. Or any other USB-C powered device. In parallel, I can use the four USB-A ports to charge all the smartphones in a small family. Any decent power bank can do that too, so it's nothing special. The following one also has a very decent capacity of 60,000 mAh, looks good and is also cheaper.
I find the AC output more interesting because it is usually reserved for the big power stations. Here I can plug in devices that are equipped with classic plugs. I imagined how I could have warm toast even during a blackout, plug in a mobile induction plate to prepare fried eggs or blow-dry my daughter's wet hair. After all, you don't want to give up the luxuries you're used to even in a potential emergency.
AC power only for low consumers
But nothing comes of it. Not because the socket is unfortunately an EU socket - that can be solved with an adapter. No, the problem is the maximum output power of the power outlet on the Powerstudio 300. 300 watts is listed in the specifications as "rated power" and 600 watts as "peak power". I found out what this means in real life when I plugged in my electric egg cooker. This has a power consumption of 350 watts. Too much for the Aukey power studio. For a few minutes, the egg boiling works. At first with almost 350 watts as output power, as the display shows me. But then the output power drops until the egg cooker switches off at around 320 watts. So the power studio is not supplying enough power. Kettle, coffee maker, induction hob, blender - there is no appliance in the kitchen that I could make work with the Powerstudio 300. I imagine the collection of energy guzzlers laughing at the retro-look battery in our kitchen.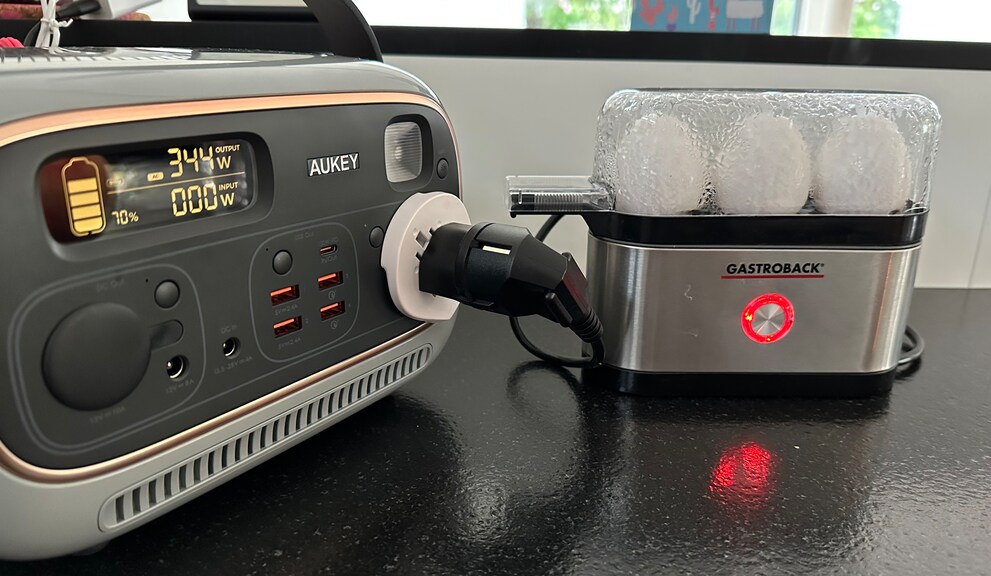 Low energy consumers, on the other hand, are a good friend to the power studio. The flat-screen TV (even a really big one), the floor lamp, the home office workstation with computer and monitor - all these are powered without any problems. Owners of high-performance gaming PCs might reach the limits, but I'm not one of them. So in the event of a blackout, I can sit at my desk as usual if I plug the power strip into the power studio beforehand instead of into the wall socket. On the display I can see how long the power will last before I have to stop working. In my case, with a power consumption of around 50 watts, that's almost eight hours. However, this is a theoretical consideration, because in the event of such a long blackout, my router would still need power and it is also questionable whether the internet would still be working.
Conclusion: unsuitable for blackouts, practical for other purposes
. With my power box radio, I can do without candles in the event of a blackout because I can connect a lamp. And the family doesn't have to immediately read books by candlelight, but could still watch some TV. Except that Netflix is not an option if the internet goes down. And yes, I could charge my smartphone about 25 times. In short, should the power really go out for a longer period of time, I won't be the hero of the neighbourhood with the Aukey thing just because I still have a pseudo-case radio full of electricity. Some people might rather look at the wood stored in the garden.
The Powerstudio 300 is rather a power case for on the road, for people who urgently need to use their notebook to make a zoom call while camping wildly for weeks in the Finnish tundra, or who are writing their first novel in an electricity-free rustico in Ticino. For this purpose, the unit has all conceivable and necessary inputs and outputs and delivers a very decent output of up to 300 watts. It is particularly useful in combination with solar panels and offers mini-autarky. However, you will need patience when charging, depending on the amount of sunlight.
For me, the Powerstudio is a nice gimmick. The display has made me measure the output power of various devices in the house. Of course, you can do that with other tools as well and cheaper.
The Powerstudio 300 is now going into the basement. There, where candles, crank torch and battery radio are stored just in case. Stuff that hopefully won't need to be put to use.
---



Journalist since 1997. Stopovers in Franconia (or the Franken region), Lake Constance, Obwalden, Nidwalden and Zurich. Father since 2014. Expert in editorial organisation and motivation. Focus on sustainability, home office tools, beautiful things for the home, creative toys and sports equipment. 
---
---
---
These articles might also interest you
Skeleton Loader

Skeleton Loader

Skeleton Loader

Skeleton Loader

Skeleton Loader

Skeleton Loader