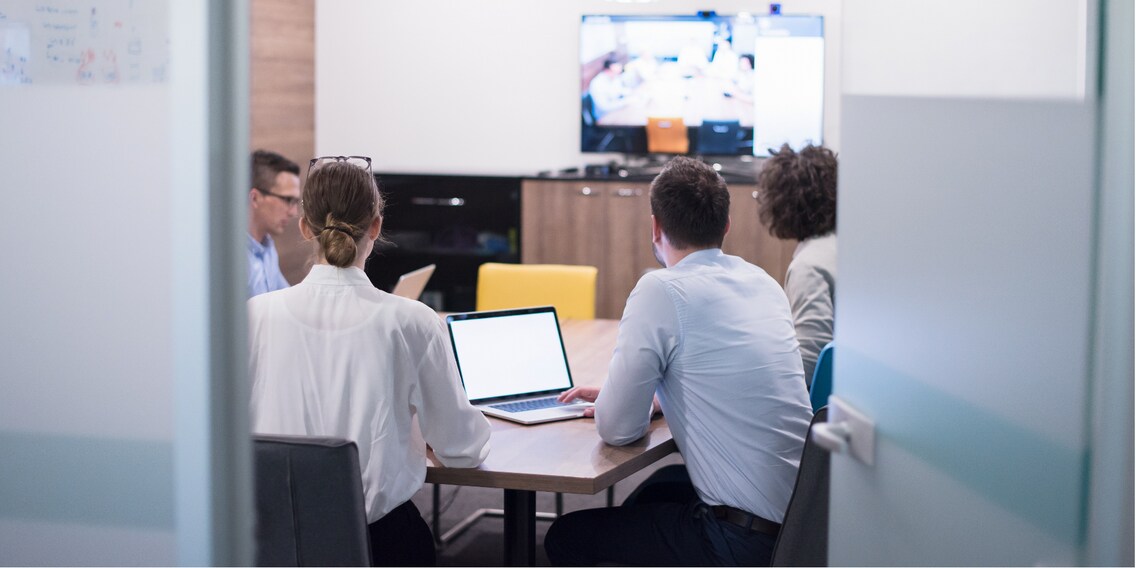 All you'll need for a hybrid meeting
When a meeting has both physical and virtual participants, it's referred to as a hybrid meeting. Find out what equipment your traditional boardroom will need for hybrid meetings in this post!
Hybrid meetings have been becoming more significant for some time. The reasons are equally ecological and economic. Why should someone unnecessarily fuel climate change by taking an expensive flight through Europe or even around the world in business class when you could just exchange information easily and efficiently in a virtual meeting thanks to modern technology? However, practice shows that the boardrooms of many of our corporate customers today are still designed for purely physical meetings. In addition to tables and chairs, the basic equipment of such rooms also includes screens and transmission solutions with which, for example, PowerPoint presentations can take place. You can find more information about these options as well as screen tech in the following two posts:
Small hybrid meetings
To make your meeting room «hybrid ready,» you should equip it with at least one speaker. The screen's speakers won't be sufficient. Your best option is a speaker with an integrated microphone. Our store offers you a wide range of intuitive products that you can connect to a laptop via USB or Bluetooth. Here's a small list of our bestsellers:
Another way to upgrade meeting rooms for conference calls is the so-called conference spider. With these spiders, you can start and join conference calls without having to bring your personal laptop to the meeting. The following three models are particularly popular with our corporate customers:
Don't want to just hear your business partners overseas, but also see them? Then you'll need a camera in addition to a speaker and microphone. For smaller rooms with space for no more than six participants, simple 3-in-1 devices with a loudspeaker, microphone and camera are recommended. These plug-and-play solutions offer a key advantage, especially for small budgets: they aren't permanently installed, but portable. This way you don't have to equip every one of your rooms. Portable conference devices are used when and where you actually need them.
Great hybrid meetings
When using larger spaces with room for up to ten people, 3-in-1 devices usually lack microphone and speaker range. In such cases, hard-wired solutions are the right choice. Typically, these are bundles that can be expanded on a modular basis. This means that meetings in larger rooms with up to 50 people won't be a problem.
Many manufacturers go one step further and also offer room solutions with a control unit – usually a tablet. They turn your boardroom into a resource that can «invite» participants to a meeting via Microsoft Outlook, for example. You can start and control the meeting at the event point directly via your tablet. This means you can hold video conferences without having to bring your own laptop into the room. The control unit is usually set up in the so-called kiosk mode. This way it grants access exclusively to selected UC software, such as Microsoft Teams. So if you want to spontaneously share content from the corporate network, you'll need to bring your laptop to the meeting as well.
Services
Thanks to our large and competent network of service partners, we can offer you not only the hardware, but also the service around it: From the simple delivery and installation of your signage display to the integration of your conference solution into the company network to the holistic design and implementation of your meeting room.
Almost 4 million items await you in our shop that's open around the clock. Are you in need of a large quantity and want a quote for it? Get all the information you need here! Please send any questions you might have about product consulting, project support or any other subject to our Help Center.
---
At Digitec Galaxus, I support our corporate customers in all aspects of collaboration and peripherals. This also includes our in-house mobile phone subscription digitec connect. I spend my free time traveling, cooking, and playing sports - preferably ball sports. 
---
---
These articles might also interest you
Skeleton Loader

Skeleton Loader

Skeleton Loader

Skeleton Loader

Skeleton Loader

Skeleton Loader