Access WhatsApp Web on iPad in two clicks
Tablets with a keyboard are pretty neat. They're supposed to replace your laptop, but they're missing a key feature: WhatsApp Web. Let me show you how to get this in a few clicks.
The iPad is supposed to replace your laptop. Apple likes to say this every so often. However, they often follow this up by releasing laptops that are better at being laptops than iPads will ever be. Still, I'm currently writing this on an iPad Pro, and I have to say, its managing the laptop role pretty well. It takes a lot of patience to get there, but usually you can get it to work.
Until now. There's one nagging detail. I'm one of those people that can't survive without WhatsApp. This encompasses all my devices. And even though I'm a dedicated smartphone tester by trade, I still dislike typing on phones. Especially on a usual work day. During boring meetings. I just don't have the time for it.
Luckily, WhatsApp Web exists.
WhatsApp Web… What?
WhatsApp Web is the browser interface for the SMS replacement. It's very useful while only missing a few mobile features and is compatible with a keyboard. Typing is quicker and you don't need to break your neck to get a decent texting position. This has a positive effect on your digital wellbeing.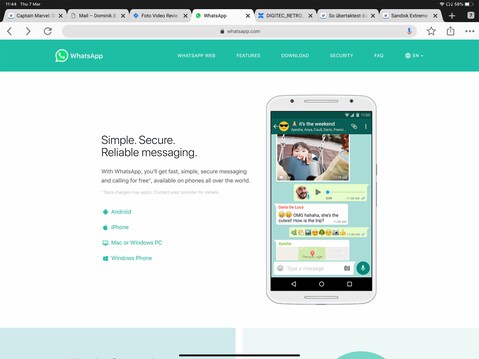 Operating the interface is easy.
Go to web.whatsapp.com on your PC or Mac browser.
Take out your phone.
Choose the «WhatsApp Web» option.
Point your camera at the QR code.
That's it.
Then the superior Facebook Messenger will give you access to your messages.
The iPad problem
This is where the iPad steps in. Because even as much as it would want to be a laptop, when it comes to software, it's a mobile device. WhatsApp thinks that a web interface isn't necessary, as you can just download the App from the App Store. Android has the same problem, by the way. Because as soon as a mobile device is detected, the site redirects to «Install the App».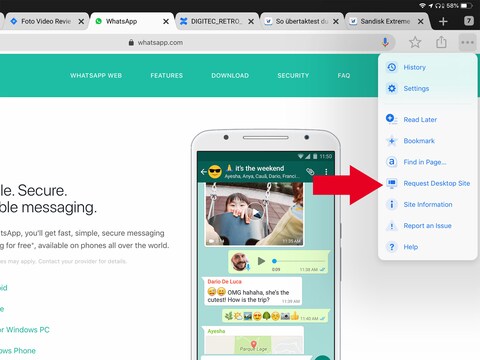 This is easily solvable. To do this, we will use a feature that is in every browser, be this Safari, Google Chrome or SnowHaze. It's almost never used and easily forgotten.
Go on the menu in the upper right-hand corner.
Choose «Request Desktop Site».
Login as mentioned above.
And there you go.
There you go. WhatsApp Web works during boring meetings as well as on the sofa whenever you have your iPad with you. Granted, this whole operation doesn't make a lot of sense if you don't have a keyboard. If you do, however, it'll work great.
This only works as the browser app stays active. Whenever you switch off the app – to select a different song on Spotify for example – it'll identify your device as a mobile one and switch back to the mobile site. You'll have to switch to the desktop site again. Annoying, I know.
So, that's it. I feel like I just left a particularly long meeting. Maybe I should pay more attention to things.
---
Journalist. Author. Hacker. A storyteller searching for boundaries, secrets and taboos – putting the world to paper. Not because I can but because I can't not.
---
---
---
---