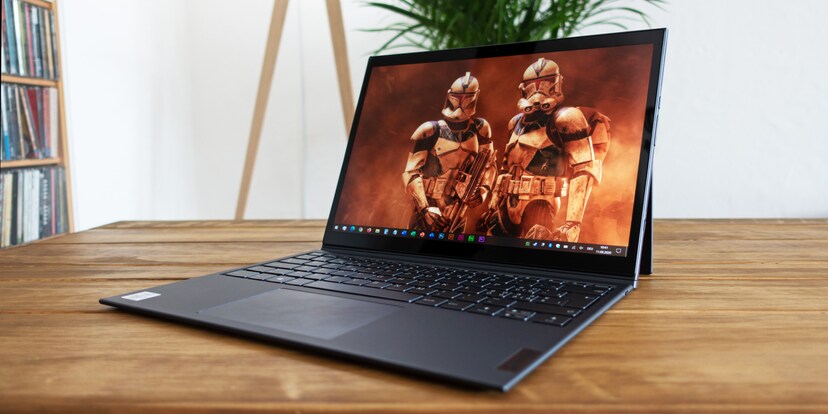 A Surface clone with a Bluetooth keyboard: Testing the Lenovo Yoga Duet 7i
Lenovo now has its very own «Surface Pro». However, the Yoga Duet 7i differs from the Microsoft original in a few points. For example, the removable keyboard doesn't only have a textile cover, but also supports Bluetooth. Clever.
Lenovo is far from being the first manufacturer to release a clone of Microsoft's Surface Pro. However, Lenovo is debuting stands and a magnetically attached keyboard. Trying to compete with the Microsoft original, I see.
And then the thing that actually makes the Duet 7i a better Surface Pro 7 in some situations: not only can the keyboard included in the price be removed, but it can also use Bluetooth – place the tablet somewhere and operate the device from somewhere else using the keyboard and trackpad on your lap.
Specs for the Lenovo Yoga Duet 7i:
CPU: Intel Core i7-10510U.
Integrated graphics processor: Intel UHD Graphics 620.
RAM: 16 GB of SDRAM (SanMax M471A2G44AM0-CWE, DDR4-3200).
Data storage: 1 TB SSD (Samsung MZALQ1T0HALB-000L2, NVMe PCIe 3.0 x4).
Display: 13" IPS Multi-Touch Display with 2160 × 1350 pixels (16:10 format, 196 ppi), glossy, 100% sRGB colour space coverage, supports pen input (pen optionally available).
Keyboard: removable Bluetooth keyboard.
Connections: 2 x USB 3.1 Gen 1 Type C (DisplayPort 1.3, Power Delivery), 1 x USB 3.1 Gen 1 Type C, microSD-Slot.
Audio: 3.5-mm jack (headphones and microphone), stereo speakers and an array microphone.
Camera: 5-megapixel front and rear camera (720p video resolution, Windows Hello IR face detection).
Wi-Fi, Bluetooth: Wi-Fi 6, Bluetooth 5.1.
Battery: 42-Wh lithium-ion battery.
Operating system: Microsoft Windows 10 Pro
Dimensions: 29.74 x 20.6 x 0.92 cm, 799 g (1164 g with keyboard).
Power supply: 45 W.
With 16 GB of RAM, a 1 TB SSD and an Intel Core i7, my test run for the 7i is most impressive. Anyone in need of more memory can satisfy their desire thanks to the microSD slot.
By the way, the Lenovo convertible is also available from us in the following version:
Design and connectivity
In terms of design, the convertible Yoga differs from the Surface Pro not only because of the slate grey colouring of its matte aluminium housing. When you turn it on, its 0.7-inch larger display immediately catches the eye. Together with the angular shape of the device, this all adds more volume. Nevertheless, at 29.74 x 20.6 x 0.92 centimetres, it's hardly larger than a Microsoft Surface Pro 7, which comes in at 29.21 x 20.07 x 0.85 centimetres. Furthermore, at 799 grams, it weighs only 30 grams more. Despite the corners, rounded elements can also be found on the Lenovo model. The 13-inch touch screen has rounded corners – the display is located on the remaining angular tablet.
The tablet is cooled via ventilation slots located on the upper edge. The edge is slightly tilted forward. This way, air is sucked in and blown out from approximately the top when the tablet is open and the screen is slightly tilted.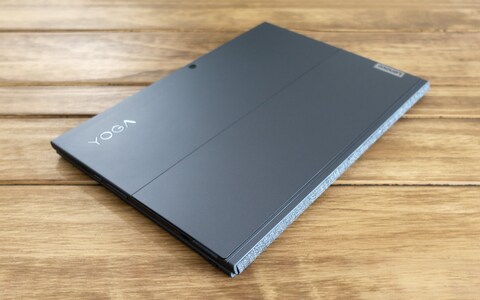 The fold-out, thin aluminium plate, a.k.a. the stand, works just like Microsoft's. This allows the tablet to be set up at almost any angle. When opened, the hinges don't make any weird noises and feel almost as smooth as those from Microsoft.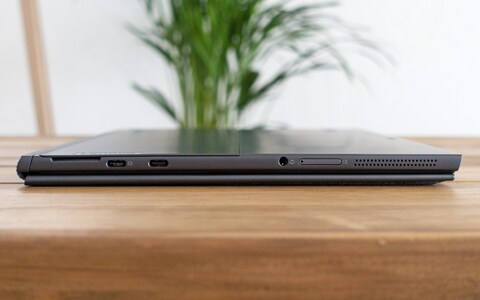 The left-hand side contains two USB-C 3.1 Gen 1 ports, which can also be used to charge the device. They also offer DisplayPort 1.3. They're just below the combined 3.5-mm jack connector and the microSD slot. Microsoft hides those under the stand. Lenovo has opted for a side slot with a cover.
On the right, there's another USB-C port that offers neither Power Delivery nor DiplayPort. There's also a volume knob and the power button.
A bright touch screen in 16:10
With a 2160 x 1350 resolution, the Yoga's 13-inch high-gloss IPS multi-touch display offers a 16:10 aspect ratio and 196 ppi. Although the Surface Pro 7 with its 12.3-inch 3:2 display is ahead of the rest thanks to 267 ppi, Lenovo's image looks just as razor sharp. Only pen users who lean in close to the display to draw will probably notice serious differences.
To find out how well the apparently 100 per cent colour space coverage sRGB display renders colours – as well as how bright its illumination is – I used the x-rite i1Display Pro Plus:
At 431 cd/m², the display shines as brightly as most other displays today. Bright enough to work in all lighting conditions except direct light. The Surface Pro 7 achieved 432 cd/m² during testing – a coincidence?
The uniformity is apparent. In the middle and the upper left, the luminosity is a little stronger, the difference between the darkest and brightest zones is 42 cd/m². Not noticeable during work. About as unnoticed as the Surface Pro 7, where I measured a difference of 48 cd/m².
Unfortunately, my tester didn't reach the promised value of sRGB colour space coverage. Nevertheless, the 7i display images colours about two percent more accurately than the Microsoft convertible does. I measured 95.2 per cent for Lenovo sRGB, 68.2 per cent for Adobe RGB, and 70.1 per cent for DCI P3. I calculated a static black and white contrast of 1507:1.
A detachable Bluetooth keyboard that reminds me of a sofa
I already have experience with manufacturers that use leather.
But this vegan-friendly, synthetic and tight textile cover is new to me. It kinda feels like a sofa.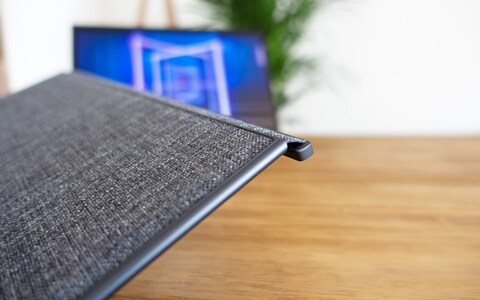 The textile cover lies below the Bluetooth keyboard, which doesn't just make the convertible look nicer, but also makes it non-slip. By the way, Microsoft uses a fluffy Alcantara cover for their keyboards, but on the top instead. Lenovo opts for full metal.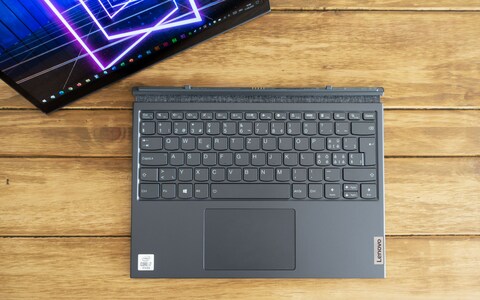 Thanks to its rigid appearance, the keyboard cover fits well. It can only be used flat. Angled use like with Microsoft's keyboard cover isn't possible. I like the layout, considering the available space, as well as the general appearance. But what I like most is the side slider, which activates the keyboard's Bluetooth function and is also used for one-time pairing.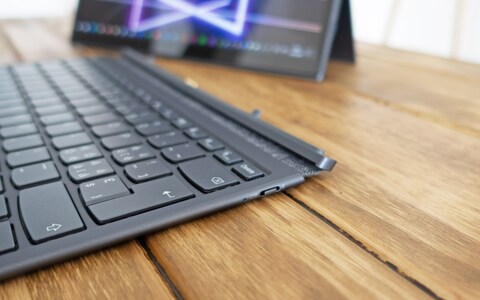 Once connected to the tablet via Bluetooth, the keyboard and trackpad can also be used separately. This can be an advantage when you're working with limited space. Or if you like lying in your chair without losing your balance.
Wow, how come Microsoft or Dell didn't do this?
The keys possess two-stage illumination, which can only be used in one stage when the keyboard is disconnected. When using the keys, I notice quite a short path – the keyboard has a key stroke of only 1.1 millimetres. There's a clear trigger point right at the start. I quickly get used to typing.
As far as I'm concerned, the trackpad is flawless. It measures 10.5 x 7.1 centimetres, has integrated right and left mouse buttons and a smooth surface, allowing you to easily and quickly whip around the mouse pointer.
Average notebook speakers
Stereo loudspeakers in compact devices are never insane, but these ones located at the very top left and right side are mostly just average, despite being Dolby-certified. Both the mid and bass ranges are too quiet. The trebles sound alright, but are clearly overpowering. An equaliser helps, but I'm still not getting that warmth. Other manufacturers simply have better control over the sound of notebooks and convertibles. Lenovo should look towards Microsoft or Asus for inspiration.
Battery power
The Yoga Duet 7i is equipped with a 42-Wh lithium-ion battery. Doesn't sound like much, but that's the norm for smaller devices. Microsoft's Surface Pro 7 has 45 Wh. Dell's surface clone, the Latitude 7200, contains 38 Wh.
To find out how long this device runs, I made it play endless YouTube loops, gave it a stress test and worked with it for a bit.
Nonstop YouTube streaming
Manufacturers often make a point about battery life while watching videos. But they usually only play locally stored videos at low brightness levels. The absence of Wi-Fi and the darker display save electricity. This in turn leads to product data that sounds solid when ignoring the fine print. According to Lenovo, this device should play up to 12.3 hours of local 1080p video at 150 cd/m² brightness.
I used this low brightness value during testing. Not to artificially improve the result, but because there are many displays that don't shine very brightly. 150 cd/m² is a solid brightness, as this corresponds to the optimal value in a slightly darkened room. Since most users don't play local movies but rely on streaming, I do so as well.
I open Youtube and let music videos run in a continuous loop. Automatic shutdown occurred after 6 hours and 13 minutes. For comparison: the Microsoft Surface Pro 7 managed 5 hours and 16 minutes under the same conditions. The Dell Latitude came in at 5 hours and 49 minutes.
Battery life under maximum power and volume
In order to see how the battery and the SoC Intel Core i7-10510U performed at maximum stress with the given cooling, I ran HeavyLoad and FurMark simultaneously at the highest brightness settings.
After booting up the stress test, the CPU ran at full power for ten seconds and then slowed down to 90 per cent. After five minutes, the clock rate continued to drop to 82 per cent, and after six it hit 60, where the clock rate remained relatively stable throughout the test after eight minutes. Now and then it varied slightly for a few seconds, but the bottom line is still 60 per cent CPU power. The GPU always remained at full capacity. The speakers achieved 41 dB from where I was sitting, about an arm's length away. I heard a hissing noise, akin to a quiet residential area or a park, as my smartphone later explained. The Lenovo convertible tapped out after one hour and 54 minutes.
A pity that my test device only managed full processor power for ten seconds. Too bad it remained around 60 per cent after only eight minutes. It's a shame, but Lenovo isn't alone in acting this way. All manufacturers have to struggle with cooling under full capacity, as I found out during my recent Surface Book 3 review.
Battery life during office work
When using the device without a power connection in the office, I managed seven and a half to eight and a half hours, depending on the type of work. If you're planning to use this thing for a while, I recommend bringing the 45 watt power supply unit. Or any other USB-C plug.
CPU and graphics processor
The energy-efficient SoC Intel Core i7-10510U was launched in late summer 2019 and offers four cores and eight threads. It belongs to the Comet Lake generation, which uses the 14nm++ process. The four cores individually clock at 1.8 to 4.9 GHz. Using all cores, the maximum turbo clock is 4.3 GHz. Actual performance may vary from device to device as TDP (Thermal Design Power) may be limited by the manufacturer. Depending on the configuration, it ranges from 10 to 25 watts. The version of the processor installed here clocks between 2.3 to 4.9 GHz.
Intel's UHD Graphics 620 is also included on the chip, ranging from 300 to 1150 MHz. Other SoC features include integrated memory controllers and support for encoding and decoding video material with the VP9 and H.265 codecs.
Performance: what the CPU and GPU are capable of
Here's where the CPU and GPU can really show off. I tested their performance with various benchmarks; Cinebench R20 and Geekbench 5 primarily tested processor performance, PCMark 10 was on during office work, and Night Raid from 3DMark evaluates the gaming performance of weak graphic cards.
Geekbench 5 and Cinebench R20
Cinebench by Maxon lets you see how your PC performs when rendering Cinema 4D content. Processors with more cores will always deliver better results (except single-core results).
Geekbench runs on Windows, MacOS, Linux, Android and iOS. Next to simulated real scenarios (single- and multi-core), Geekbench can also detect your GPU performance when it comes to image processing and artificial recognition. Thanks to the Geekbench browser, you can compare results with other systems.
The test results:
This is my first time testing the SoC Intel Core i7-10510U. I find its results during the Cinebench R20 test to be rather modest. Granted, this processor wasn't created with the newest manufacturing process, but one look online shows that it should only be a bit weaker than a Core i7-1065G7. That processor scored 1494 multi-core and 448 single-core points during the Surface Book 3's on Cinebench R20 test. A comparison with the Surface Pro 7's SoC, a passively cooled Core i5-1035G4 which should actually perform slightly weaker, makes it even clearer that Lenovo's processor still has some room for improvement. The i5 in Microsoft's device achieves 1504 multi-core and 361 single-core points.
The Geekbench 5 results underline the rather mediocre Cinebench R20 performance.
Gaming benchmark: 3DMark Night Raid
I haven't reviewed gaming at the lowest level – devices without a dedicated graphics unit aren't capable of more. However, in view of upcoming devices with new 11th Gen Intel SoCs which contain a stronger integrated Iris XE GPU, the Night Raid Benchmark (DirectX 12) could soon provide for exciting comparisons. It's intended for mobile devices with an integrated GPU.
Unfortunately, the first Night Raid benchmark fails somewhat. As you can see from the result, the graphics driver wasn't accepted by 3DMark, which makes the 4796-point result only partially useful. At least we know that an average office laptop with Intel Iris Pro Graphics and i7-1065G7 can achieve up to 9408 points.
Office benchmark: PCMark 10
3DMark's brilliant PCMark 10 allows you to test PCs and notebooks in various tasks around your workplace. It's an office benchmarking software great for any device with a weak GPU.
As the valid result of 3861 points shows, this device is better than 31 per cent of all objects tested by PCMark 10. Intel Iris Pro Graphics and i7-1065G7 is definitely more suited for office work. It achieved 4611 points in that category.
Conclusion: a successful convertible one blue tooth ahead of Microsoft
Before testing the Lenovo Yoga Duet 7i, I was sceptical of its quality. Especially since I already put a surface clone from Dell through its paces and gave it quite a hard time. Microsoft's workmanship and detailed design is definitely more appealing, along with the clearly higher screen resolution.
But the device at hand is different. Lenovo not only manages to copy Microsoft's solid Surface Pro concept and implement it in its own unique way. The manufacturer also makes the hardware feel just as comforting as Microsoft. And what's more; thanks to Bluetooth support, the keyboard cover used here has a situational advantage. I really can't remember the last time I was so enthusiastic about the implementation of a simple, even obvious idea.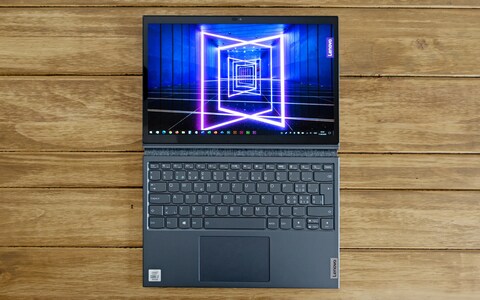 What goes mostly unnoticed in everyday life is the CPU performance, which is a bit below expectations for the i7-SoC. Lenovo should improve it, as well as the average loudspeakers. Otherwise I'm giving it a big thumbs up – well done.
---

I find my muse in everything. When I don't, I draw inspiration from daydreaming. After all, if you dream, you don't sleep through life.
---
---
---