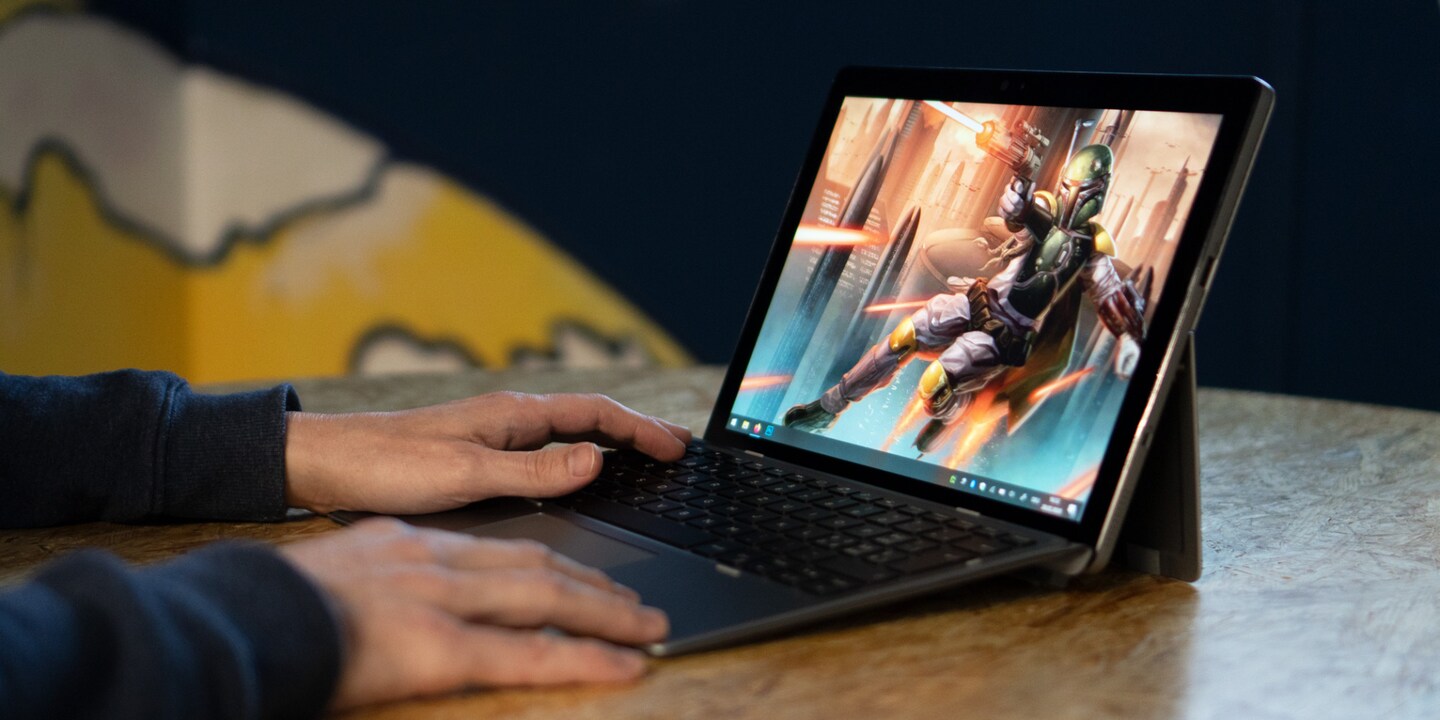 The Surface clone put to the test: Dell Latitude 7200

A cheeky copy or a successful improvement? With the Latitude 7200, Dell has taken up the design of Microsoft's Surface Pro. But what has Dell done differently?
With a Windows-10-based convertible, you're killing three birds with one stone. It's a tablet that can turn into a notebook whenever you need it to. What's more, thanks to its great software compatibility, it's also suitable for normal office work – unlike Android or iOS-based systems.
The Latitude 7200 is Dell's lower priced answer to the Surface Pro.
ReviewComputing

Microsoft Surface Pro 7 im Test: Endlich USB-C und Ice-Lake-U-Prozessoren
When it comes to details, Dell's done a lot of things differently than Microsoft. This is not only limited to external features such as the hinges of the stand or the not-so-high-resolution display. While Dell uses Intel processors of the eighth generation for the Latitude, Microsoft uses the tenth generation with WiFi 6 and Iris Plus Graphics. However, this doesn't necessarily equal a big performance boost. Unlike Microsoft, Dell has equipped the i5 with active cooling. This will probably allow the device to clock higher for longer. In the test linked above, the Surface Pro 7 limited its clock rate to 44 per cent of its capacity after only a few minutes to avoid dying from heat.
By the way: unlike Microsoft, Dell has included the clip-on keyboard in the price.
The technical details:
Intel Core i5-8265U (actively cooled)
Integrated graphics processor: Intel UHD 620 graphics
8 GB RAM (SanMax, LPDDR3-1866, 2 × 4 GB soldered)
256 GB SSD (Toshiba KBG30ZMS256G, M.2 2230 PCIe 3.0 ×2)
12.3" IPS multi-touch display with 1920 × 1280 pixels (3:2 aspect ratio, glossy, supports pen input)
2 × Thunderbolt 3, USB 3.1 type A, microSD slot, Kensington lock, WiFi 5 and Bluetooth 5.0
3.5 mm audio jack, stereo speaker, dual array microphone
Ambient light sensor, Windows Hello camera (face recognition)
5-megapixel front camera and 8-megapixel rear camera
Lithium-ion battery with 38 Wh
Windows 10 Pro
Kickstand and ports
The main chassis is made of aluminium and magnesium and measures 29,20 × 20,88 × 0,93 centimetres without the keyboard. This means it's almost the same size as the Surface Pro. The same goes for the display edges with a width of 1.5 centimetres. However, the Dell clone weighs 851 grammes, which is slightly more its 770-gramme counterpart.
When I first opened the kickstand, the hinge action felt a little less smooth than Microsoft's. On the plus side, Dell has equipped the stand with an extra feature that works with or without the clip-on keyboard. There are two spring-loaded feet underneath the device where you click on the keyboard. They're automatically released when you place the device on a table, and they open the stand by 26 degrees. If you prefer a larger angle, you can extend out the stand by hand to 150 degrees.
From my experience, the automatic kickstand is not triggered when you just place the convertible device on a table normally. Slamming it down works way better but obviously isn't advisable. The magic happens when you put your device on a table and gently apply pressure to the top. This is when you feel the spring-mounted feet, or rather the edge of the keyboard, slowly descend and kiss the tabletop.
Dell hasn't been stingy and has provided the Latitude with two Thunderbolt 3 ports on the left side. One of them is also for charging. Also on the left, there is a microSD slot, a volume rocker and a 3.5 mm jack connector.
Thanks to a type A USB 3.1, you also have the possibility to connect older devices without USB-C adapter. That's also where you'll find a Kensington lock. Dell chose to place the Power button at the top-right side of the tablet.
Lower resolutions, but better colour space coverage
Probably the biggest difference to the Surface Pro is the built-in high gloss display. More precisely: the resolution of the 12.3" IPS Multi-Touch display in a 3:2 format. While Microsoft offers 2736 x 1824 pixels, Dell gives you 1920 x 1280. Enough for a sharp image given the 12.3-inch diagonal at a normal display distance. If you work with a pen, you'll notice the lower resolution because you're much closer to the display.
To find out how well the display is illuminated and reproduces colours, I measured it using the x-rite i1Display Pro: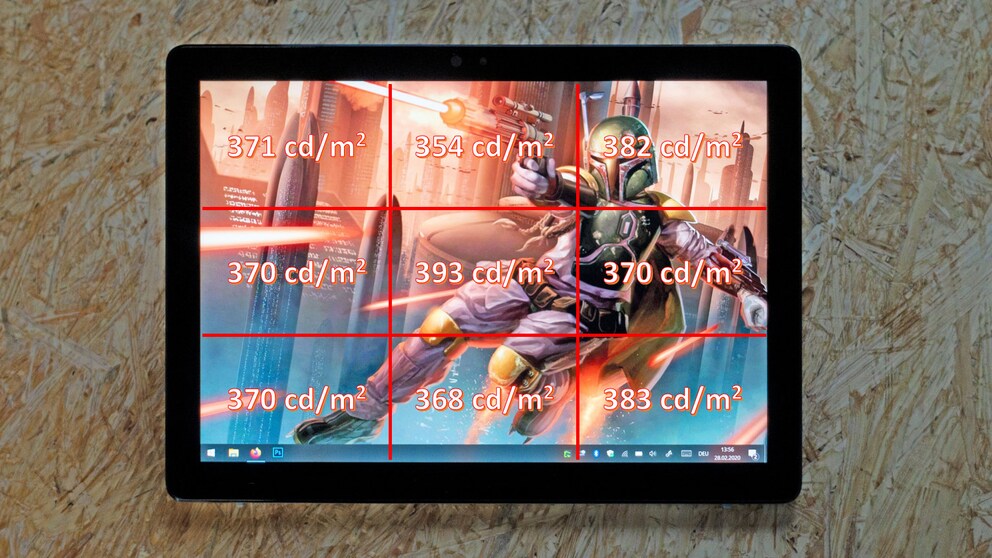 As my measurement shows, the built-in panel is bright enough to work almost anywhere, with an average of 373 cd/m². Only direct sunshine causes problems due to the high-gloss coating. Uniformity is also good – I can't tell the difference of 39 cd/m². When I compare it to the Surface Pro 7 again, the Microsoft Convertible is 59 cd/m² brighter on average.
On the other hand, Dell's colour space coverage is a bit more accurate. I measured 98.5 percent for sRGB, 70.5 percent for Adobe RGB and 74.6 percent for DCI P3. The test model's static contrast is a crisp 1313:1, the dynamic reaches 4238:1.
Keyboard and trackpad
I like that the 349 gram keyboard is included in the price. However, there is definitely room for improvement. Like the Surface Pro keyboard, it automatically attaches itself to the tablet. It can be used both flat and angled thanks to the built-in magnets. However, it sways slightly sideways when I place my palms on it due to an instability caused by the design. Fortunately, I get used to it quickly.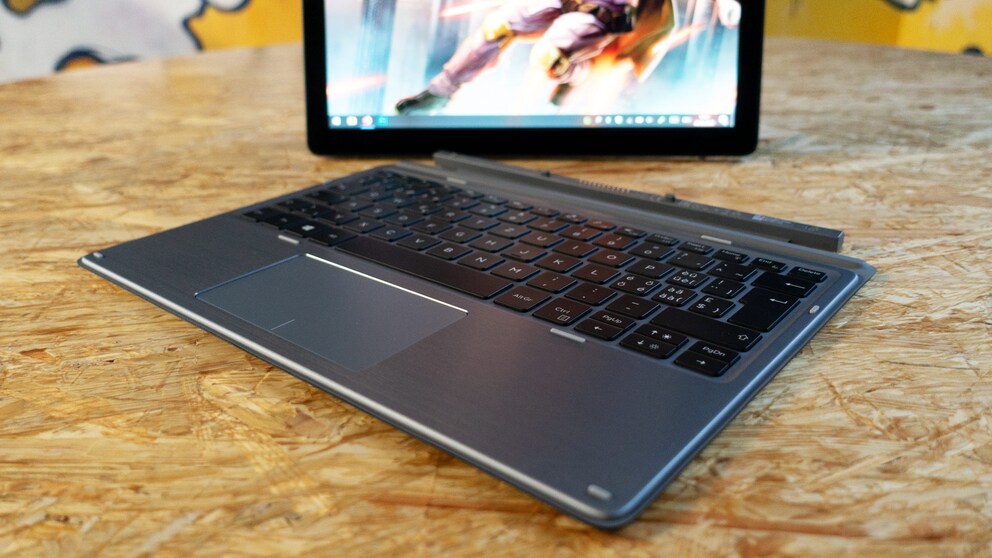 Dell uses a grey leather imitation on the underside. The surface area uses aluminium, which feels a bit cool and hard. The keys have two-stage illumination. In comparison to Microsoft's clip-on keyboards, they bounce considerably less. When you type, you also feel a strong trigger point. The key stroke is 1.4 millimetres and the typing feel is quite pleasant after a period of getting used to it. If you work in an open-plan office this keyboard is a handy choice, thanks to its rather quiet typing sounds.
Thanks to the very smooth trackpad surface, you can run the mouse along the screen with pinpoint accuracy. There's nothing wrong with the trackpad.
Speakers: no eargasms here
If you'd like to watch a movie or enjoy music from time to time without headphones, you'd better get used to disappointment. The loudspeakers are, as with so many notebooks, rather bad. But in contrast to other bad notebook speakers, it's not only single instruments such as pianos and guitars that sound distorted. The music just sounds dull, due to insufficient middle and low frequencies. Only the highs are clean – when the volume isn't peaking, that is.
Sorry Dell, back to the drawing board.
Battery life: not great, still better than Microsoft
Time to see how much juice the 38 Wh lithium-ion battery offers. I measure the runtime using YouTube videos, high performance tasks and office work.
Continual YouTube streaming
To accurately compare this device with other notebooks and convertibles, I set the brightness to 150 cd/m² and let it run music videos on YouTube until the juice runs out. After 5 hours and 49 minutes, that's it. Not a brilliant performance, but at least more than what the Surface Pro 7 managed with a bigger battery. Even with 45 Wh, it only managed 5 hours and 16 minutes.
High-performance
To push all the hardware to its limits, I run the stress test HeavyLoad as well as FurMark at maximum screen brightness. As with the Microsoft Convertible, I observe how the CPU is throttled down after some time. Thanks to active cooling, it takes about ten minutes until it reaches 57 percent performance. On the passively cooled Surface Pro 7 with an i5 processor, the processor clocks down to 44 percent power after only about five minutes.
Office work
If you're looking to use this thing on the go, don't place it on your lap. Bases on devices such as this one aren't meant for this and tend to fold away accidentally, leading to many an accident.
At least when working without a power cable, you'll still be able to survive for about eight hours. Even with an underpowered battery. I refrained from listening to music while working.
CPU and graphics processor
The Intel Core i5-8265U 64-bit Quad-Core x86 microprocessor was released towards the end of August 2018. It's based on a revised version of Whiskey-Lake micro-architecture. Currently, it's being manufactured with an advanced third generation 14 nm process, called the 14-nm++, leading to a frequency of 1.6 GHz and a 15 W TDP. A turbo boost will get you up to 3.9 GHz.
The chip also contains Intel UHD Graphics 620, which runs at 300 MHz and contains dynamic frequencies around 1.1 GHz.
Cinebench R20
You can use Maxon's Cinebench to test how your processor performs when rendering Cinema 4D content. If you want to compare multi-core results, you'll only be able to do so if both processors have the same number of threads.
How the Dell Convertible fares: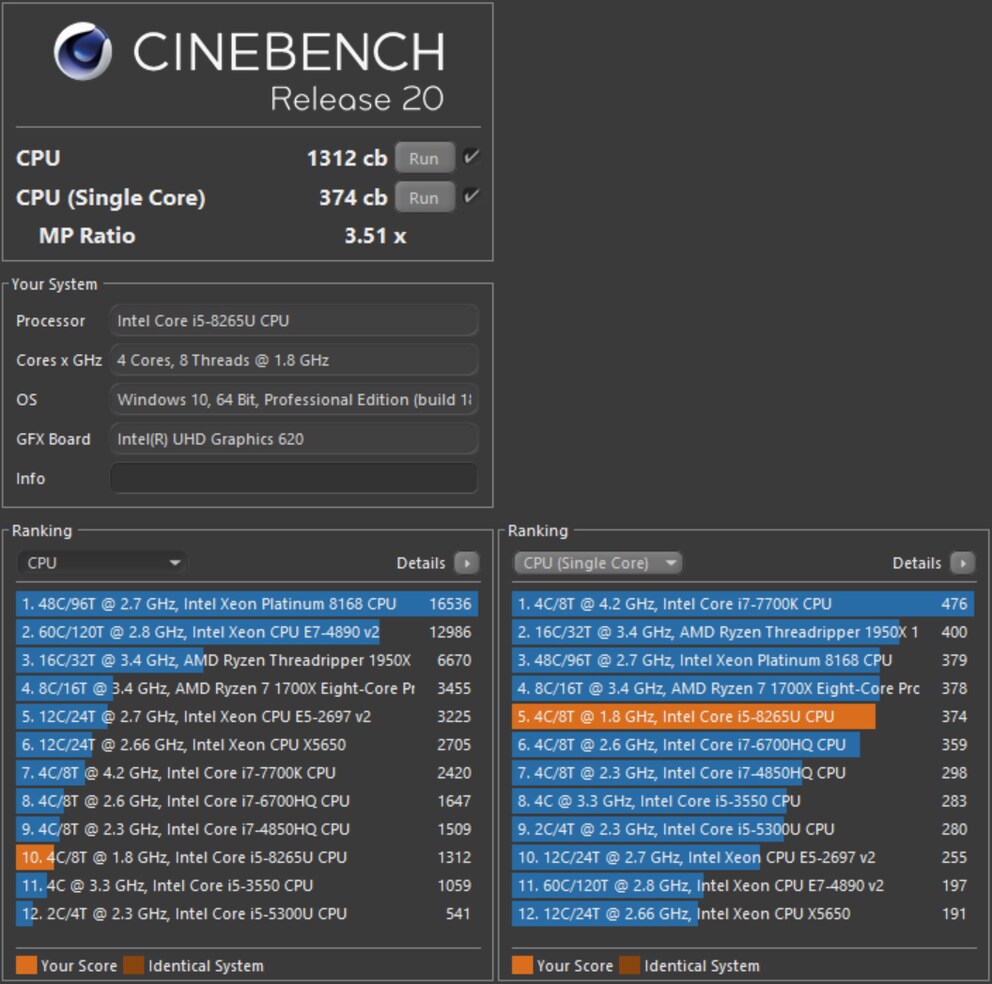 According to Intel, the Whiskey Lake processor micro-architecture should be able to process around 18 percent fewer IPCs (instructions per clock) than the new Sunnycove micro-architecture, on which the Microsoft's Surface Pro 7's i5-1035G4 is based. The present processor should perform worse. But the result isn't that clear: although Dell's multi-cores don't come close to Microsoft's 1504 points with their 1312 points, the Dell device beats the Surface with a score of 374 to 361 in the single-core results.
Dell probably gets a lot out of the active cooling: the multi-core benchmark lasts around four minutes, which is why the passively cooled processor of the Surface Converter isn't throttled down yet and the Dell device hangs around. In return, the single-core benchmark takes about 13 minutes and seems to have the opposite effect. Long live , which by the way can only be heard with a soft hissing sound at workload.
Geekbench 5
Geekbench is a cross-platform benchmark. It runs on Windows, MacOS, Linux, Android and iOS. In addition to simulated real scenarios with which the CPU is tested (single-core and multi-core), Geekbench can also determine the GPU performance in image processing and machine vision. Thanks to the Geekbench-Browser, you can compare the results with other systems.
The Latitude 7200 results:
The CPU and GPU benchmarks with Geekbench last less than three minutes, which is why the result here is expected: the older Dell processor delivers the worse results in comparison with the Surface Pro 7.
Here are the detailed results:
PCMark 10
PCMark 10 by 3DMark lets you test PCs and notebooks with a variety of essential office tasks. It's an office benchmarking software and is great for any device too weak to handle a proper gaming benchmark.
The Latitute 7200 gets around 3570 points in this benchmark. Comparing this with other results on 3DMark's homepage shows that it's an above-average office PC, although it's too weak for any proper gaming.
Conclusion: an interesting while flawed clone
At first glance, Dell manages to copy Microsoft's Surface Pro concept. But on closer inspection, there are some differences. These start with the hinges and workmanship. The Microsoft device feels a bit better, but Dell can score with its stand-folding mechanism. I like the typing feel of the keyboard, which is included in Dell's price, a bit less than Microsoft's. The fact that the Dell keyboard feels a bit wobbly when used at a slant is only weird until you get used to it.
Microsoft has a higher resolution, which is especially important for pen input. In terms of colour space coverage, the points go to Dell. And the Latitude has a slight advantage in battery life despite the smaller battery. It is, however, let down in the sound rendering, which has much room for improvement.
In terms of performance, Dell has done everything right, despite the somewhat older eighth-generation i5 processor. The device has active cooling, which is important during longer rendering tasks.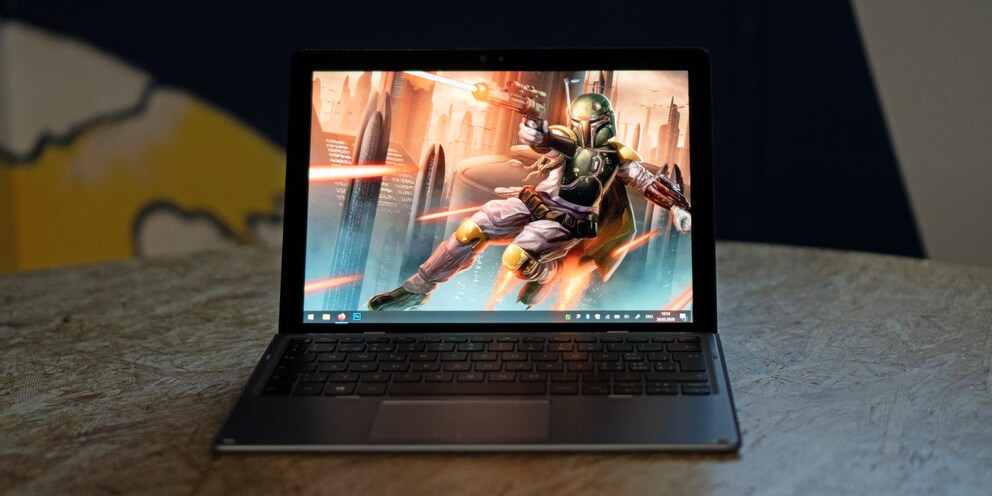 Dell has managed to create an interesting but not perfect clone. If you can do without good sound output and prefer not to use a pen, I can recommend the device.
---

I find my muse in everything. When I don't, I draw inspiration from daydreaming. After all, if you dream, you don't sleep through life.
---
---
These articles might also interest you
Skeleton Loader

Skeleton Loader

Skeleton Loader

Skeleton Loader

Skeleton Loader

Skeleton Loader