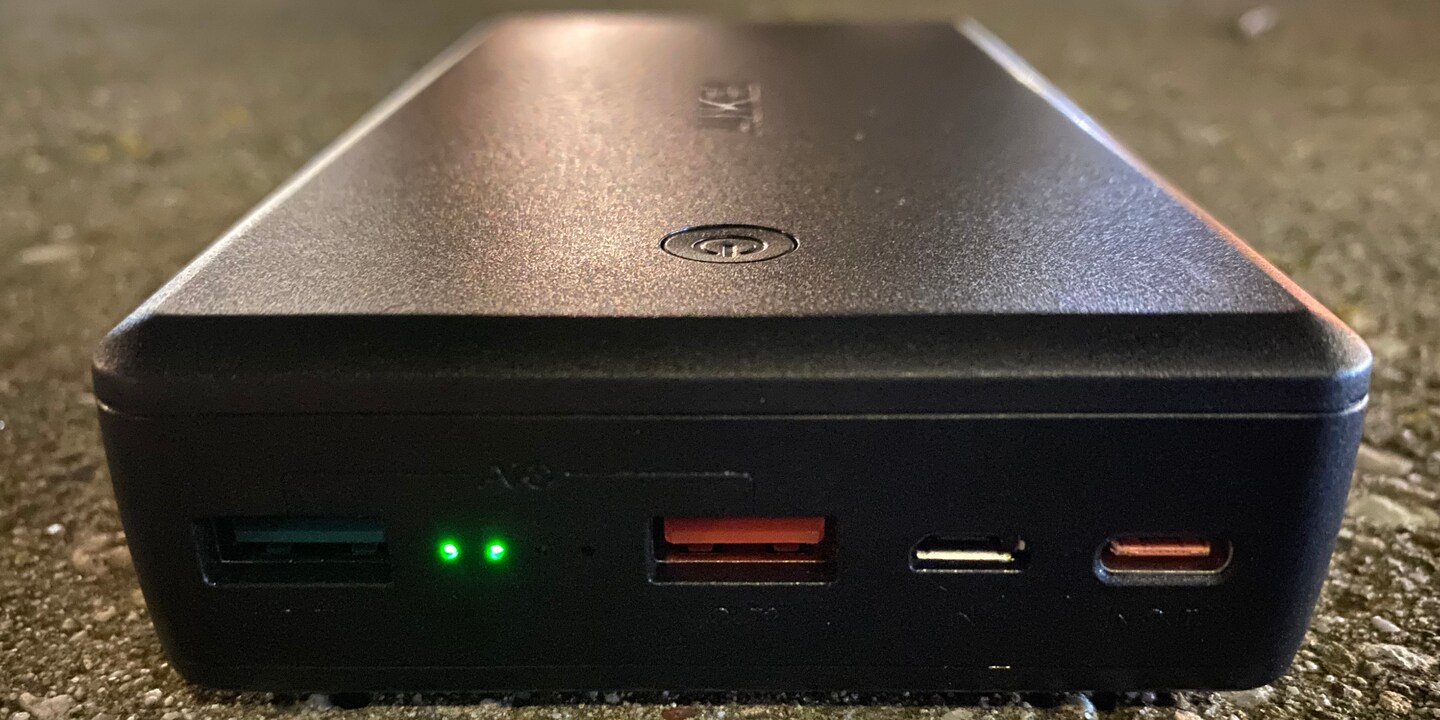 A power bank with a dark secret

I've written a buyer's guide to Powerbanks. While making it, I discovered a curious problem regarding one of the products. A search for clues began – revealing a devilish trick.
We at digitec want to write more buyer's guides. As editor-in-chief, I'll set a good example and take a look at Powerbanks. I'm a thorough tester. So thorough that my buying guide has been in the works for a month. There's already a running gag about me. But I did it!
Shopping guideSmartphone

Which power bank really has power?
An enthusiastic reader helped me implement the purchase guide. He evaluated several Powerbanks. We parsed the data together. I'm writing the article. A perfect division of labour.
First doubts
We noticed different specifications for one product. More specifically the Aukey PB-Y7. The product name and specifications refer to 30,000 mAh. However, the summary states a capacity of 26,500 mAh.
A brief google reveals that the product is actually in circulation under the same model number PB-Y7 with different specifications. Once with 26,500 mAh and once with 30,000 mAh.
I asked our product manager responsible for Powerbanks which version we have. He asked our supplier – not the manufacturer Aukey – for further information. Apparently, we got a variant reserved «for offline trading», in contrast to Amazon, for example.
This is strange for several reasons:
Why should Aukey offer a variant specifically for offline trading?
Why is the larger variant not specifically advertised as a more efficient product?
Why would you want to withhold them from important players such as Amazon?
Why does this better variant have the same model name?
There are no rational answers to these questions. None of this makes any sense.
To put the cherry on top, 30,000 mAh is an unwise capacity. It starts getting problematic on flights. Most airlines – including Swiss – only allow batteries up to 100 watt hours (Wh). For anything over 100 Wh, you'll require a permit. And it's not just a Swiss problem. That's why almost all big Powerbanks are just at the magic limit of 26,500 mAh. At 3.7 volts this amounts to 98.05 Wh of energy.
The 30,000 mAh of the PB-Y7 result in 111 Wh. At least, that's what it says on the back of the case. Why does a manufacturer want to make the product unsuitable for air travel for a relatively small capacity gain of around 11 %?
My guess, the only possible answer: the manufacturer is actually selling the same product and describing it differently. Because they want to outdo other manufacturers with 30,000 mAh and advertise the largest number.
Ring the alarm.
Time for some detective work
I make my way to the Aukey website. Out of everyone, they should know which variant can do what.
Here's the manufacturer's website for the 26,500 mAh version. And here's the Aukey page for the 30,000 mAh variant.
The second page has a blemish. It states a capacity of 98.05 Watt hours. As does the version with 26,500 mAh. That can't be right:
26.5 Ah × 3.7 V = 98.05 Wh
30.0 Ah × 3.7 V = 111 Wh
There can only be one explanation: the 30,000 mAh version would have a lower cell voltage. At 98.05 / 30 this would have to be 3.26 Volt. For a different voltage, the cells would have to have a completely different set-up. It could of course be using LiFePO₄, which supplies between 3.2 and 3.3 V of voltage. Unlikely. Then they wouldn't both be called PB-Y7.
I decided to get to the bottom of this and ordered a 26,500 mAh model from Germany. As it can't be delivered to Switzerland, it made a stopover at our colleagues at Galaxus.de (who unfortunately don't have exactly this product in their range).
Finally, the time had come and I had both products in front of me. First of all, I passed by the Swiss Post Office, which has offices in our building. Swiss Post has very precise scales and Erich, who brings our post, weighed out both products for me.
A difference in capacity of more than 10 % would lead to a difference in mass. The bigger one would have to weigh quite a bit more. Nope: Both weigh exactly 565 grams. Not only are both PB-Y7 equally heavy, they resemble each other to a T. The connections are identical. The dimensions match.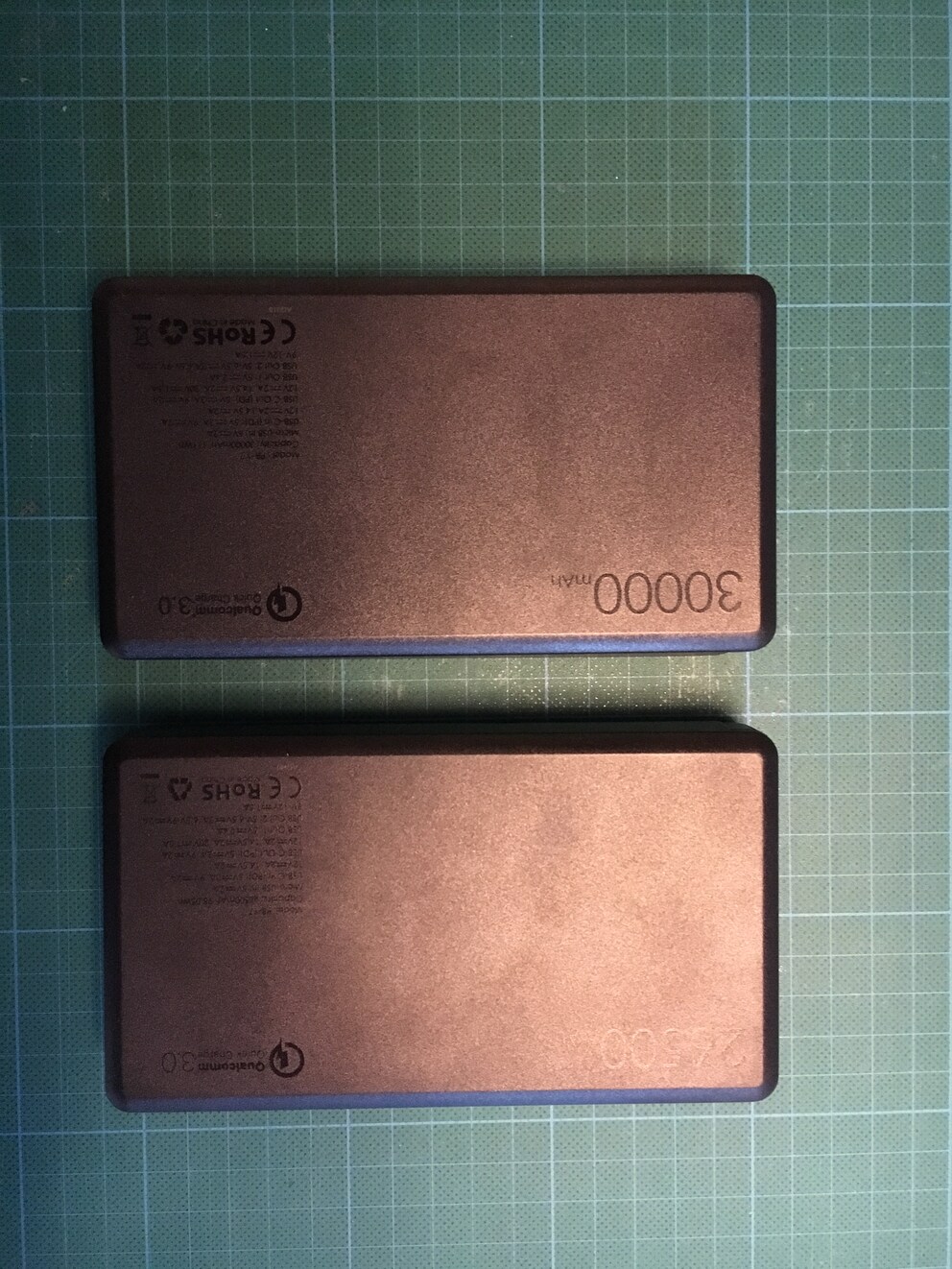 The plot thickens.
I decided to bring in heavier guns and measured both Powerbanks. I emptied them both completely and charged them. A middleman USB gauge measures how much electricity both consume. After two ten-hour charging sessions, I have the results in front of me.
These are the results of the 30,000 variant: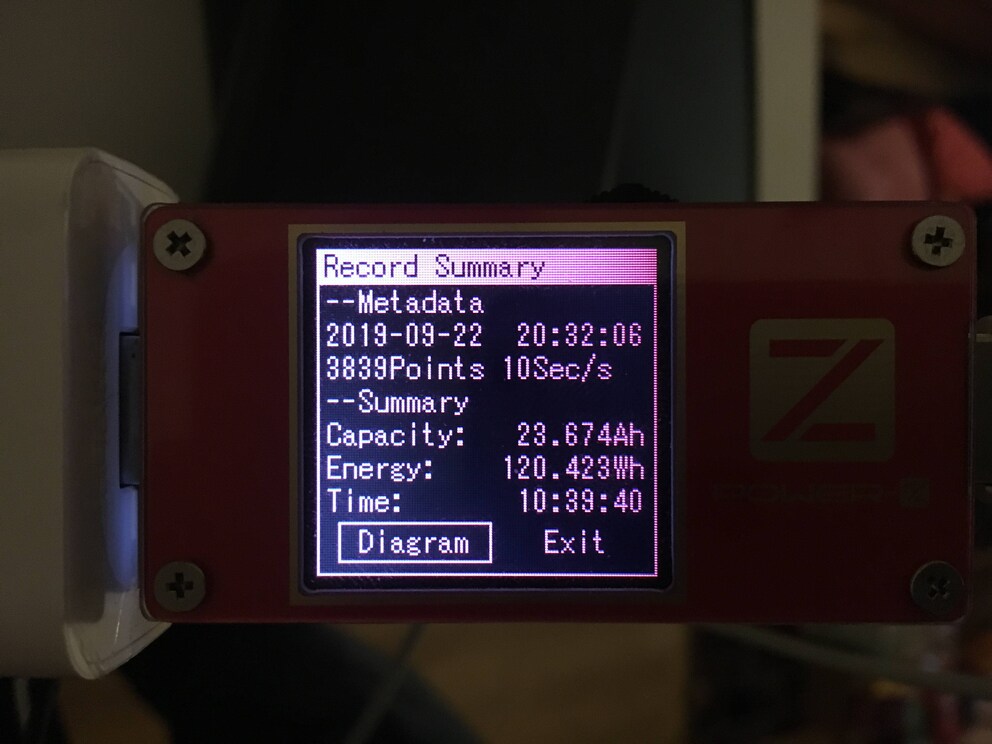 Capacity: 23,674 mAh.
These are the results of the smaller 26,500 variant: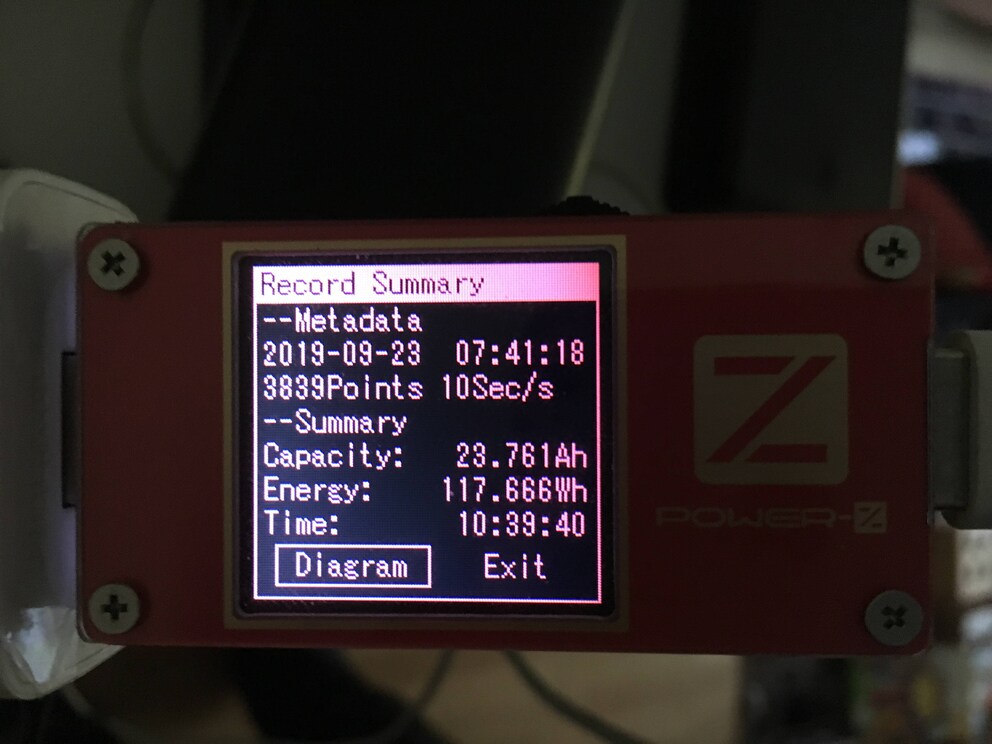 Capacity: 23,761 mAh.
The smaller Powerbank has 87 mAh more capacity. Fresh!
Let me explain why these values don't hit at least 26,500 mAh; thanks to voltage conversion (input: 5 volts, cell voltage: 3.7 volt), just under 10% of energy is wasted as heat. Every Powerbank has this.
However: the fact that both store exactly the same amount of energy confirm my suspicion that this is one and the same product. Despite the different descriptions.
The teardown
I want to know more about this and sacrifice the supposedly smaller model I bought in Germany. Maybe I'll learn more if I take a look inside. I use a screwdriver to lift up the glued plastic housing.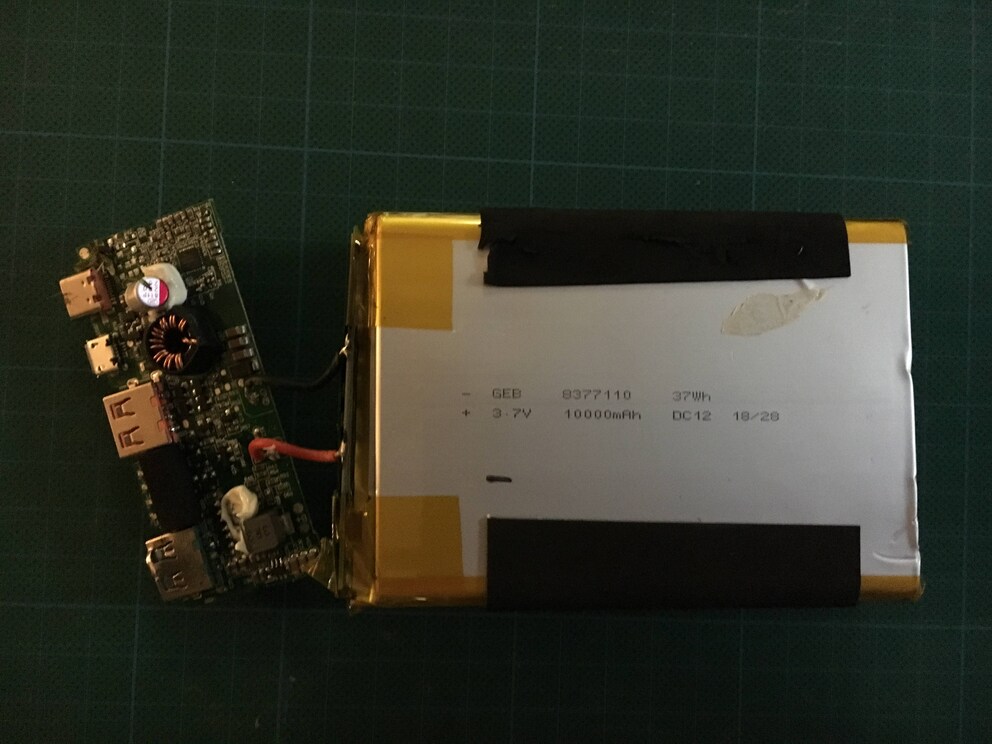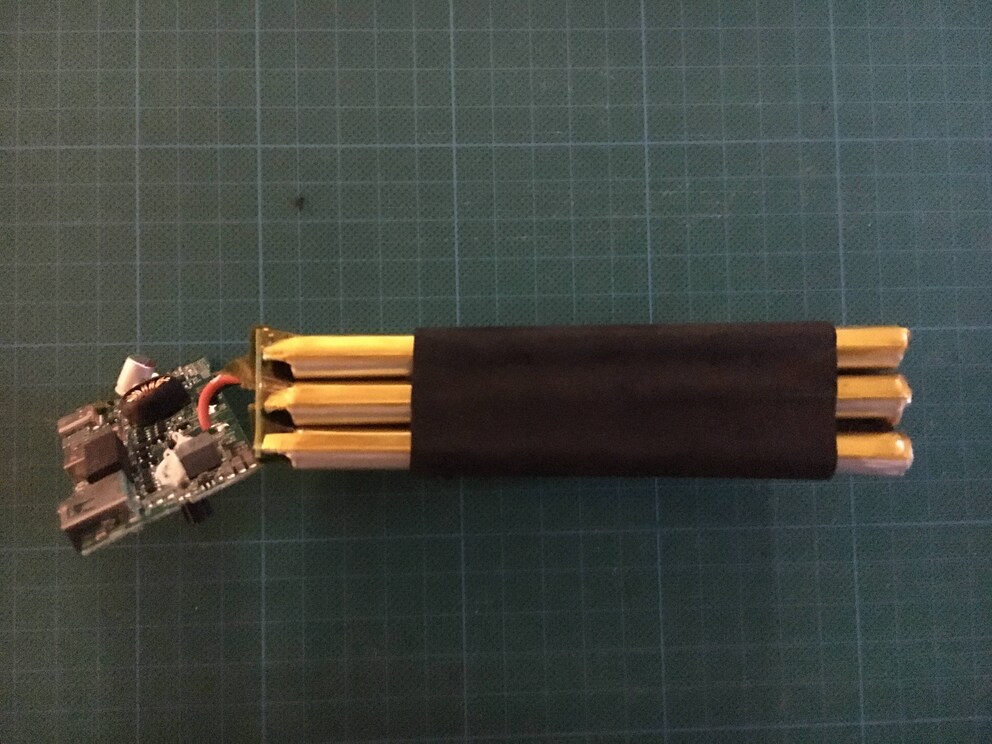 Warning: Don't try this at home! If you damage the battery cells when you chisel them open, they'll catch fire.
My working hypothesis was that both Powerbanks had cells with 9000 mAh capacity and that we got a fake version that just had more written on it. I'm surprised to find out it's the other way around. The smaller Powerbank contains three LiPo blocks with 10,000 mAh of capacity each at 3.7 Volt. That's 37 watt-hours. Multiplied by three makes 111 watt hours.
Aukey doesn't artificially increase their numbers, but actually decreases some statistics for the other product! There can only be one reason for this: the smaller product can be brought onto airplanes.
A touchy subject. Aukey is thus violating transport and safety regulations. Even if the products are transported in cargo planes, where regulations may be looser – the end customer takes them back on board and unknowingly does something forbidden.
As a reminder: if, as has recently become known, a fraction of the 2015 Macbook Pros have problems with their batteries, then flight safety authorities and airlines will publish warnings. Qantas didn't play along, prohibiting all Macbooks, even unaffected models.
I'd be interested to know how they'd react to Aukey's creative tactics here.
But first, let's see what Aukey themselves have to say about it.
Calling Aukey
I contact our Hong Kong based distributor and ask. To illustrate the problem I send him the two pictures with my capacity measurements. The friendly gentleman takes care of the problem and forwards my inquiry to the manufacturer Aukey.
About two weeks later I get an answer from Aukey. According to technology, there are actually two variants. The 30,000 mAh version is the right one, how the product was designed. We have the right product in the right packaging. However, some batches were edited during labelling to meet the requirements of regulatory authorities.
«The same product with a tricky package,» the mail says. Excuse me, what? I'm amazed at the refreshing openness. Following this revelation, I explicitly ask what Aukey is doing right now:
a) Aukey labels the PB-Y7 at 30,000 mAh (111 Wh), although it doesn't have the capacity to offer the most powerful product possible.
b) Aukey labels the PB-Y7 at 26,500 mAh (98.05 Wh), although it's larger to comply with IATA regulations.
My second mail isn't answered. Even a request to the distributor, whom I always kept up to date, remains unanswered.
The solution
Since I'm out of information, I'd like to clear the air and end the last part of this story by myself. In the course of writing the Powerbank Buying Guide, I learned an enormous amount and recognise what's happening here.
Almost no power bank really delivers on its promises. In the purchase guide, I included a so-called «Pinocchio factor», displaying how big the discrepancy is with every tested model.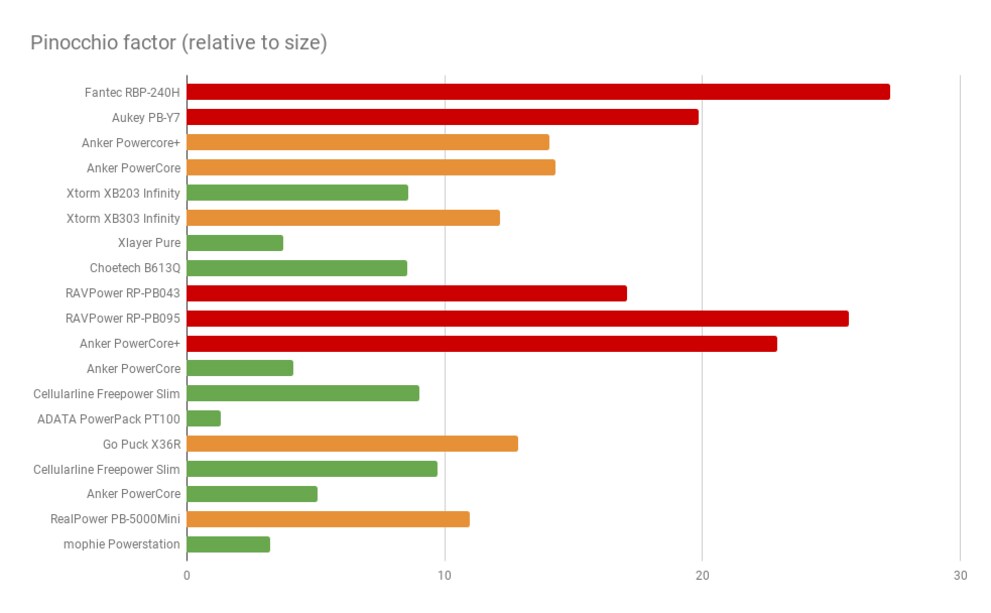 If the capacity is fibbed, this doesn't automatically mean that a power bank is bad. If the Powerbank is very cheap, it can be great in terms of value for money despite exaggerated capacity promises. As is the case here. The Aukey PB-Y7 isn't a bad product. It's good! It's not a 30,000 mAh Powerbank, but still offers a good price-performance ratio.
Here's what really happens: Aukey wants to score as many points as possible with the end customer. Many power users want the most powerful model and choose the product with the nominally largest capacity. If flight safety authorities investigate and threaten consequences, Aukey will claim that there are effectively no 111 Wh in it. Win-Win.
I'm purposely publishing this article a day before Black Friday. The PB-Y7 will be one of the discounted products. You'll be able to buy it on 29.11. at a very attractive price. In addition, we have incorporated the findings of this article into the product description so that nobody gets tricked.
I recommend buying this power bank because it's really good. Even without the discount. I hope Aukey reads this article and will return to honest marketing. Anything else would be a pity, because the products are actually good.Update 28.11.: The distributor contacted us after the publication of this article. They would like to point out that they are all on our side in this matter. They made this absolutely clear in an email to Aukey and me on Friday, November 22. This mail unfortunately ended up in my junk mail, which is why I did not reflect the distributor's attitude correctly. I apologise for that.
---

I'm the master tamer at the flea circus that is the editorial team, a nine-to-five writer and 24/7 dad. Technology, computers and hi-fi make me tick. On top of that, I'm a rain-or-shine cyclist and generally in a good mood.
---
---
These articles might also interest you
Skeleton Loader

Skeleton Loader

Skeleton Loader

Skeleton Loader

Skeleton Loader

Skeleton Loader