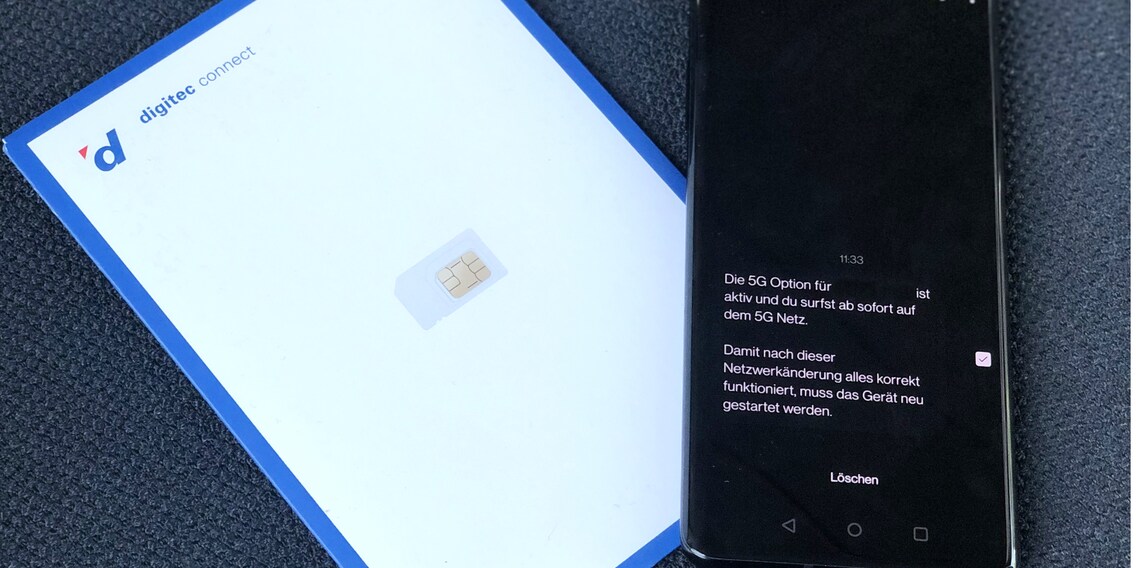 5G now working on OnePlus models with digitec connect
In April, we launched our 5G option for digitec connect. Unfortunately, the 5G-enabled devices manufacturers ship aren't always compatible for all markets. Yet, we want you to have access to the full extent of functions a device offers. That's why we teamed up with Sunrise and got in touch with OnePlus.
Why don't all 5G-enabled devices automatically work in the 5G network? How to solve this problem? What's next for 5G devices and digitec connect? Read on to find out.
Ever tried to use a OnePlus smartphone with 5G on the Swiss 5G network? In the past, this didn't work in most cases. We also talked about it in one of our podcasts. Manufacturers can't just build a 5G chip into a device and it will work on every network in the world. In order to get the smartphones working in the respective networks of the individual providers, the providers must first perform tests and then issue the approvals. Before a 5G smartphone is launched, the priority is to get approvals of large manufacturers such as Apple or Samsung. For brands that have little market share in Switzerland, it's not a priority that 5G-enabled devices work on Switzerland's relatively small 5G network. With this, we've arrived at the subject of this article.
We want our customer to be able to use as many 5G-capable devices as possible with our digitec connect mobile phone subscription. That's why we got in touch with Sunrise's 5G specialist and tackled the above-mentioned issue together. After all, Sunrise has the network and we have the contacts to the manufacturers. We've already been successful with OnePlus and more devices will follow in the future.
How does a Provider Approval work?
In order for a 5G-capable smartphone to run on Sunrise's 5G network, settings, specs and requirements must be exchanged between the manufacturer and the provider. These are about 200-300 individual parameters, which the software development department of the manufacturers must implement. At first, this is done in a test software, which is tested by the provider. Any errors are transmitted to the manufacturer, who analyses them and corrects the errors in the test software. This is repeated until as many errors as possible have been corrected. After that, the provider issues the Technical Approval. The manufacturer implements the software changes in the next software release. This means such customisations can usually only be integrated in larger updates, depending on the manufacturer. From the initial contact with the manufacturer to the release of the update to the end customer, this process takes up to 3 months and is highly dependent on the respective manufacturer.
For which OnePlus devices does the 5G option work now?
Once the latest software update is installed, the 5G option should work for the OnePlus 8 and 9 series. Sunrise is currently still waiting for the test software for the OnePlus Nord series. As soon as the software update is available for the Nord series, too, I will update this article.
What's next for new OnePlus devices?
In principle, the software changes can also be implemented on OnePlus' subsequent models. However, this depends on the chipset that's installed in the new devices. These would then have to be tested again. Since we were able to establish a good cooperation with Sunrise and OnePlus, the exchange is likely to continue in the future, allowing for new devices to be tested early on.
Which 5G-enabled devices work with digitec connect?
We've already been very successful in testing some devices. The linked devices of the manufacturers in this list can already be used with full functionality. We're in regular exchange with Sunrise and are also testing our 5G-enabled smartphones from our shops ourselves. Therefore, we hope the list of working devices will soon grow even longer.
Which devices will be tested in the future?
We're constantly testing devices ourselves and if the 5G option doesn't work, Sunrise takes over and looks at the problem together with the manufacturer. Here's a list of models we're testing right now:
Xiaomi Mi 11, Mi 10 Lite, Poco F3, Redmi Note 10 Pro
Asus ROG Phone 5
OnePlus Nord 2
If 5G isn't working on your 5G-enabled device and it hasn't appeared on any of the lists, let us know by commenting below this article. We'll take a look at your case.
I'll keep you posted on this page about devices that have been tested and whether 5G is now working on them. You'll also find an overview of all current devices that let you use the 5G option in our Help Centre.
Find out more about our digitec connect mobile subscription on connect.digitec.ch.
Any questions or feedback? How do you like digitec connect? Thanks for letting us know what you think! Join the digitec connect community exchange here.
Don't miss any digitec connect news and promotions
Follow my author profile and you'll be notified about any digitec connect news and promotions. We're continuously improving our subscription and offer regular promotions, even for existing customers. Don't miss out!
---
Almost anything can fascinate me, I'm always open to new experiences. That's why I'm in exactly the right place, discovering and exploring new and wonderful products and communities every single day.
---
---