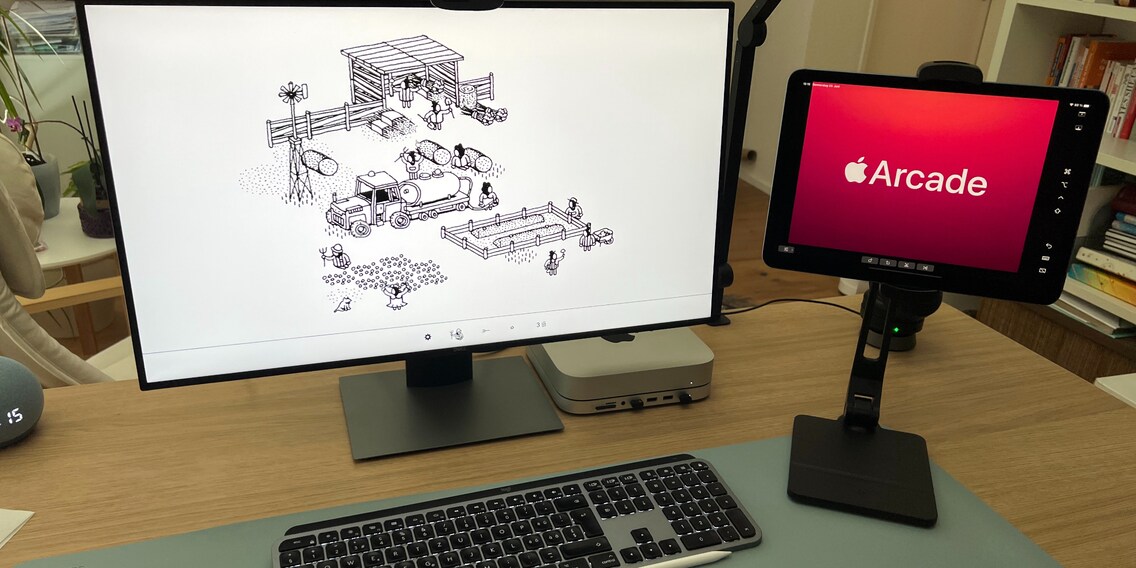 This article was translated automatically.
5 games from the Apple Arcade catalog that are fun without controllers
Apple has its own gaming offer with Arcade. It cannot keep up with the big platforms like Steam and others. Nevertheless, there are some interesting games here as well. Here is my very subjective selection.
The gaming experts in our editorial department don't take me seriously anyway. At the latest when they put a controller in my hand, I'm unmasked. My gaming past is so long ago, I come from the joystick era, played flight simulators like Gunship from Microprose with it. But I became a keyboard and mouse gamer early on. That's all it took with the lemmings, "Sim City", "Civilization", "Command & Conquer", "Monkey Island", the "Anno" series or the soccer manager simulation "Anstoss".
Now you know roughly how old I am and what my taste in gaming is. This also shapes the following small selection of Apple arcade games that I recommend to you here. They are all titles that I play on the Mac Mini. They also run on an iPad or iPhone, but there it's actually too complicated for me to use or the screen is too small. After thousands of hours of scrolling and typing, I prefer mouse and keyboard when I need a game to distract myself in between or after work.
Kingdom Rush Frontiers
Armed dragons, invisible desert worms or mutated spiders want to crack your defense line - that's the storyline of "Kingdom Rush Frontiers" roughly. In fifteen turns, you'll have the task of building the most efficient system of defenses possible to break the attack waves and eliminate all the enemies. For each enemy destroyed you'll get points that you can put into upgrades of the archer towers, mage or cannon towers and barracks. In addition, you can buy some special weapons and a hero in the store.
I like the game because it demands tactical skill from me and it quickly becomes apparent whether my plan will work or I'll be overrun. Graphically, I like the comic book look of the game, which was first released in 2013, including comic book blood, and the successful atmospheric sound, including the words of my combat troops hopping out of the barracks - "ready to rumble".
Genre: Real-time/building strategy
Time required: from 15 minutes per round
Suitable for: Tactical foxes with a defensive mindset
Butter Royale
I know Fortnite exists. And I know that in the end only one or one will be left and win - so the Battle Royale principle has reached me. At Apple Arcade, my favorite Battle Royale game isButter Royale. And yes, the title delivers on the promise of the teaser. You move with your avatar through an urban landscape, the terrain of a farm or in a factory and kill the enemies with one of your "Nutritionally Operated Machines" (NOM), for example the Mayonator. In addition, the showmaster voice makes announcements like "Let's get ready to scrumble!" or "Time to ketchup!". You play as a single player either against 31 others or as part of a group of four who want to win.
Why it's fun? I control the character with the ASDW keys. With the left mouse button I shoot specifically at an opponent, with the right the character automatically targets the opponent closest to me. It's simple and just the level of challenge I can handle. And if I doughnut give up, maybe I will have butter luck next time.
Genre: Battle Royale
Time required: 5 minutes or more
Suitable for: Food wasters with a taste for language games
The Oregon Trail
Ages ago, sometime before the turn of the millennium, I once made a first (and only) attempt at being a game designer in the Pascal programming language. Simple if-then instructions for the food supply of a village. A little bit "Oregon Trail" reminds me of those times. And indeed, the game is a classic in computer game history. It ran in 8-bit graphics on the Commodore 64, and even earlier, in 1978, in an Integer Basic variant on the Apple II.
Since then, there have been numerous other versions, all the way up to 2021's "Oregon Trail," which is now in the Arcade catalog. Then, as now, the object is to take a group of settlers from Missouri to Oregon on the west coast of the USA in a covered wagon. All sorts of dangers, tasks and stories lurk along the way. Your settlers may break a leg, lose their wagon while crossing a river, contract dysentery, starve and despair. You must decide how the group will react. Often it's just a matter of what's the lesser of two evils. Now all of this doesn't necessarily sound like fun. But if you want to learn something about American history around the year 1850, "The Oregon Trail" is still a recommendation. You can relate to the ventures the early settlers took and the difficult decisions they often had to make on their journeys. No wonder, The Oregon Trail is required reading in US schools and dozens of schools are named after it.
Genre: Edutainment\ Time required: at least 60 minutes Suitable for: History buffs
Outlanders
"Outlanders" is a kind of "The Settlers light", with a few elements from the "Anno" series and "Sim City" mixed in. In addition, there's a good pinch of humor, a graceful design and atmospheric sound from the plucked guitar. In the game you have to fulfill various orders, for example, at the beginning you have to win 40 boards, which are necessary to build a ship. Boards come from the trees, so before a carpenter's hut you must first build a lumberjack's hut. In both buildings, residents must be put to work.
As in most building simulations, the goal is to collect resources, keep the citizenry fed and happy, and construct new buildings that again require resources but keep the growing band of inhabitants happy and busy. The cycle for hours of employment.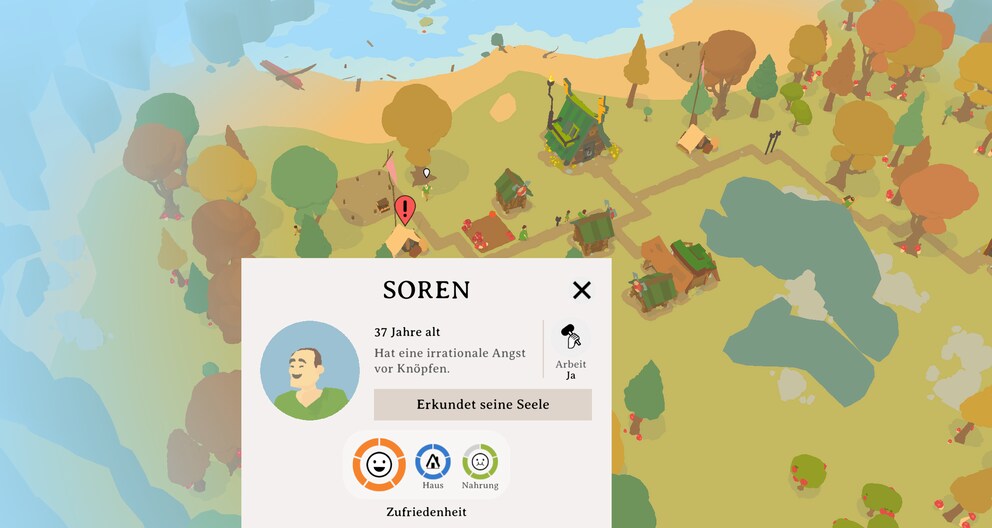 In "Outlanders", created in 2019 by Studio Pomelo from Uruguay, the gameplay is kept simple. This leaves me time to enjoy the little texts that exist about buildings and people in my small village. For example, I learn about six-year-old Thyra that she has the ability to roll her tongue and is recovering from a sugar shock. At my carpenter's hut, they say, "Make boards out of your wood. It's as exciting as it sounds." That's just my sense of humor.
Genre: Urban design
Time required: at least 60 minutes
Suitable for: Sim City fans and nature lovers
Hidden Folks
Love it or hate it - this game will drive you crazy or entertain you. Maybe even both. Your playing field inHidden Folksis a white surface on which a seemingly mediocre artist has gone wild, drawing all sorts of people, animals, plants and buildings. You can click on anything, most of it will give some sound effect. But not an electronically generated or even a realistic one, but an all too human one. This then sounds like a mixture of two things. First: A one-and-a-half-year-old makes "Vrrrrummm" when his toy car drives. Second: Michael Winslow, man of 1000 sound effects, from "Police Academy". Even when the menu items are called up, there's a "pling" that someone has spoken into the microphone beforehand. This is refreshing and makes fun.
You have to solve various tasks on the hidden object pictures. At the bottom of the screen, for example, you are shown figures or animals that you have to find on the screen and click on. Imagine "Where is Waldo", only without color, but as an interactive version with sound. That's "Hidden Folks."
Released in 2017, the game has picked up a slew of awards this year, including being Apple's "iPad Game of the Year." It is a co-production of game designer Adriaan de Jongh and artist Sylvain Tegroeg, both from the Netherlands.
Genre: Hidden Object Game
Time required: from 5 minutes
Suitable for: Fans of "find the difference" pictures.
200 games with Apple Arcade
Apple Arcade can be subscribed to in the App Store; for currently 6 francs a month in Switzerland or 4.99 euros in Germany and Austria. The 200+ games on the platform, launched in 2019, are ad-free and generally without in-app purchases. Some of the games I've featured here are also available on other platforms.
Which games are your favorites? Which one would you recommend now that I've revealed myself and my picks for something to pass the time? Let me and the community know in the comments.
---



Journalist since 1997. Stopovers in Franconia (or the Franken region), Lake Constance, Obwalden, Nidwalden and Zurich. Father since 2014. Expert in editorial organisation and motivation. Focus on sustainability, home office tools, beautiful things for the home, creative toys and sports equipment. 
---
---
These articles might also interest you
Skeleton Loader

Skeleton Loader

Skeleton Loader

Skeleton Loader

Skeleton Loader

Skeleton Loader