Best Aqua Computer products in the Fan controllers category
On this page you'll find a ranking of the best Aqua Computer products in this category. To give you a quick overview, we've already ranked the most important information about the products for you.
1. Aqua Computer SPLITTY9 Splitter for up to 9 fans or aquabus devices
SPLITTY9 is a universal 9-pin splitter and can be used for 3-pin fans, 4-pin PWM fans or as aquabus splitter. When used as a splitter for a fan output, the white plug of the splitter labeled "input" is connected to the fan output using the cable supplied. Supply voltage and PWM signal are passed on to all nine black connectors, additionally the tacho signal of the connector labeled "rpm" is fed back to the fan output. When used as a splitter for the aquabus, the white plug of the splitter labeled "input" is connected to the aquabus connection of an aquaeros using the supplied cable. By setting the jumper to the "aquabus" position, all four aquabus lines are forwarded to all nine black plugs. Both 4-pin aquabus devices and 3-pin aquabus devices can be connected to the splitter. the splitter can be attached to the housing using self-adhesive Velcro straps. alternatively, four mounting holes are available.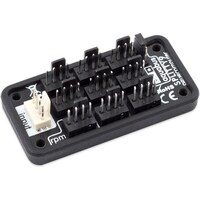 Fan controllers
Aqua Computer SPLITTY9 Splitter for up to 9 fans or aquabus devices
2. Aqua Computer Quadro
The Quadro is an innovative four-channel RGB controller for controlling Aqua Computer's RGBpx series of LED strips and also a PWM controller for four fans. In addition, four temperature sensors can be connected. The Quadro is connected to an appropriately equipped motherboard via USB 2.0 header. Configuration is then carried out via the aquasuite software.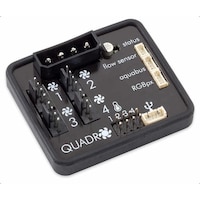 3. Aqua Computer OCTO fan controller for PWM fans
The effective OCTO fan controller from Aqua Computer impresses with a variety of connection options and settings in the extensive aquasuite software. The fan controller offers space for a total of eight PWM fans and also has connections for two RGBx elements, four temperature sensors and a flow sensor.

Due to the maximum total power of 100W and 25W per fan channel, splitters can also be used to connect several fans to one channel. In combination with the temperature sensor connections, the fans can also be temperature-controlled.

The two RGBx outputs enable the setting of digitally controllable LEDs, which are also compatible with the RGB products of other manufacturers with an optionally available adapter. The flow sensor also enables use in a water-cooled PC.

The OCTO fan controller is supplied with power via a 4-pin Molex power supply unit. Information and data are transferred directly to the mainboard via USB 2.0 and can be read out in the aquasuite. Fine adjustments can also be made via the software to optimise your system.