You can now resell your secondhand products on digitec
From now on, Digitec Galaxus customers can resell products they bought on digitec.ch or galaxus.ch. Any available secondhand products are marked as «used» in our shops. Both sellers and buyers benefit from an easy process and transfer of warranty service.
We're offering a new service: starting today, customers can resell products they bought after August 2014 in an easy and fast way on digitec.ch and galaxus.ch. This new service is seamlessly integrated into our existing online shops.
There's no need to categorise products; all sellers need to do is select the product they'd like to resell from their list of "My products" in their customer account, describe its condition and add the desired sale price. Uploading a picture of the product is optional. After publishing, the offer will appear as "used" in our online shop. It's as simple as that.
What adds to the appeal of this new service is the large reach of the two shops. In 2016, digitec and Galaxus had over 70 million visits, while more than one million people living in Switzerland make at least one order per year with the online market leader. Each one of them is a potential buyer of a secondhand product. «With this new service, used products are passed on to new owners», Oliver Herren, Digitec Galaxus CIO, explains, «this is good for the environment and saves money».
Longer life for used goods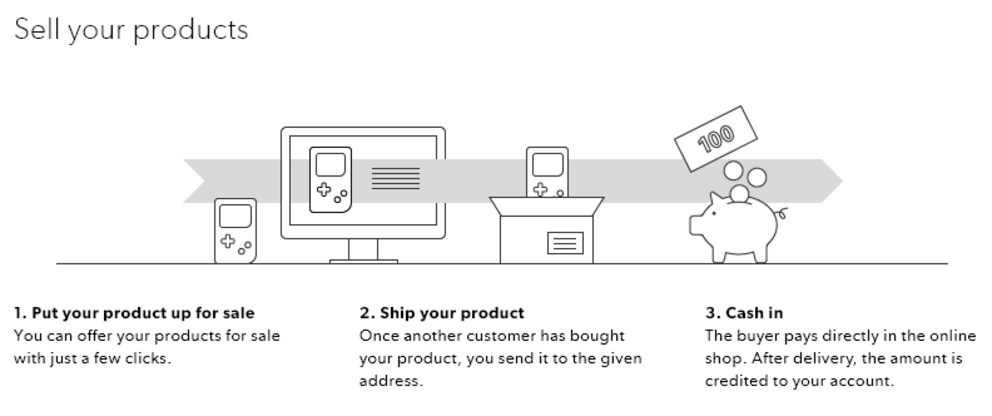 Complete data benefits buyers and sellers
Only products that were originally bought on digitec or Galaxus can be offered for resale, guaranteeing complete and accurate product information for all used product offers. Therefore, potential buyers can see how old a smartphone is, how many SIM slots it features or how good the camera's performance is – all without the seller having to add this information manually. In addition, any warranty services that are still included are transferred to the new owner. «We're the only Swiss e-commerce service that offers this», Herren explains.
Reselling with support
Digitec Galaxus AG take care of safety and fairness for sellers and buyers: «We ensure payment is made, as sellers only send products once the payment has arrived. Only when a buyer has confirmed receipt of the product is the payment from the buyer to the seller released», Herren goes on to explain. If any problems should appear, Digitec Galaxus customer service helps out. If, for instance, an LP is sold without a declaration that it's scratched, customer service acts as agent between the buyer and the seller and, if necessary, arranges an adjusted price. This entire service is offered by Digitec Galaxus at a price-dependent commission only. No publication fee is charged.
No flea market
Only products that were originally bought for more than CHF 50.– on digitec.ch or galaxus.ch can be offered for resale. «This decision was taken to avoid the secondhand range being dominated by junk goods», Herren adds. While sellers can indicate any price they like, the online shop suggests a realistic price. In addition, sellers can either choose a fixed price or go for the so-called "Dutch auction" where the sale price is gradually lowered from a maximum to a minimum price over the course of one to four weeks. Sellers can delete their offer at any time as long as the product hasn't been sold yet.
---



At Digitec and Galaxus, I'm in charge of communication with journalists and bloggers. Good stories are my passion – I am always up to date.
---