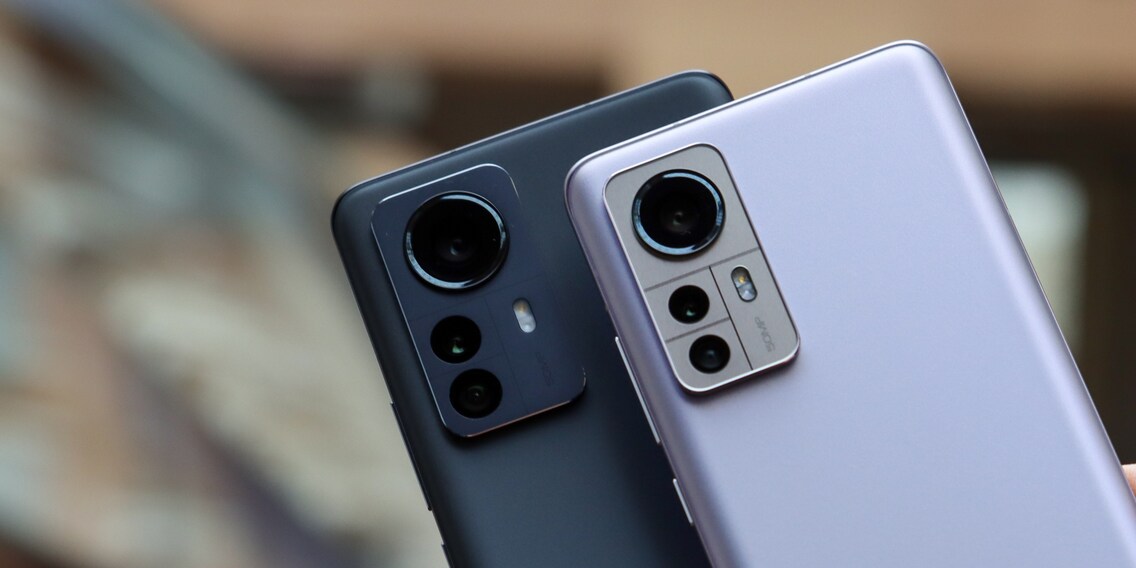 This article was translated automatically.
Xiaomi 12, 12 Pro and 12X: Three smartphones with small and big differences

After unveiling the Xiaomi 12 for China at the end of December, the manufacturer has now unveiled its next top smartphones for the rest of the world.
There are no differences in the design and features of the Xiaomi 12X, Xiaomi 12 and Xiaomi 12 Pro compared to the presentation in December, but we have information on the sales launch, prices and color and storage variants.
Xiaomi 12 Pro: Large flagship model
The Xiaomi 12 Pro is the top model of the series. It stands out from the other two smartphones with its size, camera system and even faster charging. Its AMOLED display is 0.45 inches larger - the entire smartphone is 4.7 millimeters wider, 10.9 millimeters longer and 25 grams heavier as a result. Sounds like little, but it is over ten percent more weight.
The camera system raises hopes. All three cameras on the back have a resolution of 50 megapixels. Thus, the image quality of the ultra-wide-angle and telephoto camera should not drop compared to the main camera - which is otherwise often the case. OnePlus has shown how well this works with its 9-series.
The battery of the Xiaomi 12 Pro offers only a bit more capacity - 100 mAh - than in the other two smartphones. In return, you can charge it even faster. The power adapter manages 120 watts. However, since the other smartphones already charge very quickly with 67 watts, this only gives you an advantage of a few minutes.
Xiaomi 12 and 12X: The fifth wheel on the wagon
Externally, the Xiaomi 12 and 12X are identical. The processor makes the difference. The Snapdragon 8 Gen 1 in the Xiaomi 12 should have more power than the Snapdragon 870 in the 12X. However, you will hardly notice the difference in everyday use. You will rather notice the difference during charging. While the Xiaomi 12 supports wireless charging, you can only charge the battery in the 12X via cable.
The most important specs of the Xiaomi 12X, 12 and 12 Pro at a glance:
Xiaomi 12X
Xiaomi 12
Xiaomi 12 Pro
Display
6,28 Zoll AMOLED, 1080×2400 Pixel, 120 Hertz
6,28 Zoll AMOLED, 1080×2400 Pixel, 120 Hertz
6,73 Zoll AMOLED, 1440×3200 Pixel, 120 Hertz
Prozessor
Snapdragon 870
Snapdragon 8 Gen 1
Snapdragon 8 Gen 1
Kamera
50 Megapixel (Haupt)
13 Megapixel (Ultraweitwinkel)
5 Megapixel (Tele-Makro)
32 Megapixel (Front)
50 Megapixel (Haupt)
13 Megapixel (Ultraweitwinkel)
5 Megapixel (Tele-Makro)
32 Megapixel (Front)
50 Megapixel (Haupt)
50 Megapixel (Ultraweitwinkel)
50 Megapixel (Tele)
32 Megapixel (Front)
Speicher
8 GB RAM
256 GB ROM
8 GB RAM
128 / 256 GB ROM
8 / 12 GB RAM
256 GB ROM
Akku
4500 mAh
(67 Watt Netzteil)
4500 mAh
(67 Watt Netzteil / 50 Watt Wireless)
4600 mAh
(120 Watt Netzteil / 50 Watt Wireless)
Price and availability
All three models in the Xiaomi 12 series come in three colors: Gray, Blue and Purple. Xiaomi plans to sell its 12 smartphones in Germany from March 28, 2022, with pre-sales starting on March 15. The recommended retail prices look as follows:
Xiaomi 12X: 699.90 euros (not in CH).
Xiaomi 12: 849.90 euro (with 256 GB storage: 899.90 euro)

Xiaomi 12 Pro: 1049.90 euro (with 12 GB RAM: 1149.90 euro)

In Switzerland, it will start a bit later due to a different software version. Presale from April 4, 2022 and sale from April 6. Furthermore, only the Xiaomi 12 and 12 Pro appear in only one storage configuration each. The Xiaomi 12 with eight and 256 gigabytes is supposed to cost 899 francs, and the 12 Pro with twelve and 256 gigabytes 1199 francs.
---



When I was but a young student, I'd sit in my friend's living room with all my classmates and play on his SuperNES. Since then I've had the opportunity to test out all the newest technology for you. I've done reviews at Curved, Computer Bild and Netzwelt, and have now arrived at Galaxus.de. 
---
---
These articles might also interest you
Skeleton Loader

Skeleton Loader

Skeleton Loader

Skeleton Loader

Skeleton Loader

Skeleton Loader