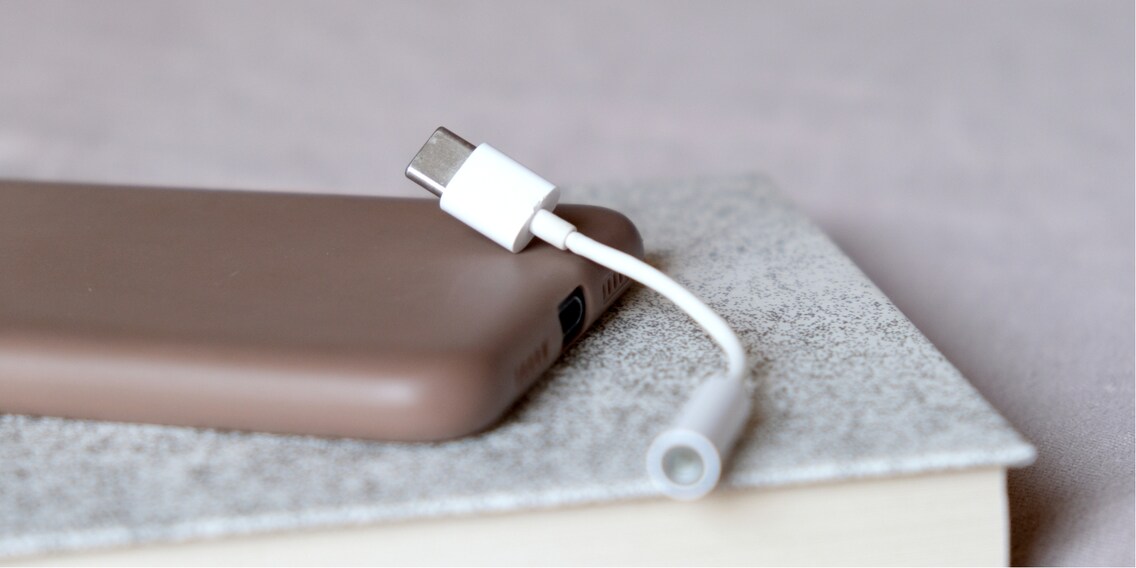 Why I'm running without headphones from now on

My smartphone and headphones have always been my jogging companions. Running without music? Unimaginable. It took an accident and a broken cable to show me that I only want to run without them from now on.
For the first time, I was really aware of my surroundings along the river Limmat. Children's laughter at the playground, music in busy Wipkingerpark, shouts of delight from the football pitch. I jogged without music and I liked it that way.
The contentious cable
For seven years now, I've jogged the same route along Zurich's river Limmat. Every three days, if possible. Always with music, always with my smartphone. The water flows alongside me until it reaches the milestone of «Höngg weir». Then it comes back towards me, sparkling when the sun shines. With a few exceptions, I rarely remember individual runs. What I remember most is when I fall, which I did for the second time recently. That's when my headphones broke, and replacing them wasn't as easy as I thought.
When it rains, it pours
After my fall, I didn't think about jogging at all for a few days. I was worried about having another accident. Instead of jogging, I looked for some new wireless headphones. I'd wanted some for ages anyway. I opted for the Bang & Olufsen «Beoplay E8» in-ear headphones. 24 hours later, they were already in my hands and I liked what I saw. The design is great, from the egg-shaped leather case to the gold ring and the braided handle. Only the soundcheck remained.
I most enjoy jogging in good weather. As it was raining, I connected the headphones to my laptop first and did a home workout by blogger Sami Clarke. Everything ran smoothly. The sound was good. I was looking forward to heading out for a jog.
A day later, I paired the in-ears to my smartphone. I put them in my ears and started playing one of my favourite tracks: St. Tropitz. But I couldn't hear anything. What was going on? After several attempts, it still wasn't working. After a lot or searching, I found out that the Beoplay E8 isn't compatible with my smartphone. What now?
Why would things be simple when they could be complicated?
I definitely wanted to go jogging, but I needed headphones. I looked in my cable box and hit the jackpot with a retro model with a 3.5 mm connection.
I needed an adapter to connect the headphones to my smartphone. I put them back in my ears and started my song. No music again. How is that possible? I hadn't broken my headphones when I fell; I'd broken the adapter cable. It was all for nothing. I'd already got rid of my headphones, but they were actually perfectly fine.
I dug out my old pink iPod Nano as a one-time solution. It would be cool to jog to my 2012 playlist again. A few of the songs would definitely bring back memories. I was motivated in spite of the cable clutter.
But even the MP3 player let me down: it lit up, but didn't play any music. I was disappointed. But staying at home wasn't an option. So I headed out for a run without my smartphone or music.
The point of no return
The first stretch towards the river Limmat was unfamiliar. I felt weird without any music. Naked. But not having cables around me was also liberating. The only thing I had with me was a key through my shoelaces. Now I'm «true wireless» in the truest sense of the phrase, just like the headphones. I don't even miss my phone. Things are easier without the cumbersome weight in my trousers, jacket or wherever I used to store it. Why hadn't I left it at home earlier? I never use my phone while jogging and rarely track my performance. My main goal when running is to switch off. Fitness is secondary.
As I passed the spot where I fell, I hesitated for a moment. What would happen if I fell again and injured myself? How would I get help? I remembered the last time and the passer-by who checked how I was. And the time before that, when a restaurant customer on the route gave me a plaster. Right, I don't have to worry. Now that I'm more aware of my surroundings even less. I don't need any music for jogging. And I'll be leaving my phone at home more often from now on.
---



«There are only two ways to live your life. One is as though nothing is a miracle. The other is as though everything is a miracle. I believe in the latter.»
– Albert Einstein
---
---
---
These articles might also interest you
Skeleton Loader

Skeleton Loader

Skeleton Loader

Skeleton Loader

Skeleton Loader

Skeleton Loader