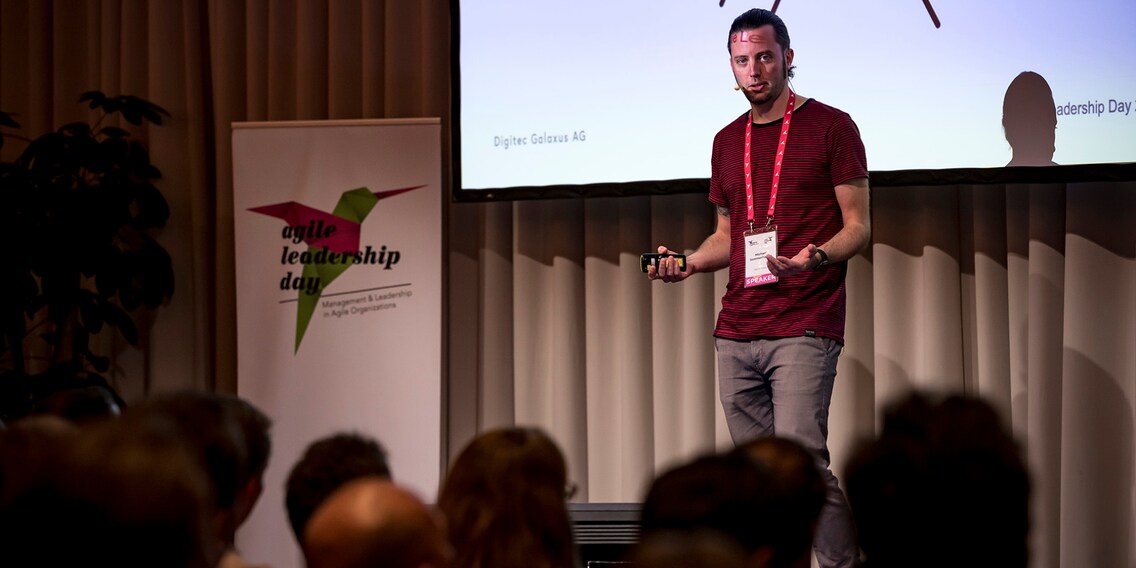 «We faced the beauty contest»
At the end of October, Zurich hosted the Agile Leadership Day. For the first time, Digitec Galaxus was represented: Michael Sommerhalder, software engineering team lead, was one of the speakers. As this interview reveals, he's convinced that this appearance was well worth the effort.
Presenting in front of a large audience requires a lot of preparation. What made you want to be a speaker at the Agile Leadership Day?
The Agile Leadership Day is one Switzerland's largest conferences for agile development methods. This makes it a great place to share our experiences with other professionals and an opportunity to present Digitec Galaxus to the developer community as a modern and attractive employer. On top of this, I'm naturally curious and enjoy thinking outside the box. In my opinion, exchanging ideas with colleagues is always a rewarding experience. Visiting a conference always gives me fresh impulses and new insights that I take back to work.
Sounds very altruistic to me. Were these the only reasons?
Of course. When I read about the «Call for Papers» in mid-March, I couldn't resist. Sure, it was an experiment. We wanted to see if we could come up with a talk that would be of interest to the Agile Leadership Board. I knew that about 150 speakers would submit their proposals and only a few would be accepted. So we faced the beauty contest, joined forces with our POD (People and Organisational Development) and Communications teams and produced a short and snappy video pitch. With success – we made it onto the speaker list. That honoured me, made me happy and also a bit nervous.
What did you talk about – what was your message?
I talked about our experience and lessons learned with introducing OKRs (Objective and Key Results) at Digitec Galaxus. OKRs are a method to develop clear objectives for teams, departments or entire companies. OKRs were first introduced in the 70s at Intel. At the end of the 90s, Google took over the method and developed it further. With OKRs, a team defines an objective that it wants to achieve within a quarter. At the same time, it defines up to five criteria (Key Results) to check how well the objective is achieved.
Sounds rather abstract. Could you add an example?
At Digitec Galaxus, we introduced OKRs across the entire company in 2018. This process doesn't happen in a vacuum. The challenge was to embed these OKRs as naturally as possible into our existing corporate culture.
What does this mean?
We made sure that regular and mutual feedback can take place at team level – in a professional and fair way. Many teams at Digitec Galaxus already worked quite autonomously, which certainly favoured the implementation of OKRs. Defining our own team goals wasn't unusual for us. Today, without exception, all team goals can be viewed by all employees. And that's a good thing. To give an example: software engineers who are working on warehouse software can easily find out what the goals of the logistics team are in terms of efficiency or returns management.
How do you make sure you don't ignore the long-term company goals?
That's a good point. Not long ago, we added a team mission to the OKRs. This helps employees to focus not only on the quarterly goals, but also to keep the vision and long-term company goals in mind at all times.
What were your key takeaways from the Agile Leadership Day?
First of all, I was pleasantly surprised and a little proud of how much interest my talk sparked. The room was packed, although high-profile speakers had their slot at the same time. It really honoured me that I was allowed to record a podcast afterwards and share our experience with OKR in an interview with InfoQ.
The feedback I received on my talk was truly inspiring – especially the numerous suggestions how, after the successful introduction of OKR, we could fine-tune our work and take it one step further. I also really liked the presentations given by Stig Albertsen (Implement Consulting Group), Daniela Landherr (Google) and Daniel Glaser (Science Gallery London). These speakers gave specific examples of how they manage to motivate their employees to play an active role and strengthen their teams. I will definitely try out one or two of them at Digitec Galaxus.
---
Making sure employees and media know what's up at Digitec Galaxus is my job. But without fresh air and a lot of exercise, I basically stop functioning. The great outdoors provides me with the energy I need to stay on the ball. Jazz gives me the tranquility to tame my kids. 
---
These articles might also interest you
Skeleton Loader

Skeleton Loader

Skeleton Loader

Skeleton Loader

Skeleton Loader

Skeleton Loader