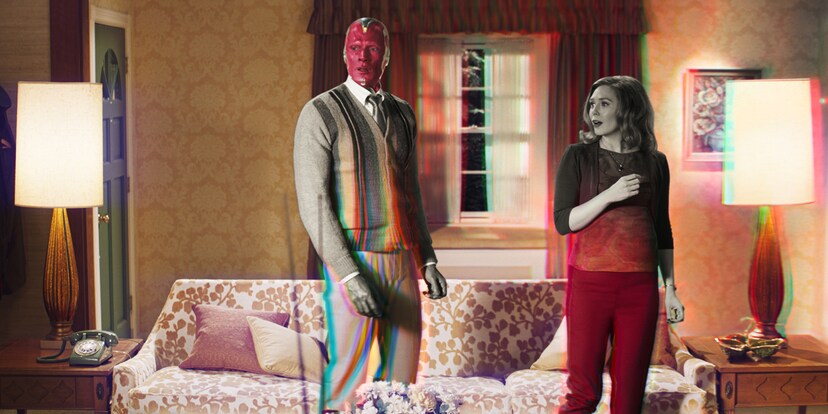 «WandaVision», Season 1: the first two episodes
Laugh tracks and naive humour. That's all just an illusion. A masquerade. I promise. «WandaVision», Marvel's first true MCU series, premiered today on Disney+.
First off: this discussion of the series includes spoilers! So watch the first two episodes of «WandaVision» before you read on.
---
Oddball, not very meaningful... or is there more to it than meets the eye? And a constant feeling that something's not quite right. «WandaVision» begins just as all the trailers promised, namely not as you'd expect from a Marvel production.
And Marvel starts off the show with two episodes at once. Chapter? Title? Nope. Episode 1 is simply «episode 1». That's one more thing that sets «WandaVision» apart.
These are the first two episodes' best WTF moments and Easter eggs.
A tribute to the 1950s
The image is black and white. The aspect ratio is 4:3 – a throwback to the old days and your parents' old CRT TV. In the nicely humdrum intro, a good-tempered Wanda Maximoff (Elizabeth Olsen) and a rather shy Vision (Paul Bettany) move into 1950s suburbia.
Wait, what?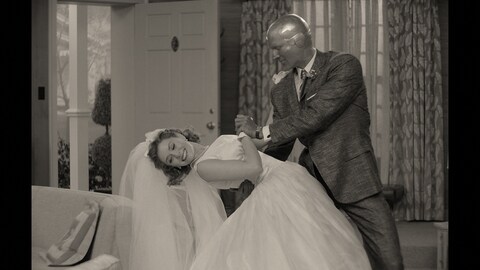 At this point, we fans are scratching our heads. Vision died in «Avengers: Infinity War». So he really shouldn't be alive any more. Yet here he is, trying to carry newlywed Wanda and her wedding dress through the door. Alas, the door is still closed. Vision walks straight through it. Superpowers. Wanda doesn't. She plummets to the ground. Cue the canned laughter. Vision sheepishly opens the door. Whoopsie. But Wanda takes it with humour. More canned laughter.
It goes on like this for almost the entire 30-minute episode. Including the simple plot. The kind where everything that must go wrong also seems to go wrong. As sitcom-cheap as the laughs are, the hullabaloo Wanda creates in the kitchen is delightful. And we experience Vision singing. Haha. Alrighty. The humour is just as shallow as it is innocent. And that's exactly what makes this homage so perfect.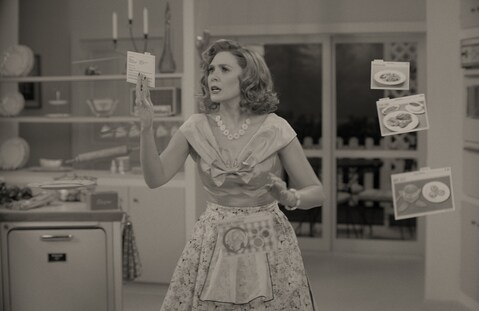 And then there are all the cheap effects. Objects hanging from ropes. Clearly visible cuts that are supposed to conceal when something suddenly jumps from point A to point B. I love it.
Reality begins to crumble
Something's off. That's what the episode seems to be telling us from the start. Very subtly, with small, hidden hints. As if it's something not to be said to loudly lest someone overhear.
But whenever Wanda or Vision ask the right questions, they don't get real answers. For example, in the morning, when they glance at the calendar and see a little heart.
«What are we celebrating today? Our anniversary. Right? Is it really today? Have we really been together that long already?»
Later, we see Vision at work.
«What does the company do? Calculations. What kind of calculations? No clue. But ever since you joined us, Vision, our productivity has risen by 300%.»
Cut to dinner with Mr. and Mrs. Boss of Vision's company.
«Where are we from? Where did we move from? Where is here, anyway? And what's our shared history? Did we even exist before this very day?»
I like how «WandaVision» creates these cracks in a reality that can't really be.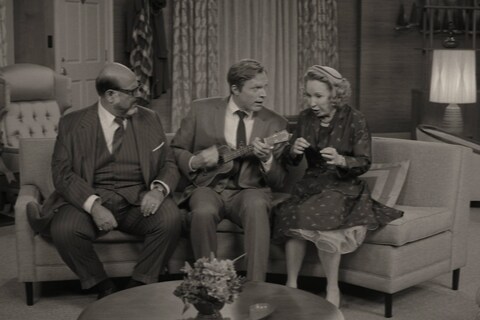 But the most ingenious thing is yet to come. Up to this point, the scenes were filmed in sitcom fashion, as if shot in a studio, i.e. the set is a stage, the camera is fixed in the middle. When the actors move, the camera pans. Changes in the camera angle are rare and feel just as static as the main camera.
Suddenly, things escalate. Mr. Heart, the boss, chokes on a strawberry and threatens to suffocate. Vision must save him. Being anti-material and all, he reaches right through Mr. Heart's throat with his hand and grabs the food stuck in his windpipe.
What about the camera?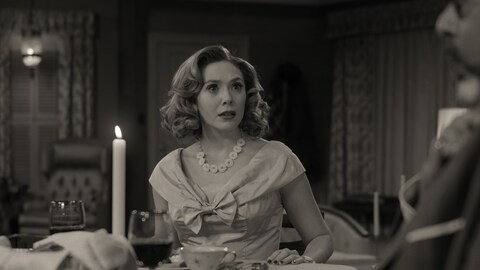 Director Matt Shakman moves the camera around as if we were back in a movie. We're no longer observing the action from a distance. We're in the middle of it all. We move towards the actors or take on their perspective. And for the first time, Christophe Beck's music seems threatening and no longer smugly playful. For a few anxious seconds, we're no longer in a sitcom.
Is that reality shining through? At the end of the episode, the camera zooms out of the tube TV that this episode was apparently playing on. And bam, the aspect ratio changes. 4:3 becomes 21:9. A ton of monitors and mixers surround the tube TV. It's as if we were in a control booth.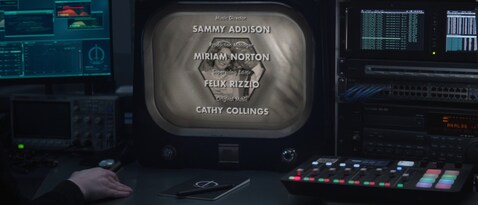 And what does the sign on this book mean?
The wine bottle clue
There's another hint that things are not what they seem. We only catch the tiniest glimpse of it, though. It's at the 17:26-minute mark, to be exact.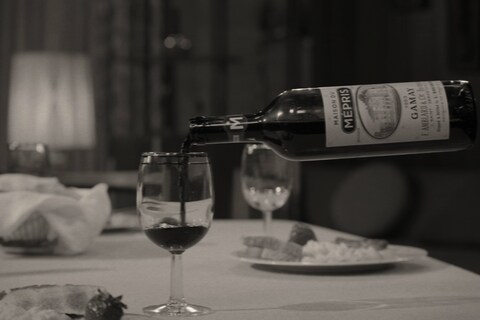 Look at the label on the wine bottle: «Maison du Mépris». In English: «the House of Scorn». Scorn, eh? Not a randomly chosen word. Certainly not. Could someone be scorning reality?
But here's what's really interesting about the label is what you get if you only translate the first word: «House of Mépris». It's quite possibly a reference to «House of M», a 2005 event in the comic books written by Brian Michael Bendis and illustrated by Olivier Coipel.
«House of M» essentially tells the story of Wanda, mad with grief, mourning her murdered children. Using her powers, she changes the entire fabric of reality, bringing her children back to life, with devastating effects on all living beings on Earth.
The event slashed the mutant population: thousands became just 198.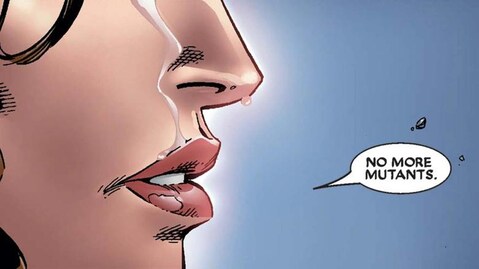 It stands to reason that «WandaVision» could be loosely based on «House of M». But instead of mourning the loss of her children, she might be mourning the loss of Vision. And to bring him back, she might be creating new realities that know no suffering, only bliss. Kind of like a 1950s sitcom series.
---
The second episode stays true to itself
We stick with the vibe but leave the 50s behind: we're in the 60s now. Black and white. Sitcom. Canned laughter. Marvel sees the sitcom concept through. Hardcore. For almost the entire 33-minute second episode. Props.
Yet, strange things continue to transpire.
First, there's the colourful toy helicopter in the undergrowth of Wanda's front yard. Wait a second – colour? Aren't we in a black and white sitcom? This must mean something. The reappearing sword symbol point to as much.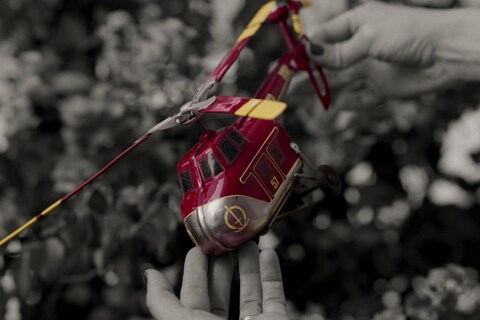 The plot of the second episode revolves around Wanda and Vision wanting to integrate into society. While Wanda participates in the bourgeois meeting of wives preparing a benefit talent show, Vision attends the neighbourhood watch meeting all the husbands go to. Neither of them really fits in. This is funny. Cue the canned laughter. Like I said, Marvel really pulls the concept through.
Then things go awry.
We're at the pool with the wives. There's music coming from the radio. And interjacent static noise with a male voice that doesn't belong there.
«Wanda, do you read me?»
And just before the 1960s sitcom reality can collapse, everything goes back to normal. The others don't remember what just happened. Only Wanda does. Oh, I like this a lot. It's great how in between the consistent homage, the series throws in these little, uncomfortable moments that make it clear nothing is as it seems.
Hydra hails advertisements
Like the first episode, the second episode is interrupted halfway through by a 1960s ad, which cements the low status of women. It shows us the ultraconservative image of women. In the first episode, we saw an ad for a toaster by Stark Industries: for the perfect toast from wife to husband. In the second episode, we get an ad for a fancy watch – with a distinctive logo.
Hydra.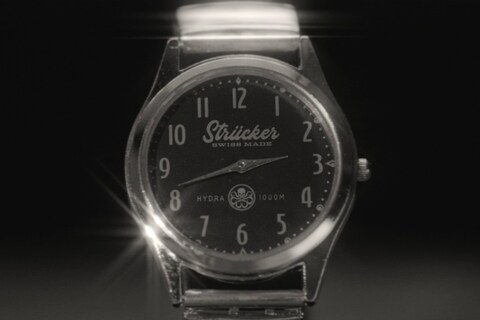 And there's the writing: Strücker, Swiss Made.
Strücker. Tell me this isn't a reference to Baron von Strucker, who was the leader of the Nazi organization Hydra until his death and responsible for the human experiments that produced Wanda and Pietro Maximoff. In case you don't know: in the comics, they're the children of the powerful mutant Magneto, hence their powers. Because Marvel didn't yet own the rights to «X-Men» when Wanda and Pietro were introduced in «Avengers: Age of Ultron», the screenwriters explained the origin of their powers as the result of experiments that transferred the Mind Stone's powers to humans.
I do wonder if these inserted advertisements actually mean something...
The end: S.W.O.R.D., pregnancy and colour
And they lived happily ever after? Wanda and Vision are back in their beloved home, reminiscing about the crazy day. Then something strange happens: all of a sudden, Wanda's pregnant. Big belly and all. In the later stages of pregnancy. Neither Wanda nor Vision seems to be surprised by this.
Then a loud noise. Boom.
It's coming from the outside. In front of the house. Wanda and Vision both go to check what that was. There... coming out of the sewer. It's a man in a bee suit, bees buzzing around him and all. A beekeeper? Wait, could it be a woman, not a man? I honestly have no clue. But look! There's the sword symbol again. What's going on here?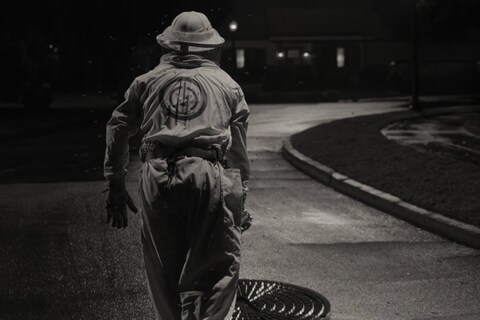 Let's take a look at the Marvel wiki. That's S.W.O.R.D.'s logo. It stands for Sentient World Observation and Response Department. In the comics, S.W.O.R.D. is a subdivision of S.H.I.E.L.D. that operates largely autonomously and deals with extraterrestrial threats.
Aliens? Is that what all this comes down to?
Wanda looks at the S.W.O.R.D. beekeeper in horror. She says one word. «No.»
The scene rewinds. We're back inside the house. Wanda and Vision are looking at her belly. They're happy. Out of the blue, the scene becomes saturated. Black and white changes to colour. We move out of the 1960s and into the 70s.
Wand and Vision are happy. The end. And as the credits roll for the WandaVision show within «WandaVision», we hear static again and the same male voice as before.
«Wanda, do you read me? Who's doing this to you?»
The lowdown
Okay, that was different. And piecemeal, above all. While «The Mandalorian», for example, only loosely followed a thread from episode to episode (that's not a criticism, I liked the show that way), «WandaVision» seems to be building up some sort of big whole. And we've only seen a very small piece of it so far.
Whether this is a good or bad setup, I can't yet say. But my interest has been piqued, in any case. Precisely because of the show's otherness. And its courage to take things slow. But I do hope the series is simply taking the time necessary to build up something that'll be revealed later.
---
What did you think of this episode? Are there any more Easter eggs I've missed? Let me know in the comments. See you next Friday for the next episode discussion.
---

I'm an outdoorsy guy and enjoy sports that push me to the limit – now that's what I call comfort zone! But I'm also about curling up in an armchair with books about ugly intrigue and sinister kingkillers. Being an avid cinema-goer, I've been known to rave about film scores for hours on end. I've always wanted to say: «I am Groot.»
---
---
---