Wacom Intuos Pro Paper Edition - for the serious digital artist (and a competition)

Thin and sleek, this Wacom product for professional digital artists exceeds every expectation when it comes to its main purpose. Working with paper is another story.
I've worked with Wacom products for more than ten years. My first pen tablet, a Wacom Graphire 4, included an option to trace my paper drawings. It came with a transparent plastic cover, which you'd lift and place your artwork underneath to redraw your artwork directly onto the computer. When I first saw that the Intuos Pro had a setting that would let you interact with paper, I was excited to see what Wacom had in store. But I'm getting ahead of myself, let's start from the beginning.
Two boxes in one
The packaging is divided in paper and digital content. The paper part includes a fine-tip pen, a clip, a pencil case, a stack of A5 paper sheets and instructions.
In the other box, underneath the elegant Intuos Pro, there's a Wacom Pro Pen 2, a USB type C cable, more instructions and a pen stand that doubles as device to hold and exchange pen nip.
First, let's admire the redesign of the of this nib case. A very elegant solution, I must admit. Although it took me a while to figure out how to open it. Apparently, you need to place it on the table and, with the palm of your hand, push down onto and turn it. Do this and you'll get access to ten brand-new nibs, four of them with a texture that feels like graphite. Speaking of texture, there are also three sample surface sheets than can be bought to replace the default surface of the Intuos. Quite handy if you'd like to change the drawing experience.
Testing the paper feature
The workflow of the Intuos Pro with paper is pretty straightforward. Once you've charged it and connected it to your Wacom Inkspace account, you are ready to go. No need to plug in anywhere.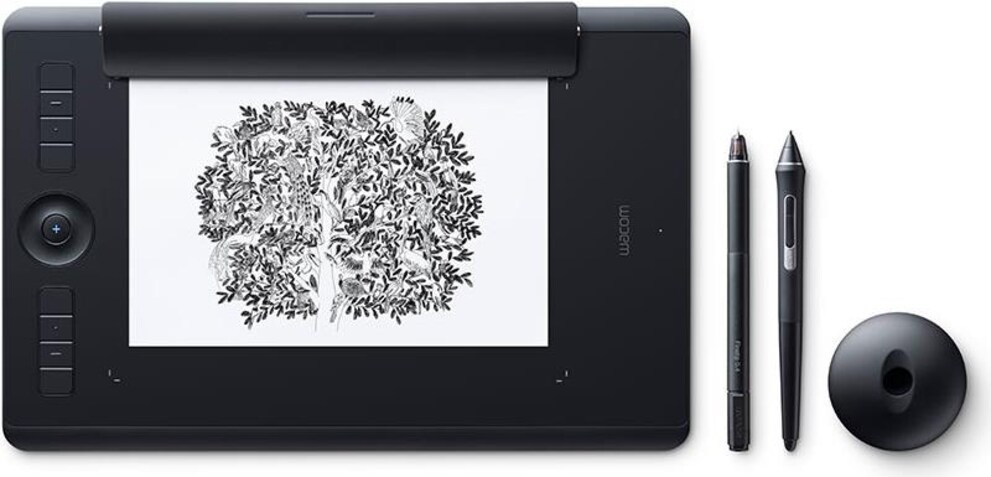 All you need for a good drawing experience at home or on the go.
Turn it on, press the button in the middle of the circle and once the tip of the pen touches the paper (which is on top of the tablet), the light of the button will change from green to blue. This means it's ready to record your drawing. Once you're done, press the same button again to save your work. Next time you connect the Intuos Pro to your computer, your drawing will appear there and automatically synchronize with your Inkspace cloud. Your cloud offers 5 GB of storage for free.
This is pretty much the same functionality as the Bamboo Spark or the new Bamboo Slate offer. I reviewed the Bamboo Spark a while back (article in German).
With the desktop Inkspace App, you can draw directly onto paper and see how your drawing is transferred to the screen in real time.
If this included the impressive 8.192 pen pressure levels and natural tilt recognition that the Intuos Pro boasts, this would be revolutionary. But sadly, that's not the case. The lines of my original drawing by pen look uniform and somewhat clumsy. This definitely isn't my best work.
I repeated the drawing, this time using the Pro Pen 2 on top paper. Connected the tablet to the computer and went directly to Inkspace. I was hoping to experience more pressure sensitivity, and I did, but the paper had a bad effect on my workflow.
At the end of the day, this paper feature isn't more than a gimmick. At least for someone like me who already owns the Bamboo Spark, which allows me to transfer sketches via Bluetooth to my mobile phone and forward them by e-mail.
If you don't mind taking notes and digitising them without precision, the price difference from the basic model is neglectable. The device will store up to 200 multi-layered or 1.000 single-layered drawings. Not bad for a wireless work.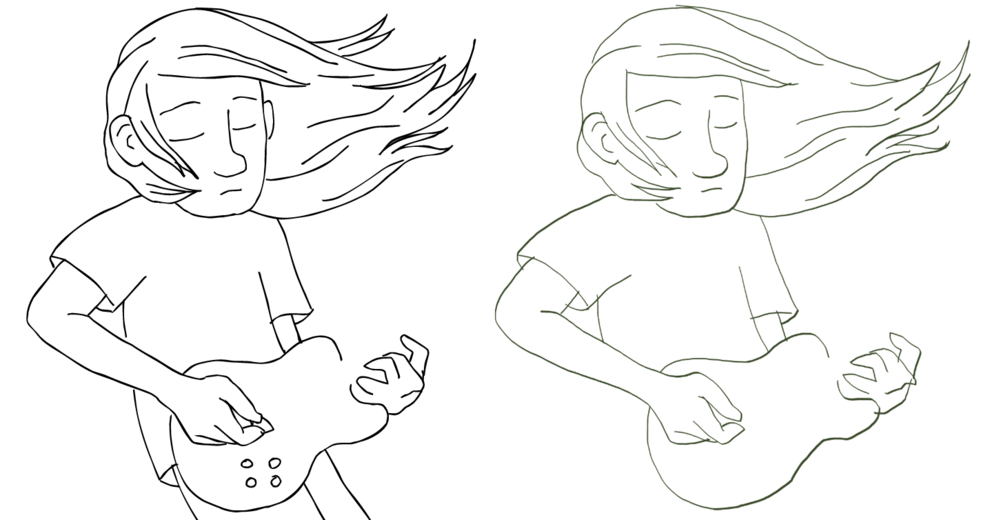 On the left, my pen-on-paper drawing and on the right, my Pro Pen 2-on-paper drawing via Inkspace.
Now let's see what this baby's really capable of
Once I'd experimented with this novelty feature, I was ready to work with the real star of the show: digital drawing.
For this project, a good friend asked me to draw Aksel, the main character of the «Sing No Evil» graphic novel by Finnish artists JP Ahonen and KP Alare. If you haven't read it yet, you should. It's a masterpiece with music jumping out of the pages and capturing you from the very start.
As you saw before, my first drafts with the Intuos Pro already featured a version of Aksel I had taken from my memory. I really wanted to do justice to the original artwork this time around, so I found a few reference pictures and got started.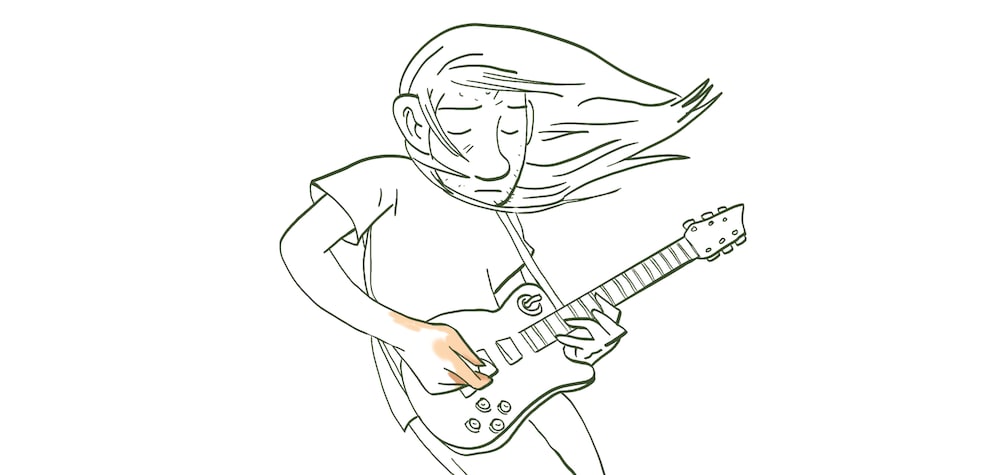 Aksel, leader of the Metal band Perkeros, discovers the magic of music.
I can only praise the Intuos Pro. Working with the medium version, there was more than enough space to draw whatever I wanted. It was an experience that felt natural from the very beginning.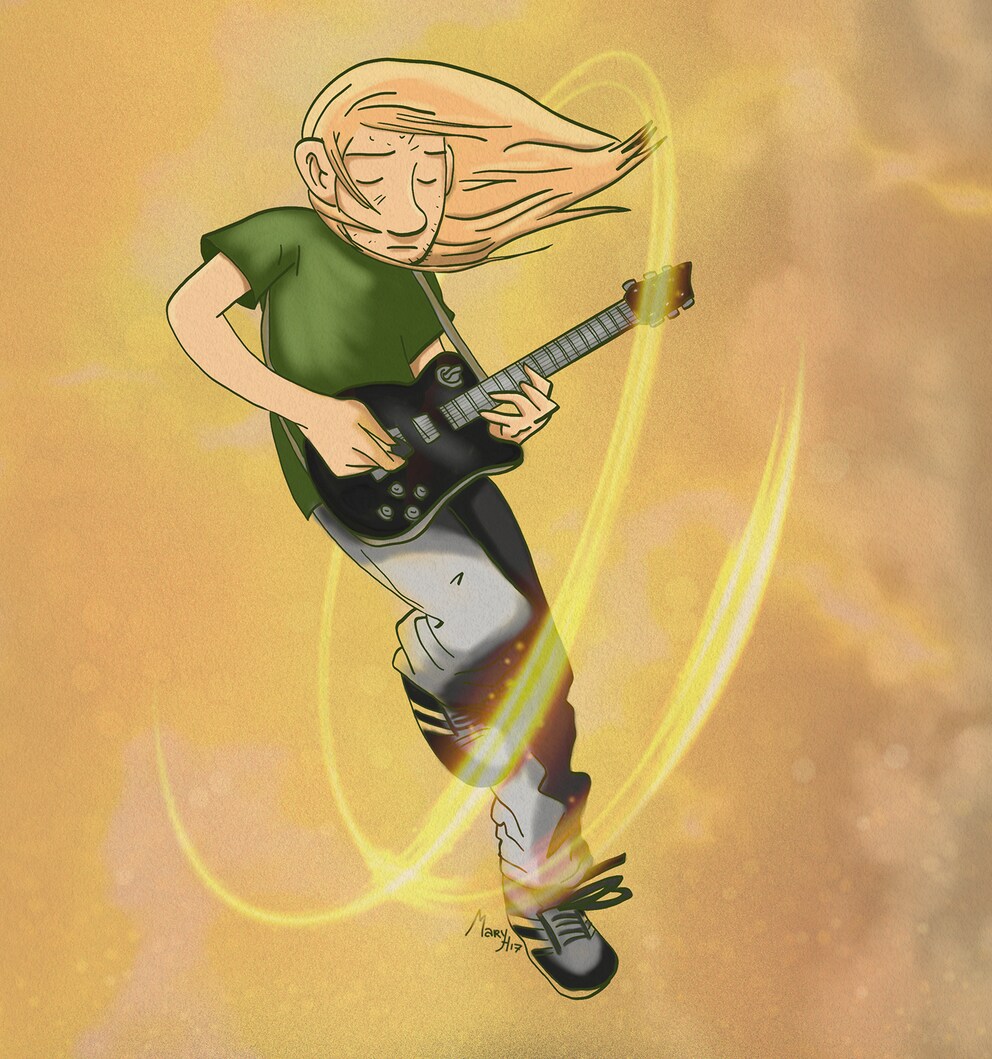 Aksel in a zen state, finally in control of his awesome talent.
The pen tablet comes with eight express keys that can be personalised in no time. The same applies to a touch ring, a great addition that I've never seen before. A switch at the side of the tablet lets you activate and deactivate the touch settings any time.
Having the touch ring to zoom in and out and the surface to rotate the canvas worked like a charm from the beginning on, so I didn't bother changing any settings. But it's good to know that the functions can be adjusted depending on the program. I usually start my drawings on Corel Painter and add details on Photoshop. The two have different shortcuts for the tools I use the most and Wacom has taken this into account.
The tablet itself is very light and can be placed on top of the laptop keyboard. It also works for left and right-handed artists.
That's what I call user-friendly. Great job, Wacom.
Final thoughts
Overall, I am extremely pleased with the Intuos Pro. You won't find another tool with such pressure sensitivity, control and natural tilt input on the market. The exceptional user experience really proves the quality of this product.
My only wish is that Wacom will improve the paper features and the Inkspace integration one day. But in the meantime, I'll just enjoy their products for what they do best: direct to digital drawing.
The competition
Because sharing is caring, we're giving away one Wacom Intuos Pro Paper Edition. To have the chance to be our lucky winner, all you need to do is:
Comment on this article and tell me what your first drawing will be. The most creative answer wins.
If you win, get working and send your drawing to
We'll publish your drawing in an article.
This competition closes on 28 July 2017. From all comments we get until then, we'll chose the best one and send the tablet to our winner.
Good luck!
---

I might be a graphic designer, a Pokémon trainer and tech-savvy but I'm no creative writer. I'm on a non-stop quest against bad design. Since 2014, I call Switzerland my home.
---
---
These articles might also interest you
Skeleton Loader

Skeleton Loader

Skeleton Loader

Skeleton Loader

Skeleton Loader

Skeleton Loader