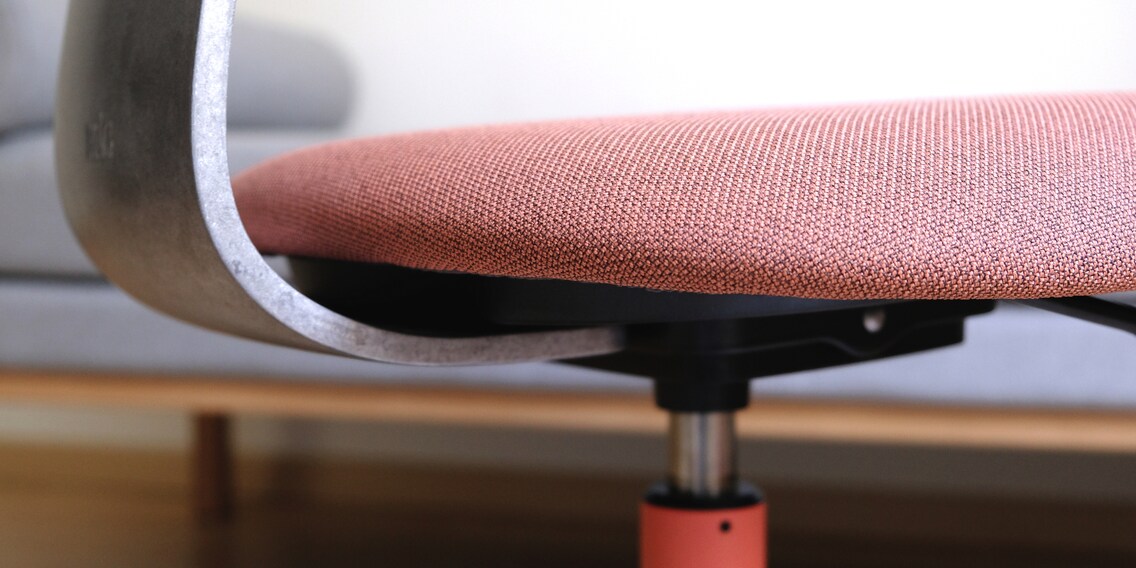 Tried and tested: this office chair caused a stir in my home office – but not for long

Although I'm already loved up with a certain model of at-home office chair, I thought I'd try out a couple more. After all, I'm not ready to commit. My current flame? The Tion from Håg.
There was actually a spark between the Capisco 8106 and me from the very beginning. It was the only office chair that came with a saddle-like seat; the only one that didn't look clunky, and the only one that kept me moving when seated. Nevertheless, after I'd completed my review, I sent it packing. I wanted to see what other designs were out there. Like in matters of the heart, I didn't want to get tied down to the first one that came along (or so I thought). In fact, I wanted to go on some dates with other models – dates that'd cost me about half as much.
With this in mind, I took a bulky chair with armrests and a bouncy seating ball home with me. But things didn't exactly sizzle between us. It dawned on me that it'd be tricky to find anything better than the Capisco. I therefore took a more strategic approach to the dating game. Using the advantage that the search for my office chair soulmate provides, I kept an eye out for models that could be configured. This way, I'd be able to design my dream chair. It wasn't long until I came across the Tion office chair.
I liked the Håg office chair right away, so I asked Flokk, the company behind brands such as Giroflex and Profirm as well as Håg, to give me a sample chair to try for a few weeks.
Configuration, assembly and first impression
Thanks to the website's straightforward layout, configuring the chair was a doddle. In terms of looks, I was keen to part ways with my usual type. So for two of the components – the base and the backrest – I went for tumble-finished aluminium instead of plastic.
Polished aluminium was also an option, but I liked the subtle pattern of the tumble-finished version better. It goes perfectly with the equally low-key pattern on the two-tone, matt fabric of the «Cura» seat cushion. In order to wrap the cool colour up in a warm, visual blanket, I chose a dusky pink for the rest of the parts as opposed to my usual green or grey.
Tion's backrest is available upholstered, in wood or in recycled plastic. The same goes for the seat. I chose to go for a padded seat cushion, since it's more comfortable in the long run, but decided against a padded backrest. After all, my past liaisons with the seating ball and rocking stool have got me used to sitting without one. What's more, going without a backrest and armrests makes the chair slightly cheaper.
When the Tion shows up at my place, everything happens so fast. Like every other Håg office chair I've tested, the tools you need come included in the parcel. As for the assembly, the chair comes together in just a few steps and under five minutes. The universal casters for soft and hard floors are already attached to the base, so all I have to do is mount the armrests onto the seat. I simply slot the rest of the pieces together as per the instructions.
Just as quickly, I get butterflies when I lay eyes on the fully assembled Tion for the first time. Its colours and shapes mesh just as well together as I'd hoped. Even the plastic backrest looks elegant on account of it sweeping silhouette. Details I think make all the difference include the grooves above the casters, which are the same colour as the base, and the mélange effect created by the criss-cross of pink and dark-coloured threads.
Functionality: day one
Luckily, I don't yet have any back pain for the chair to rectify, so rather than assessing its impact on my health, I focus on the external: its appearance, how it handles and how well it can be integrated into my working-from-home routine.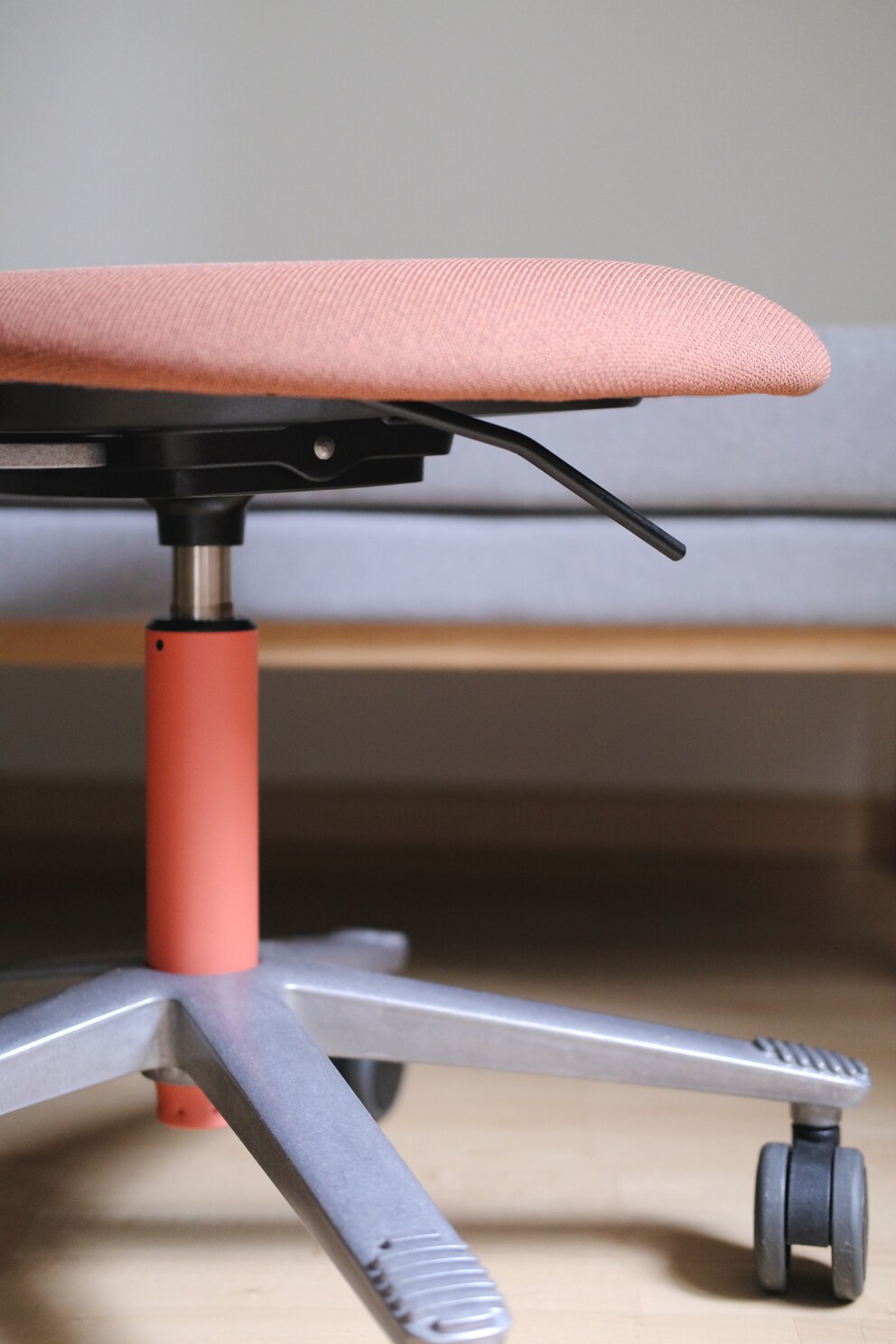 As is so often the case on first dates, I immediately notice that Tion does have one flaw. There are only two levers I can use: one to adjust the seat height and one to activate or deactivate the tilt mechanism. Unlike on the Capisco, there's no rotary knob to adjust the height of the backrest. I feel like it could benefit from being a touch higher – but it might also be just the right height for me. Maybe this search for supposed imperfections is just my fear of commitment talking.
After eight weeks of use
During my fling with the seating ball, I had to make quite an effort to keep my balance. Tion, on the other hand, is a pillar of strength. Since the chair doesn't move when I rock back and forth, I feel well supported by it. The almost perfectly round seat is like a spa treatment for my behind, though this automatically brings back some bad habits. I become lazy again, crossing my legs often or lounging around with one leg bent. In contrast to the Capisco, which had a raised seat, there's nothing on the new chair to stop me from slouching. As a result, it calls for more discipline.
The plastic backrest felt hard at first. After all, I'd only been used to having a flexible futu-mesh structure, an upholstered backrest or nothing at all behind me. However, the longer I sit, the less I notice it. Sitting on the Tion feels natural. As time goes on, I start to miss the variety provided by sitting in different positions. To see if Tion works as a sit-stand seat in combination with my Upstaa laptop stand, I bring the chair up to the highest level. In this position, I'm still able to rest my feet on the base or let them dangle freely. However, there's no chance of doing a real standing-sitting combination. To do that, the chair would need to go even higher.
Next, I try a position that isn't really intended for this design; the thing I liked best about the Capisco. I spin the chair round and sit on it back-to-front, with the backrest in front of me. This way, I'm unable to loll around or cross my legs.
Apart from the edges of the backrest getting in the way slightly, this works well. Compared to conventional office chairs, the backrest is very wide. If it were just a little narrower, my elbows wouldn't knock against it. And Tion would be better placed to compete with Capisco for my affections.
Material, care and production
Since Tion and I have only been «seeing each other» for eight weeks, I barely notice any changes since the beginning of our relationship. It just gets dusty in the spaces between the grooves, so I clean it every two weeks with a dry brush. The backrest also catches lint, but a damp cloth gets rid of it in a jiffy. The textile cover still looks like it did on day one, and it should stay that way. At 100,000 Martindale, it's classed as particularly durable. And at a rating of 4 or 5, it shouldn't be prone to pilling. However, if I were to spill something on it, I could wash the cover or have it mended. Given that all of Tion's components can be replaced individually, I could also get a new one.
According to the manufacturer, Tion has the best rating of any product in Håg's portfolio when it comes to sustainability. Its base and backrest bracket are made of recycled aluminium. The backrest is made of 94 per cent recycled plastic, while the figure rises to 98 per cent for the «Cura» fabric. The latter is produced in Lithuania, which I know from reading their website. I like their transparency. It allows me as a consumer to make more conscious choices when buying a product.
Verdict: the Tion keeps me on my toes, but...
I don't regret delving into the data again to find out whether I'd truly found «the one». In Tion, I've once again found a potential partner in working-from-home life. It stops me from sitting stiffly, and I can recline, too – unlike with the seating ball. I feel able to move freely while I'm working. Nevertheless, Tion could do more to keep me sitting upright – just as the saddle seat or rocking stool did. Instead, since the seat is flat and wide, I often find myself slouching in it. I'm missing the opportunity to turn it round and use it backwards, completely unhindered, with the backrest in front of my chest. And it isn't high enough to reach an almost-standing position.
What I think is great about Tion, however, is its appearance. The most important components took centre stage in the design process, which makes the chair lightweight and adaptable. It can be just as easily integrated into a kitchen or living room as it can be incorporated into a home office. The tumble-finished aluminium makes it stand out from generic office chairs and gives it a decorative pattern. A backrest with a mesh structure or cushion would've been softer. That said, this is the place to compromise on functionality if you want to save money. What I wouldn't do without, however, is a seat cushion. Especially since, unlike with the Capisco, this doesn't have much impact on the price. The same goes for the armrests: opting to forego them saves money and space, because without them, Tion is able to vanish under the table. But it's not like this design piece has to be hidden away.
After the initial flutters, my heartbeat starts to slow down, so I send the Tion sample chair back. Tion, it's not you, it's me. You were easy to handle and easy on the eye, too. But I'm still not ready for anything serious. I want to see what else is out there.
---



«There are only two ways to live your life. One is as though nothing is a miracle. The other is as though everything is a miracle. I believe in the latter.»
– Albert Einstein
---
---
---
These articles might also interest you
Skeleton Loader

Skeleton Loader

Skeleton Loader

Skeleton Loader

Skeleton Loader

Skeleton Loader