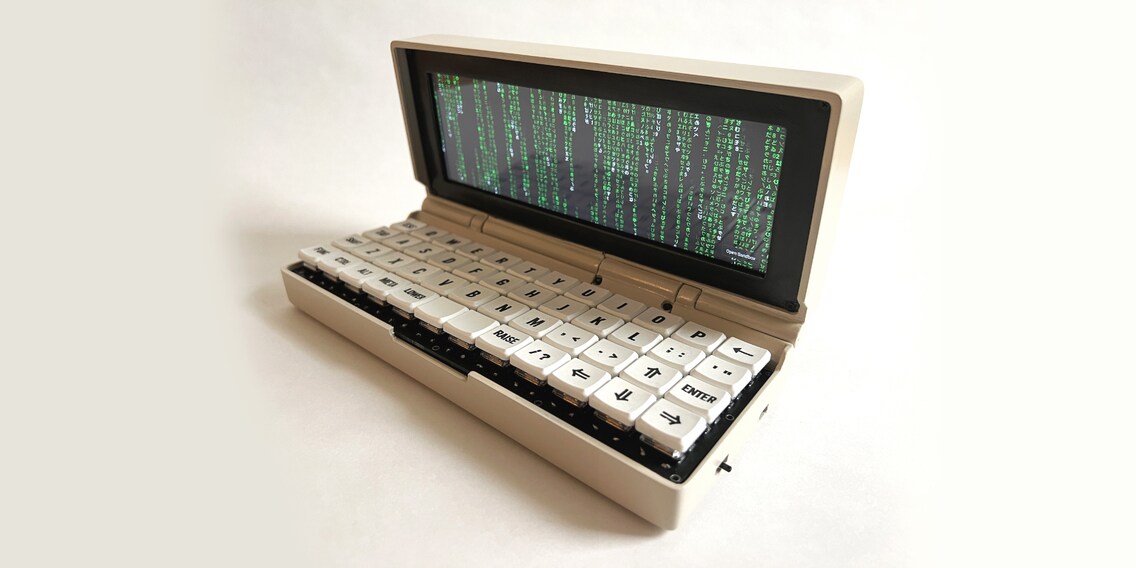 This article was translated automatically.
To replicate: Taiwanese manufactures mini-notebook with mechanical keyboard
The Penkesu Computer is a mini-notebook based on a Raspberry Pi. The special feature of the DIY project: It has a mechanical keyboard and you can completely rebuild it.
Penk Chen describes himself as a digital nomad. And like a true nomad, the Taiwanese likes ultra-mobile things. Like the smallest notebooks, for example. That's why he has built one called "Penkesu Computer". With its mechanical keyboard, it's not only an eye-catcher, but can also be rebuilt thanks to instructions and 3D print files.
Penk uses a Raspberry Pi Zero 2 W as the basis. He puts it into a self-printed housing that can be folded. The hinges for the mechanism come from a Game Boy Advance SP.
The display is a 7.9-inch LCD panel with touch input and a resolution of 1280×400 pixels. Penk connects it to the Raspberry Pi's mini HDMI port using a ribbon cable and adapters.
Power is provided by a lithium-ion battery that is charged via a USB interface. The absolute highlight of the build, however, is the mechanical keyboard. For this, Penk has combined 48 Kailh Low Profile Choc V1 switches with MBK Choc Low Profile keycaps. Penk demonstrates how the keyboard sounds on Twitter.
The result is an ultra-compact computer with a matrix screensaver and a format that Penk and Neo will enjoy.
If you want to build this DIY project, you can find the instructions and the 3D print files at penkesu.computer.
---



I find my muse in everything. When I don't, I draw inspiration from daydreaming. After all, if you dream, you don't sleep through life.
---
---
---
These articles might also interest you
Skeleton Loader

Skeleton Loader

Skeleton Loader

Skeleton Loader

Skeleton Loader

Skeleton Loader