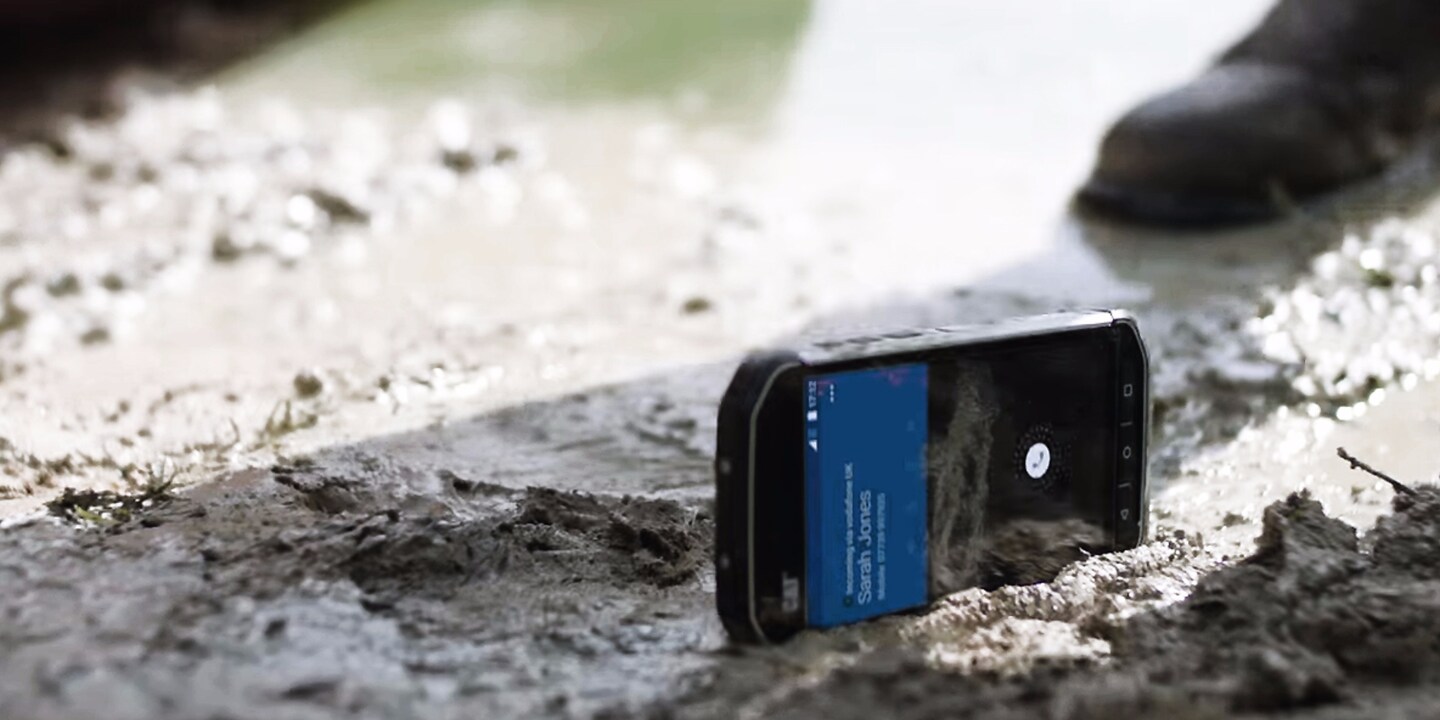 Time to hit the mud, grit and undergrowth – with your smartphone!
On some days, "regular" smartphones just don't cut it. You know, those kind of days when you feel like wrestling a bear, exploring and conquering the world, taking a boat for a spin on the lake or building a log cabin with your bare hands.
Those days call for an outdoor mobile. The appeal lies in their features that smartphones designed for everyday use simply don't offer – a scratch-proof display, sturdier, 1.2 metre drop-tested and waterproof (IP67 certification) design. So go out and have fun mountain biking, hiking, rafting, climbing or walking your four-legged friend in the forest.
Caterpillar
Caterpillar S40
If you're in need of a water, dust and shockproof smartphone, the rugged Caterpillar S40 is perfect for you! It's designed for the outdoors, so whether it's being used on the slopes, on a bike, up a mountain or on a building site, the S40 copes with anything that's thrown at it. The sturdy design combines power, a sturdy design and high durability.
Built to withstand drops from up to 1.8 metres.
High-quality sound and a super-bright display that can be viewed in bright sunlight.
Long-lasting battery for up to 18 hours talk time and up to 39 days in standby mode.
Durability without compromising functionality: The S40 offers fast data transfer, NFC, GPS, a 4.7-inch gHD display and a dedicated App store for adventurers.
Here's a further Caterpillar outdoor mobile:
Cyrus
Cyrus CS 30
The state-of-the-art Cyrus CS 30 is beautifully designed and elegant yet sturdy enough to withstand all your adventures. Outdoor enthusiasts will love this device. Some Cyrus fans have put their phone to the test and uploaded the video.
Withstands drops from up to 1.5 metres – the kinetic energy is derived from the plastic case and the magnesium plate.
The IP68 certification means these phones are waterproof up to 1.50 metres, resistant against rain, running water, snow, steam and other water-related influences.
The Cyrus CS30 also handles dirt and mud without a problem. And what's more – you can easily wash it off under running water.
More Cyrus outdoor mobiles:
Samsung
The Samsung Galaxy XCover 3
Enjoy peace of mind in any conditions with the incredibly robust Xcover3. Designed to withstand the rigours of both water and dust. Make more of your phone with extended battery life. It's also slim, stylish and exceptionally practical.
The IP67-certified dust- and water-resistant design make the Samsung XCover 3 great for using at home on building sites, desert roads and ski slopes.
Withstands drops from up to 1.2 metres and waterproof up to 3 metres.
2.200 mAh battery for up to 10 hours talk time.
Slim 9.95 mm-thick body sturdy-yet-elegant design.
And here's another one of our Samsung outdoor smartphones:
Motorola Moto X Force
You wouldn't say you were totally outdoorsy but don't want to miss out on a shatterproof screen either? Then the Moto X Force might be for you. The 5.4" display of this high-end smartphone is protected by shatterproof technology – the world's first shatterproof display! This phone won't crack when gravity wins. Here's the extreme drop test to prove it!
Virtually indestructible thanks to the shatterproof Moto ShatterShield display.
Waterproof coating protects the phone from spills, splashes and rain.
Take fantastic photos with the 21-megapixel camera.
High-capacity batter powers through two days.
Get more information on the Moto X Force here:
---
These articles might also interest you
Skeleton Loader

Skeleton Loader

Skeleton Loader

Skeleton Loader

Skeleton Loader

Skeleton Loader