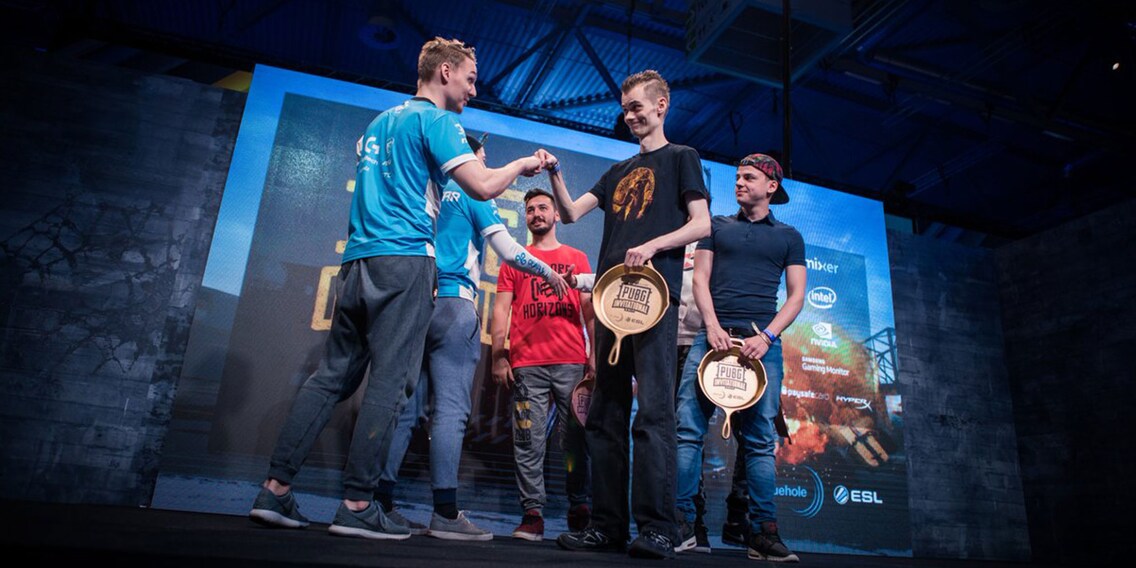 This Swiss «PUBG» pro is at the top of his game

A golden frying pan and 15.000 dollars in prize money is what Alain «Yukie» Huber took home last autumn. The eSport pro from the French-speaking part of Switzerland secured one of the first places at Gamescom in the hugely popular game «PlayerUnknown's Battlegrounds». Now he's fighting to qualify for IEM in Katowice, Poland. He tells us how he made it so far and why Switzerland is a particularly difficult place for e-Athletes.
In late February the next big tournament of «PlayerUnknown's Battlegrounds» is going down in Poland and two Swiss eAthletes are in the qualification round. One of them already earned his first golden frying pan at the 2017 Gamescom invitational. This makes Alain Huber from Fribourg, aka Yukie, one of the world's best. He's currently on the French eSport team Millenium. Before he's hopefully off to [Katowice, Poland] (https://play.eslgaming.com/playerunknownsbattlegrounds/iem-katowice-qualifier) for his shot at winning a chicken dinner (that's what you call a win in «PUGB»), I asked him a few questions.
How did it feel to take first place and win 15.000 dollars at the Gamescom invitational? Alain «Yukie» Huber: Reaching first place at Gamescom was incredible. I was happy, proud and surprised all at the same time. The 15.000$ (before taxes) were a nice bonus. Obviously it's always nice to win money, but I was more overwhelmed by the fact that I was one of only nine players to win a «PUBG» title.
What did you do with the money? The money wasn't spent on anything spectacular. I transferred it to my bank account and can now put a little extra towards my monthly salary to make a living.
Where is your golden frying pan now? The trophy is sitting on a shelf next to my computer. As soon as I have a little time and money, I want to invest in a cabinet to display newspaper clippings, objects I've won and hopefully the next trophies.
What do you expect from the IEM tournament in Katowice? The way IEM Katowice is organised is quite special. Nine teams are invited directly (three from North America, three from Europe, two from Asia) and seven teams get the chance to qualify (3NA, 3EU, 1SA). The qualifiers consist of four rounds. For the last round (closed qualifier), eight invited and eight qualified eAthletes compete against each other. From a total of 1101 teams that signed up, 512 will take part in the qualifiers. They then have to survive four rounds before qualifying for the IEM in Katowice. Before we know who we're up against, anything is possible.
Are there any players/teams you are particularly wary of? Not really. Basically, we can't afford to make any mistakes with any team who regularly takes part in tournaments. That's why we have to be wary of them all.
The deciding game starts at 1:32:00, the interview at 2:06:30 and the victory celebrations at 3:11:50.
What makes «PUBG» so exceptional? In my opinion, all Battle Royales are «identical», even if they feature unique characteristics. What I mean to say is that the basic principle is the same, despite differences in terms of graphics, orientation or specific stuff like bullet drop. The thing that really separates «PUBG» from other Battle Royales is the way Bluehole (the developers) manage the game. They have a strong focus on community request and work closely with pro gamers to improve things that need improving.
Unlike other eSport games, there is also an element of luck in «PUBG». Does this make it a better or a worse eSport candidate? The most random aspect of «PUBG» is the search for weapons/medkits right at the beginning. When it comes to predicting zones and the new circle settings, which were created by pro teams during private matches (scrims), there is virtually not element of luck.
What does Yukie stand for? The alias Yukie is taken from a female character I played in «World of Warcraft». At first, I didn't know what to call her, so I started googling for "Japanese first names". I really liked the name Yuki that came up in the list but it was already taken. So I just added an «e». The funny thing is that friends are starting to call me Yukie in real life.
When did you start playing professionally? I've only been under contract for a few months now. But in my opinion, I'm not a full-on pro yet. In my mind, the definition of a pro is that he or she can make a living from that activity. Unfortunately, this is not yet the case with my monthly income.
Is it a full-time job or still a hobby? At the moment, it's a full-time job. The combination of my salary, the victory at Gamescom and other income allows me to live on it.
How often do you practice? In the beginning, I practiced for about ten hours a day. But lately, because of the developments of the playing style and the establishment of scrims (private matches) between pros, my training time has decreased. Instead, I've started to study replays/battles.
Do you ever get bored? Many people ask me this question but it's never been a problem for me. Each game is unique even when it's similar to others.
There are very few Swiss players at pro level. Do you think «PUBG» might change this? I don't think that certain games are more suitable than others to become a pro at – whether you're Swiss or from any other country. The reason for the lack of professional eAthletes from Switzerland is the high cost of living and the fact that we're still years behind our neighbours. You really have to be a total fanatic to get involved in this field. After all, a part-time job as an unqualified waiter or cashier is still financially more interesting than most pro contracts.
What goals have you set yourself? The first step is to stabilise my financial situation and to ensure I can stay in this field that has fascinated me since my childhood. The second step is to play an active part in developing eSports in Switzerland.
Miramar or Erangel? (The two maps in «PUBG») 100 per cent Erangel. To my mind, Miramar is still miles away from being ready for competition. The map is full of bumps, which make it difficult to drive a vehicle on at a high level. Plus there's too much terrain with no rocks or trees to hide behind.
What's your favourite weapon? Apart from Airdrop, my perfect combination is: M4/ScarL as a main weapon combined with Reddot/Holo plus the SKS. Many people prefer the Kar to the SKS. I got used to it because it's rare to find four Kars in one game (for a squad of four). But if virtually nobody is playing SKS, this can really put the pressure on if you do it properly.
Do you have a favourite spot? I don't really have a favourite spot in «PUBG». For regular matches, I mainly play at the military basis or the school – they're great for dynamic gaming and good training.
**I also regularly play «PUBG». Any advice?» There are two things you can work on for «PUBG» or any other Battle Royale:
Aiming (AIM)
Strategy For the former, it's best to play frequently and aggressively. This improves your muscle memory and you get better. As regards strategy, the opposite is the case. You've got to use your head and occasionally decide not to shoot at a person in order to prevent a situation from getting worse. You also need a good mixture of aggression and passiveness to make the right decisions. There's no magic formula for winning. Play a lot and watch others play to learn from them.
Which mouse setting do you play with? And is it true that pros play on low dpi? Personally, I play on 800dpi, sensitivity on 30 for games and 6 out of 11 in the Windows mouse settings. The majority of pros plays on low dpi because it makes it easier to be precise. But not all pros play that way. I really depends on the gamer.
And finally: What hardware do you use?
Catch Yukie on Twitter or on Twitch
Update Unfortunately, Yukie didn't quite make the qualifiers for IEM in Poland.

---



Being the game and gadget geek that I am, working at digitec and Galaxus makes me feel like a kid in a candy shop – but it does take its toll on my wallet. I enjoy tinkering with my PC in Tim Taylor fashion and talking about games on my podcast http://www.onemorelevel.ch. To satisfy my need for speed, I get on my full suspension mountain bike and set out to find some nice trails. My thirst for culture is quenched by deep conversations over a couple of cold ones at the mostly frustrating games of FC Winterthur. 
---
---
These articles might also interest you
Skeleton Loader

Skeleton Loader

Skeleton Loader

Skeleton Loader

Skeleton Loader

Skeleton Loader