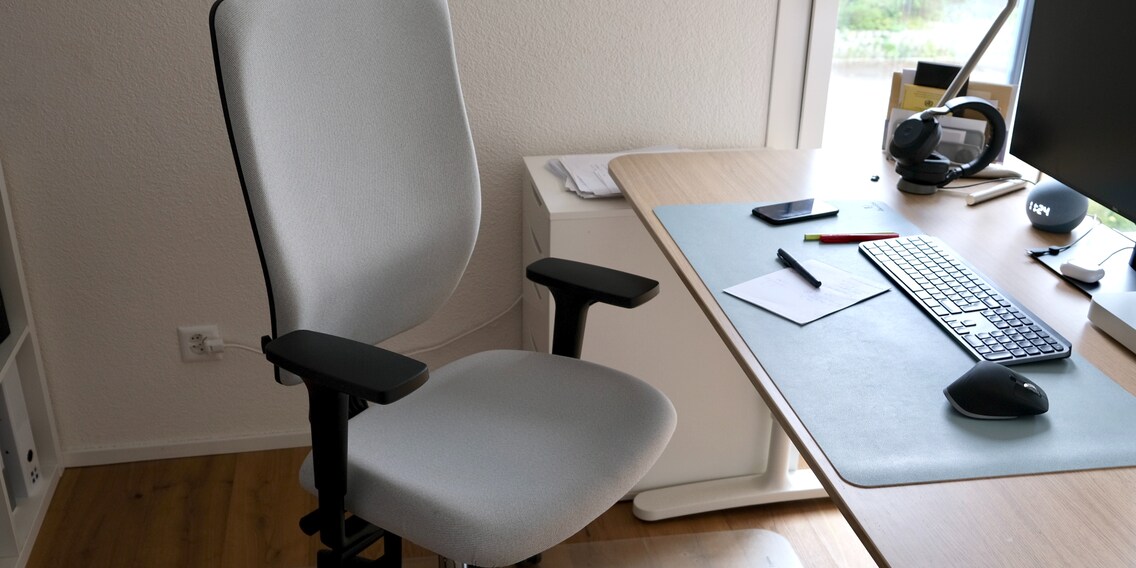 The Stilo ES office chair is almost as comfy as a car seat

A back that's over 40 years old deserves better than the typical Swedish-furniture-store chair. If it were up to me, the Dauphin Stilo ES would never leave my home office again.
I suppose I can count myself lucky. After all, I do have an office chair that's, well, actually an office chair. But it's not a very good one. After months of regular use, my back has started to complain. This has led me to start a search for a better chair.
At the office, I don't have to worry about finding the right chair; my employer does that for me. But in my home office, it's up to me. I choose which chair I'll be sitting on as I type away or participate in online meetings. Granted, I could borrow a company office chair. But I'm just not a big enough fan of that model to even contemplate bringing it into my home. Not to mention the hassle of transporting it. So, for the sake of both aesthetics and ergonomics, I embark on the search for the perfect home office chair.
The candidate: the Dauphin Stilo ES
First up as a possible replacement for my Swedish-furniture-store chair is a mid-range chair: the Stilo ES from Dauphin. The manufacturer sent me the chair so I could test it over a period of eight weeks. I received a model with an extra-tall padded backrest, lumbar support, armrests and quite a few adjustable components. The only add-on this model didn't have was the «Ergo» neck support. But I did get to pick the colour I wanted. I went for a kind of sandy-beige-grey, officially called Silvertex. It's nice and light – definitely more pleasant than black.
With all the add-ons, the chair ends up not being much of a bargain. But it's still significantly less pricey than the Capisco chair, which my colleague Pia Seidel recently reviewed (and was absolutely enamoured with!)
ReviewInterior

The uncomfortable truth: the Capisco office chair is better
Thank you for sticking around and not immediately switching to the – granted, prettier – office saddle that is the Capisco. Visually, the Stilo ES is, well, an office chair. Desperate copywriters are probably the only people who could think to describe its design as exceptional in any way. A sturdy base with casters, comfortable seat with all manner of levers and handles, and a stable backrest frankly aren't subtle. That's why I recommend getting the Stilo in a light or even colourful fabric. It'll help the chair look just a little less clunky. There's a wide selection of colours, materials and patterns to choose from in the Dauphin configurator. You can even go for a mesh back. I love the fact that there are so many options. They offer me a way around the typical, uninspired-office-designer black. As of October, we carry seven preconfigured models in our shop.
I tested my model at home at my desk, which isn't height adjustable. On it, I have a Mac Mini and a 27-inch Dell monitor. Because I'm rather tall at 1.91 metres, there are a few things about the Stilo that make me very happy.
Adjustable for tall people
First off, there's the seat. It's about 50 centimetres wide and almost as long at 47 centimetres. It has nice padding, which feels comfortable even after hours of sitting. The fact that the chair has adjustable seat depth certainly also helps. You can slide it forward and back to adjust the depth. If I extend it by six centimetres (the maximum), my thighs immediately feel much better supported, and I can sit in a more relaxed way. It's similar to the seat extenders you'll find in certain cars. If you're a tall person like me, I'm sure you already know that when it comes to seat depth a little goes a long way. The adjuster is well designed. I can easily return the seat to its original position – bum up, press the button under the seat, done.
The seat depth is only one of the things I can adjust. Thanks to the «Syncro-3D-Balance» feature, I can make the seat less stable – or, in other words, make it more dynamic. Dynamic sitting is what people concerned about back health love to see from office workers. We shouldn't stay sitting in the same position for hours on end; we should change positions regularly to keep our different muscle groups active. Dauphin has made this possible with the Stilo ES. With just one lever, I can «unlock» the entire upper body of the chair. This allows me to tilt forward and sit at the edge of the seat. I can then extend my legs forward and shift some of my body weight onto them. Depending on the setting, the backrest also provides resistance when leaning back.
Admittedly, that's quite a lot of levers and buttons down there. It takes a while to learn where each one is and what it does. I admit that I had to consult the instruction manual every now and again to find out what exactly to turn in which direction. Nevertheless, I wouldn't want to do without any of the features.
A few more words about the backrest: it alone will not keep your back in shape. But combined with the various seat adjustment options, it plays just as important a part. The high backrest I have on my test model (62 centimetres) is already a blessing in and of itself. In addition, I can adjust the height of the backrest by up to ten centimetres at the press of a button. In the highest position, it reaches just below my shoulders, which I find very comfortable. And the backrest has built-in lumbar support, which is supposed to help maintain the inward curve of the lower spine and prevent hunching. I wasn't a fan of it at first because it felt uncomfortable. But I stuck with it and worked my way towards a more pronounced curve week by week and turn by turn. It's healthier that way, after all.
Quality and workmanship
My test model came fully assembled in a bulky cardboard box that barely fit through the front door. This may not be the most eco-friendly way to go about it, because it does require a lot of packaging material. But it does save you the step of having to build it up.
I didn't have to tighten a single screw or attach the base. The chair is ready to be sat on out of the box. The materials used impressed me. The base, for example, is made of plastic – though aluminium is an option – and looks very premium. The edges are neatly processed, as are the armrests.
The fabric of the seat and backrest is just as platinum grey after eight weeks of use as it was on the first day. Even dark jeans leave no mark. I have not yet had to find out how the fabric (number 165.031 in the configurator) fares in the event of a coffee spill. If that's something you're interested in, let me know in the comments and I'll find a way to do it.
As luck would have it, the manufacturer isn't located somewhere in Asia, but in southern Germany – more precisely in Franconia near Nuremberg. For the most part, that's where the chairs are developed and manufactured. The site also includes a large testing laboratory used to test the durability of the chairs. The Dauphin Group has also adopted a comprehensive environmental and sustainability programme.
Verdict: technology that pleases the back
The Stilo ES I tested has been a real boon for my back. My personal highlight was the 3D balance feature that supports dynamic sitting. In addition to that, there were so many adjustment options that I was always able to find a comfortable sitting position. There was, for example, the «comfy sprawl» for video calls in which I was just a listener: backrest pushed all the way back, seat cushion pushed all the way forward. Or the «sitting on the edge» position for typing in full flow.
The build quality leaves me with no doubt that you can use this chair for many years. Alas, I have to return the test model after my review and switch back to my chair from the Swedish furniture retailer. I wonder what my poor back will have to say about that...
If it starts hurting again, I think I'll bite the bullet and finally invest in a decent office chair. It'll cost about twice as much as the one from Ikea, but hey, physiotherapy for a broken back is certainly even more expensive. And the Dauphin Stilo models seem reasonably priced compared to expensive designer alternatives. In terms of the technology packed into the chair, a fully equipped Stilo doesn't have much less to offer than a designer model. It's akin to buying a car. Of course, there are more stylish models – luxury on four wheels or five hard-floor casters – but sometimes common sense prevails, and you go for the upper mid-range. In the world of office chairs, buying the Stilo ES is like buying a Volkswagen Passat. It offers excellent build quality, but it's also a bit boring; it has all the features you could need and is by no means a cheap car, but it's not a brand whose name comes at a premium.
If you have other any questions about the Dauphin Stilo ES, let me know in the comments. Or do you have your own set of tips for choosing an office chair? Fire away!
---



Journalist since 1997. Stopovers in Franconia (or the Franken region), Lake Constance, Obwalden, Nidwalden and Zurich. Father since 2014. Expert in editorial organisation and motivation. Focus on sustainability, home office tools, beautiful things for the home, creative toys and sports equipment. 
---
---
---
These articles might also interest you
Skeleton Loader

Skeleton Loader

Skeleton Loader

Skeleton Loader

Skeleton Loader

Skeleton Loader