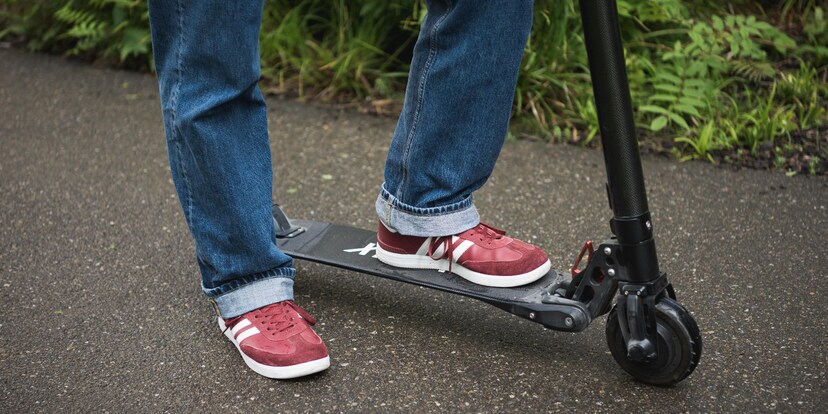 The e-scooter boom
E-scooters aren't just being rented; more and more private scooters are racing through the streets of Switzerland with the power of electricity. They're often ordered online: At Digitec Galaxus, e-scooter sales have increased fivefold compared to the previous year.
You'll see them at every corner in cities such as Basel, Geneva or Zurich: e-scooters. But rental services were only the first step: more and more Swiss commuters are buying their very own electric scooter. The industry's been booming in 2019: in the first half year, customers of the two online shops digitec and Galaxus purchased five times as many battery-powered scooters as during the same period back in 2018. In the current year, digitec and Galaxus have already been able to sell several thousand such vehicles. And the trend is pointing steeply upwards.
Manufacturers and buyers of Digitec Galaxus have reacted to the booming demand: There are currently around 80 e-scooters on offer – from beginner models to noble scooters, there's something for everyone. To put this into perspective: in July of 2018, Digitec Galaxus had around 50 such vehicles in its range – and in the summer of 2015 there were only six of them.
Road legal models are becoming more popular
There have been major changes in the prices of e-scooters sold in recent years: today, two thirds of scooters sold cost between 400 and 600 francs. The average price is 491.50 francs. A year ago, much cheaper e-scooters were sold over the counter or at the post office: back then, two thirds of articles sold cost less than CHF 400.–.
The changes in price structure can be explained, among other things, by the fact that more road-legal models are now on the market – and that the Swiss have become more aware of this issue: anyone travelling on Swiss roads without a bell, front and rear lights and brakes on both wheels can expect a hefty fine. In addition, a maximum speed of 20 km/h is permitted, 25 km/h if you use your legs to go a bit quicker. The power of the motor can't exceed 48 volts or 500 watts.
E-scooters that meet all criteria for road approval are typically more expensive than those that have no fixed lights, for example: e-scooters with approval currently cost an average of over 700 francs, while those without approval cost only around 420 francs. However, average prices for road-legal e-scooters have fallen by more than CHF 300.– this year alone.
Users can also limit their highest speed to 20 km/h using some recently released software. Latter vehicles are considerably more expensive than the mean, averaging 1165 francs.
In the meantime, more than one in four e-scooters sold by digitec or Galaxus have been approved for road use; in 2018 this figure was still below 8 percent.
The Chinese brands Xiaomi and Segway Ninebot are the top dogs in the electric scooter market. Both cover the medium to high price range. Other high turnover e-scooter brands operating in Switzerland include Razor, Micro, VMAX, Egret, E-Twow and Inokim.
Target audience: men in their 30s
Sales data shows that e-scooters are particularly popular among men: only 13 out of 100 buyers are women. And the age distribution also speaks volumes: every third buyer is between 30 and 39 years old, every fourth between 20 and 29 and every fifth between 40 and 49. So the typical owner of an E-scooter in Switzerland is a man in his 30s.
What will the future hold?
In the past two years, there have been some innovations on the electric scooter market. Today's models especially are more powerful: they're often able to cope with inclines, without even needing pedal support. In addition, scooters have become more comfortable, offering large, air-filled tyres and good suspension systems, for example. Manufacturers have also tinkered with the design: today's models are lighter and more streamlined than previous versions.
In the near future, manufacturers will continue improving their models. And it's likely that more and more models with road approval will enter the market. New competitors will also fuel innovation and price wars. Several car manufacturers have already announced that they will launch their own e-scooters in the coming months.
Images for free use
E-scooters:
Download image 1
Download image 2
Download image 3
Digitec Galaxus headquarters in Zurich:
Download image
Contact for media representatives
Digitec Galaxus AG
Corporate Communications
Pfingstweidstrasse 60, CH-8005 Zurich
Phone: +41 44 575 96 96
E-mail: media@digitecgalaxus.ch
Internet: digitec.ch galaxus.ch
---
At digitec and Galaxus, I'm in charge of communication with journalists and bloggers. Good stories are my passion – I am always up to date.
---
---