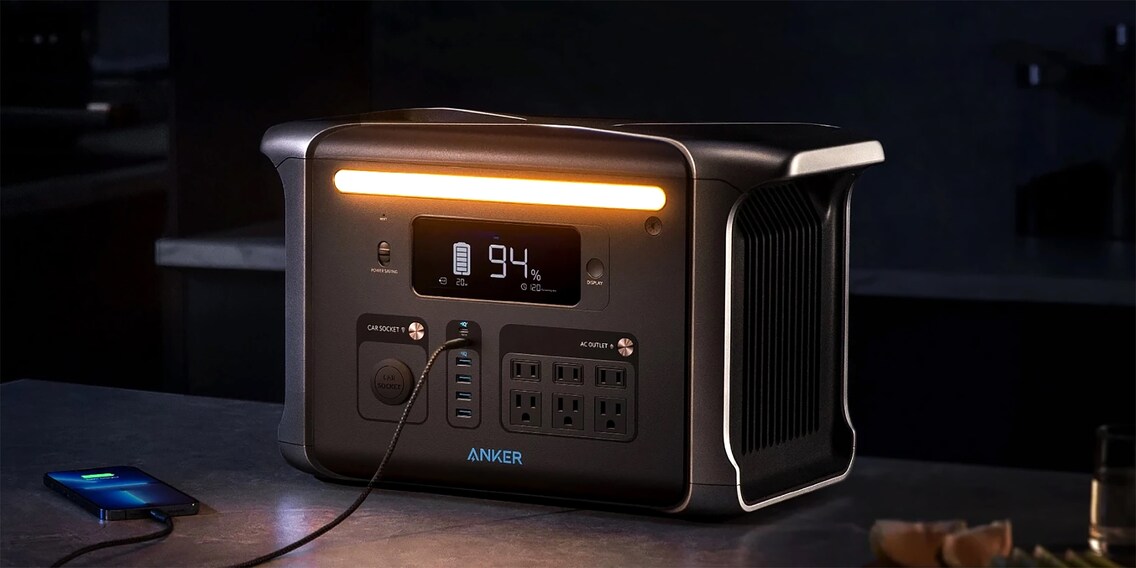 This article was translated automatically.
The 20-kilogram battery: Anker introduces 757 PowerHouse
With the 757 PowerHouse, Anker's largest battery pack to date is launched on the market. The Power Station weighs almost 20 kilograms and has special features in other respects as well.
In contrast to conventional battery packs, the smartphone accessories provider Anker relies on lithium iron phosphate batteries (LiFePO4) for the new 757 PowerHouse. These are also found in electric cars. This is because they do not overheat and are not supposed to start a fire even if damaged. They are also supposed to age less quickly. But they are heavier.
In addition to the proud weight of 19.91 kilograms, the PowerHouse offers an output of 1500 watts and a capacity of 1229 watt hours.
The PowerHouse has three three-pin and three two-pin sockets. Furthermore, four USB-A ports with 12 watts can be found. Those who want to charge a laptop will get the maximum 100 watts via a USB-C port thanks to Power Delivery. A second USB-C port offers 60 watts. On top of that, there is a cigarette lighter socket and, so that you can also plug in cables in the dark, an LED light strip.
For preppers and other nature heroines, Anker will soon launch a matching solar panel kit. This is supposed to charge the PowerHouse with 300 watts to 80 percent in 3.6 hours. When plugged into a power outlet, 80 percent should even be reached in one hour. The LiFePO4 technology is also supposed to ensure that 100 percent of the capacity is still available after 3000 charging cycles. If the battery is left unused in the closet for a year after a full charge, the charge should still be 62 percent.
Whether the Power Station will appear with further socket variants is being clarified. Anker charges 1400 US dollars for the 757 PowerHouse and gives the battery a five-year warranty.
---



I find my muse in everything. When I don't, I draw inspiration from daydreaming. After all, if you dream, you don't sleep through life.
---
---
---
These articles might also interest you
Skeleton Loader

Skeleton Loader

Skeleton Loader

Skeleton Loader

Skeleton Loader

Skeleton Loader