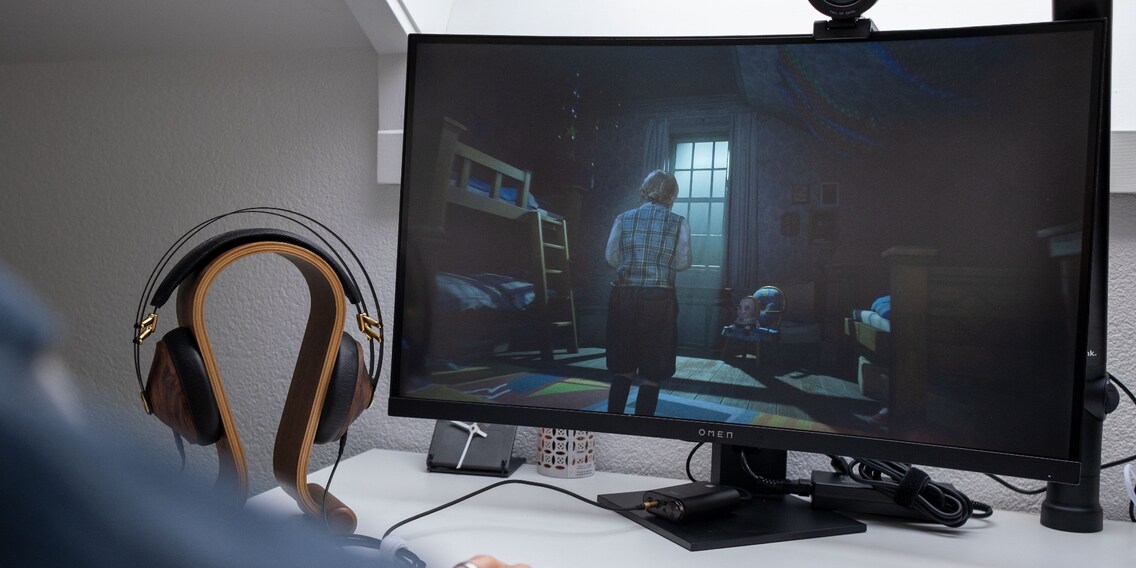 Testing the HP Omen 27c gaming monitor

The HP Omen 27c is a gaming monitor in a worksuit. It convinced me with its gaming performance, but it's only suitable for office work to a limited extent. Despite its looks.
Gaming peripherals that don't look like it. But that's what you get with HP's Omen series. This one is unexciting – and that's a good thing. The Omen 27c is sleek, built like a tank and could also pass as an aesthetic office monitor.
Looks sweet, but doesn't quite deliver what it promises
HP has given the 27c a 1000R curvature. As a value, which describes a camber radius of 1000 millimetres, this is enormous. Most curved monitors have a curvature of 1500R and up. But due to the small 27-inch screen diagonal, the curvature still doesn't look too obvious.
The installed VA panel has a resolution of 2560 × 1440 pixels. VA stands for Vertical Alignment. This means that the panel's liquid crystals are aligned vertically. Such an arrangement allows VA panels to achieve better black levels and contrasts than TN or IPS panels.
According to HP, the monitor has an always-on blue light filter that shouldn't affect colour accuracy. Blue light can disrupt sleep patterns, but at least it's not unhealthy, according to recent studies.
HP provided me with a monitor for the test.
The picture looks quite decent at first glance. I especially noticed the crisp colours. This was also confirmed to me by the EIZO monitor test. There were no pixel errors, the brightness seemed homogeneous, colour distances as well and the colour gradient also appeared even to me. Only the viewing angle doesn't seem as wide as other monitors to me. This is due to the curvature. Curved monitors are at a disadvantage here compared to their non-curved counterparts, and the viewing angles are rather narrow. If you look at the monitor from the side, the picture quickly looks washed out.
Following a subjective test, I want to get into the nitty-gritty and assess the Omen 27c panel with my i1 Display Pro Plus colourimeter. As it turns out, the brightness isn't as homogeneous as I subjectively perceive it to be.
The panel shines brightest at the top. Towards the bottom, however, the brightness decreases. With 375 nits at the top left but 319 nits on the bottom right, the difference is a maximum of 18 per cent. Quite the drop-off. For non-curved monitors, I find anything over ten per cent uncomfortable. I'm astonished I didn't notice this immediately with the naked eye. This must be because the biggest differences are furthest apart.
I also measured colour space coverage for the display:
sRGB colour space coverage: 99.1 per cent
Adobe RGB colour space coverage: 78.6 per cent
DCI-P3 colour space coverage: 84.2 per cent
sRGB is represented accurately. However, coverage of the Adobe RGB colour space is insufficient for those who use it. Take graphic designers who prepare material for printing as an example. Things look a bit better for DCI-P3 coverage, which is important for digital film production. HP actually claims the monitor will achieve 92 per cent – sadly, the panel does not.
Performance for gaming and media consumption
The Omen 27c is a gaming monitor, and as such it has to shine in that discipline. It features AMD FreeSync Premium Pro and is compatible with Nvidia G-Sync. Screen tearing therefore isn't an issue. With its 240 hertz, it's ideally suited to FPS games such as «CS:GO».
One weakness of VA panels is so-called «Dark Level Smearing». This results happens during slow changes from black to grey pixels. For dark scenes, this creates black streaks behind fast-moving objects. Dark level smearing is a special type of «Ghosting».
It occurs to a slight extent in the Omen 27c. However, this can be fixed with the monitor's overdrive settings. By overriding reaction times, the same can also be accelerated. This can be set at five levels in the on-screen display. I prefer level 2. There's no more ghosting with it on. Higher levels lead to inverse ghosting for me, leaving behind bright artefacts instead of dark ones.
Latency was within the usual range for a gaming monitor. Using my Leo Bodnar Video Signal Input Lag Tester, I measured 1.7 milliseconds of delay at 1080p resolution and 60 Hz.
Fortunately, backlight bleeding hardly ever occurred. Backlight bleeding refers to light leaking from the edges or corners of an LCD screen. This is due to the way LCDs work: they use light behind the panel directed at the screen. This can be annoying during dark scenes. It's limited in the Omen 27c, and only annoying if you're used to OLED panels. They aren't affected by backlight bleeding.
Blooming, on the other hand, does pop up to a slight extent in the Omen 27c – at least in HDR. Blooming occurs when the light illuminating a small object shines through into surrounding spaces. This only occurs with HDR content on the Omen 27c, for which the monitor is Vesa DisplayHDR 400 certified. This allows a short-lived brightness peak of up to 400 nits to be achieved during a movie – which produces a rather modest HDR effect. When HDR is activated, a local dimming feature kicks in that affects the picture's brightness in different zones. It isn't completely convincing and probably leads to blooming because of too large zones.
All in all, my gaming experience on the 27c was still good. I like the crisp colours, the strong curvature and the high refresh rate.
Decent ergonomics, but with room for improvement
If you sit alone in front of the Omen 27c, it's fantastic to work with thanks to the curvature. However, as soon as use it with two people or look from the side, the rather narrow viewing angles make for a less than optimal display.
The monitor can be adjusted in height and tilted. Unfortunately, it isn't possible to tilt the screen. A feature I'd like to see on a curved monitor. The workmanship of the monitor is excellent. It doesn't wobble, and the materials used feel solid.
Further, I must address the elephant in the room: The monitor has an external power supply. That means you'll have a smartphone-sized lump lying on your desk or somewhere else. This bothers me enormously.
The Omen 27c provides the most necessary connections: one HDMI 2.0 and DisplayPort 1.4 each. A pity that there's no HDMI 2.1. You'll have to resort to DisplayPort to benefit from 240 Hz at 1440p. However, I do like that the two USB-A ports at the back of the monitor use the 3.2 Gen 2 standard. This theoretically enables data transfers of up to 10 GBit/s. The connections are rounded off by a headphone jack.
The monitor is operated via a joystick at the back right of the monitor housing. Pressing it twice takes you to the on-screen display (OSD). This feature leaves nothing to be desired. Various profiles can be selected, all colour and brightness parameters can be set by the user. In addition, there are options such as displaying frame rate or overriding response times. All in all, the OSD looks tidy and clearly arranged.
Verdict: just a good gaming monitor
The Omen 27c is a great gaming monitor that doesn't look it. If you play FPS games without an HDR feature, I can recommend the Omen 27c.
There are weaknesses in HDR reproduction with slight blooming and a rather limp HDR effect. For around 500 francs, I'd also have liked to see a DisplayHDR-600 certification instead of just 400. I'm also missing HDMI 2.1. If you want to see everything the monitor has to offer, use the DisplayPort connector. Nevertheless, the Omen 27c is in the lower price range for comparable monitors.
Thanks to its high 240 Hz refresh rate, the monitor is especially suitable for FPS games such as «CS:GO», which also explains the mediocre 1440p resolution. The monitor is only suitable for everyday office use to a limited extent due to its ergonomics. It works if you sit alone in front of it and never have to swing it around. But if you often work in pairs or look at it from the side, it's less suitable due to the narrow viewing angles.
However, its biggest fault to me is the external power supply. I prefer them to be integrated into monitors.
---



From big data to big brother, Cyborgs to Sci-Fi. All aspects of technology and society fascinate me.
---
---
---
These articles might also interest you
Skeleton Loader

Skeleton Loader

Skeleton Loader

Skeleton Loader

Skeleton Loader

Skeleton Loader