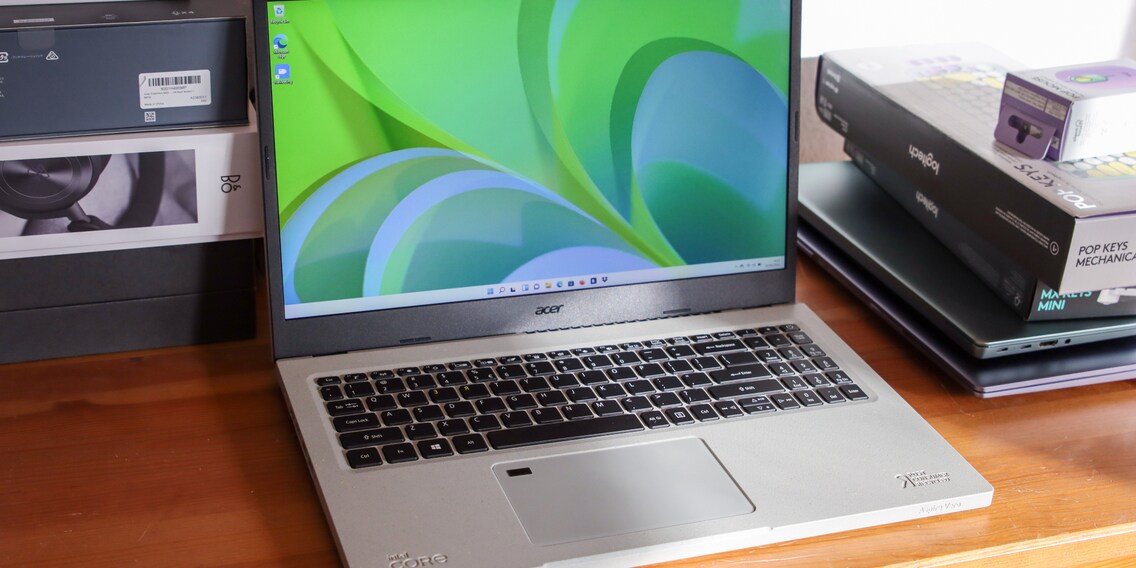 Testing the Acer Aspire Vero: a sustainable laptop

Jan Johannsen
Hamburg, on 04.02.2022
Translation:
Katherine Martin
Acer has used recycled plastic for the Aspire Vero and made its internal workings easily accessible for repairs.
Thirty per cent of the Aspire Vero laptop's case is reportedly made of recycled plastic. With the keycaps, the figure rises to 50 per cent. On top of that, everyday Phillips screws allow the case to be opened easily. Similarly, Acer has steered clear of bonded components, which helps when it comes to both repairs and recycling.
The need-to-knows
The Aspire Vero boasts a 15.6-inch display with full HD resolution, a keyboard – complete with number pad – and even a LAN connection port. My test device is kitted out with the Intel Core i7-1195G7, 16 gigabytes of working memory and a 1000-gigabyte SSD.
Swiss keyboard
German keyboard
Recycled material? Not too shabby
I can see Aspire Vero's sustainability at a glance. The grey case is speckled with light and dark spots of colour. Yellow accents can only be found on the hinge and the feet on the underside. In comparison with current laptops on the market, the Vero looks boxy and clunky. I'm not entirely convinced by the design, but I can definitely appreciate it. It stands out among the sea of silver metal and black plastic cases. And then there are details like the «engraved» lettering.
The branding certainly has something going for it. It looks better than the ubiquitous stickers – although, unlike stickers, you can't get rid of it.
Even if the aesthetics don't have me fully convinced, the recycled plastic is as pleasant to the touch as regular plastic. As far as I'm concerned, it could be used in more laptops.
Unscrewing made easy
The last few years have ushered in a trend of notebooks which can only be opened – if at all – with special screws. This is different with the Aspire Vero, which has eleven Phillips screws on the bottom.
The eleven screws can be taken out quickly, but the cover on the bottom requires a bit more effort. It's locked in place, so I have to grab something thin yet sturdy and carefully prise it away from the rest of the case.
The inner components are fixed using the same screws used on the bottom of the case. With a screwdriver, it's plain sailing. I don't need to unscrew anything to get the battery or the RAM out. To free the SSD, I just need to tackle one screw.
Display und speakers
With a weight of 1828 grammes and a 15.6-inch screen, Vero hardly classes as lightweight. Because of this, you'll want keep it stationary most of the time. The IPS display is anti-reflective and has a Full HD resolution – 1920×1080 pixels, to be precise. In contrast, the brightness of 250 nits is pretty unspectacular. It's fine if you're using it indoors, but out in the sunshine, the monitor isn't bright enough.
Flip the Vero over and you'll find its two speakers. Although they provide stereo sound, they rely on having a steady base underneath – otherwise there's no reverberation. What comes out when you're streaming music or watching a series is run-of-the-mill notebook sound. I can hear everything fine, but it's not that swell of sound that fills a room, or even a powerful bass.
Battery life
The Aspire Vero contains a lithium-ion battery with a capacity of 48 Wh. In other words, the battery can hold out for 5 hours and 52 minutes of non-stop YouTube streaming, screen brightness cranked up to the max. That's okay – neither notably short, nor notably long-lasting. However, with the battery's 7.3 minutes per watt hour, it's in a better position than, say, the LG Gram 17. The latter's 9 hours and 12 minutes of battery life may sound better, but it demonstrates a worse battery utilisation in view of an 80 Wh battery.
ReviewComputing

LG Gram 17 review: lightweight with huge display
Ports
The Acer Aspire Vero has numerous ports, including three USB-A (1x USB 2.0 und 2x USB 3.2 Gen 1) and a USB-C slot (USB 3.2 Gen 1). With the HDMI slot, you can link up to external screens and monitors, and there's a LAN port for those who don't fancy surfing the web at Wi-Fi 6 standard. There's also a 3.5 mm jack plug for headphones. Or if you prefer your music cable-free, you can connect via Bluetooth 5.1.
In addition to the seven slots, there's also a power connector, which provides the only way of charging the battery. My preferred way of powering up is via USB-C, so this doesn't quite live up to my personal ideal. On the other hand, it does free up the USB-C to charge other devices.
Keyboard and touchpad:
The Aspire Vero's case is so big that its keyboard can accommodate a number pad. It comes with a background light which can be switched on and off. The key strokes are short, and although there's noticeable resistance when they're pressed, typing still feels smooth. Though they do bounce a bit much for my liking.
There's also a design gimmick which bugs me. The «E» and «R» key letters are not only yellow instead of white, but mirrored too.
Below the keyboard there's a large touchpad. With its help, I'm able to move the cursor precisely, and when clicking, I can clearly feel the pressure points at the bottom. The top left-hand corner plays host to a fingerprint sensor. Unusual but easy to reach, it reliably unlocks the laptop with a well-scanned fingerprint.
Performance
Windows 11 is installed on the Acer Aspire Vero. My version has an Intel Core i7-1195G7 and 16 gigabytes of memory, while Intel's Iris Xe GPU takes care of the graphics.
To compare the test device's performance with other systems, I ran Geekbench 5 and Cinebench R23 on the Vero. While Cinebench measures the processor's performance based on a 10-minute render test, testing with Geekbench is faster and hardly calls for using the fans. As Geekbench works on every device, you can also compare the processor's performance with that of a smartphone. Not only that, it can assess the performance of the graphics card.
Geekbench 5
| | |
| --- | --- |
| CPU Single-Core | 1593 points |
| CPU Multi-Core | 5366 points |
| OpenCL (GPU) | 15,544 points |
| Vulkan (GPU) | 15,022 points |
Cinebench R23
| | |
| --- | --- |
| Single-Core | 1613 points |
| Multi-Core | 5710 points |
The benchmark results for the built-in hardware are unsurprising and confirm the Aspire Vero's solid performance. It fares better than the aforementioned LG Gram 17 or the Surface Pro 8 behind it. Both, however, have slightly different versions of the 11th Generation Core i7.
Consequently, the Vero isn't just suited to typical office tasks like writing and surfing the net, but also manages somewhat more demanding tasks.
However, there's one thing that bothers me: the fans kick in too quickly, in my opinion. And this isn't just the case during the benchmark tests, which try to tease out the device's maximum performance. It also happens when I'm watching a stream in my browser. They don't drown out the sound, but it's noticeable. Luckily, it's not constant, but it happens again and again. A single stream shouldn't place so much demand on the hardware that the fan has to kick in.
My verdict: proof of concept
The Acer Aspire Vero is proof that it's possible to make a sustainable notebook – recycled materials aren't a minus point. Easy disassembly allows the battery to be replaced, individual components to be upgraded and repairs to be carried out. All of this increases the lifespan of a laptop and with that its sustainability.
However, the Vero is just one step on the path to sustainability. There's definitely room for improvement. Why isn't the case made from 100 per cent recycled materials? Acer could also make sure that the precious metals and rare-earth elements forming the inner components either come from recycling or proven sustainable sources.
Looking purely at the notebook itself, Vero falls somewhere between bog-standard and unspectacular. The display, keyboard, performance and sound are all fine, but nothing really breaks the mould. Apart from maybe the numerous ports. On the other hand, nothing about it stands out in a strongly negative way. So, if you ask me, making high-end laptops more sustainable too couldn't hurt.
---



When I was but a young student, I'd sit in my friend's living room with all my classmates and play on his SuperNES. Since then I've had the opportunity to test out all the newest technology for you. I've done reviews at Curved, Computer Bild and Netzwelt, and have now arrived at Galaxus.de. 
---
---
These articles might also interest you
Skeleton Loader

Skeleton Loader

Skeleton Loader

Skeleton Loader

Skeleton Loader

Skeleton Loader