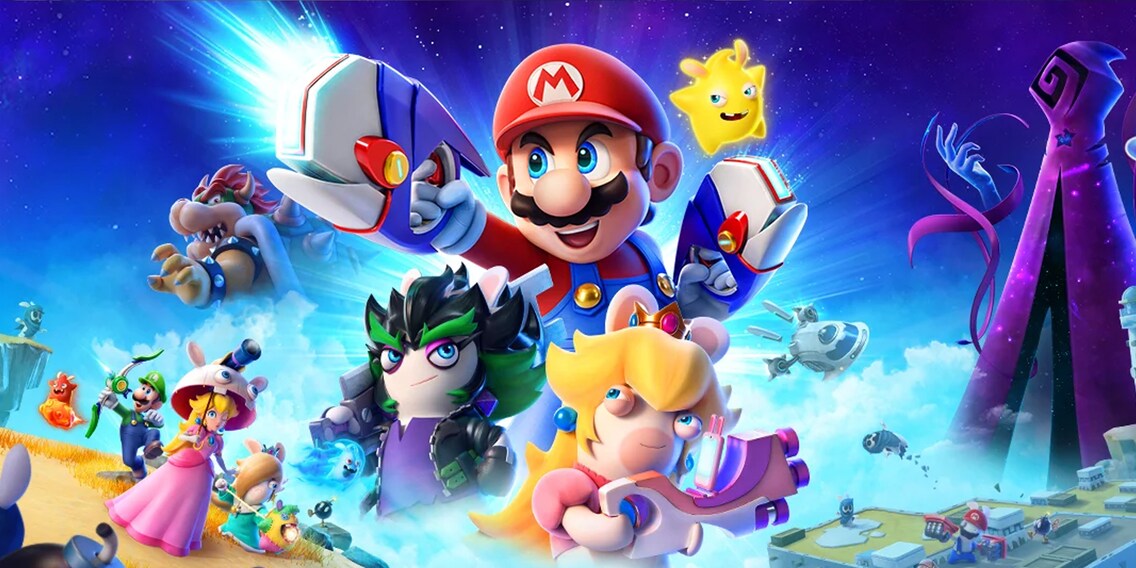 Testing out «Mario + Rabbids: Sparks of Hope», an intergalactic strategy game with a few minor flaws
About five years after its unexpected launch of a Mario and Rabbids crossover, Ubisoft is coming out with a sequel to the unconventional strategy game. Fans of the original will be able to jump right in, despite some new features.
The 2017 E3 «Mario + Rabbids: Kingdom Battle» debut was a big hit. Hardly anyone could've imagined that this unusual mash-up of two completely different worlds would work as a turn-based strategy game.
But the critics were wrong; Ubisoft delivered an incredibly fun and accessible strategy adventure with «Kingdom Battle», the surprise hit of the year. If you were a fan of this first game, you'll also like the sequel. «Mario + Rabbids: Sparks of Hope» remains true to the original, the only changes involving a few new features.
Preparing for battle
In «Kingdom Battle», Mario and his Rabbids friends saved the Mushroom Kingdom from ruin, but now they face a new, alien threat in «Sparks of Hope». With baleful cosmic energy, the malicious «Cursa» threatens to wreak havoc not only on Mario's world but on the entire universe. Mario's dream team promptly takes off in a spaceship to rid five nearby planets of the cosmic plague and uncover the secret behind Cursa's power.
You'll spend most of your time on this galactic odyssey in turn-based battles, fighting against Cursa's minions and other alien enemies. Each round, you'll choose three heroes to send into battle. Unlike in the first game, you have total control over who you send; you needn't include Mario as one of your three heroes.
The Rabbids and Mario characters have their own unique roles, weapons, and abilities in battle. While Peach and Rabbid-Peach have mainly defensive roles with healing powers and protective abilities, Luigi and Rabbid-Mario are moreso offensive characters – Luigi with far-ranging weapons and Rabbid-Mario with melee ones.
Although in «Mario + Rabbids: Kingdom Battle» you had to equip your heroes with weapons, in the sequel you can equip each character with two «Sparks» instead. These cute little stars complement the heroes with super effects and special abilities. Offensive Sparks allow you to burn, poison, freeze, or electrify enemies with powerful super attacks while keeping you immune to those very same attacks yourself. With defensive Sparks, you can drive away enemies, revive heroes, or protect your own team with a temporary shield.
The variety in abilities between heroes and Sparks allows for an expansive range of attack combinations and gives you more strategic options than in the first game. Especially in later battles, meticulous planning and creative use of Sparks is often crucial. You'll only be successful if you carefully analyze in advance the strengths and weaknesses of your opponents on the field and prepare your team accordingly.
Battling like never before
One new feature you'll find in this game is the ability to move your character freely on the battlefield; you're no longer confined to a grid system like in the original. Being able to move freely within a predefined radius makes the game more accessible for beginners, while providing experienced players with a better overview and more tactical options in combat.
As you move around the field, you can knock down enemies with a Frenzy attack or use your teammates as trampolines to reach distant or elevated areas on the map. By using special moves in combination with objects, such as tubes and jump fields, you can cover large parts of the battlefield in just a few moves.
Each turn, you get two action points, which can be redeemed for weapon attacks, special abilities, Sparks super attacks or even items. But be forewarned: once you've used your weapon, you can no longer move about freely on the field. With clever combinations, you'll be able to cause a lot of damage to the opposing team in just one turn and get yourself out of seemingly hopeless situations.
I have a concrete example from my test run. I placed Mario near an opponent and used an action point to attack him with Mario's Galaxy Duo Blaster. I used the second action point to activate Mario's hero ability – in this surveillance mode he shoots at any enemy moving in his line of vision. I then switched to Luigi, who was on the other side of the map. I used Luigi's action points to activate a Fire Spark and shoot down the enemy next to Mario. The fiery sniper hit its target. Having been burned, my opponent began running around in panic... which triggered Mario's hero ability and led to my opponent being hit a third time and his ultimate defeat.
Despite the new free movement style and Sparks super attacks, you'll get the hang of battling after just a few rounds. Which is great on the one hand – I'm happy to get more of the familiar strategy action from the original game. But at the same time, it's a shame these additions don't provide a bit more variety and strategic depth on the battlefield.
Growing your skill trees
Unlike in the first Mario and Rabbids game, character battles feel more or less fair and pleasantly challenging. But don't let that fool you. If you want to survive against the hordes of enemies later on in the game, you'll have to be well prepared and regularly upgrade your heroes and Sparks.
By successfully completing battles, you'll earn points necessary for growing each character's skill tree. You can use these points to gain hero abilities, weapon attacks, freedom of movement or power points. What's great is that you can get your points back at any time and use them for something else if you're unsatisfied with your choice. And if you find a battle too challenging, despite upgrades, you can adjust the difficulty level at any time.
As for what needs improvement, the visual design of the game menus is a bit tedious. The symbols used are often ambiguous and confuse me more than they help when I'm leveling up and preparing for battle. For example, some Sparks look confusingly similar – a few times I mistook the electric Spark for another yellow Spark and had to restart the battle because of the mistake. Annoying.
With a total of nine playable heroes, 30 Sparks and countless skill tree options, this game offers plenty of room for creativity and strategy. I do, however, find it a shame that not all the characters from the first game are playable heroes in this one – I particularly miss Donkey Kong. Yoshi and Rabbid Yoshi have also disappeared without a trace. But the addition of Bowser and his destructive rocket launcher does compensate in part for the gorilla's absence.
Exploring the Rabbids universe
When not in the thick of battle, you can spend time exploring the planets you pass on your journey through the cosmos. The worlds in this game feel larger and more realistic than in the original game, and you're no longer bound to linear paths and fixed camera angles. Battles are triggered by stationary «dark puddles» and enemy movement, which you can steer clear of if you want. When exploring planets, you'll discover numerous side quests, puzzles, collectible items and sometimes even ultra-difficult optional battles.
Although I like the idea of large gaming worlds, I would've also liked to see some smaller, more contained planets for variety's sake. Many of the side quests feel monotonous, despite the interesting puzzles. Exploring the planets becomes tedious after completing too many uninteresting tasks – this is where less would've been more.
Also problematic is the time lapse between the game and controls – even more so than in the original, thanks to the addition of the expansive game worlds. The dream team moves so slowly through the planets that half of the fun of exploring them in the first place is lost. Especially irritating is when your character is running and bumps his head; even after the slightest of encounters with an obstacle, the character falls down and takes forever to get back up. It's just annoyingly unnecessary.
The single-player mode is the only one you'll find in this game. The multiplayer mode from the original game hasn't been carried over. But I don't consider that a big loss because the game offers more than enough scope with its 30 hours of gameplay. Those interested in the side quests can count on another 20 hours or so to unlock all the extras.
Graphically a go, technically a no
Graphically, this game is beautifully done by Switch standards with its detailed level designs and expressive animations. Unfortunately, the game has numerous technical flaws, which mar the overall presentation. On my journey through the galaxy, I was accompanied by regularly diminishing frame rates and unsightly tearing, whether in the middle of planet exploration or in battle. These were problems I experienced in the original game, but they're even more noticeable in this one due to the increased size of the worlds.
Loading times can also be rather problematic and often await you at unexpected moments. Be prepared to see your screen loading often and rather slowly. Even calling up the main map or adjusting the team constellation before battle can be accompanied by a loading screen.
Music to my ears
The cosmic journey takes place once again to melodies by Grant Kirkhope, best known for creating soundtrack classics like those of «Donkey Kong» and «Banjo Kazooie». This time around he worked with Gareth Coker («Halo: Infinite») and Yoko Shinomura («Final Fantasy 15», «Kingdom Hearts»). As you might expect with this stellar ensemble, there's no room for complaint in the soundtrack. Think cheerful Super Mario remixes with epically arranged compositions reminiscent of songs from old jump'n'run classics from the Nintendo 64 era. A blast to the past.
I don't appreciate, however, the way the Rabbids characters sound in this game. In the original, the amusing rabbits would let out a shriek here and there along with some other funny sounds, but in «Sparks of Hope», they actually talk and have bizarre accents. Rabbid-Mario sounds like an Italian-American macho man and Rabbid-Peach sounds like a snooty beauty influencer on TikTok. Why? I want the old shrieking rabbits back.
Verdict: familiar strategy despite new features
«Mario + Rabbids: Sparks of Hope» builds on the solid gameplay of the original, adding to it a revised battle system and bigger, freely explorable worlds. Despite the new features, the game still feels very similar to its predecessor – I would've liked to see more creativity in the turn-based battles and a bit more variety on the explorable planets. It's also a pity that the sluggish controls and technical problems are more noticeable than in the original, due to the expansive game worlds.
But if you can live with these flaws, you'll find «Mario + Rabbids: Sparks of Hope» an enjoyable and easily accessible strategy game with exquisite attention to detail and plenty of breadth. If the 30 hours of gameplay aren't enough for you, there's the expansion to look forward to. Ubisoft has already announced they'll be releasing a story expansion with Rayman in the near future, for any players willing to pay extra. I can't wait to jump back into the Rabbids spaceship and brave the front lines, battling against any number of intergalactic baddies.
«Mario + Rabbids: Sparks of Hope» will be available for Nintendo Switch on 20 October. Ubisoft provided us with a copy of the game so we could test it out.
---
My love of video games was unleashed at the tender age of five by the original Gameboy. Over the years, it's grown in leaps and bounds.
---
---
These articles might also interest you