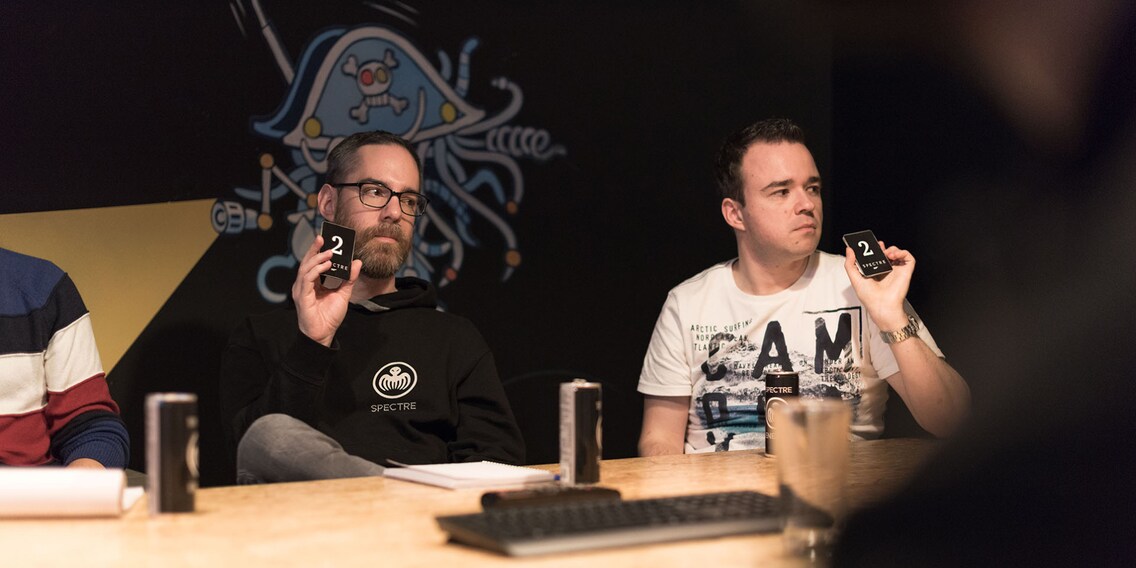 Team Spectre: those who walk amongst the shadows

All engineering teams at digitec work in close conjunction. All but one. This team relishes working on other things than the usual deploys and sprints. This is Team Spectre. And they are the ones that made it possible for you to pay with cryptocurrencies.
«Yeah, and then we just kinda did it,» says Claudio Schaad, leader of Team Spectre.
Spectre is one of the teams that make up the engineering department of Digitec Galaxus AG. Officially, they're the ones in charge of regulating the behind the scenes payment process at digitec.ch/en and galaxus.ch/en. Inoffically, however, this team of six is probably the most disruptive and brazen group in the whole company. The team's newest accomplishment: you can now use cryptocurrencies, such as Bitcoin or Ripple to pay with on both websites.
Claudio sits in a meeting room with black walls and succinctly talks about an act which, at some other firms, would have cost the whole of Team Spectre its head. At Digitec Galaxus, meanwhile, they earn praise and honour. This comes from one of our compny's core values: being «piratesque». This artistic term is really a catch-all, but what it really boils down to is this: employees are allowed the freedom to work on their own projects.
Team Spectre does this collectively. This way, they're quick, agile, bold and unorthodox.
The road to Bitcoin, Ethereum and co.
«We've been looking into cryptocurrencies for a while now,» Claudio says. He's wearing a comfy hoodie adorned with a squid surrounded by a circle – the Spectre logo, famous from James Bond movies. He laughs when it gets mentioned and changes the subject. «Of course we branded ourselves. That's how you can tell that we're Spectre. Team spirit and a bit of friendly competition with the other engineering teams are what set us apart.»
If he needs to, he can put on his official Spectre signet ring or get a stuffed white toy cat in under two minutes. If he gets thirsty, there's always the official Spectre energy drink. It's not very tasty, but it's got the logo and it keeps you awake. That's all that matters.
«Anyway, cryptocurrencies,» he says, stifling his laughter and trying to stay serious. After all, blockchain, the building block of any cryptocurrency, is a highly complex subject.
In extremely simple terms, blockchain works about like this: blockchain technology is a clever way for thousands of people to agree on a singular version of the truth. For example, lets assume Alice buys an iPhone. Blockchain could guarantee that she only uses that money to pay digitec once, so that she can't copy the bills and use them twice. You won't have to blindly trust someone to always stay truthful and not betray you. Additionally, this is all possible without involving large centralised organisations such as banks who account these transactions and charge massive fees.
The knowledge concerning application, implementation and risks doesn't just stem from Team Spectre's own research, but from every corner of the company. What was left for Claudio and his team of six was to simply implement what their research recommended. Their solution: instead of creating an own wallet or even cryptocurrency, digicon or the such, Spectre chose work with a company called Coinify.
Coinify aims to be a safe harbour in the stormy seas of cryptocurrencies. This allows for a reasonable price structure during purchases. Essentially, the company doesn't do anything but change cryptocurrencies into real-world currencies – in the case of digitec and Galaxus, this would be Swiss francs. In simpler terms: while shopping, if your purchase price exceeds 200 francs, you have the option to pay with cryptocurrencies. What arrives on digitec's end are Swiss francs.
If you choose to pay your digitec or Galaxus purchase using Bitcoin or any other supported cryptocurrency, the system connecting Digitec Galaxus AG, Datatrans and Coinify will calculate a rate that applies for 15 minutes. As cryptocurrencies are extremely volatile, such actions are mandatory. Else, you might make a net loss in the end. On the other hand, you might get the best deal in human history. This, of course, wouldn't make Digitec Galaxus AG very happy.
Extensive and expensive tests
«The whole testing phase was extremely interesting,» Claudio continues. Cryptocurrencies rarely permit dry runs. Spectre only had one option: it was time to take out the wallets. Team Spectre had more or less developed their crypto solution under the radar. They mainly used hours put aside for engineers to tinker on their own projects. Spectre, however, is a team, not a bunch of narcissists. They assembled in their black-walled room and started thinking. The question of the hour was: what was the coolest, most impactful project they could come up with? They found their answer in a half-attempted but finally abandoned agile initiative: cryptocurrencies. The mystery-mongers at Spectre laughed and said: this fits us like a glove.
«Ich war also am SBB-Automaten und habe mir Bitcoin in mein Wallet geladen», erzählt Claudio, «und dann noch einmal Gebühren gezahlt, als ich meine Bitcoin in Ripple gewechselt habe.»
Only once there had been a problem. His money had disappeared. Lost somewhere in the blockchain. Every purchase is easily traceable, however, as it corresponds to a data block contained in the blockchain. This made reversing the payment very simple.
«I just sent an e-mail to Coinify and our partner at Datatrans, and the rest happened quickly,» Claudio finishes. The money found its way back to him and testing could continue.
Quo vadis, Spectre?
These days, cryptocurrencies are old hat at Spectre. In their meeting room, the six are already planning their next caper. The meeting is a bit strange – just how the team likes it. The walls, naturally, have to be black. Conspiring in any other location doesn't really work. Their sense of humour pervades the meeting.
Discipline, however, is still strongly present. Spectre judges and evaluates itself intensely. What were the weak points of their last operation? What can be worked on more efficiently? Then comes the decision process. Time requirements are discussed. Using numbered cards – Spectre branded of course – every team member can judge how many hours should be invested into this project or side project. Spectre won't reveal what they're currently working on.
«We all have our secrets,» Claudio concludes.
For even if Spectre works in engineering's shadow, in the end, their work shall be visible to all.
---



Journalist. Author. Hacker. A storyteller searching for boundaries, secrets and taboos – putting the world to paper. Not because I can but because I can't not.
---
---
---