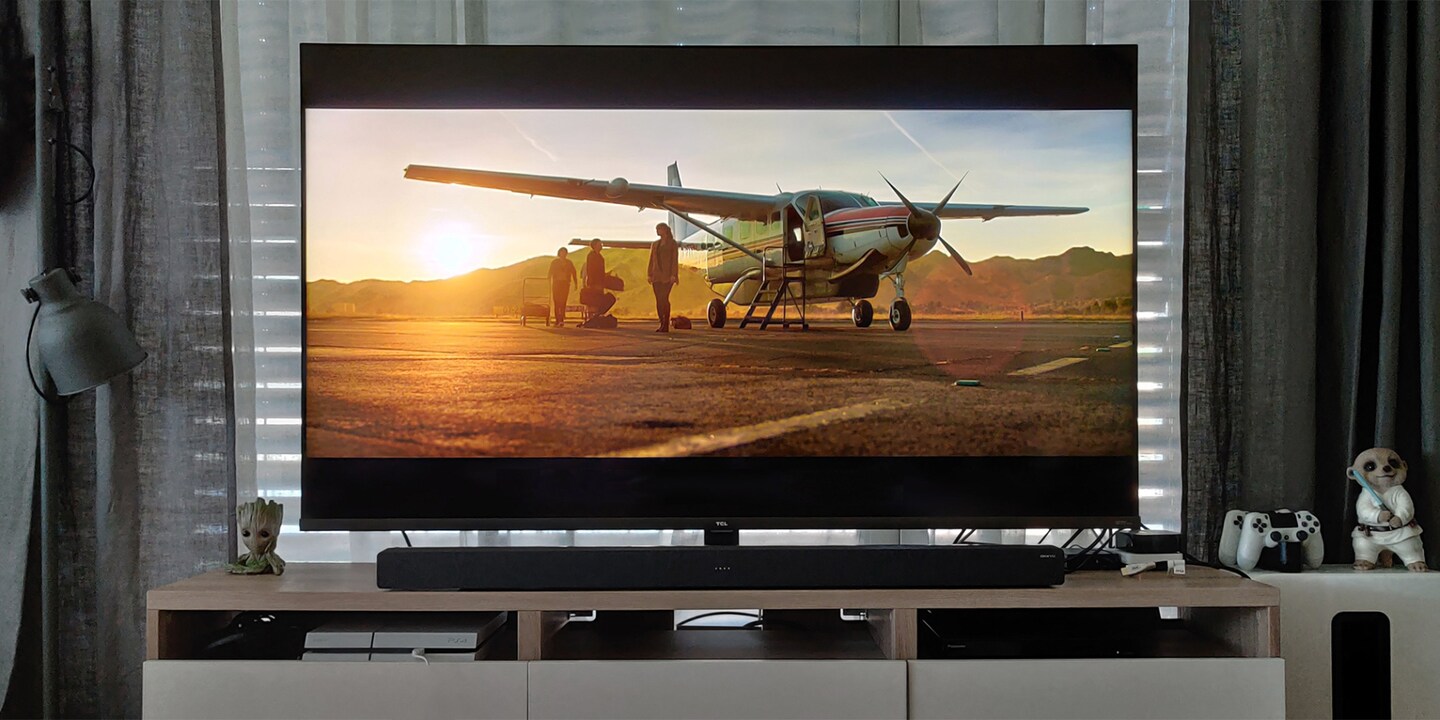 TCL X10 TV review: great image, weak processor

China wants to shake up the TV landscape. Tech giant TCL has gone ahead and brought the first mini LED TV onto the market. The image rocks, the processor doesn't.
A new player has entered the European TV market. Telephone Communication Limited. In short: TCL. The Chinese tech company headquartered Shenzhen, Guangdong, has only recently made a name for itself. TCL is planning to enter the OLED business soon by printing OLED pixels onto glass – like inkjet printers print colour onto paper.
News & TrendsAudio

TCL will den OLED-Markt: Muss sich LG warm anziehen?
Dreams of the future. Presently, TCL is already the third largest TV manufacturer in the world. And they're the first to bring mini LED TVs onto the market. Essentially, it's full array local dimming technology that uses significantly smaller background LEDs than conventional LCD TVs. This supposedly provides extraordinarily good black levels.
I'm excited.
The design: speaker system or soundbar?
These TCL televisions certainly have style. No question. I already noticed this on past visits to trade fairs.
Granted, TCL isn't reinventing the TV design wheel (or rectangle with rounded edges, to quote my colleague Dominik). But for a year or two now, the Chinese TV manufacturer has been using the same design elements again and again: aluminium frames and grey cloth-covered speakers that stand out. Sure, some elements vary. For the first time, the fabric loudspeakers are integrated into the TV panel. Sometimes the frame is only visible at the bottom. Sometimes just from the side. But all in all, it's mostly the same.
They've developed their own style. Cool!
With the X10 – the model I'm testing – the only design aspect that doesn't primarily prioritise usefulness over looks is the stand. It's also an external speaker system designed to look like a soundbar in front of the panel. Fancy, sure, but if you want to complement this TV with a real soundbar: good luck. That's because this disguised soundbar cannot be removed from the stand. Who'd think up something like that?
And yes, I deliberately called the speaker system with its nice fabric cover a «speaker system». Even though its 109.5×6.5×8.5 centimetre (W×H×D) dimensions are reminiscent of a sound bar. But if you're really expecting soundbar quality – sound purists will lynch me because I used soundbar and quality in the same sentence – you'll be disappointed.
Not that the sound is terrible. It's probably even better than the usual TV speakers. In total, the system has an output of 2×40 watts. There are also two integrated subwoofers. A 2.2 system. The sound isn't hollow. But the middle centre channel, which is often used for better dialog playback, is missing. The TCL system doesn't come close to Sony's Acoustic-Surface technology. I don't even have to compare it to a quality soundbar like Sonos.
ReviewAudio

Ist die Sonos Arc die beste Dolby-Atmos-Soundbar?
Are my demands regarding TV speakers too high? Maybe. But when a manufacturer uses generous words like «enjoy an incredibly immersive sound experience thanks to its integrated ONKYO sound system» or «Dolby Atmos transports you into the story with moving audio that flows all around you with breath-taking realism,» I expect more than what TCL's Onkyo soundbar thing delivers. TCL is alright. But there can be no talk of «impressive» or «breath-taking».
What else can be said about the equipment?
The X10 has three HDMI 2.0b connectors. There's no HDMI 2.1. If you're looking for a TV for your next-gen console, due out in December, don't read any further. Because UHD at 120 frames per second – an important factor for next generation consoles – is only available via HDMI 2.1. That only leaves UHD resolution at 60 frames per second. Even if the X10 had HDMI 2.1, it could only process a maximum of 100 frames per second as TCL has a 100 Hz panel installed.
At least one of the three HDMI slots has an audio return channel (ARC). This allows TV sound to be forwarded to a receiver or soundbar via an HDMI cable. Dolby Atmos is also possible thanks to the pass-through function.
What's not so great: the pre-installed Netflix app in TCL's smart TV system isn't allowed to use Dolby Atmos because of licensing problems with Dolby. However, there are rumours that an update could follow in December which would solve the problem. If you have another device that has a Netflix app and uses Dolby Atmos – like a UHD Blu-ray player – you can use the TVs pass-through function.
There. Did I cover everything? If not, write your question in the comments and I'll make sure that you get an answer within a reasonable time period.
The mini-LED image: Local Dimming at its finest!
Now onto the main course. Mini LED. LCD pixels cannot light up by themselves. They need LEDs that provide the background light and make the pixels glow. Then, in conjunction with polarization filters, light crystals seal off the background light where darkness is required.
video

Background informationAudio

TV teardown: «Huh? Just plain old LED strips?»
Despite the filter: even with «black» pixels, a little light always penetrates. This is due to physics. Which is why LCD televisions tend to be dark grey where there should only be darkness. That's why TV manufacturers worked out Full Array Local Dimming (FALD). What this means: LEDs behind dark areas dim or switch off completely – local dimming. LEDs should only light up behind bright areas.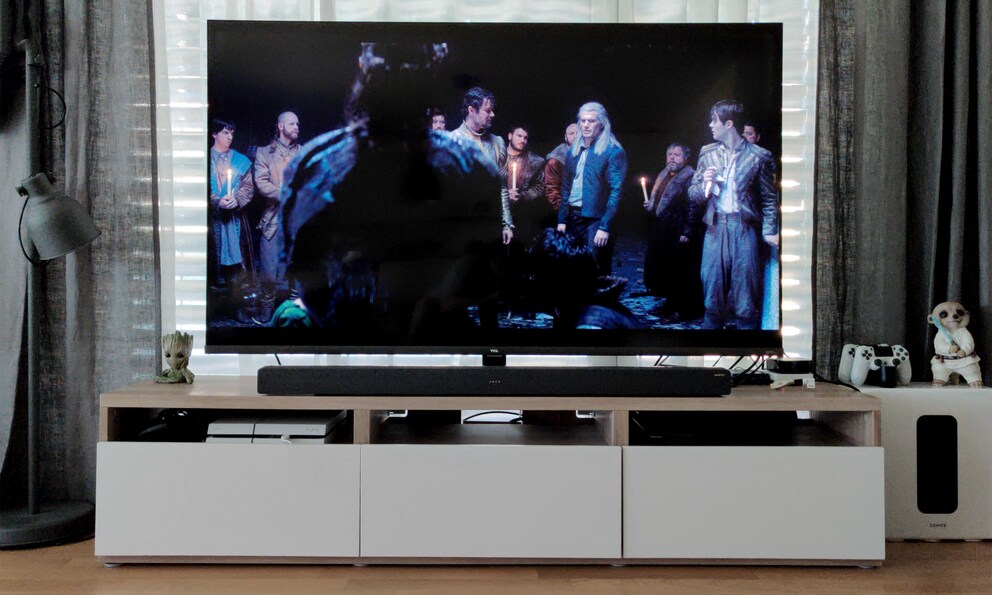 Sounds good! In practice, however, Blooming may occur. That's a kind of halo that appears around bright objects against a dark background. This effect occurs because UHD televisions consists of over eight million pixels, while current FALD televisions have a maximum of a few hundred LEDs. These in turn combine to form dimming zones of a few dozen LEDs. The eight million pixels are divided into two to five hundred dimming zones, depending on the TV model.
The discrepancy between the number of dimming zones and the number of pixels becomes apparent when a bright object is displayed against a dark background. As bright pixel edges can't be illuminated with pinpoint accuracy, LEDs also emit light where black would actually be. That's how Blooming is created.
All this means is that Mini LED is basically the same as FALD. The only significant difference is that LEDs are smaller. Hence the «Mini» in «Mini LED». More LEDs mean more dimming zones in this context.
Specifically: the over 15,000 X10 LEDs combine to a total of 768 dimming zones. At least in the 65-inch model I tested. Information that TCL deals with quite openly. This is unusual, as manufacturers usually remain silent when it comes to the number of dimming zones in their televisions. But the Chinese television manufacturer knows how powerful its backlight technology is – and they're not hiding it.
For comparison: 768 dimming zones are significantly more dimming zones than the alleged 500 dimming zones of a top FALD model like Samsung's Q90R and much better than the circulated 112 dimming zones of LG's SM9900. The more dimming zones, the more precisely the pixels can be illuminated. The more accurate the illumination of the pixels, the better the darkness levels, the contrasts and the management of blooming.
I mean, look at this comparison:
Worlds apart, right? Especially when it comes to Blooming. TCLs X10 almost doesn't shimmer at all. There's only dark, rich black that's almost as good as OLED True-Black. And I'm really putting this Chinese TV through the ringer. My deliberately chosen footage takes local dimming to the limit.
Another example. Source: «Westworld» UHD Blu-ray, HDR-10 quality.
Watch the shirt. Or the dark area to the left of the woman's face. LG's SM9900 makes it look as if someone with poor Photoshop skills had brightened the image up selectively. That's Blooming. You get nothing like that with TCL.
Full disclosure at this point: don't take these comparisons too seriously. These recordings were made months apart with different ambient lighting. This may have affected the pictures. I do try to keep the lighting conditions roughly the same, but my methods are far from highly precise.
Nevertheless: There's good and bad local dimming. Independent of price and positioning. After all, the LG SM9900 should be the 8K flagship. It shouldn't fear comparisons. And the X10 wins by a landslide, thanks to Mini LED, which raises local dimming to a level I have never seen before.
Beautiful UHD with HDR
Enough about Blooming. What else can the X10 do? I compare Panasonic's GZC 2004 and LG's E9, two 2019 OLED TVs, using a scene from «Jurassic World: Fallen Kingdom». Unfair? Possibly. In fact, TCL itself advertises «True Black» on its homepage, a feature usually only reserved for OLED televisions.
Will it be able to compete?
I really like the image. The cinema bars at the top and bottom of the screen are nice and black, not dark grey as is usual with LCD TVs. But above all, I was impressed by the bright green of the jungle, which doesn't seem too cold. As far as black levels are concerned, namely True Black, Mini LED isn't quite where OLED TVs are. You can see it well, especially in the night sky.
TCL, you got a bit overexcited there.
In return, the Panasonic image looks a lot colder. I like the rather warm tone of LG's E9 best – closely followed by TCL's X10. To put this into perspective:
In general: there's no trace of «Black Crush» – the loss of detail in dark areas of the picture. Black Crush can happen when manufacturers want to avoid excessive contrast and blooming when dimming locally in dark scenes. I'll explain.
LCD LEDs usually shine brighter than OLEDs. If the difference between the brightest and darkest pixels becomes too great thanks to local dimming, the result is exaggerated contrast and thus oversaturated colours. This isn't pretty. To prevent this from happening, the maximum brightness of background LEDs is turned down in dark scenes. As a side effect, this reduces the risk of blooming. But if the fine-tuning isn't perfect – in the delicate interplay between HDR settings and processor work for example – the details in the dark image areas will suffer. Voilà: Black Crush.
Different scene. Same movie.
I like that. I've watched this scene dozens of times on dozens of different TVs. The bright orange shades rarely appeared so natural, warm and balanced. Around the sun, the colour gradients are soft and show a good brightness gradation. At the beginning of the year, the X10 was said to have a slight tendency towards green tones. There's no sign of that here.
On the contrary. Look at the two OLEDs.
The GZC 2004 does the best job in my opinion. Particularly with regard to contrast values, which are determined by true OLED black. This gives the picture that certain «punch». I like that. With the E9, on the other hand, there's definitely a green tint to be seen. I like the colour fidelity of the X10 much better.
So if there were ever any problems with dominant green, these were teething problems that TCL has now eliminated.
Away from UHD-HDR: what can the processor do?
TV processors play an important role. They're the brain of the television set and are there to calculate video signals from HDMI or LAN and improve them if necessary. For example, when you watch a TV show in Full HD and it's upscaled to Ultra-HD resolution.
A nice example: «The Walking Dead». The series was deliberately shot on 16mm film, so that the old-fashioned grain including image distortion creates the feeling of a broken, post-apocalyptic world.
Normally, this is where the TV processor should intervene. It would identify the zombie series as a source of poor quality and upgrade it, remove the noise, smooth the edges and enhance the colours. I don't know of a processor that does this better than LG's second generation Alpha-9 processor – the processor that LG put in its TVs last year.
Take a close look at the dark background behind Negan's face. It's a great example of what LG's processor got out of the intentionally bad source.
Another comparison. This time with Panasonic's OLED TV. I tested it last month and found out that its processor also does much less correction work than LG's. As you can see below, TCL's and Panasonic's images are much more similar than TCLs and LGs picture. Even though TCL's black values are significantly weaker here.
Nevertheless: TCL works visibly less than Panasonic. The picture rustles as if you were watching a raging blizzard through your window. Panasonic still gave me a certain proximity to old school Hollywood, where film grain is part of the charm of filmmaking. After all, Panasonic has always distinguished itself with its proximity to well-known directors such as Martin Scorsese or Christopher Nolan.
Is TCL striving for something similar?
Definitely not. TCL promotes excellence in all aspects: design, image, sound and functionality. That's why I don't think TCL would deliberately hold back with image corrections. After all, there's no collaboration with colourists or directors from Hollywood whose vision isn't to be interfered with.
Another indication for the rather weak processor is the smart TV UI: Android TV. It's the same smart TV system that Sony uses. Only that TCL obviously works more directly with Google and therefore has a slightly different (better) version, TCL representatives told me. But in the end, I hardly see any optical differences. If it's about the service, yes.
TCL's Android TV is much less fluid than Sony's. And apps take comparatively long to open. Look. Android 8.0 on a Sony AG9 in August 2019:
It's all over in a flash. Without visible interruption. In my AG9-Test – according to Sony's 2019 OLED TV – I praised Sony's processor accordingly.
And here's TCL's Android TV in July 2020:
Especially when you open the YouTube app at 0:14 or the Netflix app at 0:54, you can see how it takes forever by today's standards.
At least Android TV can be voice controlled with both Google Assistant and Alexa – if you want to do so at all.
Brilliant image, but a basic processor
«Impressive. Most impressive», Darth Vader says to Luke Skywalker in «Star Wars: The Empire Strikes Back». I arrive at a similar verdict in regards to TCL's X10.
In fact, the X10 is «highly impressive» when it comes to playing UHD content with HDR quality. Rich, OLED-worthy black? Check. And this on an LCD television with backlighting. Wow. This is made possible by TCL's mini-LED technology, which is also being researched by other manufacturers. However, only TCL has so far been able to produce a correspondingly marketable television set.
However, the processor shows weaknesses. The HD image looks okay, but it doesn't blow me away. It needs to catch up a bit. Especially when using the Smart TV user interface. But that's nothing that can't be improved significantly within one or two years. At the moment, the competition is a bit ahead of TCL.
But 2021 – that should be a pretty exciting year.
---

I'm an outdoorsy guy and enjoy sports that push me to the limit – now that's what I call comfort zone! But I'm also about curling up in an armchair with books about ugly intrigue and sinister kingkillers. Being an avid cinema-goer, I've been known to rave about film scores for hours on end. I've always wanted to say: «I am Groot.»
---
---
---
These articles might also interest you
Skeleton Loader

Skeleton Loader

Skeleton Loader

Skeleton Loader

Skeleton Loader

Skeleton Loader