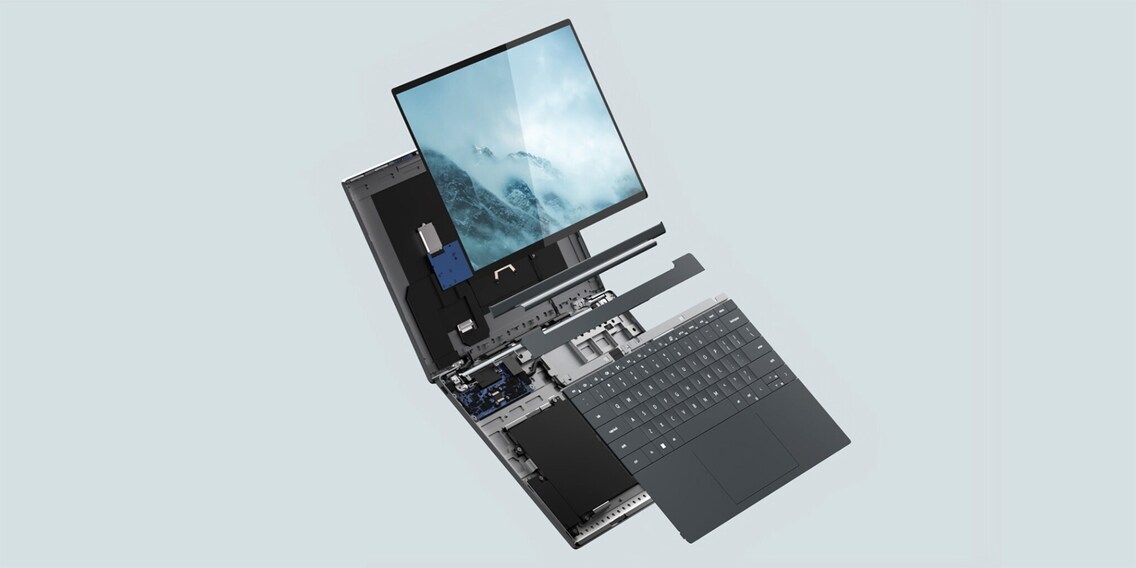 This article was translated automatically.
Sustainable laptop design: Concept Luna from Dell shows how it can be done
Dell has come up with a sustainable laptop design and presented a prototype. Concept Luna is meant to show how the reuse of resources could be taken to the extreme.
Together with Intel, Dell has developed and presented Concept Luna. A laptop that is designed in such a way that it is not only highly repairable, but also does as little harm to the environment as possible. Less raw materials and emissions are to be produced during its manufacture. It has a modular design, ten times fewer screws than a conventional laptop and its materials should be easy to reuse and recycle.
Since this is a feasibility study, the laptop will not hit the market. However, Dell believes that with Luna, a reduction in carbon footprint of around 50 percent would be possible. This is achieved with several things besides the modular construction:
The motherboard is reduced in size by 75 percent. The remaining components have been reduced in number by around 20 percent.
The circuit boards are made of flax fibres and a water-soluble adhesive. This saves a lot of plastic and simplifies recycling.
The more space created by the smaller motherboard is used in the notebook to better arrange the components and cool them more effectively. This could also eliminate the need for a fan.
The increase in efficiency achieved by the new arrangement should reduce the power requirement.
The power supply is provided by a smaller battery, which is nevertheless powerful and even more durable thanks to deep-cycle cells.
The base is said to be made of aluminum using hydroelectric power. This is said to require less energy and produce less waste.
Thanks to only four screws that give access to the inside, time is saved in case of repair.
All components can be replaced easily and simply.
Whether and how quickly Dell will integrate the concept ideas into its products remains to be seen. According to Dell, the next step is to check which points have the greatest potential to expand to the entire product portfolio.
---



I find my muse in everything. When I don't, I draw inspiration from daydreaming. After all, if you dream, you don't sleep through life.
---
---
---
These articles might also interest you
Skeleton Loader

Skeleton Loader

Skeleton Loader

Skeleton Loader

Skeleton Loader

Skeleton Loader