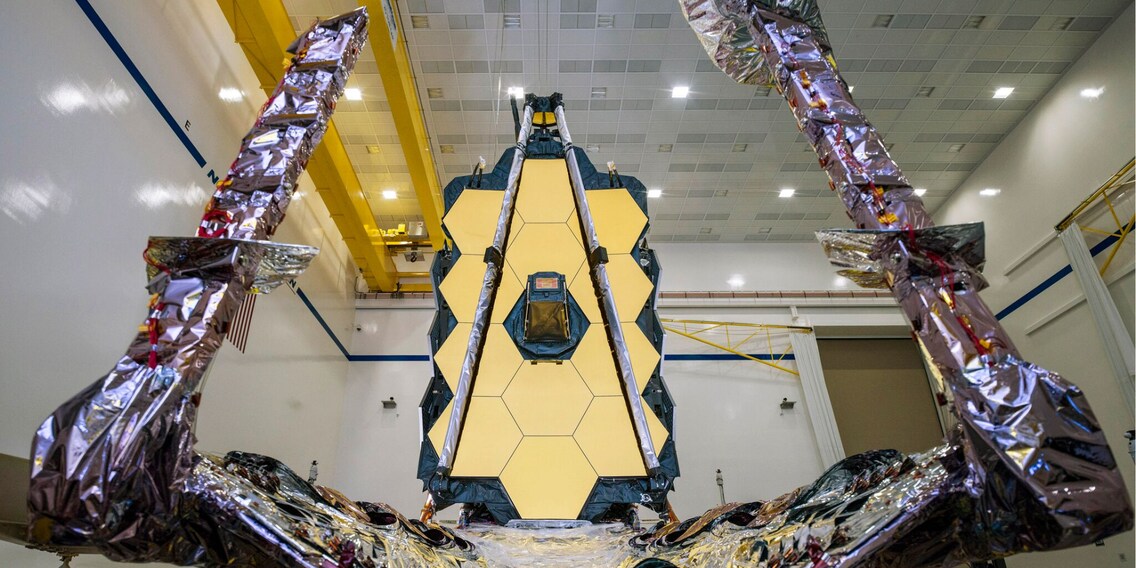 ESA
This article was translated automatically.
Sunscreen unfurled: James Webb telescope on course for success
On its journey to its place in orbit, the new space telescope was able to fully deploy its solar shield. Now it's time for the next precision manoeuvre.
The solar protection sail of the James Webb Space Telescope (JWST), which was launched into space on Christmas, is fully deployed. NASA announced this in a blog post last night. The highly complex maneuver began Monday. 139 release mechanisms, 70 hinges, 8 deployment motors, 400 hoists and 400 meters of cable were involved. Stretched out, the sail is now as big as a tennis court. It could only be transported from earth into space folded up.
Background informationPhoto and video

James Webb Space Telescope: launch of a mega project
Wafer-thin foils offer protection
The sun protection consists of five plastic foils with a reflective metal coating. The individual layers are as thin as a human hair. Nevertheless, they offer the new space telescope a sun protection factor of over one million. As a reminder, our sunscreen has a sun protection factor of 50.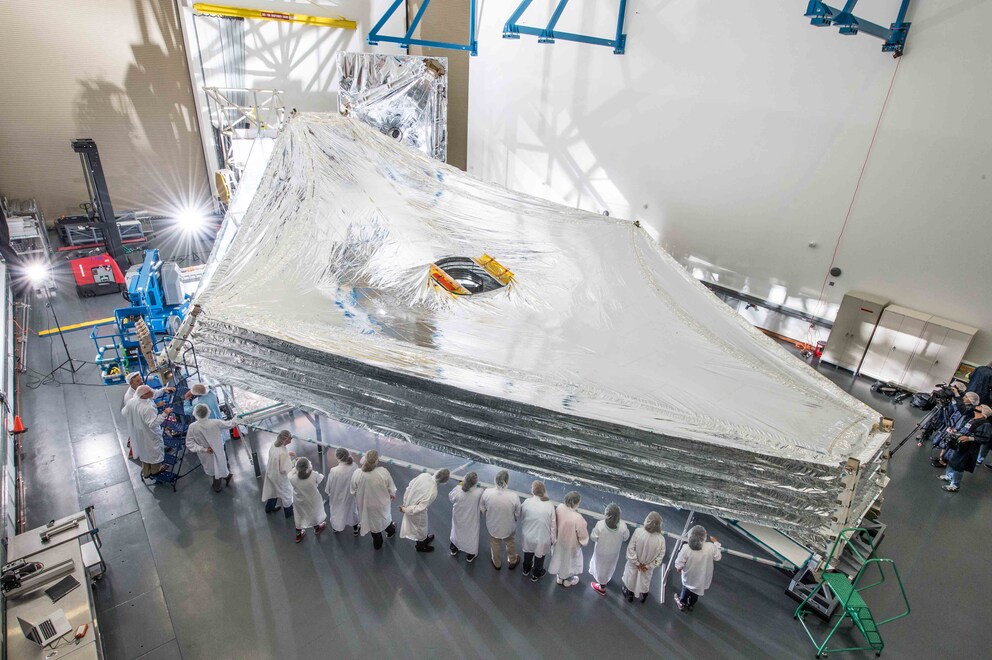 This is essential for the sensitive instruments on board. Because their operating temperature is far below freezing. So for the instruments to work, they need to be protected from the heat of the Earth, sun and moon. The temperature difference between the warm and the cold side of the sail is currently about 100 to 200 degrees Celsius.
Next manoeuvre already scheduled
The solar protection sail is not the last part of the JWST to unfold. The next orbital feat in space is already in the offing: The telescope extends the arm of the secondary mirror. Once that is done, the side wings of the golden primary mirror will also unfold shortly.
The JWST has been on its journey for eleven days. Its destination is the so-called Lagrange point L2. This is about 1.5 million kilometres from Earth - according to current calculations, the telescope should arrive there in about 16 days.
All of the JWST's unfolding manoeuvres must also go flawlessly on the way ahead so that the project, which is worth billions, can bear fruit. It is led by the American, European and Canadian space agencies. In addition, numerous companies and universities are participating in the mega-project.
If everything goes as planned, the space observer should be able to send the first images back to Earth in about five and a half months. Scientists hope to use these images to better investigate the origins of the universe.
---



«I want it all! The terrifying lows, the dizzying highs, the creamy middles!» – these words spoken by an iconic American TV celebrity could have been mine. It's a take on life I also apply to my job. What does this mean in concrete terms? That every story has its charm; no matter how small, large, exciting or trivial. The more eclectic the mix, the better. 
---
---
---
These articles might also interest you
Skeleton Loader

Skeleton Loader

Skeleton Loader

Skeleton Loader

Skeleton Loader

Skeleton Loader