Sturmkind Drift: cool but too pricey for me
Sturmkind's Drift Racer isn't just your standard RC car. The smartphone operated RC car simulates the driving characteristics of a real car. It veers, accelerates in a clumsier way and the stopping distance is longer. Is it worth buying?
Martin Müller is the brains behind Sturmkind Drift. German-born Martin was always an avid model maker. In 2003 he was already daydreaming about hosting car races in his living room – with real cars and real driving characteristics.
With ever-improving technology, this dream became more of a reality in subsequent years. Many hours of work and enormous sums of money later and a working prototype was finally ready. A year after, Martin started a crowdfunding campaign on Kickstarter. This was met with great enthusiasm and he raised more than 250,000 euros. It was this financial input that funded mass production of his product.
My racer was assembled by Susan
Sturmkind is a completely Germany affair, with construction, sound design and even packaging taking place in Germany. The company now boasts 14 employees. But if you take into account all the people throughout the country involved in manufacturing this little car, the number is nearer to 50.
Each racer is assembled and packaged by hand. And they all come with a badge signed by the assembler to prove it.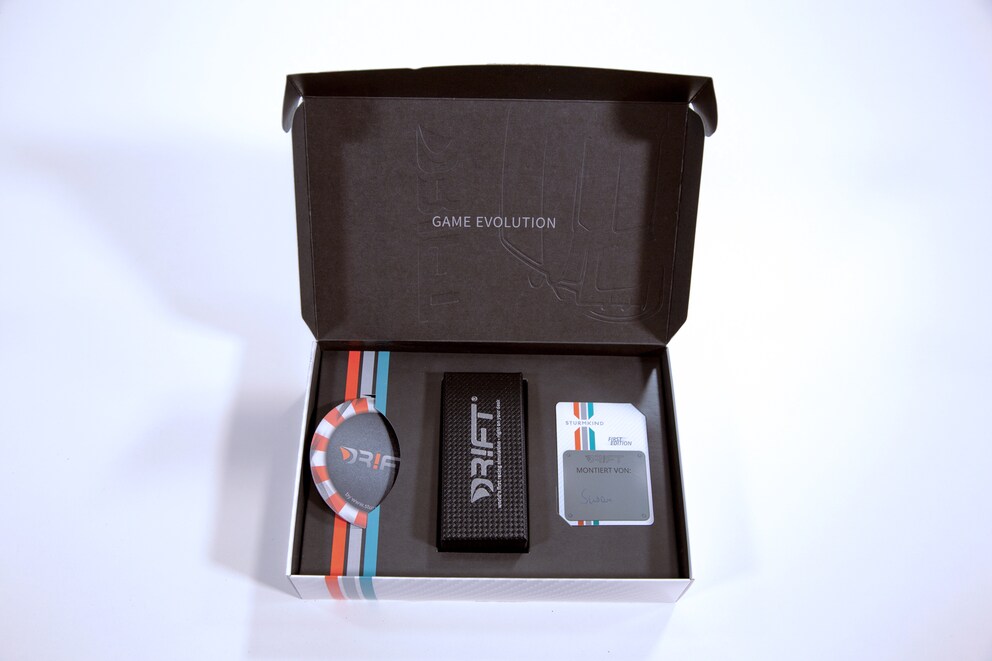 My plastic, red speedster
The racer features a front and rear spoiler, an air inlet under the bonnet, a rear diffuser with twin exhaust pipes and tinted windows. Looks-wise, it has everything a real sports car would. This red racer screams high speed and driving pleasure.
Sadly it doesn't feel as good as it looks. The 10 cm long and 4 cm wide racer is completely made of plastic. While the car is stable – it emerged from many crashes unscathed when I tested it out – I'd have expected a toy car in this price range to feature a metal or carbon chassis.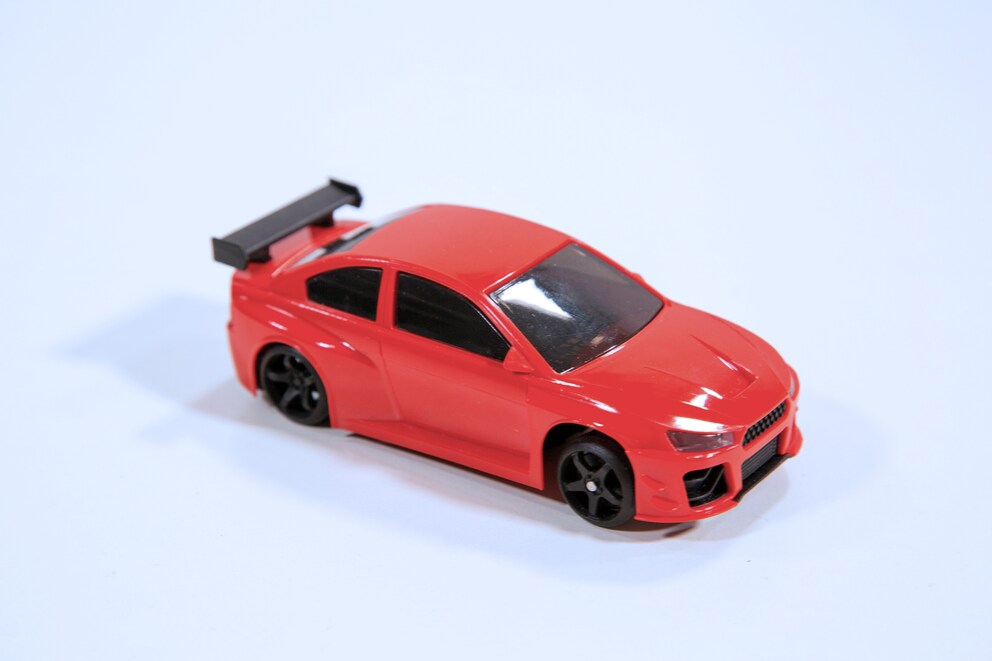 The racer is fitted with intelligent motion mechanics so it can glide across almost any surface. The four wheels are just for show. What actually drives the Drift Racer is a hub in the middle of the underbody. Affixed to this disc are two rubber tyres, which speed the racer up and slow it down. If the disc turns while the car is moving, the racer's angle changes. This makes the car veer to the side and slalom around the legs of the dining table.
Software with potential
Funnily enough, what's so interesting about the Sturmkind Drift isn't the vehicle itself; it's the software. This is what lets the racer do daring manoeuvres and behave like a real sports car. When it comes down to it, you're not really buying an RC car. You're buying a computer game. And the toy car is just the output medium.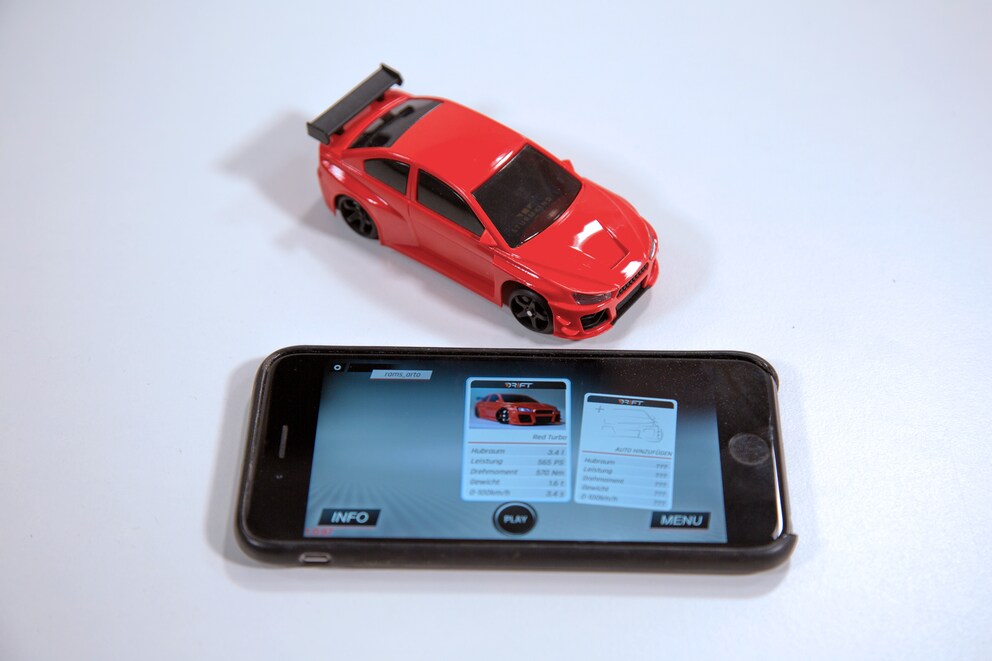 The Bluetooth connection between the car and my smartphone was always surprisingly quick and smooth. I've already tried out some other games that rely on Bluetooth and the connection drove me nuts. But when it comes to the racer, I get regular updates from the manufacturer, which are transferred to the car within a few minutes and run without incident.
I do think the app has room for improvement. At the moment, there aren't enough driving modes and settings options. Right now, you only have the option of driving freely or selecting a race and switching various driving assistants on and off. You can also select a dry or wet road from the settings but that's it.
I feel like it's lacking a tuning garage where I can customise my own racer. A larger selection of cars would also be great. That way I could take a Fiat 500 for a spin one day and then zoom around in a Bugatti Chiron the next. The software certainly has a lot of potential and areas to build on.
Verdict
The Sturmkind Drift is without doubt an unparalleled car – at the time of writing there's nothing like it on the market. I had fun testing the racer and I was impressed by the driving characteristics.
Unfortunately, the fun didn't last. After the tenth or twentieth go, I'd got the hang of things. And within a few laps of the living room it started to feel a bit samey. Having said that, the software definitely has promise. If the manufacturer continues to develop the app and new driving modes or if they add virtual cars, the fun of driving will probably come back.
As far as I'm concerned, the Sturmkind Racer is certifiably cool. But for now it doesn't deliver enough for me to warrant the rather high price tag. If you're a fan of unusual and fancy RC cars or gadgets, you're bound to love the Sturmkind Drift racer. But if, like me, you're not a big RC collector or enthusiast, I wouldn't recommend splashing out.
---

Riding my motorbike makes me feel free, fishing brings out my inner hunter, using my camera gets me creative. I make my money messing around with toys all day.
---
---