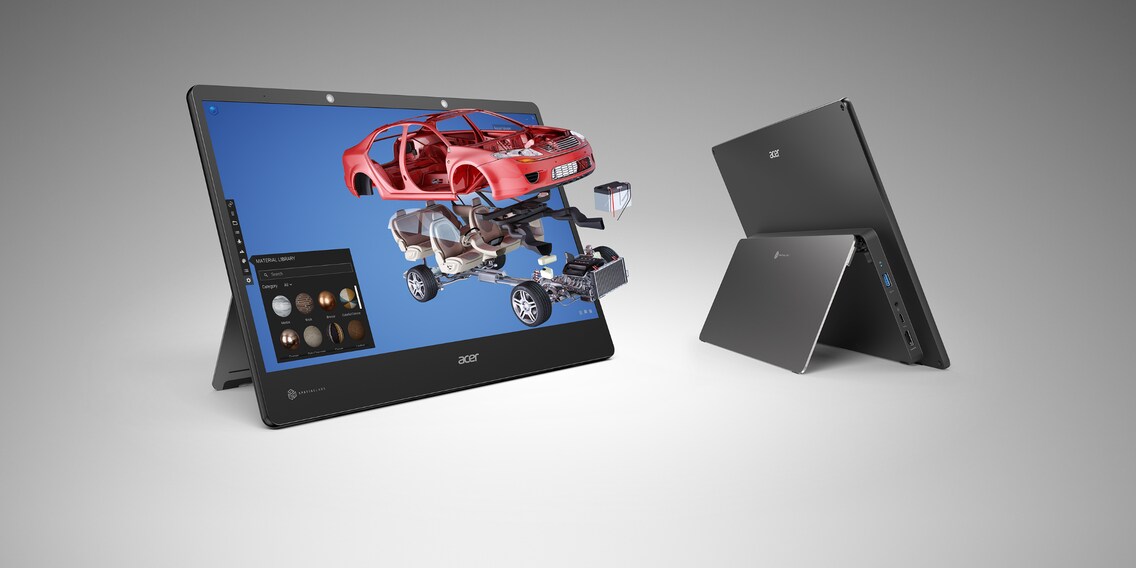 This article was translated automatically.
SpatialLabs: Acer drives the return of 3D

Jan Johannsen
Hamburg, on 18.05.2022
Acer wants to bring the 3D technology SpatialLabs to the people with two monitors and a gaming notebook.
3D displays are coming back. At least, that's what Acer is trying to do. The ConceptD notebooks from 2021 are now followed by more hardware that allows viewing 3D content without special glasses. The SpatialLabs View and the Predator Helios 300 SpatialLabs are not only aimed at gamers or 3D software professionals.
Mobile screens for 3D content
SpatialLabs stands for so-called stereoscopic 3D. This means that the screen creates a 3D view that you can see without any aids. Special glasses, as with the first 3D monitors ten years ago, are not necessary. The Nintendo 3DS, for example, also has a stereoscopic 3D display.
According to the manufacturer, the Acer SpatialLabs View is intended for entertainment, whereas the SpatialLabs View Pro is for professionals who need the screen for work. Where exactly the differences between the two portable displays lie, however, eluded me.
They are both 15.6 inches, have 4K resolution, and cover 100 percent of the Adobe RGB color space. They weigh less than 1.5 kilograms. After all, the monitors are meant to be carried around.
The monitors include the SpatialLabs Suite. The program ensures that 3D content is shown on the display and even converts 2D content for it. SpatialLabs Go is the name of the AI that is supposed to convert photos, videos and "simple web games" into a 3D view.
SpatialLabs TrueGame, on the other hand, uses the 3D information often present in games to display on monitors. At launch, the software supports 50 "modern and classic" titles. However, Acer did not reveal any names.
SpatialLabs Model Viewer is aimed at professionals. In the architecture office, in the design agency or in the development department, 3D content should be able to be viewed three-dimensionally. To that end, the software is said to support "all major file formats" - including Datasmith - of design software and works with 3D design software such as Revit, Solidworks or Cinema 4D.
The two screens feature Vesa mounts. Acer did not yet reveal how much they cost or when they will be released.
Predator Helios 300 SpatialLabs
Acer equips the Predator Helios 300 SpatialLabs with a 15.6-inch display that is suitable for stereoscopic 3D. The manufacturer sticks a liquid crystal lenticular lens onto the 2D panel with UHD resolution. It is supposed to be able to switch between a 2D and 3D view. Eye tracking and real-time rendering help the screen with the 3D display.
The gaming laptop supports 50 games at launch with SpatialLabs TrueGame, as mentioned earlier.
The Predator Helios 300 SpatialLabs can be equipped with up to a twelfth-generation Intel Core i9. In addition, there is a Geforce RTX 3060 and up to 32 gigabytes of working memory. The installed PCIe Gen4 NVMe SSDs can be connected via Raid 0. The laptop also has Wi-Fi 6e, Windows 11 preinstalled, and HDMI 2.1, Thunderbolt 4, and two USB 3.2 Gen2 ports, among others.
Acer plans to start selling the Predator Helios 300 SpatialLabs in September 2022. For the price range: the recommended retail price in Germany is 3299 euros.
Second chance for 3D
In the first attempt, about 10 years ago, 3D monitors failed to catch on. The special glasses brought more disadvantages to gaming than the 3D view could iron out. In addition to creative people and gamers, another potential target group is currently emerging: anyone who wants to use virtual worlds, for which new attention is currently being generated under the buzzword metaverse.
---



When I was but a young student, I'd sit in my friend's living room with all my classmates and play on his SuperNES. Since then I've had the opportunity to test out all the newest technology for you. I've done reviews at Curved, Computer Bild and Netzwelt, and have now arrived at Galaxus.de. 
---
---
These articles might also interest you
Skeleton Loader

Skeleton Loader

Skeleton Loader

Skeleton Loader

Skeleton Loader

Skeleton Loader