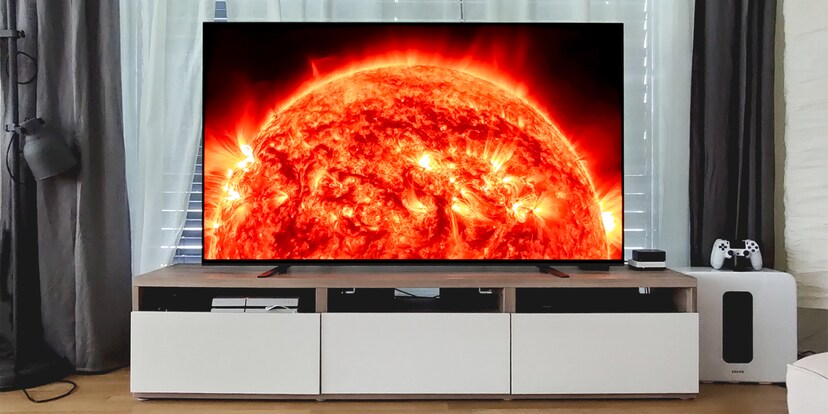 Sony A8 review: for film buffs, not for gamers
Sony's A8 OLED TV can't do a great deal more than other manufacturers' models. But it's still one of the best OLEDs out there. It's only next-gen gamers who'll miss out. Again.
It makes you scream with joy. That was my verdict of the AG9, Sony's 2019 OLED flagship. But it could just as easily describe the A8. That's Sony's current flagship, or rather, warhorse. The real deal. Fantastic. Take your pick. The A8 lives up to its praise. Well, almost.
Hang on a minute... The A8 comes after the AG9? Very funny, Sony. Why not AG10? Or why not go for something more Roman like AGX? AH9 would also work if they're going alphabetically. It would even make sense. But nope. Instead they remove a letter and count backwards from 9. Ta-da. A select few people in the Sony marketing team must have been patting themselves on the back, thinking «didn't we do a good job?» Love it!
But anyway. We'll ignore the fact there is actually a successor to the AG9, that it's called the A9 and that this naming format doesn't really follow any logic. Otherwise we'd need to mention the fact Sony only released the A9 in one screen size (48-inch). This would then raise questions about why they didn't release a 55- or 65-inch as well. We're talking proper home cinema size. And no, 48-inch doesn't class as that.
As I've said, let's ignore all of that for now. In terms of the best home cinemas, the A8 has been promoted to Sony's cutting edge TVs. And it's damn good. So good that it might even have dethroned LG's GX, which had been my number one candidate for OLED «TV of the year».
Natural image and finest image quality
First things first, I should let you know Sony gave me the 65-inch TV to test. They delivered it and set it up for me too. In return, I gave them a coffee. And a glass of water.
So, now we've got that out of the way, what can the TV do? I start with «Jurassic World: Fallen Kingdom». I've seen this film on so many different TVs that I can easily tell what I like about the image, where I spot the imperfections and what it excels at.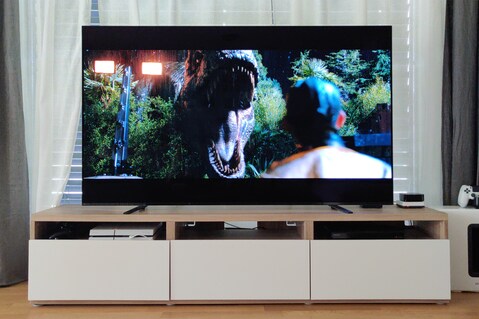 What grabs my eye is the natural colour rendering. Natural in the sense that nothing seems over the top of badly calibrated. Take Jurassic Park, for instance. It doesn't look radioactive green, thank goodness. Nice. Then there's the pleasant warmth of the light shining from top left. And the dark night's sky merges with the jet-black of the cinema bars at the top and bottom of the image. What I love about OLEDs is that they can switch on and off individually on panel pixels with more than eight million OLEDs. So any blackness you see is actually «true» black. LCD screens can't do this.
The thing that really interested me in the run-up to this test was the comparison with LG's GX OLED TV. A lot of people think it's the best TV on the market right now. Let's check it out. But first, here's a snapshot of the Sony A8: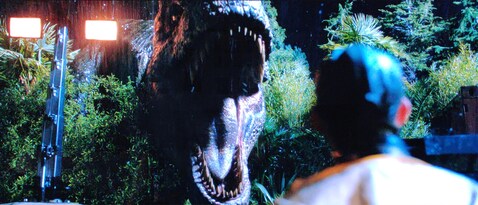 And here's LG's GX. But don't take these comparisons too seriously. I shot these photos months apart and the lighting was different. This may have affected the pictures. I do try to keep the lighting roughly the same, but I'm far from being clinically precise.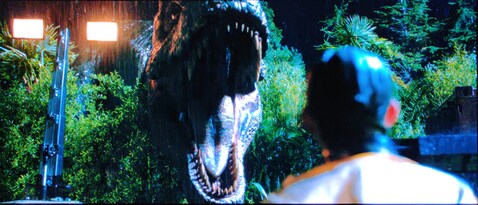 Wow. It's the richness of detail in the Sony image. The sharpness. Take a look at the shrubbery to the left of the T-Rex. The leaves, twigs and branches are much clearer than on the LG. So are the little bumps and ridges on the dinosaur's tongue. The leathery skin. It looks quite realistic. It's as if I could reach out and touch the primeval predator. I could almost accuse Sony of being too natural and having colours that look more desaturated compared with the LG. That's because I like contrast-rich images that pack the right «OLED punch».
It's a matter of opinion, I reckon. But before we move on, let's have a look at a few more comparisons of the same scene.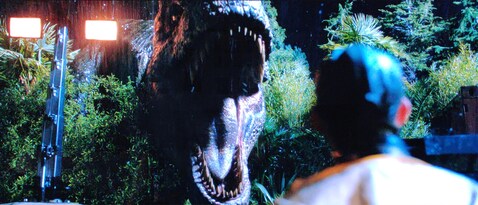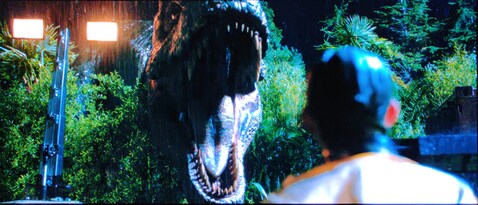 Sony's A8 has nothing to worry about when it's going up against other manufacturers. Panasonic's top OLED TV of 2019 has much too cool an image. I'd already noticed this while testing the TV. The Chinese manufacturer TCL comes a bit closer to the Sony version with its mini LEDs. I go into more detail on this technology in the X10-Test. As is typical for the LCD image on the X10, it's much brighter. It's more noticeable on the lights on the top left that overexpose the night's sky. That's why you'd find it easier to tell them apart if you were looking at the different images during the day, in a well-lit living room for instance.
Next scene. This is a brighter one to see how detail renders in brighter scenes.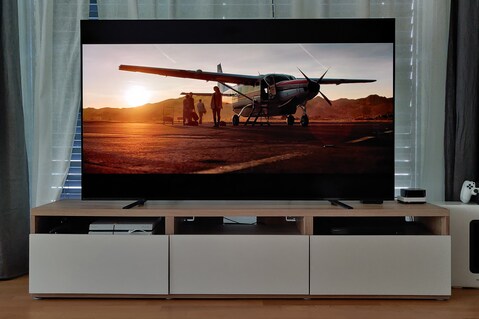 Once again, I like the grounded, natural feeling in Sony's colour rendering. It's like a statement. A confident one at that. Sony don't want to give the impression of superior image quality by pushing contrast values. Instead they stick to naturalness. I like it. The auburn orange in this picture usually looks a lot more yellowy on other manufacturers' models. That makes it more striking but less natural.
Have a closer look at Sony's A8 again: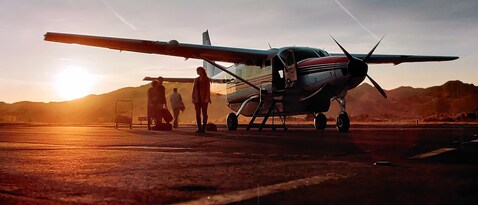 And here's a large version of LG's GX: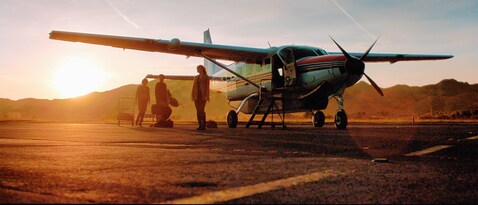 Do you see what I mean? The LG image pops more – as far as the colours go – and it makes the source material more impactful. But in comparison with Sony's offering, the image is a bit too yellowy. The reflection in the plane window even has a slight green tinge. The spherical shape of the sun in the background is more recognisable in the Sony image. This indicates the TV is better calibrated and also features superior brightness levels.
Although there are of course image settings that let you correct a fair bit. But I always leave the presets as they are «out of the box» for tests. The reasoning behind that is I want to test TVs the way most customers will use them and the way manufacturers think gives the best image.
Back to the comparisons.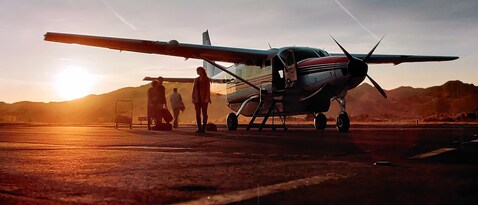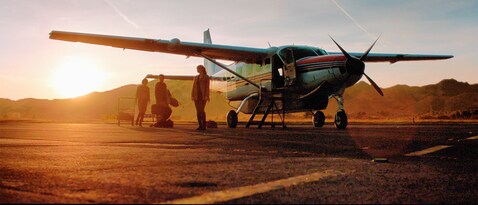 The Sony A8 even beats the competition here in terms of naturalness. But Panasonic do handle the brightness levels brilliantly. That's clear in the distinct spherical shape of the sun. TCL's X10, on the other hand, falls way behind in this bright scene.
Ironic really. Bright LCD TVs are meant to play to their strengths in bright scenes. But the X10 doesn't quite hit the mark here. The image is just too washed out. Or at least it is when you put it side by side with the competition.
It's a good example that shows how true black affects TV colour rendering. I'll be coming back to true black later but the short answer is the large difference between light and dark makes OLED colours seem more vivid.
Strong, reliable processor with a caveat
Moving on to the next important element, the processor. Sony have been using the X1 ultimate processor for the last three years. It was already considered future-proof in the AF9, Sony's 2018 OLED flagship. The goal was to develop something powerful enough for Sony's 8K TV.
Think of a TV processor like the brain of the device. Its main task is to receive image signals, process them and then display them. Processing means recognising poor image quality and enhancing it. For instance, when you watch a series such as «The Walking Dead». It was deliberately shot on 16 mm film. This creates old-fashioned graininess and image noise that emphasises the feeling of a broken, post-apocalyptic world.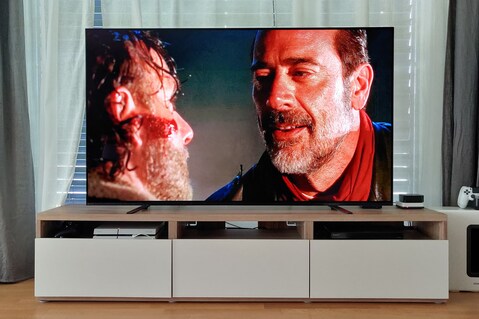 OK, not bad. The processor recognises the HD image signal as poor quality. The image is then revalued, the image noise removed, the edges smoothed and the colours intensified. This involves the processor calculating the missing pixel information: HD resolution is 1920 × 1080 pixels. That translates to around 2 million more pixels. Meanwhile, UHD TVs have 3840 × 2160 pixels. That means the processor needs to factor in more than 8.3 million pixels.
In other words, 75% of the image needs to be calculated and created. Let's take a closer look.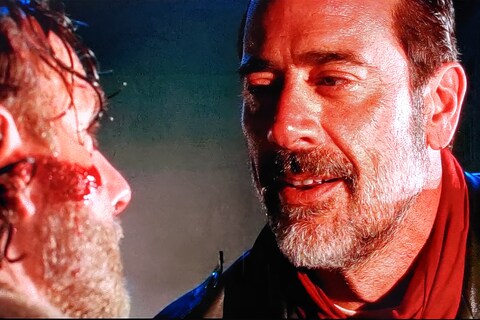 And now compare what the Sony processor can do to the LG processor output.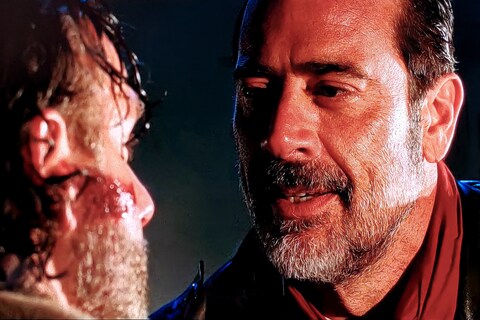 Sony don't come out on top. But that's a next-level gripe. Notice the dark background to the left of Negan's face (that's the character on the right). On the Sony TV, it looks like he's standing in a Siberian snow storm. There's also a slight green tinge and black that's way too matt. Meanwhile, the colours on the LG look much more vivid.
For me, the most disappointing bit is the detail. You notice it on the stubble. You can see the individual hairs on the LG. You can also spot the detail difference on the dimples, around Negan's eyes and on the forehead.
Want more side-by-side comparisons? Here you go: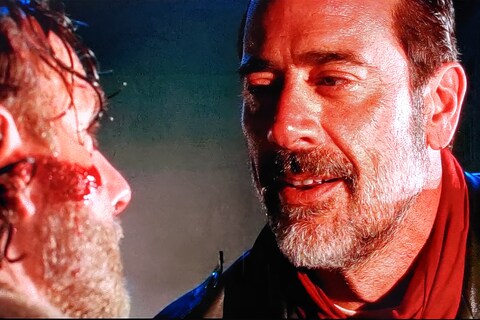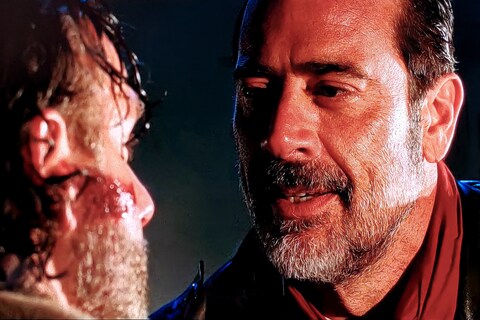 Interesting. For me, it's actually the Sony image that looks the least natural. The red is definitely too loud. In this instance, Panasonic do the best job. Meanwhile, the LG image is uncannily clear. Almost like a UHD Blu-ray. And despite their intensity, the colours don't seem unnatural. Sony can keep up with colour sharpness at least.
Long story short: LG nab the upscaling crown. I think of Sony and Panasonic as being at about the same level.
As you can see: UHD-HDR content such as «Jurassic World» always looks great. You can rarely spot any difference on moving images or if you do, you have to have a trained eye. Separating the wheat from the chaff sets apart less optimal, HD-SDR content like «The Walking Dead».
Before we draw a line under design and ports, I should mention that TV processors are responsible for the operating system as well as image processing. In the case of Sony, you'll find Google's Android 9.0 Pie, which is Google's latest version of Android TV.
It's fluid and fast. It's no comparison to TCL's X10 version of Android TV. Chromecast is also integrated into Android TV as standard. The same goes for apps like Netflix and Disney+, both of which support Dolby Vision and Dolby Atmos. Google's video-on-demand competitor Amazon Prime Video is also included. Nice. That being said, it only comes in HDR10 and maximum Dolby Surround 5.1.
AppleTV isn't one of the apps supported. Give zero ground to the competition, eh Google?
Sound, design, ports – but no HDMI 2.1
Let's have a quick look at sound quality. In short, it's good. Damn good. Sony don't use any traditional speakers. They'd hardly have any space in the ultra-thin OLED panel to make the air vibrate or oscillate to create a room-filling sound. Instead, they use what are known as actuators to make the image surface vibrate. Sony also include two 5-Watt subwoofers on the back of the TV so you hear every thud and bang. All in all, it's a 2.2. sound system.
The concept might not be new but it's still super. I'm not normally a fan of integrated TV speakers. But I have a soft spot for Sony's «Acoustic Surface Audio». Even an average soundbar replaces the technology easily. The TV is priced high accordingly, so it sits in a slightly higher price bracket than the competition.
In terms of design, the Sony A8 isn't anything new. It features a narrower frame that's minimalistic and inconspicuous. There's also a thin panel. And when I say thin, I mean thin.
OLED TVs don't need any dedicated backlight for the pixels to light up. It's the OLED pixels themselves that emit light as soon as they're connected to an electrical source. Conversely, that means the pixels switch off and don't emit light on areas of the image that are meant to be black. This is what I meant when I was taking about «true» black earlier. In other words, it's only true black on areas where no light is emitted.
LCD pixels can't emit light themselves. That's why they need an LED backlight. And that's why their black isn't really black or true black. What's more, the background LEDs need space. As a result, LCD TVs are thicker than OLED versions.
To give you an idea of panel thickness, I've put my index finger against the A8.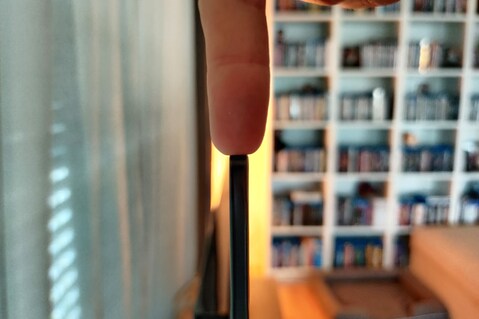 That's about 0.6 cm panel thickness under my finger. Of course, if you look further down there's all the casing for the TV hardware, including the power supply and processor. So all in all, the A8 is 5.2 cm thick. It's still impressive.
But then there are the feet. They couldn't be more uninspired metal feet if they tried.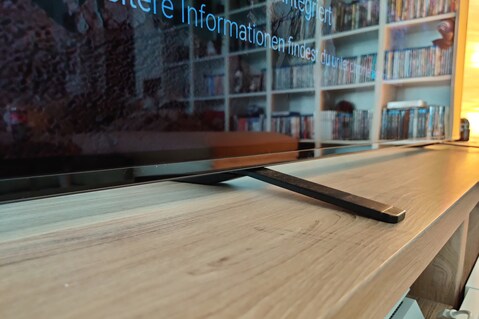 I just don't understand the concept. In the past, Sony always insisted on really crisp TV design. Do you remember the AF9? It didn't even «sit» on the feet. It was more like the TV leant on them. A bit like a picture frame you put on the table rather than hang on the wall.
It's a shame Sony aren't being true to themselves on that front. But anyway. Apart from the feet, the TV design doesn't have anything I can criticise. My review of the ports isn't as glowing.
4× HDMI 2.0b ports (HDCP 2.3), one with eARC
1× Toslink output
3× USB 2.0 ports
1× LAN port
integrated Google Chromecast
auto low latency mode for gamers (ALLM)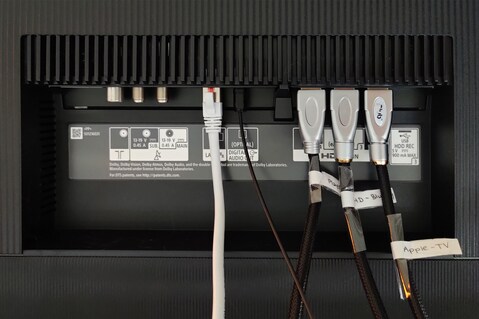 Did you notice anything on that photo? There's no HDMI 2.1. Again. I chastised Sony for that last year as well. It's a disgrace that Sony haven't done anything on the HDMI 2.1. front since then.
Because it's gamers who'll miss out. Ironic given Sony want to venture into a new era of gaming with the Sony Playstation 5 that's launching in a few weeks. So Sony will have the console for the Playstation but not the OLED TV.
You'll only be able to enjoy the advantages of next-gen gaming, such as UHD resolution in HDR quality and 120 frames per second, if the large amounts of data generated by the console can reach the TV fast enough. You need an HDMI 2.1 for that. Sony's HDMI 2.0b interface is too slow. That's why you can only get UHD content at a maximum of 60 frames per second. That's lousy and not at all future-proof.
Sorry, Sony. But you've shot yourself in the foot big time. At least in the eyes of anyone who's interested in next-gen gaming. Mind you, the input lag in game mode has been squeezed to 18.7 ms. Last year it was much higher.
Verdict
It's an open secret that all OLED panels you find in OLED TVs come from the LG display factory. When it comes down to it, the only thing that sets apart a Sony OLED TV from an LG, a Panasonic or a Philips OLED TV is how the individual OLED pixels are controlled.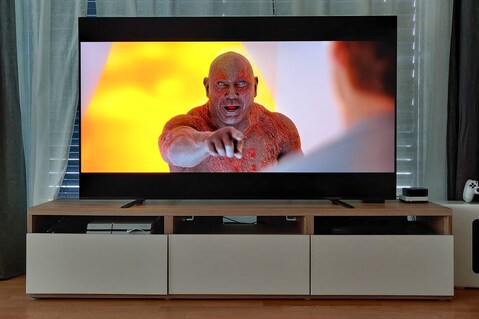 That sounds like small things have big consequences. But it's true. And as we can see, the way Sony control their OLED panels is damn good. They excel at two areas in particular.
Natural colour rendering
Detail rendering
In fact, if we're talking about UHD-HDR content, I consider Sony leader of the pack. Or at least on a par with LG's OLED TVs. The big question is, do I think Sony has usurped LG to take home the crown for best OLED TV?
No. It comes down to LG's superior upscaling. If you watch «lower quality» content, you'll notice that Sony do a very good job but it's not the best out there. HDMI 2.1 is missing for a start. And if you're an avid gamer, that's arguably knockout criteria.
---

I'm an outdoorsy guy and enjoy sports that push me to the limit – now that's what I call comfort zone! But I'm also about curling up in an armchair with books about ugly intrigue and sinister kingkillers. Being an avid cinema-goer, I've been known to rave about film scores for hours on end. I've always wanted to say: «I am Groot.»
---
---
---