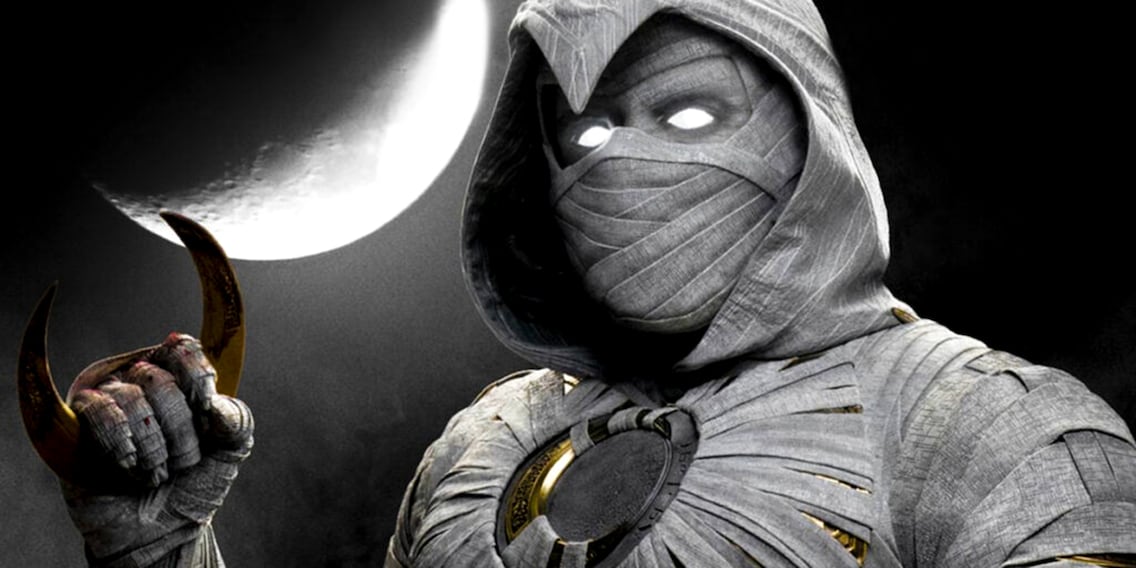 Series review: is Moon Knight better than Loki?

«Moon Knight» is an impossible genre mix on paper, but fantastic on screen. It's carried by brilliant lead actor Oscar Isaac – somewhere between gloom and mental abysses.
First off, my review contains no spoilers. Any information stated here is featured in trailers already released.
---
Four episodes. It's all Disney has provided me with in advance for my series review. Still enough to say, in no uncertain terms: «Moon Knight» is already one of the most gripping, surprising and innovative series the Marvel Cinematic Universe (MCU) ever delivered. Making the wait for the last two episodes all the more unbearable.
What's «Moon Knight» all about?
London. The life of Steven Grant (Oscar Isaac) isn't an enviable one. Insomnia plagues him nightly. At work – the museum of Egyptian history – he's bullied daily. No one takes him seriously. And he's constantly being asked by complete strangers about things he has no clue about. As if someone else had experienced them…
But Grant comes to terms with this lifestyle. Sort of. Maybe he sleepwalks. Before going to bed, he therefore tapes the front door shut, ties himself to his own bed and lays sand around it in order to check the next morning whether he's tried to leave – until he wakes up one day with a dislocated jaw and bloody hands. In a field. In a country that's completely foreign to him.
Soon Steven learns that he isn't really Steven. Not just Steven, at least. Sometimes he's also Marc Spector. And at night, when the moon shines brightest, he becomes Moon Knight, avatar and enforcer in service of Egyptian moon god Khonshu. This makes him the guardian, guide, defender and observer of the nightwalkers – as long as he isn't imagining it all.
A delightfully confusing trip
The last time I truly looked forward to a Marvel series was many moons ago. It must have been «Loki». Not even because of the now-iconic lead actor Tom Hiddleston. But because of its trailer, which said everything and nothing at the same time.
I wish Marvel had the guts to do something like this more often. Not having the faintest idea what I was getting myself into for a change was what made the series so appealing. «Moon Knight» is similar. But in a different way. Not only the trailer is pleasantly muddled, but the whole first episode.
It is told using an ingenious dramatic trick: imagine you're a normal person, with a normal life, until one day you wake up and find out that you have a second personality, completely unknown to yourself.
And they're a superhero.
The premise isn't entirely new – but it's more radically realised than ever before. Initially telling the story from the point of view of protagonist Steven Grant – and only Steven Grant – makes us as clueless as him. His confusion becomes palpable. His stress noticeable. One moment he's being grabbed by evil henchmen, the next they're lying dead around him, blood everywhere. Then suddenly he's squatting in a car, screaming as he speeds down a serpentine road – and suddenly he's back in his own bed.
Quite unexpectedly, «What the f-!?» became an insanely fascinating experience that didn't let me rest for a single second. It's all thanks to director Mohamed Diab, who directed four of the six episodes and was the creative lead for the entire show. Diab himself isn't yet a big name in mainstream Hollywood. Also because the Egyptian-born director has so far focused on Egyptian independent filmmaking. This doesn't seem to affect his ability to balance drama with big-budget action one bit.
In fact, Diab has a good handle on the action right now. He keeps choosing interesting settings, playing with them even in quiet scenes. Not only does «Moon Knight» seem surprisingly mature for a Marvel product in terms of storytelling, but also in terms of craftsmanship. And intense. Not to the same extent as the comic book template, which is definitely aimed at a more adult audience. But still significantly heavier than I expected from a series appearing on Disney+.
Oscar Isaac – and Ethan Hawke – in peak form
The fact that «Moon Knight» is likely to be a success for Marvel is also due to its outstanding cast. Leading the way is Golden Globe winner Oscar Isaac, who plays main character Steven Grant, plagued by dissociative identity disorder. It's a mental illness in which multiple identities alternate within the same person, without having memories of what each of the other personalities did or said.
Already in the lead-up, Isaac announced that he and the creative team took the issue and the appropriate treatment of mental health very seriously. You can tell. I frequently had to sober up from my bouts of laughter while watching. A thoroughly intentional reaction. As cool as it may sound to have a hidden personality as a superhero, Steven Grant's life is being ruined, and «Moon Knight» doesn't pull any punches.
Isaac's acting talent is most evident when he switches back and forth between his personalities. All of a sudden, his entire body language changes. His posture. His accent. Even the pitch of his voice. His different personalities can be distinguished from each other as if they had been played by several actors – near-perfect acting, never degenerating into samey performances.
I could ramble on forever. Opposite Isaac, however, the actor for antagonist Arthur Harrow delivers just as much charisma: Ethan Hawke. His job isn't an easy one. While it's usually the bad guys whose madness ultimately causes them to go down evil paths, here the protagonist has the madness all to himself. As a result, Hawke has to be evil, but not insane.
Can «sane» madness work? In advance, Hawke spoke of an approach characteristically complex to him. His Arthur Harrow is said to be a cross between Russian writer Leo Tolstoy, former Cuban dictator Fidel Castro, the Dalai Lama and Nazi doctor Josef Mengele. Right.
Four episodes later, I'm starting to understand. Harrow gives people who have lost everything food, shelter, hope and – most importantly – a future they can believe in. His quest begins in a run-down area of London, where murder and violence were the order of the day. However, the area has apparently been healed, having been purged – according to Harrow – of suffering, sin and crime.
Purified.
Harrow's methods resemble the madness of the final solution once lived out by Mengele. This, in turn, sparks in Harrow the gravity and moral self-loathing of Tolstoy. All emerging from an originally peaceful ideology akin to the Dalai Lama – simply with Harrow as supreme leader, as Castro was to a whole misguided nation. This complex character isn't unique to Harrow, but is an Ethan Hawke speciality. The actor turned away from the Hollywood mainstream years ago to hone his acting skills.
The genre mix that shouldn't work at all
However, reducing «Moon Knight» to its two fantastic leads would do the series an injustice. In fact, director Diab and his creative team pulled off another masterstroke: The perfect fusion of fundamentally different genres.
There's a lot of «Fight Club» in the series, with all its harshness and gloom, carried by a mentally ill protagonist. In addition, there's a light fantasy touch, inspired by a lot of Egyptian mythology, with humour poking through too. And not in the rather childish Marvel way, much more subtle. And if you think you've finally figured out «Moon Knight», you'll get a thick dose of action-adventure and horror à la 1999's «The Mummy» on top. What sounds like a nightmare on paper in terms of stringent tonality works against all logic on the screen.
Perhaps because we viewers simply side with the pitiful Steven Grant from the very first second. Few Marvel characters have ever aroused such sympathy in me. He's literally forced through the story by the Egyptian moon god Khonshu, eerily dubbed by F. Murray Abraham.
Khonshu is yet another ambivalent character that makes «Moon Knight» so appealing: while giving Grant his abilities to do good, the god is also extremely vindictive, seemingly pursuing his own selfish goals – with no qualms regarding questionable methods.
A little criticism to end
If there is anything to criticise about «Moon Knight», it's two things. Firstly: the titular superhero makes surprisingly few appearances. At least in the first four episodes, which have been made available to me in advance. That's a real shame. Moon Knight's action has potential that still needs to be tapped. Sooner rather than later. Then there are his costumes, which in terms of design are among the most unique the MCU has ever produced.
Such as the ritual suit wrapped in bandages and complemented by a crescent cape, which we've already seen in the trailers. Or the snow-white suit worn by Mr Knight, a secret fan favourite. It was designed by author Warren Ellis back in 2011. However, it really came to prominence in the Moon Knight comics from 2014 and 2015. And while Moon Knight is a brutal, vengeful vigilante who prefers to simply beat criminals to a pulp, comic book Mr Knight at least is much more subtle, consulting with police regarding crime scenes, talking to people who need protection – and then beating up criminals à la John Wick.
This leads to my second point of criticism: Mr Knight. Regarding the direction taken by the character in the series – it doesn't do justice to the comic original (so far). However, I can't possibly elaborate on this without spoiling. Only this: if you don't know the comics, the changes will hardly bother you. On the contrary. For those few of you who do, however… just watch. I'm curious to hear what you think.
Verdict: one of the best MCU series so far
Despite my small points of criticism, «Moon Knight» is great. Varied. A wild genre mix that shouldn't really work at all, but still managed to surprise me in a positive way every episode. Staying interested and looking forward to the next episode wasn't a challenge. Especially because the story kept screaming «Oh, there's so much more to come» between lines.
The overall package was put together primarily by director and creative leader Mohamed Diab, together with his two brilliant lead actors Oscar Isaac and Ethan Hawke. It's been a long time since a Marvel series has delighted me with such complex character designs. What you're left with in the end is a series that I think can easily rival «Loki» or «WandaVision».
---
«Moon Knight» includes six episodes around 50 minutes each and will air March 30 on Disney+. One new episode will be broadcast per week.
---



I'm an outdoorsy guy and enjoy sports that push me to the limit – now that's what I call comfort zone! But I'm also about curling up in an armchair with books about ugly intrigue and sinister kingkillers. Being an avid cinema-goer, I've been known to rave about film scores for hours on end. I've always wanted to say: «I am Groot.» 
---
---
These articles might also interest you
Skeleton Loader

Skeleton Loader

Skeleton Loader

Skeleton Loader

Skeleton Loader

Skeleton Loader