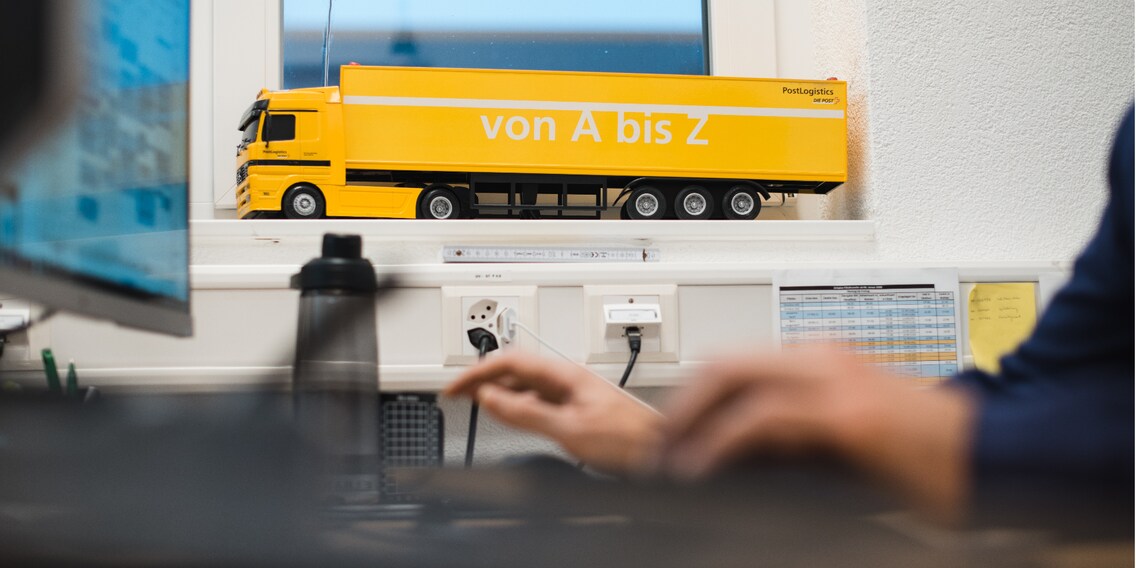 Raccoons' love for Moretti causes delivery delay
Four out of five online orders reach our customers on time. But four isn't good enough. Our last-mile managers know the reasons for these delays and work hard to eliminate them. Sometimes, this involves wild encounters. A true detective story.
My birthday party was well prepared, the beer ordered online in time. Unfortunately, the brew never arrived. My local Denner and kebab shop softened the blow with 50 per cent off beer and a spicy doner. But the question remained: how could my two packs of Birra Moretti have vanished into the online void? After all, Swiss Post's tracking system was telling me that my beloved beverages had already left the parcel centre in Ostermundigen for Zurich the previous week. It was high time to get to the bottom of things.
The last mile is the hardest
Every week, several hundred thousand parcels leave our warehouses in Wohlen, Roggwil, Nebikon and Dintikon. Just under 80% of all items available in one of these warehouses reach our customers on time. «On time» means on the delivery date Galaxus displays when you make a purchase. Although 80% is a pretty solid number for the German-speaking market, we don't feel it's worthy of our customers. Why delivery delays can occur in spite of high-tech logistics and how timeliness can be improved is something our last-mile manager Thomas Amhof knows all about. He's the man who gets to the bottom of delays and makes sure my Birra Moretti will be delivered promptly the next time I throw a party.
Last-mile management is complex. For my beers to be delivered on time, many cogwheels need to perfectly interlock. Firstly, there needs to be enough Moretti in stock at our warehouse. This is mainly ensured by our purchasing algorithm. And it hardly ever makes mistakes. Once I've placed my order online, the brew is packaged and stamped by our logistics staff. Next, Swiss Post takes over, pops the parcel in a truck and drives it to a distribution centre. In my case, this was the Ostermundigen parcel centre. From there, the parcel is reloaded several times on its way to Zurich via Frauenfeld before being promptly delivered to my doorstep by a postal worker.
«Taking a closer look at the statistics reveals that over half of all systemically reported delays of stocked items are not delivery delays in the strict sense,» says Thomas. «Instead, this may be a customer who purchases several products with different delivery dates at once, but opts to have them all delivered in one parcel. Deliveries that are economically and ecologically sensible show up red in our statistics and are considered delivery delays.» Here's an example: a thirsty customer orders beer and beer glasses at the same time. While the beer is ready to go, the glasses can only be shipped the following day. If said customer doesn't activate the partial delivery option in their customer account, the beer is delivered a day late. The same applies to customers who use the advance payment method. In this case, a delivery is only triggered once the purchase price has been transferred. This can cause delivery delays. «In these cases, we just need to work on our communication,» says Thomas with conviction.
Expanded infrastructure and optimised processes
One third of all delivery delays are down to the Covid-related increase in orders we and our partners had to adapt to. Over the past 18 months, Digitec Galaxus has greatly expanded its warehouse capacities, opened new warehouse locations and hired around 400 additional logistics employees. They will ensure that delays are kept to a minimum on Black Friday and during the holiday shopping season. Of course, Swiss Post is a key partner when it comes to timely deliveries. But even at state-owned Swiss Post, nobody was prepared for the volume shock caused by the pandemic. However, they soon reacted by expanding their sorting and delivery capacities and optimising processes. And their efforts have paid off. In the last two months, mail-related delays have shrunk to 2%.
National Geographic
Raccoon (24 cm)
Humans, animals, kerfuffles
From personal experience, I know that it's not just me who enjoys cold beer, but also the odd postal worker. Having said that, I also know that this wasn't the reason for my delayed Morettis. According to our last-mile manager, the mishap was caused by an organised gang of criminals who go by the name «Raccoons» and wreak havoc throughout Switzerland (official mugshot above). Security guards caught the furry felons red-pawed as they were raiding the post office premises and frightened them off. The fact that my birthday beers were shattered in the kerfuffle was just hard luck and the real reason for the delay. In any case, it didn't put a dampener on my party – quite the opposite.
---
Making sure employees and media know what's up at Digitec Galaxus is my job. But without fresh air and a lot of exercise, I basically stop functioning. The great outdoors provides me with the energy I need to stay on the ball. Jazz gives me the tranquility to tame my kids. 
---
These articles might also interest you
Skeleton Loader

Skeleton Loader

Skeleton Loader

Skeleton Loader

Skeleton Loader

Skeleton Loader