Putting the Surface Book 2 to the test: an ingenious device at an exorbitant price

A new edition of Microsoft's multifunctional laptop has been launched. In terms of appearance, the Surface Book 2 is almost identical to its predecessor, but everything else has changed quite a bit. We've taken a closer look at the 13" version and the 15" device, which we currently only have in a US version.
The first Surface Book was released two years ago and, although very impressive, felt as if it wasn't quite there yet. The follow-up model looks almost the same, but even if you can't see it straightaway, Microsoft have made many improvements – sadly, not to the aspects I was hoping for.
Design, workmanship and keyboard
The simple but elegant magnesium case and iconic hinge remain unchanged. This means that, just like its predecessor, the Surface Book 2 can't be folded flat. But it's still a tablet and a laptop in one. While this version has better balance than the 2015 version did – this device doesn't tilt back as easily – it's still a bit top-heavy. The display contains a complete PC with either an i5 or an i7 processor, up to 16 GB of RAM and up to 1 TB SSD, and all without a fan – that's for the 13" version. As for this aspect, the Microsoft engineers have done a good job.
The Surface Book is now also available with a 15" display. As Microsoft hasn't officially launched this model in Switzerland, we currently only have the US version on offer, which features a US keyboard. Although the larger display makes the laptop even bulkier and heavier (1.9kg), it's much nicer to work on this size display. And the display itself is surprisingly lightweight. I just about managed to squeeze the laptop into my PeakDesign rucksack, that's how thick it is. The 13" version fitted easily, but was too large for the PeakDesign sling. They might not be the thinnest devices, but they're still very elegant.
Personally, I prefer the smaller version. In fact, I would have liked it to be even smaller and lighter, but that will probably have to wait until the Surface Book 3 is launched. When it comes to dimensions and weight, the 13" version is practically identical to its predecessor – both can't compete with Ultrabooks and MacBooks.
While the 13" displays are fanless, the keyboard dock is always equipped with a fan, except with the i5 version. The 15" Surface Book comes with a display and a dock fan. But when I tested it, it didn't get loud or hot.
The display format is 3:2 and features a resolution of 3000 x 2000 or 3240 x 2160 pixels. This high resolution ensures the image is crisp and clear and the touch screen responds perfectly.
The keyboard is one of the best I've ever used on a laptop. The 2015 model already had a great keyboard, and Microsoft clearly wanted it to be even better. The keys sound good, have an optimum resistance and a comfortable pressure length of 1.55 millimetres. The trackpad isn't quite as large as with the MacBook Pro, but it offers plenty of space. It reacts precisely and reliably. Although the 15" version almost has enough room for a numeric keypad, it has the exact same keyboard as the 13" version.
Microsoft has also improved the connections of the Surface Book: There are two USB-3.1 ports, a USB-C port, an SD card slot and a headphone jack. There are, however, no DisplayPort and Thunderbolt connections. The Surface Book 2 features an 8-megapixel back camera and a 5-megapixel front camera.
Performance and battery life
The keyboard dock of the Surface Book 2 contains an additional battery and the optional Nvidia graphics card. The smaller version has a GTX 1050 (2 GB RAM) and the larger one a GTX 1060 (6 GB RAM). Compared to the onboard graphics card, both deliver a considerable performance boost. These GPUs allow you to play various games in Full HD with high detail settings and a solid frame rate.
Here are a few examples with the Intel i7-8650U versions:
GTX 1060:
«GTA V», details: very high, 45 fps
«Rise of the Tomb Raider», details: very high, 33 fps
«Shadow of War», details: ultra, 32 fps
GTX 1050:
«Shadow of War», details: ultra, 11 fps
«Overwatch», details: high, 80 fps, on Epic still about 50 fps
If the display is in the keyboard dock, the batteries in the two devices last the longest. According to Microsoft, the battery life is about 17 hours if you're playing a video. The 15" version performed slightly better than the 13" version in tests carried out by various tech blogs. For intense use, the battery should last between six and eight hours.
An allrounder – especially with the pen
The best thing about the Surface Book remains its versatility. It's a laptop with a real keyboard (which you can use on your lap or hold in one hand) and, if you detach the display, it's a tablet. You don't lose any functionalities when you change to tablet mode. The Windows 10 experience on the tablet has improved a lot and switching back to notebook mode is easy and flawless. The only thing I noticed was that I could only undock the 15" display with one click after I closed some tasks, as for instance the Windows Store, which was not even open and could only be closed via task manager. Luckily, this problem didn't appear with the 13" version.
Changing from notebook mode to tablet mode was a great experience. The only things I didn't like were the weight and the thickness of the device. If you're planning to use the Surface Book 2 in tablet mode, get the Surface pen. Unfortunately, the pen isn't included and cost over CHF 100.–. That's quite a price, but the pen offers your real added value: Only by clicking or double-clicking, you can use it to launch apps, annotate screenshots or write by hand. Unfortunately, it cannot be stored in the display and only sticks to the left side of the display.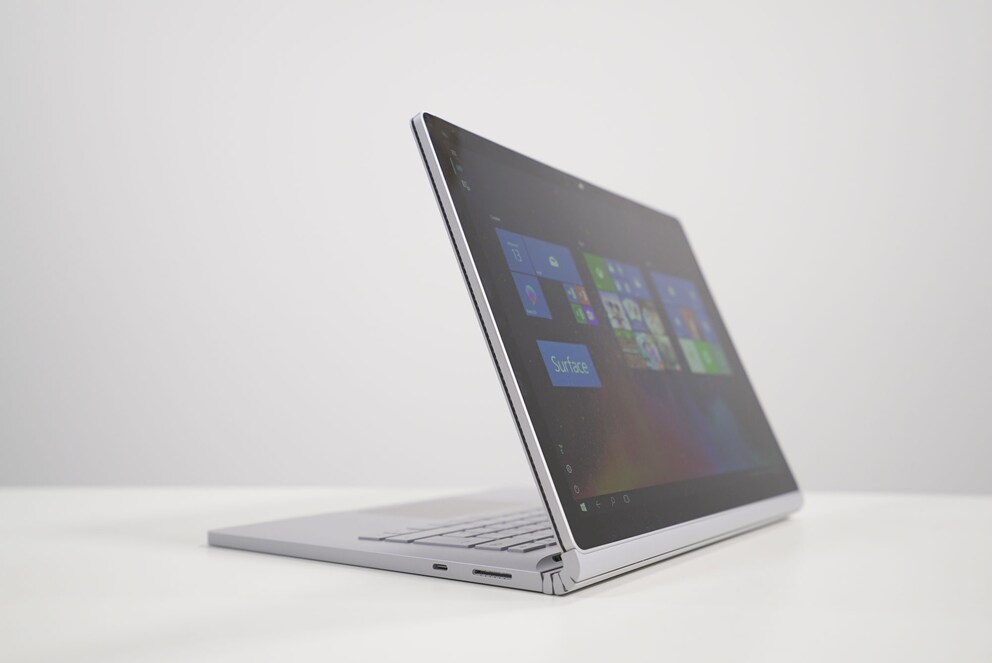 The accuracy of the pen depends on the software. It's extremely precise and virtually instantaneous with Microsoft's OneNote, but there's a time lag with Google Keep. Writing with a time lag is no fun. But all in all, the pen is very intuitive to use. Writing and highlighting by hand is a nice experience, even if it can be tiring rather quickly if you're not used to it.
Conclusion: All that's left is for the price and the weight to drop
Implementing fully functional Windows 10 Pro into a relatively thin display is certainly no easy task, especially if there's no built-in fan. The excellent workmanship, great keyboard, high performance, powerful battery and versatility make the Surface Book 2 an amazing piece of hardware. Combined with the pen, you get more all-in-one than with any other laptop or tablet. My only criticism concerns the high price, the weight and the size. I wouldn't even consider getting the 15" version, but that's a question of personal preferences. Yet, even the 13" version is one of the heavier laptops out there. It seems you can't have it all in one device after all. If Microsoft manage to combine the Surface Book with the case of a Surface laptop, I'll be the first one to place an order.
You can see our full Surface Book 2 range here:
Skeleton Loader

Skeleton Loader
---



Being the game and gadget geek that I am, working at digitec and Galaxus makes me feel like a kid in a candy shop – but it does take its toll on my wallet. I enjoy tinkering with my PC in Tim Taylor fashion and talking about games on my podcast http://www.onemorelevel.ch. To satisfy my need for speed, I get on my full suspension mountain bike and set out to find some nice trails. My thirst for culture is quenched by deep conversations over a couple of cold ones at the mostly frustrating games of FC Winterthur. 
---
---
These articles might also interest you
Skeleton Loader

Skeleton Loader

Skeleton Loader

Skeleton Loader

Skeleton Loader

Skeleton Loader