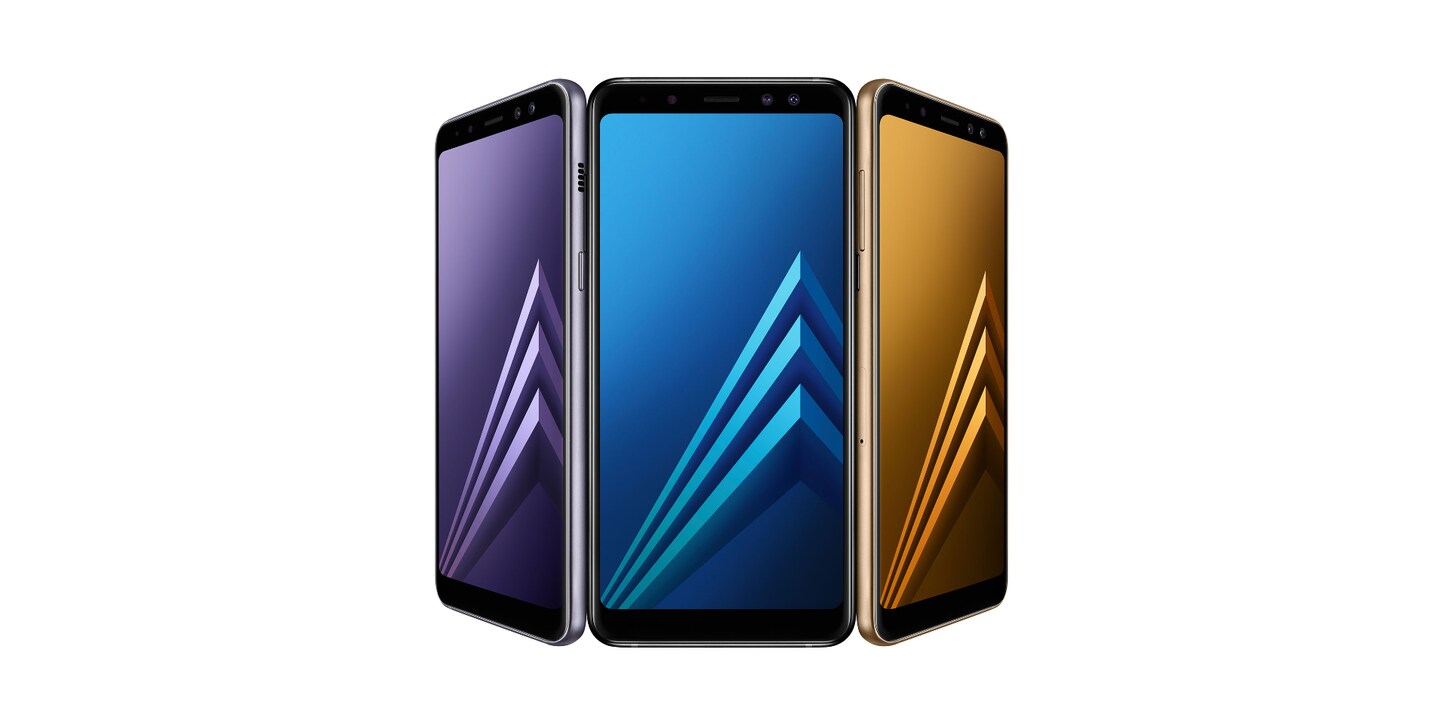 Preorder your Samsung Galaxy A8 now

The Galaxy A8 going on pre-sale on 18 January 2018. You'd like to get your hands on one as quickly as possible? Preorder now and you're sure to be one of the first Galaxy 8 owners. In the meantime, here's all you need to know about this new smartphone.
Let's get the confusion around the name out of the way right now: Samsung has released an A8 before, in 2016. That's why the newest device is called «Galaxy A8 2018».
What you also need to know is that there's a larger version of the A8, too, but it's not officially launched in Europe. I'm going to discuss the specs of both A8 and A8+, but don't be disappointed if you can't order the A8+ (yet).
The Galaxy A8 is an interesting phone. Positioned as middle-class smartphone, it can't compete with the S8 when it comes to performance and specs, but it's powerful and fast enough for most people. And, at CHF 548.–, it costs a lot less than the S8.
So what makes me say it's an interesting phone? Well, it shares many features with the S8, but not its price tag:
5.6" Super AMOLED display with 1080x2220 pixel resolution («FHD+»)
Infinity display
Same 18.5:9 aspect ratio as the S8
16 MP and 8MP (f 1.9) dual selfie camera
16 MP (f 1.7) rear-facing camera
32 GB storage, can be extended to 256 GB
3000 mAh (A8) and 3500 mAh (A8+)
Dual SIM
Water and dust resistant according to IP68 standard
Compatible with Samsung Gear VR
Fingerprint scanner at the back
NFC
The A8+ has a 6" display. According to Samsung, both versions come with so-called «infinity display», which means that the display covers the entire front of the phone. However, the A8 has space at the top and the bottom. A dual camera with a 16 MP and an 8 MP sensor, but without autofocus is built into the top space. Featuring a 16 MP sensor, autofocus and f 1.7 aperture, the rear-facing camera delivers blur-free pictures, even in poor light conditions.
The A8 comes with «Live Focus», allowing you to adjust the depth of field effect after the shot is taken. Unlike the Note 8, Live Focus is built into the front of the phone. This makes sense, as this feature is ideal for selfies. Speaking of selfies: Of course the phone also has beauty mode, filters and stickers. Happy days!
The A8 is powered by an Octacore processor with 4 GB RAM and features storage of up to 32 GB, which isn't great, but it takes SD cards up to 256 GB capacity. The A8+ is said to be made available with 6 GB instead of 4 GB RAM and with 64 GB storage. The A8 isn't only the first A-series models without bezels, it's also the first device that's compatible with the Gear VR.
The A8 comes with Android 7.1, but will hopefully be updated to Android 8.0 soon.
All in all, that's good value for money and a great start into the year for Samsung. The Samsung A8 is ideal for anyone who's looking for a new phone, but doesn't want to spend a small fortune.
---

I'm the master tamer at the flea circus that is the editorial team, a nine-to-five writer and 24/7 dad. Technology, computers and hi-fi make me tick. On top of that, I'm a rain-or-shine cyclist and generally in a good mood.
---
---
These articles might also interest you
Skeleton Loader

Skeleton Loader

Skeleton Loader

Skeleton Loader

Skeleton Loader

Skeleton Loader