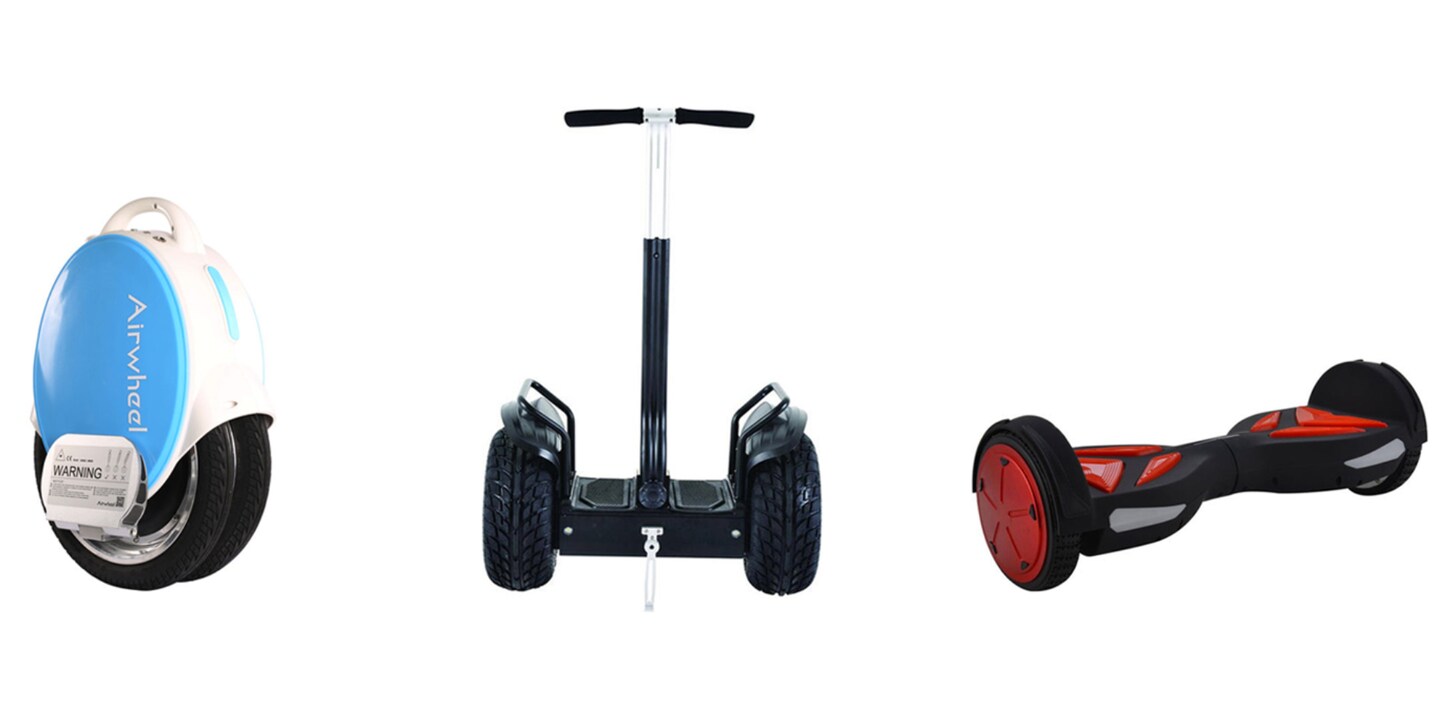 Personal e-transporters: Do's and don'ts.

When it comes to electric mobility, personal e- transporters are the latest thing after e-bikes. These newfangled vehicles include the self-balancing, single or two-wheeled Airwheel, the Smart Wheel, hoverboards, e-scooters, e-skateboards, electric Segway-like upright scooters and very exotic models such as the new Hover Wheel.
The list of innovative electrically driven devices keeps getting longer and longer. Therefore, it's advisable to know the legal situation and where it's OK to drive. We've put together some of the most important questions and answers regarding this topic. If you can't find the answer to your question, feel free to post your query in the comment field below.
Is it OK to drive my personal e-transporter on public roads?
The majority of personal e-transporters available from Galaxus are not road-approved and are therefore not allowed to be used on public roads (that includes footpaths and pedestrian zones). They should be used exclusively in private areas. Use our filter category "road-approved" to find out which e-transporters are street legal and which aren't and for which models clarification is pending. Devices in the "clarification pending" category may only be used on closed private ground. In other words, they are equal to those e-transporters that are currently not road-approved except that a type-approval is currently being requested/carried out.
Which personal e-transporters may currently be legally used in public traffic areas?
Only type-approved transporters with a VTS* categorisation may be used in public. Galaxus currently has no vehicle that fulfils these requirements. Although Hitec scooters are road-approved and have been categorised as permitted to use in public traffic, they are not type-approved. This could potentially lead to problems with your insurance in the event of an accident.
*Verordnung über die technischen Anforderungen an Strassenfahrzeuge (regulation on the technical requirements for road vehicles)
What's the definition of "public roads"?
A road is deemed private if it is for private use only. However, if it is open and accessible to practically anybody – even if this is to a very limited extent – a road is deemed public. For example, if a factory's outside entrance area is open to an undefined amount of users during operating hours, it is deemed a public road unless there is a clearly visible prohibition sign for the area or a clear demarcation. Footpaths and pedestrian zones are considered public roads.
Can I use my e-transporter on the footpath?
No. Neither street-approved nor unapproved devices may be used on footpaths.
Who classifies and checks personal e-transporters?
All required tests for street approval according to Art. 18 Bst. b VTS are carried out by a Swiss inspection body recognised by the Federal Roads Office (FEDRO).
---
---
These articles might also interest you
Skeleton Loader

Skeleton Loader

Skeleton Loader

Skeleton Loader

Skeleton Loader

Skeleton Loader