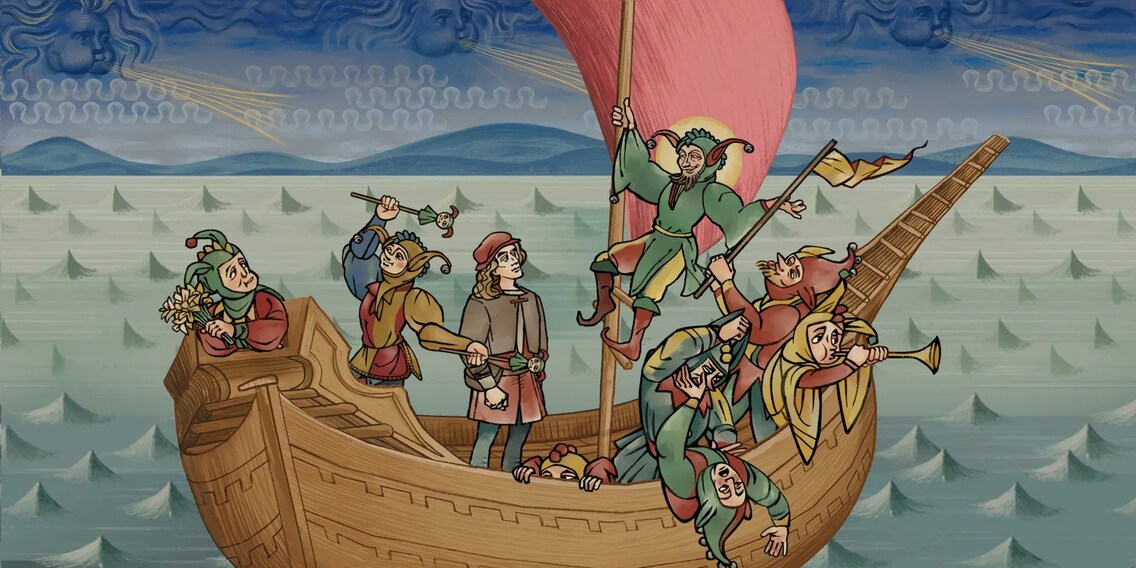 «Pentiment» review: a gripping medieval thriller with unique graphics
«Pentiment» is the biggest gaming surprise of the year for me – and not only because of its unique graphics. This medieval detective game tells a tragic murder story and makes me really feel the consequences of my actions.
Obsidian Entertainment is known for epic fantasy and sci-fi role-playing games like «Fallout: New Vegas» and «The Outer Worlds». With its historically accurate medieval-themed game «Pentiment», Obsidian is conquering new frontiers without completely leaving behind the studio's core strength that is the RPG genre.
The result is a unique mixture of historical adventure thriller and RPG. At the core of the game is a murder story that I can significantly influence with my decisions.
This review contains no story spoilers. But if you prefer to jump into the murder mystery knowing absolutely nothing, I recommend you skip to my verdict below.
Murder in the Middle Ages
In «Pentiment», I take on the role of the journeyman artist Andreas Maler in the sixteenth century. After years of wandering, Andreas settles in the Bavarian village of Tassing to complete his masterpiece – that is, his thesis – at the nearby Kiersau Abbey. Getting into the game is tough. I fight my way through never-ending walls of text and get to know countless characters whose names I have no chance of remembering.
After an hour or two, however, the story really gets going. A nobleman is murdered within the walls of the abbey. Who gets accused? None other than a friend of Andreas. And so, the artist takes on the investigation in an effort to prove his friend's innocence and save his life. It quickly becomes clear that there's more to the murder than appears.
The more I learn about the case, the deeper I find myself in a web of intrigue, affairs and occult machinations. I can't shake the feeling that something much more sinister is about to happen. The dark atmosphere reminds me of games like «A Night in the Woods» and «Oxenfree».
The whole thing is presented in a unique graphic style reminiscent of medieval illuminated manuscripts. The detailed graphics are consistent throughout all elements of the game and continue to fascinate me even after several hours of play.
The dialogues, which are presented differently depending on the social status, are also particularly well crafted. Peasants speak in poorly legible handwriting while nobles speak in beautiful cursive writing. Those who find the hard-to-read fonts too tiring in the long run can activate a mode with simple characters.
The agony of choice
What's special about the medieval murder story is just how much it's influenced by my actions. The game makes me feel that every decision I make can have far-reaching consequences for the outcome of the story. It's where Obsidian's RPG roots shine through.
At the beginning, I get to decide how Andreas spent his years as a wanderer. My version of the artist studied history and law in Basel, poring over occult books in his spare time. And he's a known womaniser who can hold his drink. All these attributes have an impact on dialogue options and puzzle solving; with my version of Andreas, I can decipher occult secret messages in investigations and flirt with women to get information.
To uncover the true identity of the murderer, Andreas has to do a lot of talking to the villagers and friars of the abbey, and searching for evidence. Occasionally, there are also mini-games and puzzles to solve. I did find myself wishing sometimes that Andreas could pick up the pace through Tassing and Kiersau to solve the mysteries even faster.
If you're not careful, you can mess up a lot in the dialogues – really quickly, at that. If you behave like a complete asshole – as I did in the abbey – you'll usually be denied access to important information.
Fortunately, there's often more than one way to get clues. I can try other characters or break into houses on my own and snoop around. But I don't have enough time to follow all my leads, as Andreas has only a few days to prove his friend's innocence. So, I'm forced to quickly settle on a direction for my investigation and decide who my main suspects are.
Despite the evidence I collect and fitting motives, I have a damn hard time blaming other villagers and monks. No matter which characters I go after, it somehow feels wrong. I know that my accusations will have far-reaching consequences for the defendants and their families. But I have to save my friend from execution.
In the course of the game, I'm repeatedly overcome by pangs of conscience. Was I thorough enough in my investigation? What if I condemned an innocent person to death? What if the real killer is still on the loose?
The game doesn't provide a clear answer as to the identity of the perpetrator – I alone decide the course and canon of the story through my investigation.
They grow up so fast
As the game progresses, Andreas gets involved in more mysterious cases that raise even more questions and bring new suspects into play. The complete story in «Pentiment» contains several time jumps and is told over a period of 25 years. I learn more and more about the Bavarian village's dark past and see how it slowly changes.
Small children grow a little bigger with each time jump, and old villagers pass away. Buildings are built, and new residents move in. Seemingly trivial decisions I make at the beginning of the game can echo on in big consequences years later.
It's fun to return to Tassing and see all that's changed over the years. The village and its inhabitants have really grown on me.
On the other hand, something that hasn't grown on me at all is the chaotic menu navigation. Andreas' notes on the ongoing investigation are sorted in a confusing way. Time after time, I lose track of open points to investigate and forget how the characters relate to each other and what decisions I've made. This causes a lot of confusion, especially after the time jumps.
Verdict: a must for every amateur detective and adventure fan
«Pentiment» tells a gripping murder story that spans two decades and is significantly influenced by your actions.
The shocking twists kept me glued to the screen until the brilliant finale. Even after the credits, I'm still plagued by remorse and wonder if I really made the right decisions. The game didn't provide definitive answers to my questions ... so I'm thinking of starting over to clear up the remaining mystery.
The story is told through unique graphics that impressed me with the attention to detail and visual consistency. Small flaws like the confusing menu navigation and the slow start don't significantly tarnish the overall effect. «Pentiment» is one of the most original games of the year and deserves to be played by every amateur detective and adventure game fan.
«Pentiment» is available on Game Pass for Xbox and PC, as well as on Steam. The game was provided to me by Microsoft for testing purposes.
---
My love of video games was unleashed at the tender age of five by the original Gameboy. Over the years, it's grown in leaps and bounds.
---
---
These articles might also interest you