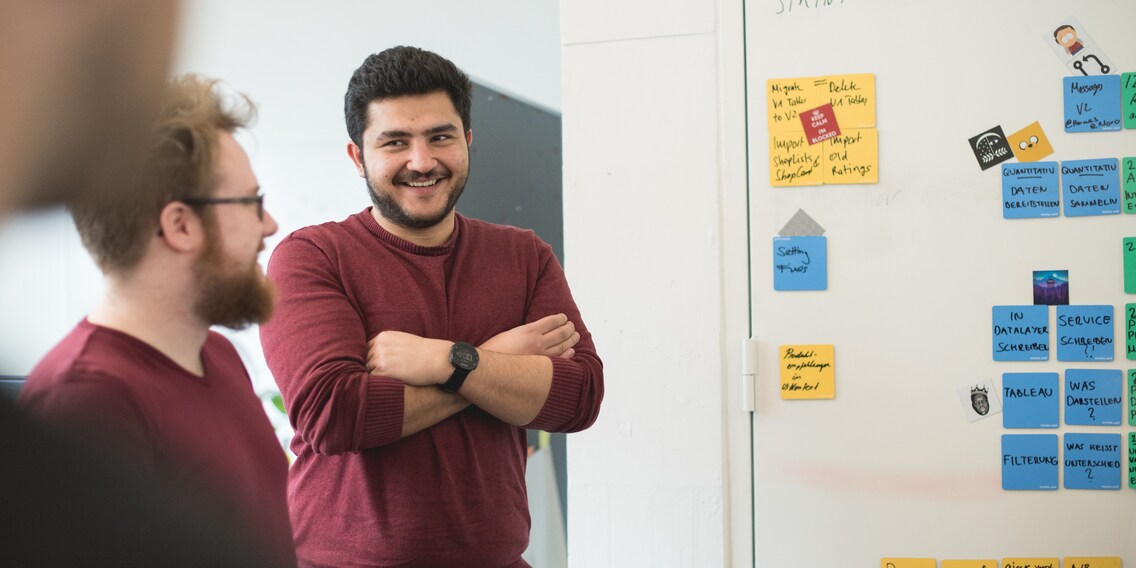 Our team leaders are fuelled by two passions
Fifty-fifty is the motto of the team leaders in Product Development. Half their time they're busy coding, driving the software architecture of Digitec Galaxus. The other half they dedicate to leadership. We asked some of the team leaders how they manage to summon 100% passion for both areas.
Software Development at Digitec Galaxus employs 200 people. Software engineers, architects, scrum masters, product owners, userbility experts and data analysts develop together and come up with ideas for new features. 22 team leaders are at the heart of the action. Not only do they manage their respective teams, but also write code alongside their team and take part in discussions about the software architecture. «It's the mix of of technical and human challenges that I particularly enjoy in my position as team leader,» says Michael H. Michael, who has been on board as team leader of the Machine Learning Team for two years, is referring to the balancing act between technical and personnel management.
Up to date with technology
The team leaders in Product Development at Digitec Galaxus are always in the thick of it. And it's this hands-on mentality that's just as important as their strong can-do attitude. Rolling up your sleeves and writing lines of code is part of the daily routine. Occasionally, the team leaders take on a different perspective and kickstart a discussion about architecture. If a discussion gets out of hand, they slip back into their role as leaders and ask the right questions to return the focus to the essentials and come to a quick decision. As technical challenges don't tend to stop at team borders, the team leaders act as representatives towards other teams when issues arise.
On a departmental level, the team leaders have a say in strategic issues. What are the biggest technical pain points? And which teams or engineers are best suited to solve those problems? But there's more on the agenda than techie stuff. Team leaders also deal with questions arising in work organisation. They look for solutions to further empower their team members and organise workshops on topics such as the React Stack or the C# backend. Tobias K. describes what motivates him as follows: «It was important to me to bring back stability to the platform and SysOps department. This is where many critical services and components of product development are located. I've always been keen on shaping the future. In my role as team leader, this is now also part of my job. I can guide the team towards developing sustainable concepts for our services.»
A team leader's role also includes having an visionary mind. Ultimately, they're technical pioneers who drive their teams forward. The coaching aspect is key. Team leaders promote the technical development of every single team member by passing on their knowledge or making other sources of knowledge accessible. «I may be a coach, but I also see myself as part of the team,» says Ronny W. He's been leading development team KickAss for three years. Their job is to ensure that after-sales processes run smoothly.
In addition to the purely technical activities, the leadership crew is responsible for functioning processes. The crew of team leaders helps choose and coach the scrum master and makes sure the processes are efficient and agile. Scrum is the basis; but is lived differently by every team depending on their needs. Some teams lean towards Kanban, while others give the Scrum process their personal touch.
A sparring partner in personal development
Half of the team leaders' time is reserved for leadership. The personal development of employees is very important at Digitec Galaxus. It's a challenge Raphael G. particularly appreciates. He tells us that he enjoys offering staff members development and training opportunities. «I offer technical and professional support and am happy to help my team with any problems they may be facing». Tobias K. adds: «I love being a sparring partner for my team. Not just when it comes to technical topics but also in methodology and living our company values on a daily basis». To promote the development of team members, many team leaders rely on personal development plans. The plans provide a platform for employees to reflect on their strengths, consider possible areas of development and establish particular interests. This paths the way for individual development and helps distribute tasks according to the interests of the employees. Constructive feedback from the team and the team leader are also incorporated into the development plans. By the way, getting feedback from colleagues and superiors goes beyond an annual appraisal. All employees are given regular feedback from their team leaders and the other team members.
The leadership crew in engineering is all about promoting a positive working culture and straightforward communication. This attitude is founded on the company values as well as their very own communication manifesto. External input is also taken into account. Some teams take part in training provided by Zurich University of Applied Sciences (ZHAW) to strengthen the psychological safety within the team. These measures help build a no-blame culture, in which nobody is afraid to expose themselves and in which people quickly learn with and from each other. This can create a sense of trust within the team that goes beyond business.
A team's composition plays a key role in terms of success. The recruiting team leader is involved in the application process from beginning to end. When it comes to the so-called cultural fit of a candidate, additional team leaders are consulted. Another important issue is conflict management. HR and the People and Organisational Development department offer training and guidelines. The teams deal with problems constructively. If there's a clash, the teams look for the best solution. After that, they use their Post Mortems or Retros to reflect on the problem and learn from the past. To assess the situation as early as possible, talking to peers is important. For example, Reflecting Teams provides a platform where team leaders can coach each other. One person describes a difficult situation and the others discuss how they would deal with it. Different perspectives and new ideas have had a calming effect on many a charged situation.
All in the same boat
Applying the fifty-fifty motto and striking the right balance can be challenging at times. However, the team leaders can count on a helping hand within the leadership team and support from the whole engineering department. Michael S. appreciates the great trust that's placed in him. «This helps us make fast, unbureaucratic changes in our everyday work». Hierarchy doesn't come into it when there's a discussion. What's decisive are the best arguments and the long-term value the teams generate for customers.
Join our team
Like the way we work and feel like shaping the future of e-commerce with us? Explore our open positions here.
---
News aren't enough for me – it's the stories behind the news that capture my interest. Curiosity is my constant companion and the reason why I spend Saturday afternoons in my favourite café, eavesdropping on city stories while planning my next travel adventure and creating new event ideas. Zen meditation can wait. 
---
These articles might also interest you
Skeleton Loader

Skeleton Loader

Skeleton Loader

Skeleton Loader

Skeleton Loader

Skeleton Loader