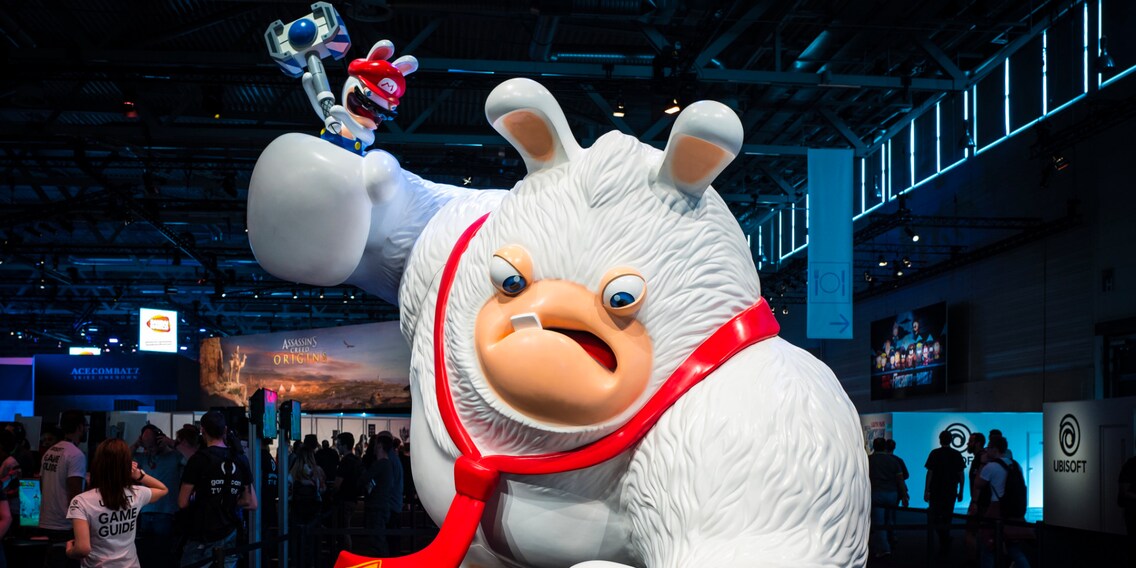 Image: Flickr/Sergey Galyonkin
Our highlights of gamescom 2017

A mini armada of us descended on gamescom this year. We were all going for different reasons, which meant we could cover lots of aspects of the trade fair. Read on to find out about the highlights of our trip.
Strange Brigade
I thought the trailer at E3 looked pretty good. When there were only a handful of visitors queuing at the little Developer Rebellion stand, I didn't have to wait long. And it was well worth the visit. You can either play alone or fight up to three opponents through adventurous levels against the backdrop of a 1950s monster film. While you're hunting for hidden treasure, you fight Minotaurs, mummies, zombies and everything else you'd expect to find lurking in the shadows of an old horror film. When you're fighting off hordes of opponents, you don't just rely on your arsenal of weapons, including special powers, you also have to make smart use of traps dotted along the way. For instance, a rotating propeller blade will quite literally make mincemeat of a group of zombies if you pick the right moment.
Crackdown 3
When Crackdown 3 was postponed to 2018, I just wanted to see the sequel to the cult shooting game even more. The game makes you think of Saints Row the Third: exaggerated characters, a colourful game world, great weapons and action round every corner. You jump in third-person from one high-rise to another and shoot down anything that stands in the way of the game. I didn't really understand the story and missions, but what blew me away from the start was the mindless, brash gameplay and the amazing sound. I had a huge grin plastered across my face the whole time. And from that point, Crackdown 3 zoomed straight to the top of my wish list for 2018.
Biomutant
When I saw the first leak, I initially thought it was a low-budget photomontage. The font and colour scheme on the poster looked just like those of Horizon Zero Dawn. So I was even more surprised when I walked past the THQ Nordic Stand at gamescom and saw the game waiting there to be played. In this open world RPG, you can be anything from a mutated hamster to a racoon or a badger and you're up against bizarre opponents, who are usually ten times as big as you. The setting is extremely promising, and the outlandish design peppered with humour and diverse gameplay was right up my street.
Thierry Leader Digital Marketing
Super Mario Odyssey
If I had to pick one highlight then hands down, it would have to be Super Mario Odyssey. It's fun and and I don't for one second regret buying my Switch last week. But some other things impressed me, too. Take the Xbox One X, for instance, with the performance on Assassin's Creed Origins. Or the extravagant racing chairs that Bandai Namco built for Project Cars 2 and finally, after what feels like ten visits to Cologne's Koelnmesse, free Wi-Fi. I also enjoy the rush of excitement you get when you think about coming back the following year. Last but not least, I was pretty chuffed the snap I randomly shared in the public gamescom story was viewed more than 20,000 times. Hopefully the same kind of thing will happen with the various articles I've written for digitec.
Roy Product Manager
Fallout 4 VR
A firm highlight for me was Fallout 4 VR. I'm a big fan of Fallout 4 and I've played it for nights on end. I'm also fairly resilient to motion sickness. That means I fulfill all the prerequisites for playing Fallout 4 VR. Suddenly coming face to face with a life-size Deathclaw and seeing the Brotherhood in their power armor is breathtaking. I can easily imagine spending hours in this virtual world (it's probably worth giving it a shot). Other highlights of gamescom include Star Wars Battlefront 2, which looked amazing with the space battles, Assassin's Creed Origins on the Xbox One X, which I absolutely loved, and of course Super Mario Odyssey. As a long-time Sleeper fanboy (Gothic), I'd like to have seen Elex, but there sadly wasn't enough time.
Sandro Digital Marketing Manager
First-timer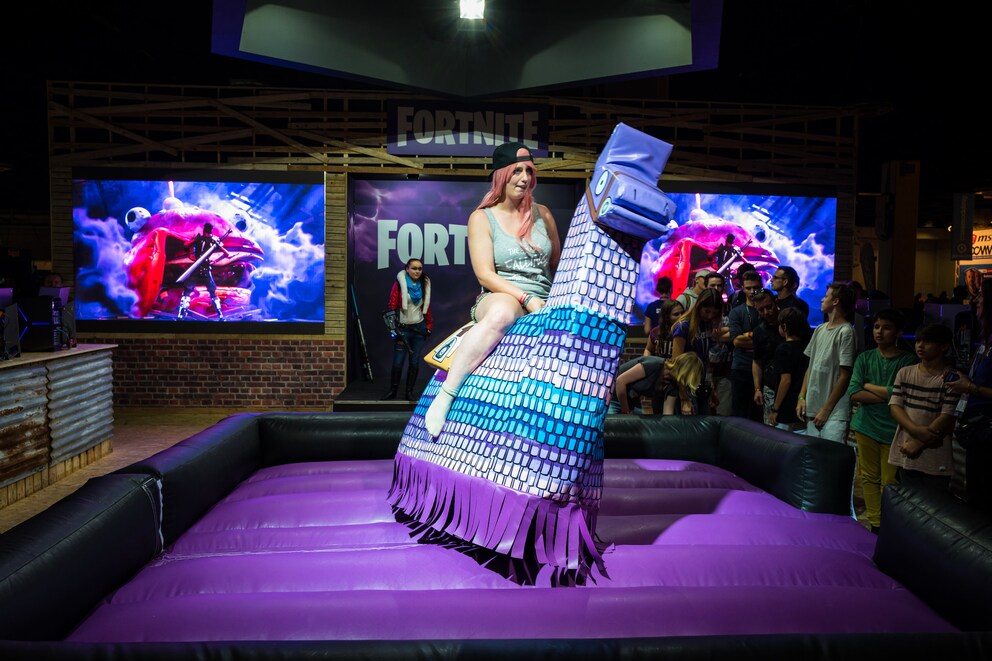 Image: Flickr/Sergey Galyonkin
As this was my very first gamescom, the visit was a highlight in itself. On the spur of the moment, I decided to write a daily gamescom diary, which you can find in German here: (Day one, Day two & Day three). Apart from that, what stood out for me was the cosplay crowd. They are the heart and soul of gamescom. If you're someone who likes to put a lot of effort into making costumes, you'll definitely get addicted to gaming. The depicted game characters are forever indebted to cosplayers. These people always seem friendly and happy to pose for fan photos. They give the place a playful feel and transform a normal trade fair into a gaming one.
Call of Duty: WWII
The crème de la crème for me was the new Call of Duty: WWII. I'm a long-time CoD player, but I got tired of the whole future-jump CoD stuff (since BO3). That's why I was so excited about being able to dive back into the past with the Second World War setting. Battlefield 1 laid good groundwork for that, but in terms of gameplay, CoD is more my thing. The makers succeeded in creating a realistic game. Even the weapons have an authentic kickback, the sound is first-class and the map looked amazing. I can hardly wait to run riot with it for hours on end in multiplayer.
The best of Ubisoft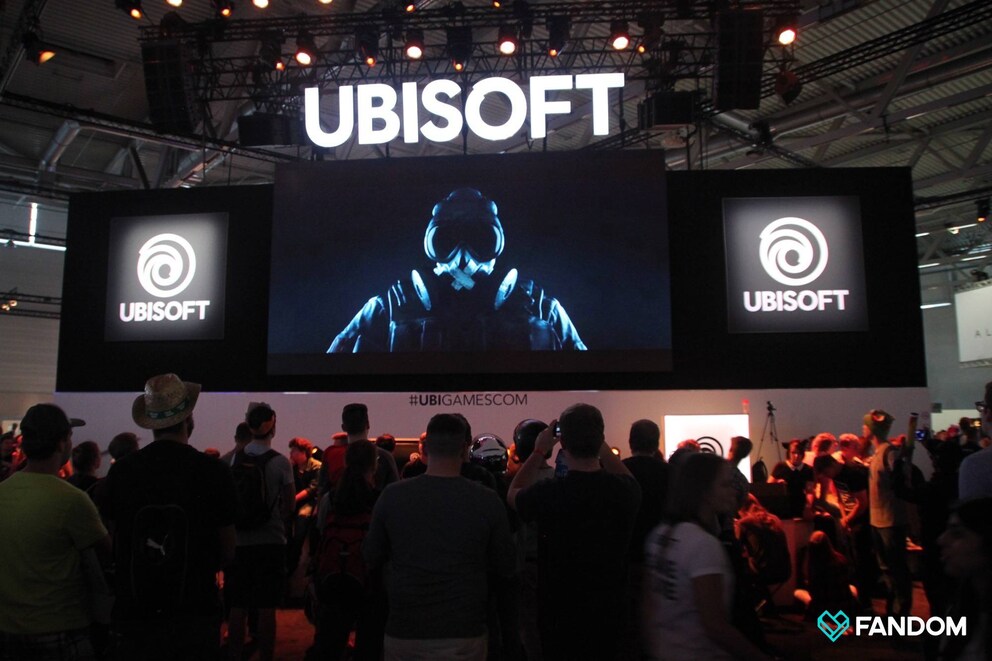 Image: Flickr/Tim Bartel
Assassin's Creed Origins on the Xbox One X was very dramatic. The graphics are outstanding and it finally marks the return to an AC game where you fight with swords. Far Cry 5 looks a bit different, but by and large the game has stayed the same. If you're a fan of the series, you're sure to like the fifth installment.
I was also able to check out the new Need for Speed Payback. This is where they finally delivered what they promised for its predecessor, which incidentally, I could never really warm to. Payback takes us back to the roots again, even as far as controls and vehicles are concerned. What I did appreciate was Ubisoft's fast lane pass. It meant me and Quentin could quite unapologetically skip the queue.
Quentin Product Manager
Destiny 2
My highlight of gamescom was Destiny 2. I'm a long-time fan of this genre and had the honour of trying out Destiny 2 beforehand on the PC. The game just felt good. It played smoothly, the weapons boom the way they should, aiming is a breeze and opponents aren't bullet sponges. I was able to try out the first Homecoming mission with the Titan character class. It was so fun to tackle and quash hordes of opponents as a glittering gorilla. Unfortunately, there wasn't enough time to try out the other classes. The good news is, the beta version launches next week, so I'll be able to catch up then.
Call of Duty: WWII
Just like Chris, I also have to give Call of Duty: WWII a mention. I didn't used to be a CoD player, but everything in this game just seems to be on point. The teamplay, the weapons, the maps, the sound – everything comes together. It was challenging and certainly not a one-man show like other CoDs. I'm excited to see what the final product looks like, and I'm even tempted to venture back to COD after a long period of abstinence.
What were your gamescom highlights? Are we on the same page or do you think we missed the best bits? We'd love to know in the comments below.
You may find the following interesting (in German)
---



Being the game and gadget geek that I am, working at digitec and Galaxus makes me feel like a kid in a candy shop – but it does take its toll on my wallet. I enjoy tinkering with my PC in Tim Taylor fashion and talking about games on my podcast http://www.onemorelevel.ch. To satisfy my need for speed, I get on my full suspension mountain bike and set out to find some nice trails. My thirst for culture is quenched by deep conversations over a couple of cold ones at the mostly frustrating games of FC Winterthur. 
---
---